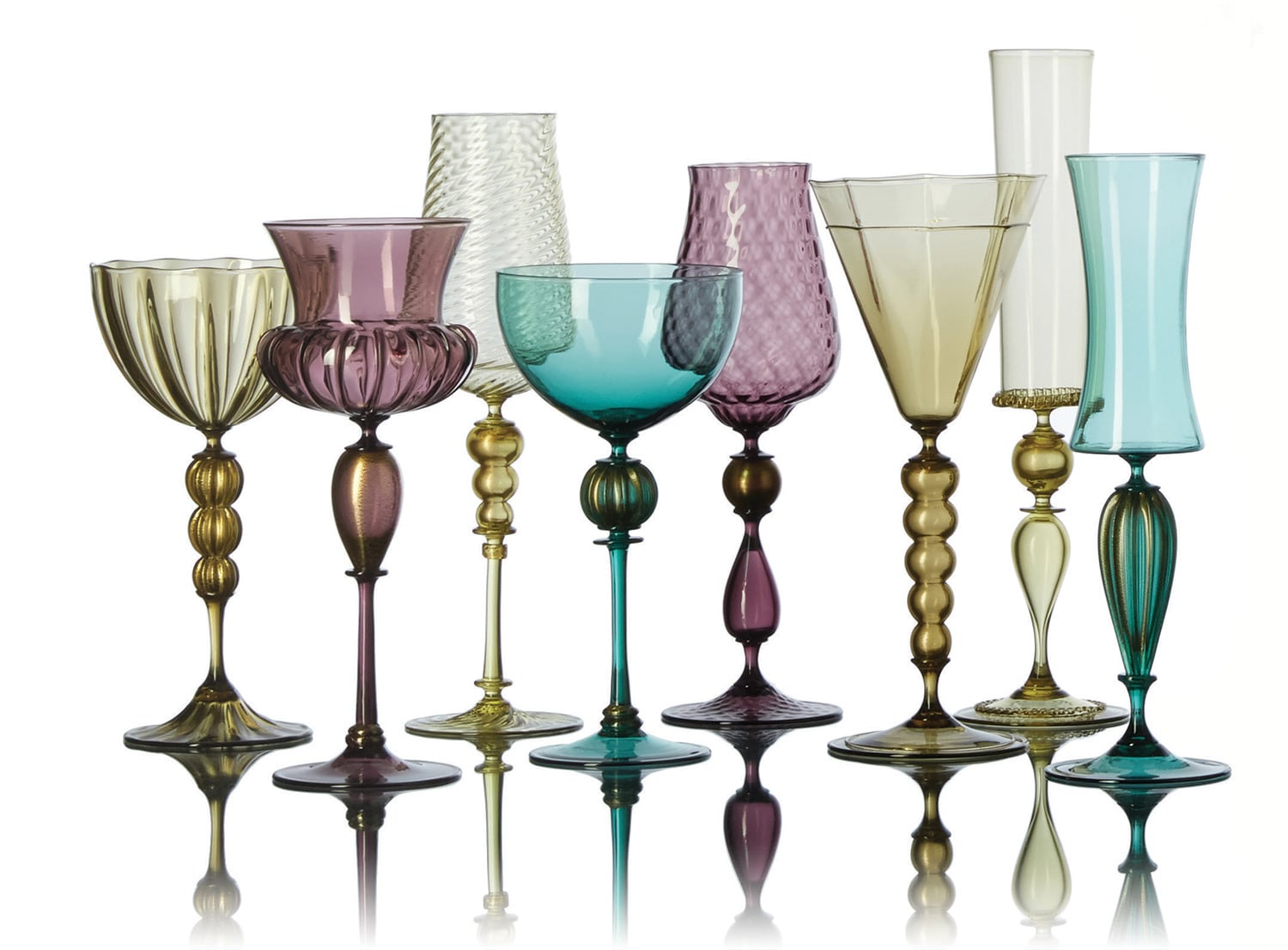 15 Mar

Details: Things we love
Glass Goblets by Michael Schunke
Michael Schunke creates one-of-a-kind, hand-blown goblets known to collectors around the world. Shunke's popularity grew because of these goblets, which are his touchstone pieces. He creates each one in his Vetro Vero studio in Chester County, Pennsylvania, in a process that is impossibly graceful. Of his designs, Schunke says: "A good goblet exemplifies quintessential craftsmanship and is born from practice, rhythm and skill." We love his contemporary designs that elucidate both line and volume. You're certain to find an arrangement to enhance any table setting. A toast to Michael Schunke!
$300 to $2,400 each | 610.283.7333 | michaelschunke.com
Perched Sconce by Moooi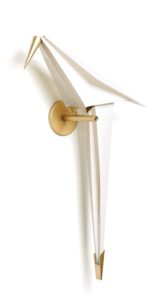 London-born architect and designer Umut Yamac declares, "Joy is in the detail." We agree, especially with his unique sconce from the Perch line of lighting from Moooi. Mother Nature inspired Yamac to create a series of bird-themed light fixtures, including table lamps, standing lamps and a chandelier with "branches." A bird perched on a tree, blissfully singing his heart out, is the imagery behind this wall sconce design. A gentle push will set the Moooi bird in motion, "filling both hearts and homes with endless delight." With the wiring and cables completely hidden, this whimsical wall sconce is a playful statement piece.
$1,294 | 13 inches tall | +31(0)762060700 | moooi.com
Fossil Brooch by Carla Pennie
With a degree in silversmithing from the University of Ulster in Northern Ireland, Carla Pennie now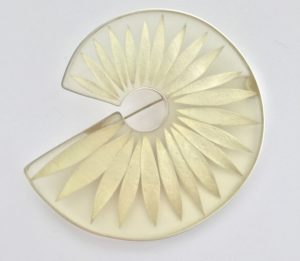 creates jewelry from her Santa Fe, New Mexico, studio. She loves to push the boundaries of her materials, capturing silver, fossils, gold leaf or other fragments in resin. "Resin jewelry brings out the alchemist in me, because it requires raw, unrelenting experimentation," she says. "No matter how much preparation is given, the maker is always subject to the whims and uncertainty of the resin itself." We love how she fabricated this brooch and how it translates into the essence of a fossil. A collector of natural artifacts and an observer of the natural world, she explores the beauty and delicacy of nature, translating the elegant patterns into dazzling jewelry.
$560 | 3.5 x 3 x 0.25 inches | 505.474.2871 | carlapennie.com
Sake Set by Reid Schoonover

Unusual doesn't even begin to describe Reid Schoonover's Sake Set made of hand-thrown ceramics, burled maple, African wenge and ebony. (He is quick to note that the ebony has been in his studio for more than 40 years, as now, it's an endangered species.) The blue ceramics are sake tasting cups, and as a surprise, the green ceramic is smaller and has its own rendition of a lid and knob, making it special. "The work I produce is a conscious amalgam of a number of interests I have," Schoonover says, "and also an attempt on my part to produce work that is easy to use and, yet, will provide visual stimulation and aesthetic pleasure." To that we say, mission accomplished!
$800 | 2.75 x 9 x 2.75 inches | 208.765.6006 | theartspiritgallery.com
Hands On: Locati Architects by Jerry Locati, Seabring Davis and Rob Petrie
For architecture enthusiasts, especially those with a penchant for classic Rocky Mountain design, this newly released coffee-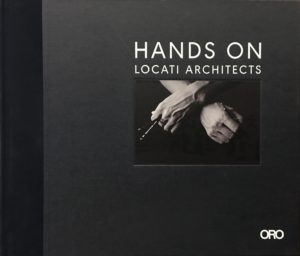 table book highlights the work of Bozeman, Montana-based Locati Architects & Interiors. Founded in 1989 by principal Jerry Locati, the company has rooted its methodolgy in the belief that "Quality architectural design improves lives and brings people together; each project is an opportunity to create a gathering place, a community gateway and a connection to the landscape." The body of work reflected in this elegant, 260-page hardbound book, through stunning photography and thoughtful writing, spans decades of experience in designing high-end residential, commercial and resort architecture, and incorporating innovative products with classic style to deliver architecture as a "connective art form." Flip through and choose your dream home from the wide selection of structures spanning the Western U.S.
$60 | 12 x 14 inches | 260 pages; Hardcover | oroeditions.com/book/hands
Antonio Citterio Outdoor Sofa by B&B Italia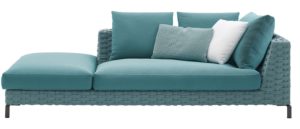 "Bellisimo!" one might exclaim when viewing this top-of-the-line outdoor sofa by B&B Italia. Designed by Antonio Citterio, this modern piece can transport one to the Amalfi Coast of Italy, looking toward the Isle of Capri, with waters akin to the blues of this outdoor fabric. Available in colors from turquoise to acid green, the outdoor fabric features an interlacing ribbon pattern, created using polypropylene fibers that are resistant to UV rays. Perfect to recline on and begin dreaming, you'll find this sofa is quality combined with comfort.
$19,130 and up | 800.872.1697 | bebitalia.com | umature.com
Clodagh Bath Fixtures by Speakman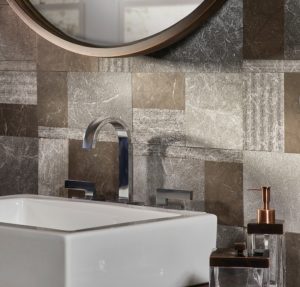 "Perfectly engineered to perform" is the action statement of Speakman, founded in 1869 by two brothers in a modest plumbing shop in Delaware. The talents of Irish-born designer Clodagh, along with Speakman's engineering, have produced this simply beautiful bathroom faucet. Given to the ideal of balance and harmony in design, this offering from the Clodagh Collection employs a modernized spout that pairs with three unique handles. Each combination allows you to create a custom, personalized look. We love that you can create the bathroom of your dreams with products that have a flawless combination of form and function.
Price available upon request | 800.537.2107 | speakman.com
Olive Rush: Finding Her Place in the Santa Fe Art Colony by Jann Haynes Gilmore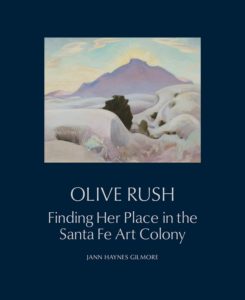 Flip through this engaging biographical book about Santa Fe's "First Lady of the Arts" and you'll find historical photos, stories and a wide selection of full-color reproductions of Olive Rush's work, which evolved from realistic to abstract to modernist over the years. The handsome volume brings to light the life, art and extraordinary contributions of Rush [1873–1966], artist, illustrator, muralist, pioneer in Native American art education and social reformer. The first woman to join the Santa Fe Art Colony, Rush was known to rub elbows with some of the Southwest's most well-regarded artists, architects and collectors. She even shared a cat with Georgia O'Keeffe! A true pioneer in the art world, this book is as educational and inspirational as it is beautiful.
$39.95 | 9 x 11 inches | 292 pages; Hardcover | unmpress.com
Rosewood Salad Set by Susan Kendrick
"I love wood! What other substance grows from a tiny seed into a structure that touches the clouds?" says Susan Kendrick.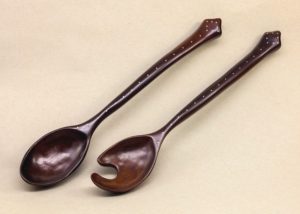 Raised on a cattle ranch around barns and wood piles, and coming from a family of woodworkers, it's no surprise that Kendrick is now crafting kitchen utensils. This Rosewood Salad Set with silver touches would add artistry to any dinner table. From her studio in the Bridger Mountains of Montana, Kendrick designs, carves and polishes her utensils, which she creates from a variety of wood. She also donates the net proceeds of her work to emergency situations in her community. Who doesn't love that?
$200 | 11.5 inches | barleyseedwoodcraft.com
Column of Drawers by Christoph Neander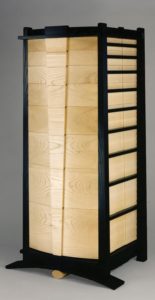 We love this different take on a functional piece of furniture that has, in essence, become a work of art.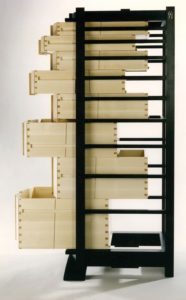 In fact, its creator, Christoph Neader, says, "Art in the living room does not have to just hang on the wall." Neader began his study of woodworking more than 20 years ago in Garmisch in the Bavarian Alps. Today, his contemporary aesthetic often reflects the elegant simplicity of Japanese forms and lines, as in this eight-drawer column, crafted from stained white ash. Neader creates only one piece at a time on commission, so that each can be meticulously detailed.
Price available upon request | 58 x 23 x 23 inches | 505.471.0534 | christophdesign.com