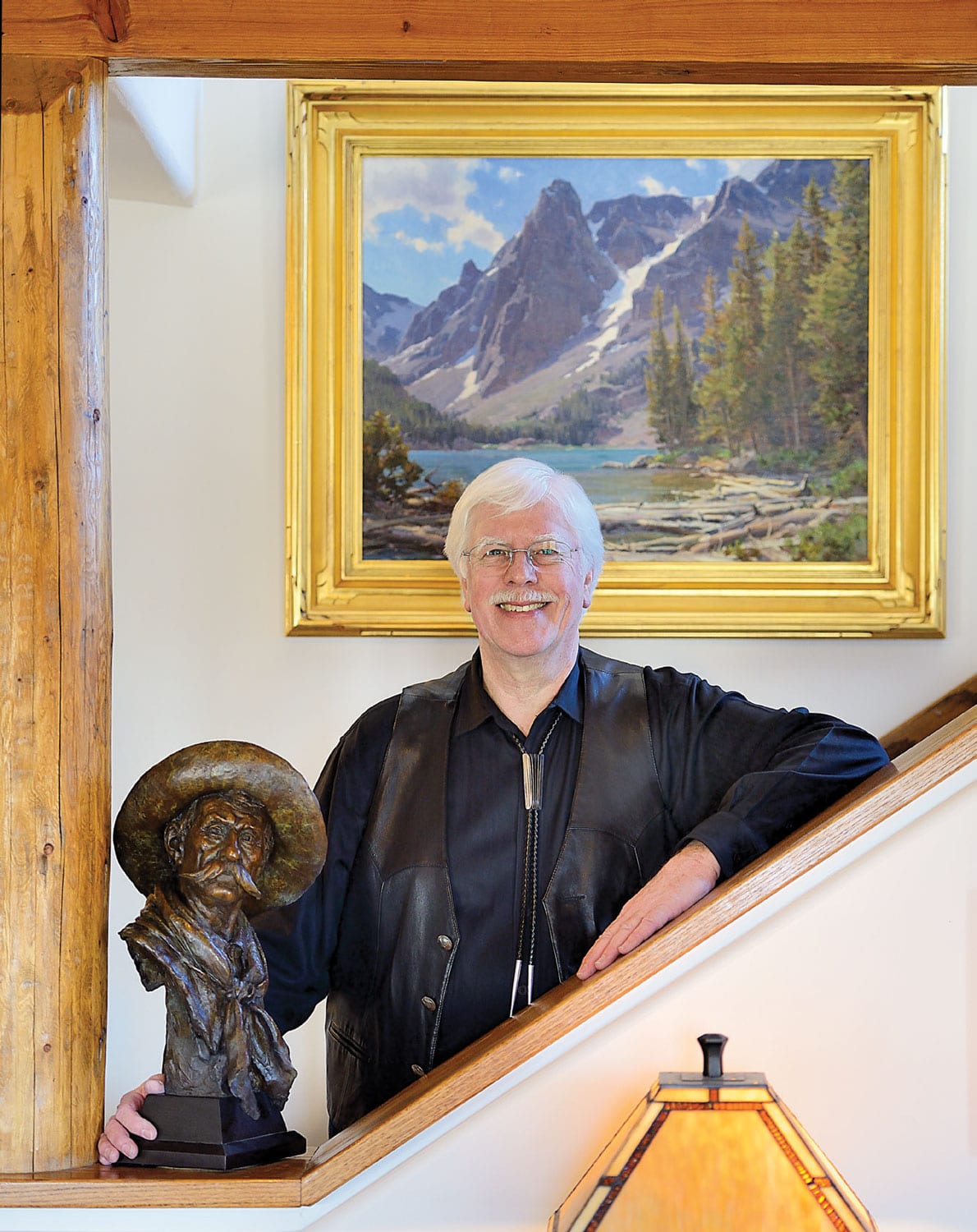 07 Mar

Collector's Eye: For the Joy of It

If there were an award for "Happiest Collector," chances are Tim Newton, chairman of the board of the Salmagundi Art Club in New York City, would be the top contender. Newton and his wife Cathi have amassed a collection of 350 artworks in 28 years. 

As a minister's son, the affable Newton seems to wear a smile almost all of the time. And one might say that Newton is blessed, as events that occurred along his path seem to be enchanted or even otherworldly. Take, for example, his position as chairman of the Salmagundi. "Returning from Jackson Hole's Fall Arts Festival, I was seated at the American Airlines gate in Dallas," Newton says. "Facing me was a man reading a catalog from Arts for the Parks. We spoke and learned of our mutual love for art. He said to me, 'Have you ever been to Salmagundi Club? It's a 140-year-old private art club in the city.'"

That was October 2002, and it marked the beginning of Newton's tenure at Salmagundi, first as a member, then as board chairman in 2011. "It's such an amazing story, because if he didn't open up the catalog at the time I was facing him, the club wouldn't have existed for me," says Newton.

Nor would the popular American Masters Exhibition and Sale, held annually in October. As a member of the club, and inspired by art shows he attended in the West, Newton conceived of a similar show that demonstrated and perpetuated the Salmagundi Club's history as a venerable center for the arts.  

Before approaching the leadership of the Salmagundi, Newton queried artists Clyde Aspevig, Sherrie McGraw, and David Leffel, as well as Matt Smith, Christopher Blossom, and Don Demers. "I basically asked them, 'If I build it, would you come?' When they agreed, I went to the chairman of the board," he says. 

American Masters debuted in 2008, and since then the club has raised enough proceeds to initiate a $1.6 million renovation of its mid-19th-century brownstone on Fifth Avenue and 12th Street.

WA&A: What inspires you to collect art? 

Tim Newton: I believe it was my grandmother's and mother's influence. They always kept beautiful homes with great objects around, well placed. Grandma's Hudson River replica painting that hung on her wall might have had a subliminal effect. And my mom encouraged me to draw. I once won first place, a Zebco rod and reel, by drawing Peter Pan.

WA&A: What was the first work that you purchased, and what made you choose it?

T.N.: It was a pencil sketch by Gary Carter. My best friend from high school, Dennis, who lived in Montana, had bought a sketch from Carter, but the signature was obscured. On a visit to see Dennis, he asked me, 'Do you know who Gary Carter is?' I said, 'Yes, he plays for the New York Mets.' 

That was the wrong Gary Carter. 

I was invited to go along to have the sketch signed anyway. When I knew we were going there, I began to feel something come over me — I knew something was going to happen. Carter had a teepee outside his studio and inside was memorabilia and artifacts of mountain men and American Indian life. Carter pointed out a rack of sketches and drawings, and I ended up buying a sketch for $650. Afterwards, I thought I'd lost my mind to have spent so much money on art!

 

WA&A: Was there ever one that got away?

T.N.: The one that comes to mind is a wonderful Bob Kuhn painting of a buck on a ridge with a piece of grass hanging off of its antler. To purchase it, your name had to be drawn. I didn't get it. It still haunts me. I can still see the painting in my minds eye… the blue sky above the elk. 

 

WA&A: At what point did you realize you were a collector?

T.N.: My friends Dennis and Debbie had introduced us to the Fall Arts Festival in Jackson Hole, Wyoming. One year while there, we were standing on the corner of the Town Square with a group of others. As I was being introduced, someone asked me if I was an artist. I replied that I was 'just an art lover.' 

'Oh, so you are a collector?' they asked. I hesitated, because I always thought that people who buy art have a lot of money, and I wasn't one of them. They asked me whose art I had, and when I told them Lanford Monroe, Clyde Aspevig, Bill Acheff, and Christopher Blossom they assured me that I was, indeed, a collector.

It was a measurable moment. I had not deemed myself a collector — it was by the quality of the artists that I was recognized as a collector.

WA&A: What is your favorite piece and why?

T.N.: I don't know if I can answer that; it's like asking me to name my favorite child and that would be dangerous ground! Maybe I could narrow it down to a dozen pieces, the same ones you'd grab if there were a fire. I'd need to be an octopus to grab all that I love. Lanford Monroe is one of them — I love the way she captures the atmosphere. Christopher Blossom is another; I have more works by him than any other artist, thanks to luck of the draw.

WA&A: If you were having a dinner party and wished to have interesting conversations about art, who would you invite?

T.N.: There's no one like George Carlson. One of the great moments of my life was a day and evening spent with him and his wife Pam on his 78th birthday in New York City. We spent the entire day at the Metropolitan Museum. Can you imagine seeing him effervescing about a painting? What a treasure! 

WA&A: If you could meet any artist in history, who would it be?

T.N.: The short answer is Vincent van Gogh. He's the most fascinating artist. Number one, I love his paintings. And as a person van Gogh was spiritual and sensitive.

WA&A: Where will your collection be in 100 years?

T.N.: One never knows. In the end, the family will keep the choicest ones.