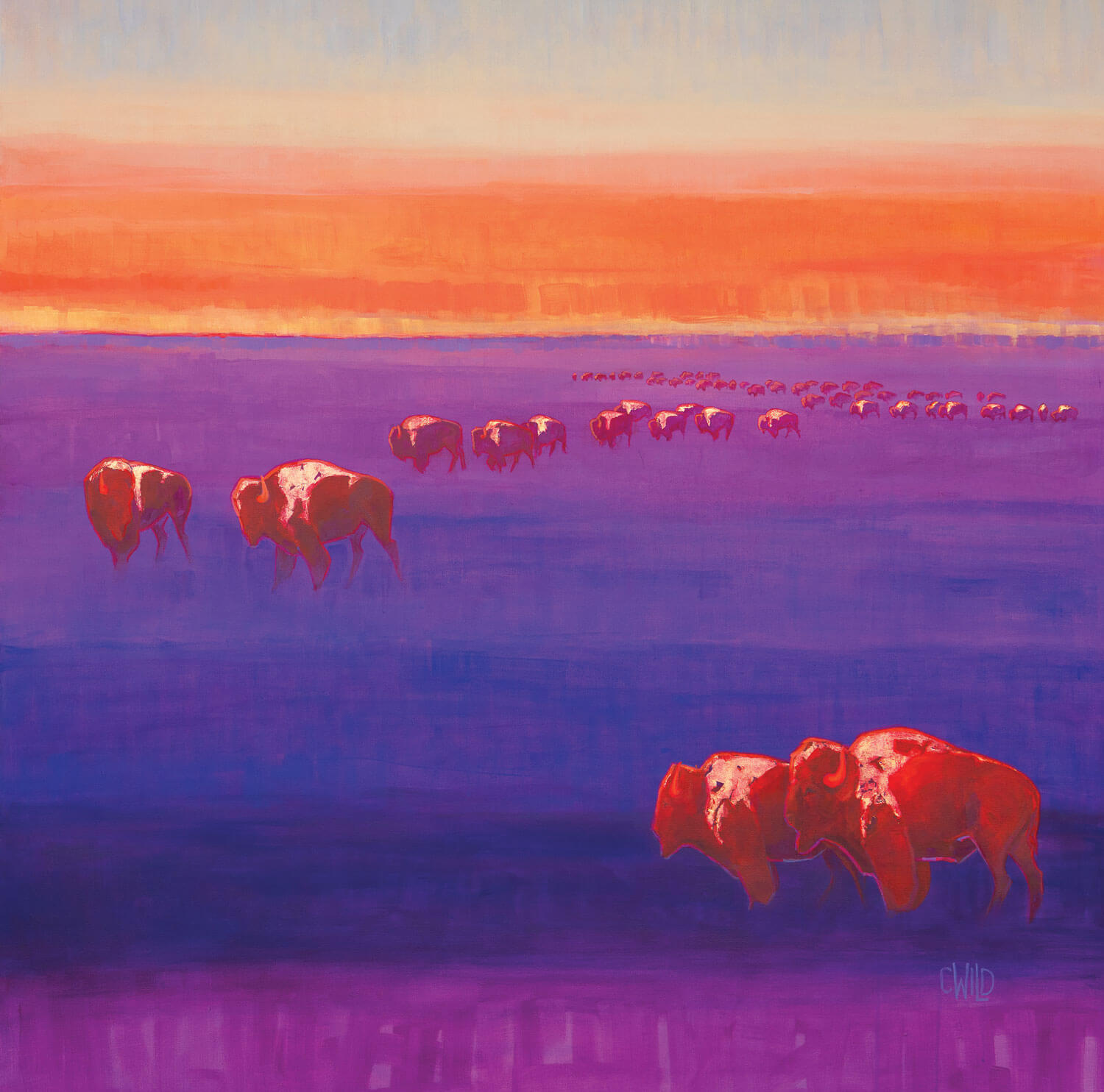 The Wind Roams Free | Acrylic, Gold Leaf, and Resin | 48 x 48 inches | 2017
13 Mar

Contemporary in Nature

WILDLIFE ARTIST CARRIE WILD HAS SPENT thousands of hours outdoors, tracking, viewing, and photoraphing wildlife. She is equally at home among the impressive, soaring mountain peaks and expansive valleys of Jackson Hole, Wyoming, as she is on the African plains, or in the frigid polar bear country of Churchill, Manitoba. It's all about the animals, the birds, and, sometimes, the creatures beneath the sea.

A skilled photographer and an exceptional interpretive painter, Wild uses photos to prompt her memory when she returns to the studio. They remind her of how it felt to be out there — the colors, the smells, the light — in the presence of so many of nature's mysterious beings. Her paintings don't replicate her photos; they soar beyond the reference material. With wildlife central to each composition, she uses bold, saturated color to generate emotional impact, alternating specific physiological details with abstract elements to draw the eye into the composition.

The 48-by-48-inch painting Magic Hour Montana was inspired by a late summer's evening in Antelope Flats, a 640-acre stretch of land close to her home in Jackson Hole. With its views of the entire Teton Range, the sagebrush-covered Antelope Flats is one of the most majestic locations in America and was established to preserve critical habitat and migration routes for many species, including pronghorn, bison, and what has been called the largest elk herd in the world. It's one of the artist's favorite places. 

That evening, as she watched a grazing herd of bison move south, the sinking sun silhouetted the massive animals against a dramatic sky. The heat of the day was waning and, "Magically," Wild recalls, "I could see their perfect bodies, the billowing dust around them, turn golden in the fading light. I was struck by how their backs became almost a horizon line." Back in her studio, it was the recollection of that momentary insight — the golden line of their backs — that she brought to her easel. 

The artist primarily paints with acrylic and a variety of brushes, occasionally using a palette knife for textural effects. She will also enhance paintings with metal leafing, resins, iridescent additives, and antique charcoals. For Magic Hour Montana, she wanted to capture the rich, vivid color; the dust; the shapes; and the drama of her experience. Wild worked wide swaths of reds and oranges into the foreground in thin layers, followed by multiple washes of pinks, purples, and reds to portray the darkening sky. From a flurry of dramatic black slashes, marched the silhouetted shapes of the bison, the humps of their gold-leafed backs flickering in the light. It is paintings such as these that fully characterize the unique vision Wild brings to
her work. 

Wild's love of the outdoors and its inhabitants — the birds, horses, foxes, and other creatures — began on the small horse farm in Southern Michigan where she grew up. Her fingers itched to portray them accurately and to share her experiences with others. She experimented with graphite, charcoal, colored pencil, and soft pastel throughout elementary and high school. Her aptitude as a photographer also developed early, and she began using her photos as resource and educational tools as a teenager, a practice she continues today.

Mostly self-taught, Wild has spent countless hours sketching animals, observing their form and behavior in the outdoors. She also often visits the National Museum of Wildlife Art in Jackson Hole to study the brushstrokes and palettes of such wildlife masters as Carl Rungius and Bob Kuhn. And she's inspired by abstract artists Mark Rothko and Franz Kline. Through constant experimentation with different mediums and techniques, she's developed a signature style. 

"I found that dramatic color and shapes can transcend the limitations of the two-dimensional canvas to bring back the emotion of my personal experiences," she explains. "I wanted to communicate the way I feel in the presence of wildlife and wild places."

Wild discovered the Jackson Hole region when she visited galleries there to learn about the wildlife art market. Quite by accident, she found a gallery that wanted to represent her. She brought them several pieces the following month and sold enough work that spring to spend the summer in Jackson Hole. In a stroke of destiny, she met her husband, Jason Williams, the last week of summer, which sealed her commitment to Northwest Wyoming, and she moved there in 2011. 

Williams is a veteran guide, professional wildlife photographer, and the founder of Jackson Hole Wildlife Safaris. The couple frequently travels together to view wildlife and promote conservation, not only in Grand Teton and Yellowstone national parks, but also in regions such as the Arctic and Africa, where tourism plays a major role in the conservation of endangered species. "We have observed countless polar bears, swam with great white sharks, and viewed tigers in the wild," says Wild. "All of our adventures provide ample opportunities to collect reference materials for my art." 

Wild is hardworking and unafraid to find new ways of sharing her creations. In July 2018, she opened a public studio and gallery — Gallery Wild — in downtown Jackson Hole. "I decided the best way to share my vision with my collectors is to show the entire process," she says. "I wanted to personally hear and witness reactions and interactions with my work. My studio is in the gallery, and visitors are welcome to come into the space, see the process, and ask questions directly. We also showcase contemporary fine art by other artists who are inspired by wildlife, open spaces, and conservation."

In Bozeman, Montana, Alissa Banks, owner of A. Banks Gallery, also represents Wild's work. Almost four years ago, Banks found herself attracted to Wild's mix of traditional imagery, bold use of color, and her paintings' contemporary edge. "Her work stands out in my gallery in its refreshing departure from traditional Western art — that is what draws my clients to it," Banks says.

And Wild's expressive paintings are generating more awareness and appreciation. She's participated in the National Museum of Wildlife Art's Plein Air Festival for several years. This past February, her artwork was included in the prestigious 2019 Southeastern Wildlife Exposition in Charleston, South Carolina, and, for the second year, it will be in Cheyenne Frontier Days' Western Art Show & Sale in Cheyenne, Wyoming, in July. Her work is also included in a number of private and corporate collections.