With fly fishing on surrounding blue-ribbon trout streams, downhill skiing at Bridger Bowl and nearby Big Sky Resort, Nordic skiing on groomed trails, hiking, mountain biking, and more, the abundant outdoor activities in and around Bozeman, Montana, are a significant draw for locals and visitors alike. Along with that, the hip downtown area adds a cultural flair. Photos courtesy of Visit Bozeman
15 Mar

Wanderings: From Cow Town to Mountain Modern Playground

In 1993, a headline in The New York Times described Bozeman, Montana, as a "Cow Town With Charm." It made sense, considering the city was built around agriculture, starting with its namesake, pioneer John Bozeman. After beginning an agricultural colony in the valley, growing food for Montana gold miners, he and others officially founded Bozeman in 1864. Two years later, Nelson Story's infamous cattle drive brought around 1,000 cattle to the area from Texas, making him the town's first millionaire. Then in 1893, the Agricultural College of the State of Montana (now Montana State University) was founded as a land-grant institution. Today, it still has a widely-respected College of Agriculture and has become known as a top-tier research university.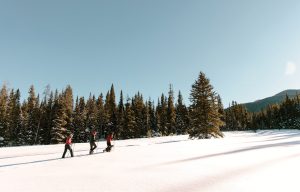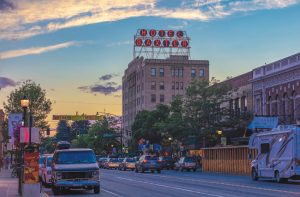 In the early 1990s, when The New York Times story was published, Bozeman was still sticking close to its roots. Cows grazed on much of the surrounding landscape, and area ranchers frequented the Main Street diners, burger joints, and cowboy bars, along with college students, ski bums, and other residents. However, shortly after that, the city started its evolution.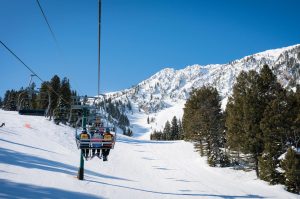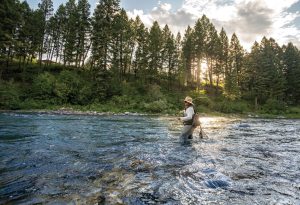 Now 30 years later, instead of being known as a cow town, Bozeman is jokingly referred to as "Boz Angeles," due to the influx of Californians and other city dwellers who've migrated there and the high-end stores and dining establishments that came along with them. And although it's not as quiet and quaint as it once was, this Southwest Montana mountain town is still bursting with charm.
Today, with an estimated population of 54,000, Bozeman intersects at the corner of outdoor recreation and sophistication. The combination makes for a visit that easily incorporates both. Much to the locals' chagrin, it's been included in many "best places to live" lists, touted for its proximity to hiking trails, trout-filled rivers, and ski resorts; a vibrantly hip downtown; myriad cultural opportunities that come along with the university; and the influx of creative types who've added a contemporary, artisan flair. Then, there are Yellowstone National Park's north and west entrances just two hours away in either direction.
In Bozeman, outdoorsy types can bag a peak, fly fish, whitewater raft, rock climb, zipline through the trees, mountain bike, and, of course, ski or snowboard, among other activities. Those who prefer city time can stroll through downtown art galleries and shops, enjoy a gourmet lunch, and soak in one of the nearby hot springs.
A good portion of the day can also be spent at the Museum of the Rockies — a world-class cultural and natural history museum with rotating exhibits, a captivating kids' section, and an extensive collection of dinosaur fossils from around the state. The artistically minded can take a tour of some of the galleries sprinkled throughout downtown. Start at the eclectic galleries and art studios at the Emerson Center for the Arts and Culture — just off Main Street — and continue down Main to Visions West Contemporary, Montana Trails Gallery, Old Main Gallery, and Altitude Gallery.
In fact, a visitor's itinerary can easily encapsulate many of the above activities within a single day. On a recent visit, my brother and I drove up Bridger Canyon — past Bridger Bowl ski area — and hiked Sacajawea, the highest peak in the Bridger Mountain Range. We made it home in time for a well-deserved happy-hour beverage on the sidewalk patio of the Bacchus Pub before the streets were closed off for the Thursday evening summer concert series, Music on Main. After listening to the band, we shared a wood-fired pizza at Blackbird Kitchen, and topped it off with a show at The Last Best Comedy. Yes, we slept well that night.
Another summer day might include a visit to Hyalite Reservoir, just 18 miles from town. With craggy peaks hovering over the clear water, it's a popular spot for swimming, boating, hiking, mountain biking, or just relaxing in the sun, and the paved 1-mile round-trip trail to the picturesque Palisade Falls is a must.
For an in-town adventure, hit the Main Street to the Mountains network of trails, which runs past the Bozeman Public Library on Main Street, leads through a sculpture garden, climbs up Peet's Hill, and then continues along the Gallagator trail all the way up to "the M" on the Bridger Mountains.
In the winter, it's more of the same, but in a colder, snowier fashion. Bridger Bowl ski area is a local favorite just 20 minutes from downtown and known as much for its steep and deep terrain as it is for hosting the whole family. Big Sky Resort is just an hour away, offering "the biggest skiing in America" due to its 5,800 acres of terrain, including runs off of the iconic Lone Peak. For those who prefer Nordic skiing, Crosscut Mountain Sports Center up Bridger Canyon features an extensive trail network that's also open for mountain biking in the summer.
Nightlife in Bozeman has also evolved; posh cocktails and fine dining can be readily found at many downtown establishments, and a few of the cowboy dive bars, such as the Crystal on Main Street, still remain. Newly opened, The Elm is now the biggest dedicated concert venue in town, with regularly scheduled bands and many big names. And the Rialto on Main Street is a state-of-the-art venue and cocktail lounge offering performances and events. There's also the Ellen Theatre, which opened in 1919 and was designed by Fred Wilson, an architect responsible for many of the Art Deco-themed buildings around Bozeman.
Although it's no longer a "cow town with charm," Bozeman has matured well over the years, offering something for all tastes and activity levels. After a visit, it's easy to see why so many have decided to call it home.
ACTIVITIES
Bozeman Art Museum
406.570.1419; bozemanartmuseum.org
Bozeman Hot Springs
406.586.6492; bozemanhotsprings.co
Bridger Bowl
406.587.2111; bridgerbowl.com
Big Sky Ski Resort
800.548.4486; bigskyresort.com
Crosscut Mountain Sports Center
406.586.9690; crosscutmt.org
Ellen Theatre
406.585.5885; theellentheatre.com
The Elm
406.830.4640; logjampresents.com
Emerson Center for the Arts
and Culture
406.587.9797; theemerson.org
Gallatin History Museum
06.522.8122; gallatinhistorymuseum.org
Last Best Comedy
406.219.3933; lastbestcomedy.com
Museum of the Rockies
406.994.2251; museumoftherockies.org
Rialto
406.404.7911; rialtobozeman.com
Galleries
Altitude Gallery
406.582.4472; altitudegallerybozeman.com
Montana Trails Gallery
406.586.2166; montanatrails.com
Old Main Gallery
406.587.8860; oldmaingallery.com

Visions West Contemporary
406.522.9946; visionswestcontemporary.com
Lodging
The Lark
866.464.1000; larkbozeman.com
Kimpton Armory
406.551.7700; armoryhotelbzn.com
RSVP Hotel
406.404.7999; rsvphotel.co
Lewis & Clark Motel
406.586.3341; lewisandclarkmotelbozeman.com
Element Bozeman
406.582.4972; marriott.com
AC Hotel
marriott.com
Residence Inn Bozeman Downtown
406.586.7200; marriott.com
DINING
Bacchus Pub
406.404.1996; bacchuspub.com
Brigade
406.624.6161; brigadebzn.com
Blackbird
406.586.0010; blackbirdkitchen.com
Blacksmith Italian
406.577.2585; blacksmithitalian.com
 Fieldings
406.551.7701; fieldingsbozeman.com
J.W. Heist Steakhouse
406.551.2010; jwheist.com
Revelry
406.404.1400; revelrymt.com
Plonk
406.587.2170; plonkwine.com