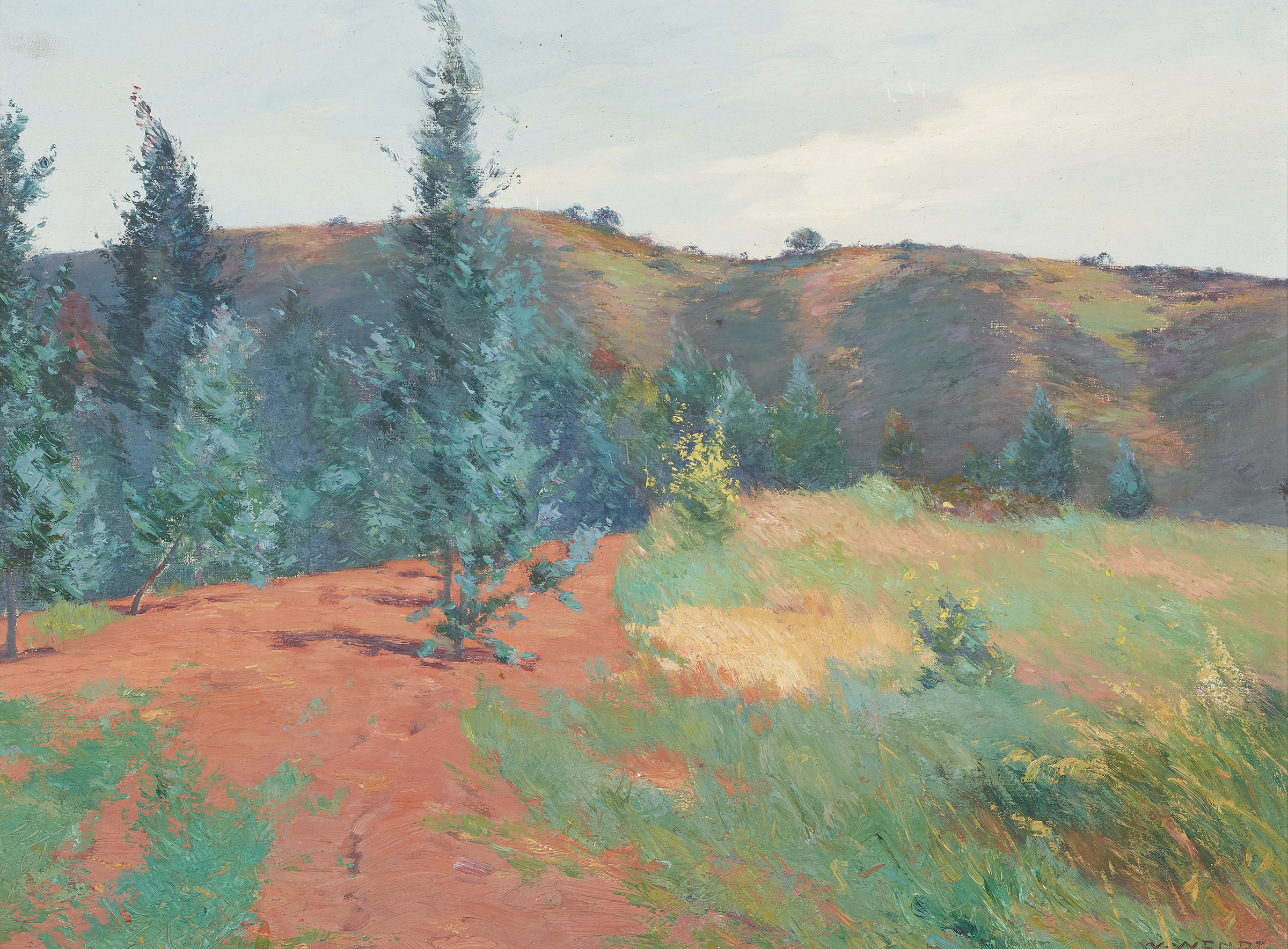 William Wendt, On the Brow of Laudamus Hill | Oil on Canvas | 18 x 24 inches | Sold: $10,200 Courtesy of Bonhams
12 Mar

Auction Block: A Call to Community

The final days of 2020 and the beginning of 2021 saw Western and American art auctions continue to alter formats and extend selling periods to safeguard against COVID-19 and provide opportunities for artists and patrons to create a sense of community.

Brian Lebel's Mesa Old West Auction saw memorabilia associated with movie stars from another era achieve hefty amounts that far exceeded pre-sale expectations, with everything from historic firearms to a well-made and much-used saddle eliciting excitement from bidders.

The Coors Western Art Exhibit & Sale staged a successful virtual event this year, even in the absence of the annual National Western Stock Show that usually takes place simultaneously. The event brought more than $500,000 and awarded honors to artists whose work celebrated the best of contemporary Western art.

Sotheby's marked high prices for hand-colored aquatints after the style of John James Audubon during one of the auction house's trio of sales that made up Americana Week 2021. And Sotheby's American Art sale at the end of 2020 gave a startling salute to a painting by John Clymer.

Landscapes that helped shape the nation's view of the American West were purchased during Bonhams' online California and Western Art sale, with collectors favoring artists who spanned generations, from Granville Redmond to Larry Pirnie.
Brian Lebel's Mesa Old West Auction
January 23, 2021
Total: $2 million
Memorabilia tied to silver-screen legend John Wayne, whose roles in Hollywood Westerns elevated the actor and the genre, took two of the top 10 spots in Brian Lebel's Old West Auction in Mesa, Arizona.
The Winchester rifle used by Wayne in the iconic films "True Grit" and "Rooster Cogburn" led the auction, achieving $88,500, compared to estimates of $65,000 to $75,000. The 1892 Winchester Saddle Ring Carbine had a shortened barrel so that Wayne could flip the gun with one hand. In addition, the hat the actor wore while portraying a lawman in "Cahill U.S. Marshal" brought $29,500, or nearly 10 times its low estimate. That lot sold to a phone bidder at an auction that restricted its in-person crowd to 100 and also required masks and social distancing among attendees.
The sale of historic firearms saw models from the Buzz Nyhart Montana Territory Collection sell far above estimates, with a rare Sharps Creedmoor rifle going for $53,100, above its estimate of $30,000 to $35,000. A Colt Model 1860 Army with vigilante history sold for $44,250, well above its estimate of $6,000 to $8,000.
Fine art and memorabilia tied to the late actor-turned-U.S.-president Ronald Reagan also excited bidders. The former president's saddle by acclaimed maker Edward H. Bohlin sold for $41,300, or more than nine times its high estimate.
Fine art lots included a pen-and-ink by Edward Borein, which brought $18,880, compared to estimates of $8,000 to $12,000, and a small painting by Marjorie Reed, which brought $4,840, compared to estimates of $600 to $800.
Sotheby's Americana Week Auctions
January 8–22, 2021
Total: $3.8 million
Hand-colored aquatints after the style of John James Audubon made strong showings in Sotheby's Americana Week during its January 8 opening, establishing them in the top tier of Sotheby's Important Americana: Silver, Chinese Export, and Prints auction.
The plate Carolina Parrot was the third highest-selling item, going for $100,800, compared to pre-sale estimates of $80,000 to $120,000. American Pelican, expected to sell within the same range, brought $88,200 to place as the fourth-top selling lot. Trumpeter Swan, Young was the third bird image inspired by Audubon included in the sale's top 10, with the print bringing $32,760.
The Chinese export category saw the highest-selling lot, with an extremely rare and important pair of elephant-form tureens, covers, and stands from the Qing Dynasty. The pieces, made of Chinese porcelain, went for $176,000 against estimates of $70,000 to $100,000.
Two pieces of stunning silverwork by American artisans exceeded expectations and were placed among the 10 best-selling items. A rare, oval-shaped nutmeg grater by Peter Bentzon, one of the only identified silversmiths of African descent working in early America, according to Sotheby's, realized $40,320, or more than twice its high estimate. And a small tankard by Johannis Nys, dated 1716, brought three times its low estimate to achieve $30,240.
Ferdinand V. Hayden's The Yellowstone National Park, a rare set that includes reproductions of 15 Thomas Moran watercolors, climbed to the second best-selling lot in Sotheby's Important Americana: Furniture and Folk Art auction. The folio of finely chromolithograph plates were printed on heavy stock and published in 1876 by L. Prang and Company.
"Moran and Prang's collaborative effort was celebrated from the time of its publication," according to Sotheby's, and nearly 150 years later, that popularity has not waned. The reproductions of the paintings plus two lithographed maps after Hayden — the head of a U.S. Government expedition to survey the mountains of the American West — brought $277,200, compared to estimates of $120,000 to $180,000.
Coors Western Art Exhibit & Sale
December 18–January 31, 2021
Total: $516,000
The 2021 National Stock Show was canceled because of the pandemic, but the annual art show and sale affiliated with the event took place online and celebrated the works of 69 contemporary Western artists.
In the absence of its red carpet reception and other in-person activities in Denver, Colorado, the Coors Western Art Exhibit & Sale staged an online auction that sparked sales and donations for the National Western Scholarship Trust, which provides scholarships to students studying agriculture, rural medicine, and veterinary sciences.
Best of Show went to Denver artist Foster Grissim for Hitching Post, an evocative painting of horses that galloped past more than 300 other works to gain an honor sponsored by Kathy and Brad Coors.
Fellow Coors artists selected Dan Sprick's half-shadowed, half-lit canyonlands, Christ and the Devil, a 60-by-60-inch oil on panel, for the Artists' Choice Award, while David Griffin garnered the Southwest Art Award for Graceful Silence, a composition featuring sky, rocky outcroppings, snow, and flight.
The Western Art & Architecture Award went to Dianne Massey Dunbar, whose Rain on Windshield: Open layers a streetscape with a lens of rain droplets.
Maeve Eichelberger's Hollyhock captured the Coors Show Advisory Committee's Centennial Award for a hand-etched and formed plexiglass saddle. The award category was sponsored by Bob and Rhonda Boswell and provided a three-night stay at a Colorado ranch.
The National Western Stock Show President and CEO, Paul Andrews, said that the art event helped fill the gap left by the cancellation of the stock show, which will return in 2022. "We've sought creative ways to bring our National Western community together … This virtual show allowed both artists and art buyers the outlet to come together and honor the Western way of life," he said in a statement.
Sotheby's American Art Auction
December 11, 2020
Total: $11.4 million
A seaside scene by Winslow Homer was the top-selling lot during Sotheby's American Art sale, with the painting of two women fishing serving as a tribute to subtle color and to those whose lives are shaped by the sea. Two Girls on the Beach, Tynemouth brought $2.44 million compared to estimates of $2.5 to $3.5 million.
A picture by famed Impressionist Mary Cassatt, Children Playing with a Cat, yet another of the artist's charming depictions of slow and studied domestic life, slipped into the second top slot, garnering $2.198 million against expectations ranging from $2 million to $3 million.
Attack, a scene of conflict stretching along horizontal lines, by illustrator-turned-artist John Ford Clymer climbed to $879,100 to complete the third highest-selling lot at Sotheby's. The Clymer painting was estimated to go for between $100,000 and $150,000.
A Saturday Evening Post cover image by Joseph Christian Leyendecker, one of America's great illustrators, continued the trend of exceeding price expectations. Carousel Ride realized $516,100, compared to estimates of $200,000 to $300,000. The oil painting was completed in 1930 and is nostalgic in scene and tone.
Additional best-selling lots included a Frederic Remington, Custer's Last Charge (A Sabre Charge). The oil in gray tones went for $327,600, falling within its estimate of $300,000 to $500,000.
Bonhams' California and Western Art
November 25–December 2, 2020
Total: $219,504
Bonhams' online auction of California and Western Art saw a smaller-sized landscape by Granville Redmond outplace other lots in price. A Field of Poppies with Snowcapped Mountains in the Distance displays the California Impressionist's mastery of subtle color. Poppies unfold across washed green meadowlands with striking orange, while the snowy mountains in the distance are matched by wisps of white clouds that extend perspective. The oil on masonite went for $12,750, roughly twice its high estimate.
A 19th-century painting by William Keith of Oregon's Mount Hood, commissioned by the Oregon Central Railroad Company, tied for the second-highest selling lot, with Mount Hood from Sandy River selling for $10,200. The painting shows a remarkable use of lighting effects that are associated with Hudson River School painters. Keith's untrammeled view of nature suggests the period's lingering affection for Romanticism.
California landscapes were familiar ground for William Wendt, yet a picture he painted in 1897, On the Brow of Laudamus Hill, presents an up-close array of grasses and red-brown ground leading to foreshortened foothills. The oil on canvas realized $10,200 to tie in price with Keith's painting and share the position as the second top-selling item. Both pieces were expected to bring between $10,000 and $15,000.
Stallion Round Up by Larry Pirnie stands out for its contemporary color and imagery, with the horizontal acrylic depicting cowboys surrounding a bright red truck driven by a blonde in a cowboy hat. It sold for $8,287 — against estimates of $3,000 to $5,000 — to become the third-highest priced work.