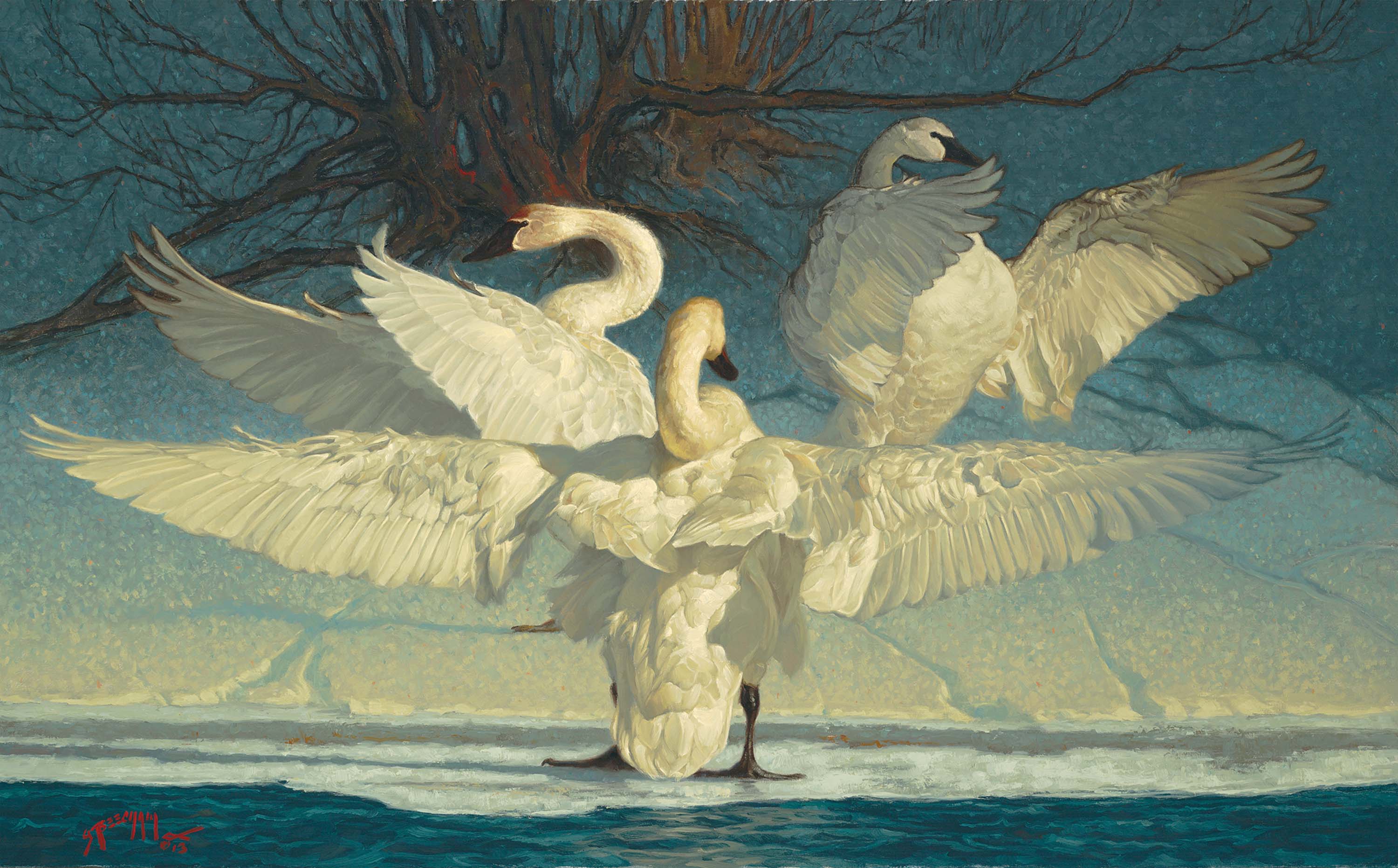 Greg Beecham, The Maestros — "An Exploration of the Melodic Resonance Between Line and Mass" | Oil on Linen | 26 x 42 inches | Prix de West Wildlife Award
04 Aug

Auction Block: Art Recovery
---
With the U.S. economy continuing toward gradual recovery, so too does the art world. Little by little, and sometimes in big bursts, it seems that there is a strong future for art sales this year.
In a bold statement relating to Christie's recent American Art Sale in May, Elizabeth Sterling, head of American paintings, commented in a press release: "The sale total of $50.8 million is the highest that the category has seen since May 2008."
Likewise, Sotheby's American Art and Art of the American West auctions were successful recently, posting $28 million and $3.8 million in sales, respectively.
Those big houses are indicators of strong interest and action at regional sales and auctions that saw success in the past months as well, ranging from Oklahoma City's 40th annual Prix de West Show and Sale at the National Cowboy and Western Heritage Museum to the Los Angeles Modern Art & Design Auction's impressive results.
---
Brian Lebel's Old West Show and Auction, June 22, 2013
---
The 24th annual Old West Show and Auction in Denver showcased more than 300 lots in a sale known for high-quality cowboy, Indian and Western art and collectibles. This year the sales totaled $1.3 million, with a sell-through rate of more than 95 percent.
The top-selling lot was a night scene painted by E.I. Couse estimated at $100,000 to $120,000, which sold well above that at $138,000 (including buyer's premium). The next highest lot price, for a Lakota pipe bag, brought $46,000, which hammered at more than three times the low estimate.
"The big sleeper piece of the night was the Alfred Lambourne oil on canvas, which created an absolute bidding frenzy between the floor and the phones, ultimately selling for $16,520, over 10 times the high estimate of $1,500!" says organizer Melissa McCracken.
Overall, the Clayton Moore Lone Ranger collection brought a combined $93,300, with his white Stetson hat fetching an impressive $8,260.
Additionally, the Antique and Contemporary Show ran from Friday through Sunday, hosted a steady stream of thousands of shoppers all three days and was a tremendous success.
---
Clymer Art Auction, June 22, 2013
---
Kicking off the third annual Clymer Art Auction with a host of impressive Western contemporary artists, the event was a landmark success. Sales from the show will benefit the Clymer Museum and Gallery in Ellensburg, Washington. The increasing momentum building with this event each year is apparent.
The event at Canyon Ranch was peppered with quick draws, a winemaker's dinner and the live auction representing top artists from throughout the West. Works ranged from the wildlife art of sculptor Ott Jones and painter Mary Ann Cherry to the cowboy-influenced works of Duke
Beardsley and Kelley Donovan. Top contemporary painters Tom Gilleon, Rocky Hawkins and Donna Howell-Sickles brought a high level of visibility to the event, along with many other accomplished artists. From landscape works to vivid Native American paintings, the event was a dynamic homage to art in the American West that would have made the honored namesake artist, John Clymer, proud.
---
Prix de west art Show and Sale, June 7 – 8, 2013
---
The National Cowboy & Western Heritage Museum hosted more than 800 guests at the 40th anniversary of the Prix de West Invitational Art Show and Sale during opening weekend.
Sales for the weekend totaled $3.1 million with a portion going to fund the museum's programs and operations. The exhibit and sale featured 295 works in sculpture and painting by 101 contemporary Western artists.
"These days I don't think there are many things that last 40 years and I think the longevity of Prix de West makes it very special," says event coordinator Susan Patterson. "The weekend is filled with people renewing friendships … it's like old home week."
Awards were granted to the top works in the show. The prestigious Prix de West Purchase Award went to Steve Kestrel's sculpture, Desert Timeline. The piece is made of black slate and Colorado sandstone.
For the fourth year running, George Carlson was the winner of the Robert Lougheed Memorial Award, chosen by the Prix de West artists for their favorite display of three or more works in the show, for January Thaw, Marshland in Spring and Sentinel Bluffs. The Major General and Mrs. Don D. Pittman Wildlife Award was given for exceptional artistic merit for a wildlife painting or sculpture to Greg Beecham for his oil on linen painting, The Maestros — An Exploration of the Melodic Resonance Between Line and Mass. Curt Walters' oil painting, First Touch of Winter, was the winner of the Buyers' Choice Award; this category is voted on by Prix de West buyers for the work best admired. Walters' same painting was the winner of the Frederic Remington Painting Award, selected for the one work in the show with exceptional artistic merit.
Four other distinguished awards were presented, including the Express Ranches Great American Cowboy Award given for the best cowboy subject matter to Kyle Polzin for his oil on canvas, Trusty Companion. Ross Matteson was the recipient of the James Earle Fraser Sculpture Award for Ice Breaker. Finally, a new category this year is the Donald Teague Memorial Award for exceptional artistic merit for a work on paper. The inaugural award was given to Joseph Bohler for Hard Work — Fond Memories, a watercolor.
Several works of art remain available for sale and the exhibit will continue through August 4.
---
The Phippen Museum Western Art Show & Sale, May 25 – 27, 2013
---
The Phippen Museum Western Art Show and Sale — Arizona's premier outdoor Western art sale — is held each year in downtown Prescott, Arizona, the self-proclaimed Cowboy Capital of the American West. The 2013 event featured more than 100 artists from all over North America in booths surrounding the historic courthouse.
"So many of the participating artists throughout the years have gone on to be some of the most renowned Western artists today," commented Kim Villalpando, Phippen Museum executive director.
This year, works at the Saturday night gala auction sold out. It featured paintings by James Ayers, Lorna Dillon, Joni Falk, Russell Houston, Steven Lang, Jan Mapes, Denis Milhomme, Sarah Phippen, Clark Kelley Price and a sculpture from Bill Meeker.
The annual event features art of the American West represented in oil, watercolor, acrylic, mixed media, pastels, sculpture and drawing. Since 1974 the Phippen Museum Western Art Show and Sale has been a Memorial Day weekend tradition that brings together artists of the highest caliber, art enthusiasts and collectors from all over the country.
---
Sotheby's American Art Sale, May 23, 2013
---
With less than 100 lots offered in New York's American Art Sale, Sotheby's realized a whopping total of $28,087,750. Arguably some of the best examples of works by acclaimed American artists were offered, including an oil by John Singer Sargent, Marionettes (Behind The Curtain), which sold for $5.2 million, alongside other works by Americans Norman Rockwell, Mayfield Parrish, Milton Avery, William Keith and C.M. Russell, among others.
Relevant to the Western art market, Frederic Remington's oil on canvas, Call The Doctor, sold for just more than $1 million.
---
Christie's American Art Sale, May 23, 2013
---
Featuring a strong selection of works from the 19th through mid-20th century, the sale total of $50.8 million is the highest the category has seen since May 2008, according to Christie's representatives.
"The thrilling sale of Edward Hopper's Blackwell's Island for $19,163,750 marks the highest price ever achieved for a single work of art in an American Art sale at Christie's," says Elizabeth Sterling, head of American paintings.
Other highlights spanned from Hudson River School and Impressionism to Modernism and illustration art, including masterworks such as Georgia O'Keeffe's My Back Yard and Milton Avery's Musicians, as well as the record-setting price of $4,155,750 for a work on paper by Edward Hopper. Western art included works by Edgar Payne, James Earle Fraser, Oscar Berninghaus, California artist Granville Redmond and Texas landscapist Julian Onderdonk.
---
Sotheby's Arts of the American West, May 22, 2013
---
Sotheby's inaugural Arts of the American West Auction was held in New York this spring and totaled more than $3.8 million in sales.
The sale was a mix of fine art and artifacts, including works by painters Frederic Remington, O.C. Seltzer, Frank Tenney Johnson and William Robinson Leigh, among others, alongside Pueblo pottery, Plains Indian beadwork, Northwest Coast sculpture and California basketry.
Right off the block the first lot of the day sold above premium at $167,000 for a set of two Paiute polychrome coiled baskets by Lucy Telles [1885–1955]. The top-selling lot was a Northwest Coast polychrome wood headdress with abalone shell inlay that was estimated at $175,00 to $225,000 and sold for $425,000. Next, a Crow beaded war shirt, which sold for $341,000, drew competitive bidding.
Another impressive Native American artifact that drew $185,000, was the Bowstring Warrior Society Ledger comprising 34 pages, each drawn in graphite pencil and colored pencil (black, yellow and red) on paper, depicting various accounts of warfare and ritual including a unique drawing of a horse mask used in battle against the Pawnee and 16 different shields. The ledger is attributed to Medicine Water I, Lame Bull, Alights on the Cloud and possibly eight other unknown artists. Additionally, Joseph Henry Sharp's oil on canvas, The War Bonnet, sold for nearly double its high estimate at $257,000.
---
Modern Art & Design Auction, May 19, 2013
---
The spring Modern Art & Design Auction in Los Angeles featured lots that ranged from high-style design to iconic pop art pieces, adding up to a total sales figure of $3.6 million. The highest selling lot was a never-before-seen Vija Celmins painting from 1964, Untitled (Knife and Dish), which was sold for the first time by its original owners, realizing $587,500, over the estimate of $300,000 to $500,000. This was a world auction record for a work on canvas by Celmins.
Additional paintings of note included Larry Rivers' White Camel (1980), a large canvas portraying one of his most iconic images, and a Billy Al Bengston painting from 1960, Count Dracula at the Chessboard, acquired from Fergus Gallery by Betty Asher, sold for more than twice the high estimate ($15,000 – $20,000) for $46,875. Other fine art highlights included Andy Warhol's Liz (1965), a David Hackney swimming pool lithograph (1978–80), and a selection of Hard Edge School paintings, which included early works by Karl Benjamin.
Design highlights featured a selection of lighting by Serge Mouille, a grouping of Nakashima designs, and a large offering of Walter Lamb outdoor furniture, as well as ceramics by Peter Volos, Gertrud and Otto Natzler, and Malcolm Leland.
---
Art Auction, May 10 – 11, 2013
---
Heritage Auctions, based in Dallas, Texas, hosted two sales which showcased works from the genres of American Indian, Texas, Western and California, and American art over the course of two days. Combined, the sales grossed more than $4.5 million.
Among the highlights in Heritage Auctions' Western and California Signature® Art Auction were Indian Tales (1922) by Blanche Grant, which realized $62,500 and Girl with Calabash, Moorea (1977), by Millard Sheets, a notable example of California Modernism, which fetched $40,625. Additional highlights included four butterfly paintings by Albert Bierstadt, offered individually, but combined realized $64,375; Thomas Hill's Trout Fishing (1891) brought $42,500 and End of Day by Gordon Snidow achieved $30,000.
Additionally, in the Western art genre, notable sales included a painting by Earl Biss that sold for $27,500; Mian Situ's Sisters brought $20,000, and historic works by Maynard Dixon and Joseph Henry Sharp drew market prices.