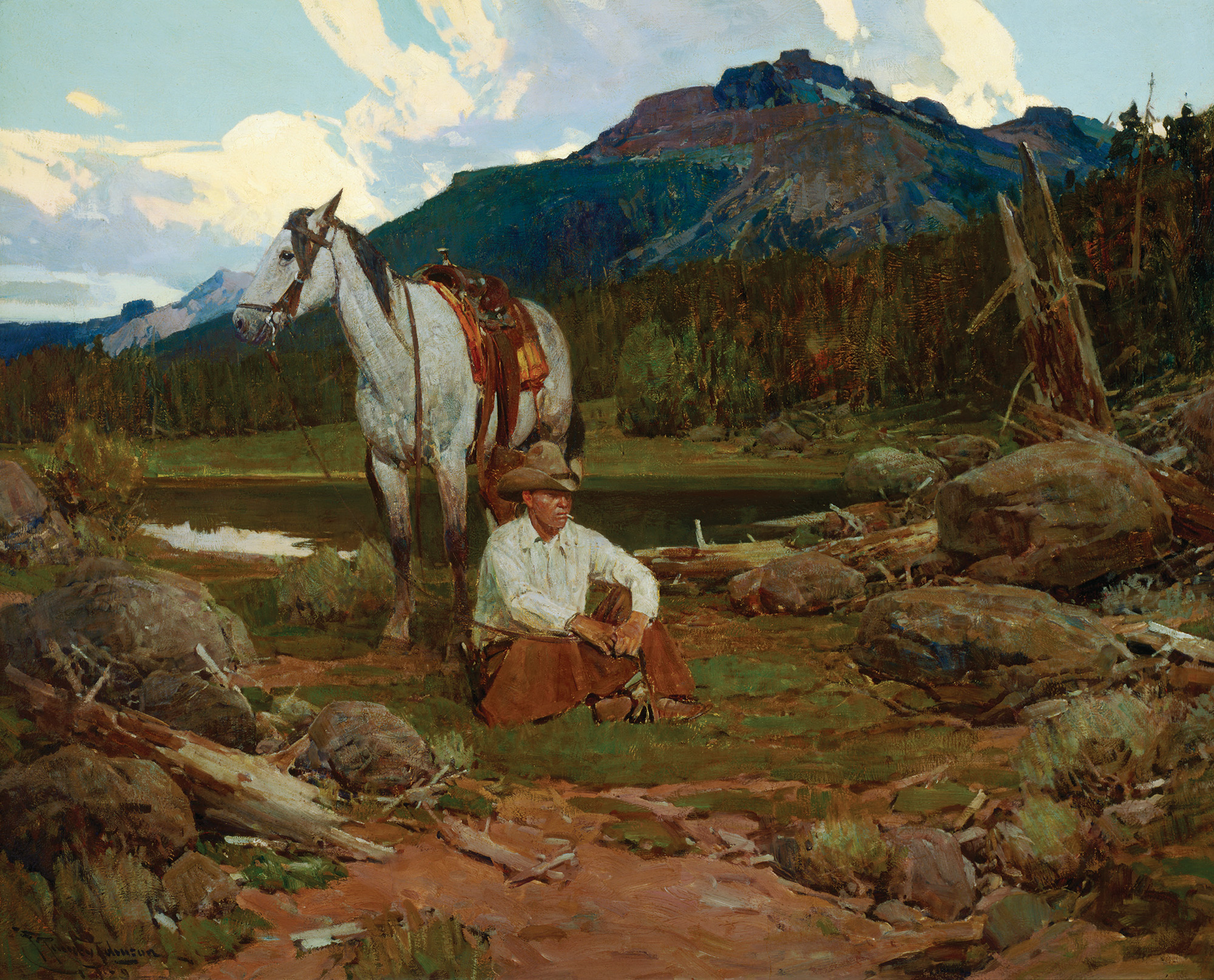 Frank Tenney Johnson, "Mountain Meadows" | Oil on Canvas | 45 x 56 inches | 1929 Est. $750,000–$1,500,00
12 Jan

Auction Block: America, America
---
Sales of Western art tied to nostalgia fared well in the last months of 2016, with art that once graced the covers of the Saturday Evening Post commanding handsome sums at both Sotheby's and Heritage auctions in November. And Americana led at Altermann Galleries' late fall sale, with memorabilia tied to Annie Oakley, including a rifle which sold for nearly $300,000.
---
Bonhams' Native American Art Sale | December 5, 2016
---
A rare collection of masks from northern Alaska led Bonhams' $1,129,500 sale of Native American art on December 5 in San Francisco, California. The collection of 26 masks, each sold separately, netted $295,575, compared to their low estimate of $110,000.
A single mask in the collection, and arguably the most evocative, sold for $17,500, or more than four times its high estimate. The mask was fashioned along the lines of Janus, the Roman god thought to have two faces, one looking back and the other forward.
It is unclear how the masks, carved from driftwood, were used by the nomadic Inuit who fashioned them. Bonhams said it's possible some were part of shamanic ritual and served as the representational link between humans and animals. The masks, which were created across the ages, were collected in the early 1930s by California painter Madeline Langworthy.
A painting by Fritz Scholder — who famously said he took it as a compliment when a critic suggested he had destroyed the "traditional style" of Native American art — went for $52,500, the highest price paid at auction for a work by the artist who has gained more fame with each passing year since his death in 2005.
The painting, Dartmouth Portrait #2, had been estimated to sell in a range from $20,000 to $40,000, but its provenance, as part of the artist's celebrated Dartmouth Portrait series and the fact it had not been on the market since its purchase in 1974 by a New York City gallery, added to its profile, Bonhams said.
There's no more opportune time to pause a moment and consider the trajectory of Scholder, whose grandmother was a member of the Luiseño tribe, according to Altamira Fine Art. The gallery in Jackson Hole, Wyoming, was the site of a stunning exhibit of Scholder's work in September and another exhibition is planned there from February 29 to March 12, 2017.
The fall exhibit showcased Scholder's work at the peak of an evolving career in which color and a sardonic sense of humor are the only common elements, including Last Shaman, an acrylic featuring a figure that is arguably Scholder's most apocryphal and evocative.
---
Santa Fe Art Auction | December 3 – 4, 2016
---
Just when you thought you'd seen pretty much everything worth seeing, the Santa Fe Art Auction was waiting in the wings to wow you all over again.
One of the Southwest's largest annual auctions of classical and contemporary Western art, held in the city's historic downtown, the event marked $12,581,185 in sales and saw several major works new to the market, said Jenna Kloeppel, auction coordinator.
New highs were brought for works by Frank Tenney Johnson and William Gollings, among others, in a sale that showed strong online, absentee and telephone bidding.
The outsized oil by Johnson, Mountain Meadows, a masterly depiction of a resting rider and horse against the backdrop of snow-flecked mountains, elicited a flurry of interest in advance of its sale, in part because of growing interest in the cowboy artist's work, but also because the piece had only had two prior owners since its creation in 1929, Kloeppel said. The painting fetched $1,283,200, compared to a presale estimate ranging from $750,000 to $1,500,000.
Prices for paintings by early 20th-century Western artist Gollings soared above their high estimates, with the haunting nocturne Night Hawk garnering $421,200, compared to a top estimate of $350,000, and The Camp Crier realizing $327,600.
Indian Drummer, a work by Catherine Carter Critcher, the only female member of the Taos Society of Artists, went for $245,700, well above its high-end estimate of $200,000. Kloeppel said the artist is highly collectible and that an air of mystery surrounds her since there is very little documentation of her involvement with the artists who gathered in the eponymous New Mexico town in the early 20th century.
---
Altermann Galleries' Auction in Santa Fe | December 2 – 3, 2016
---
The late fall sale by Altermann Galleries generated $2 million for art offerings that included Western and wildlife art and artifacts in Santa Fe, New Mexico. The latter category saw a Remington rifle that belonged to celebrity female sharpshooter Annie Oakley.
The rifle was part of a lot that included memorabilia from the entertainer's career, and the group of items triggered strong, competitive bidding on the floor, by phone and by internet. The rifle ultimately sold for $288,000, more than two times its low estimate, auction officials said.
Other highlights included the early E.I. Couse, Klikitat Girl, that brought $105,000, and a small work by Howard Terpning, Thru the Aspen, which fetched $90,000, $10,000 more than its high estimate.
The sale showed the same numbers of buyers who were in attendance or bid remotely over the telephone or online, the latter a top trend cited by Barnebys for art bidding in 2016. And Richard Altermann, gallery owner, said he was both surprised and delighted by the number of new faces he saw during the auction.
---
Christie's American Art Sale | November 22, 2016
---
Christie's sale of American art, held in New York City on November 22, brought in a total of $36.7 million and set seven new world auction records, officials said.
Newell Convers (N.C.) Wyeth's Hands Up!, depicting a stagecoach hold-up in a narrow canyon, was the top seller at $4,951,500, a new auction high for the artist and far above presale estimates of $1.5 million to $2.5 million. The large piece, signed "N.C. Wyeth," was painted in 1906 and serves as a leading example of the artist's works with an Old West flair. It was published as a color frontispiece illustration in McClure's Magazine in August of the same year to accompany the first part of a serial called The Story of Montana, according to Christie's. In addition to evoking a certain kind of nostalgia, the piece exemplifies Wyeth's technical and compositional skills as well as his knack for visual narrative, making him one of the nation's foremost illustrators, the auction house added.
American westward expansion in the latter half of the 19th century was the theme of an Albert Bierstadt piece, In Platte River Country, a small oil on board that realized $2,505,000 compared to presale estimates ranging from $1,500,000 to $2,500,000.
A strongly patriotic scene of the Statue of Liberty, painted in 1876 by Edward Moran, Commerce of Nations, Rendering Homage to Liberty, also set a world auction record for the artist, realizing $1,327,500, or nearly twice its low-end estimate, according to Christie's.
Works by Georgia O'Keeffe have shown strong appeal in recent years, and so it was at Christie's American Art sale. O'Keeffe's Sand Hill, Alcade, a spare masterpiece of Modernism painted in 1930, garnered $1,447,500, solidly above its low-end estimate of $1,200,000, but shy of the high estimate of $1,800,000.
American Impressionism showed strong results and accounted for several world auction records. Those included Frederick Carl Frieseke for The Garden, a vision in blue and lavender, which fetched $2,407,500 and was painted in 1913. In the same category, John Leslie Breck's 1896 composition detailing a coastal flower profusion, Garden, Ironbound Island, Maine, brought $1,447,500, more than twice its low estimate.
Yet another world auction record was set tied to a Monet-like oil featuring a woman seated with a parasol, painted by Richard Edward Miller in 1914. Tea-Time achieved $1,087,500, compared to estimates from $600,000 to $800,000.
---
Bonhams' California and Western Paintings and Sculpture | November 21 – 22, 2016
---
A painting created by a female artist who's considered California's finest Impressionist garnered $787,500 at Bonhams' California and Western Paintings and Sculpture sale on November 21 in Los Angeles, California.
The never-before-auctioned piece by E. Charlton Fortune, acclaimed for her position at the vanguard of Modernism, featured Monterey Bay south of San Francisco and was painted in the late 1920s after Fortune's return from an extended stay in Europe, according to Bonhams.
The untitled seascape elicited an enthusiastic response from buyers, especially California-based collectors, and posted the strongest showing among Golden State artists hailed as Impressionists.
A piece by another such painter, Guy Rose, sold for $217,500 at the event, with Woods Cove, Laguna, a portrait in blues and greens of windswept waves.
A painting of sandstone cliffs by Edgar Payne, famed for his railroad-commissioned landscapes designed to draw people to the American West, brought $187,500, with Riding through the Canyon demonstrating Payne's mastery of color and composition.
The auction was one of two major sales of American art by Bonhams in the days before Thanksgiving.
The November 22 auction in New York City likewise yielded strong results, with a stunning Art Deco bronze, Diana, by Paul Manship, as the top seller at $727,500. That compares to a presale estimate ranging from $400,000 to $600,000 for the piece depicting the Roman goddess also known as the huntress, or Artemis in Greek mythology. The sculpture, fashioned in 1921, underscores the artist's classical training and themes from antiquity, with the particular version of Diana among the most recognizable of that series, according to the auction house.
The sale saw Seascape at Sunset by Martin Johnson Heade realize $271,500, more than twice its low estimate, giving the painting the second slot in the event's top 10 sellers.
An Albert Bierstadt fetched $85,000, with Mont Blanc achieving roughly $5,000 more than the lower pre-sale estimate from this renowned landscape painter of the West.
Bonhams' American Art department as a whole brought in nearly $7 million during what officials there termed a highly successful bicoastal week of American art.
---
Sotheby's American Art Auction | November 21, 2016
---
American art brought $28.6 million at Sotheby's sale in New York City on November 21. The top seller was a heralded Norman Rockwell that appeared on a Saturday Evening Post cover and which had not before been auctioned, according to Sotheby's. Which One features an Iowa voter deciding between candidates prior to the 1944 presidential election, selling for $6.5 million.
Western art sales were boosted by a pair Bierstadt landscapes, with Yosemite garnering nearly $1.4 million and Sunset in California, Yosemite realizing $1,068,500.
---
Heritage Auctions' American Art Auction | November 12, 2016
---
If there is a universally recognizable work in bronze by Frederic Remington, a strong candidate stands to be The Bronco Buster #17. A 1902 casting offered at Heritage Auctions' sale of American works in Dallas, Texas, on November 12 saw the eponymous figure in an antique brown patina realize $346,000, compared to a presale estimate ranging from $200,000 to $300,000. The auction offered 150 artworks sourced from private collections.
That was just one of the highlights of the auction that topped $2.5 million and which saw solid sums for works by such Taos Society of Artists talents as Walter Ufer and cowboy artists such as Frank Tenney Johnson. Ufer's A Ride in Autumn went for $175,000 and Johnson's restful The Forest Ranger, Alhambra, California, 1929, brought in $50,000.
Maynard Dixon's pastel, Bronco Buster, 1920, fetched a hefty $55,000, a pleasant high for the work that packs in so much action, it mimics a stylized rendition of athletic rider and spirited mount.
While the Ufer — a rough beauty — fell short of what it was expected to realize, there will ever be one or a dozen works that elicit such feverish bidding that the ultimate price can go well beyond its expected one.
And so it was for illustration art at Heritage Auctions, with To the Vanquished, considered one of Joseph Christian Leyendecker's top Saturday Evening Post covers, realizing $200,000, or twice its low estimate. In the same category, Mort Kunstler's Launch of the Space Shuttle Columbia, April 12, 1981, brought the artist a new auction record at $125,000, while The Vacationers, a nostalgic scene of mom-and-pop tourists in small-town America that appeared on the cover of the Saturday Evening Post in 1951, fetched $87,500 compared to a high estimate of $70,000.
---
Heritage Auctions' Texas Art Auction | October 29, 2016
---
Heritage Auctions' sale of Texas art on October 29 in Dallas, Texas, garnered $582,294 in an event led by a David Bates oil, Cyclamen and Lemon, which went for $35,000, or nearly double its high estimate.
Bates brought in a strong second at the sale with Sealy House, Galveston selling for $30,000, its top estimate, followed closely by Twin Oaks with Bluebonnets, an oil by Porfirio Salinas, which sold for $26,250.
And early-20th-century artist, Julian Onderdonk, gained the fourth top-selling slot with a small, wonderfully executed landscape, A Sunny Morning – S.W. Texas, 1910, which went for $22,500, on the higher end of presale estimates that ranged from $15,000 to $25,000.