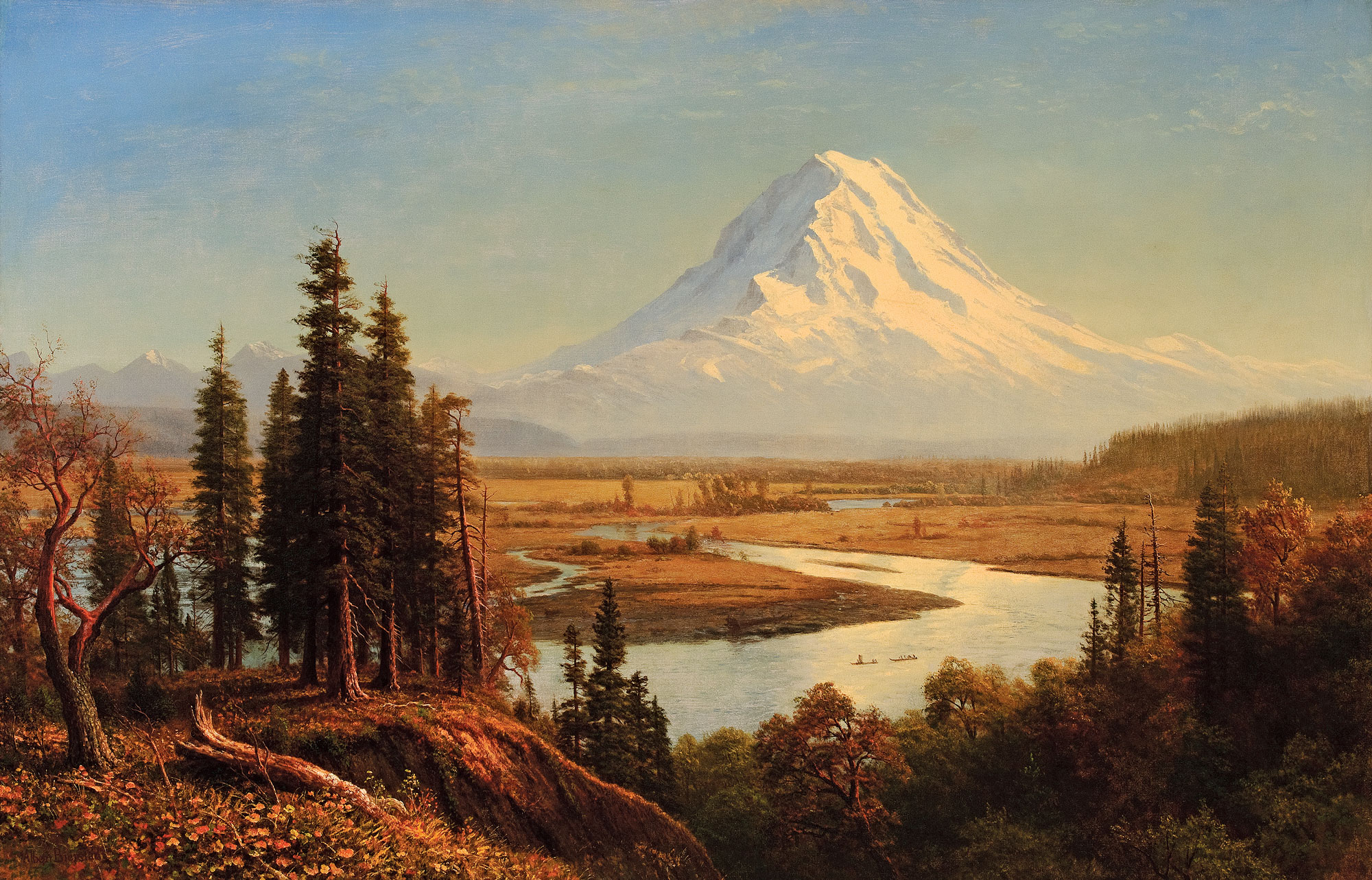 Albert Bierstadt [1830-1902], Mount Rainier | Oil, 54 x 83 inches | Sold: $2,143,000 | Couer d'Arlene Art Auction, July 23, 2011
01 Sep

Auction Block: Closing Strong
---
Rounding out the quarter on an upswing, the Western art market revealed solid signs of healthy recovery. Finer works by deceased and contemporary artists offered at the Coeur d'Alene Art Auction, Manitou Galleries' Auction in Santa Fe and the Jackson Hole Art Auction showed a rally of promising sales that will hopefully prevail in the coming year. The results are an indication that some of the highest-quality art can be found at auction today, but it's also a reiteration of the fact that collectors are willing to invest when they see something of value. Each of those auctions resulted in record-breaking sales for works by historic and contemporary artists with totals that feel like positive momentum moving toward 2012.
---
Buffalo Bill Art Show and Sale | September 25, 2011
Celebrating its 30th anniversary, the Buffalo Bill Art Show and Sale played to a sold-out crowd this season. Honoring a core of 11 artists who have been part of the show since its inception, along with patrons Nancy Tia and Bob Brown, owners of Cody's Bighorn Gallery, and Den and Shirley Barhaug, the event was a successful fundraiser, celebration and reunion all rolled into one. Artists from all over the country exhibited their works; 70 of the 112 showcased actually attended the event.
"It's exciting to recognize what these artists have given to the show and how they've helped the event grow over the last 30 years," said Kathy Thompson, organizer for Rendezvous Royale and the Buffalo Bill Art Show and Sale.
The event grossed $923,000, which will benefit the Buffalo Bill Historical Center and the Cody Chamber of Commerce. Top selling artists were Michael Ome Untiedt, Michael Coleman, Don Dervich and Larry Pirnie.
Highlights of the event included awards granted to notable artists. Linda S. Raynolds, of Cody, won the Premier Platinum Award ($20,000) for her bronze, Horse Power, and the Wells Fargo Gold Award ($10,000) was granted to William Matthews, of Denver, for Vanishing Point, watercolor, 29 x 21.5 inches. Both are representative of the spirit of this show, as judges attested, capturing iconic images of the West in contemporary ways.
While the live auction capped off the museum's annual week of celebrating the arts, other fundraising events for Rendezvous Royale festivities, such as the Patron's Ball and Cody High Style, drew patrons out as well. The latter is an annual exhibition of Western artisans that spans fashion, furniture and Western decorative arts born of the Rocky Mountain West. This year's Cody High Style winner of Best in Show was Scott E. Armstrong for Concertina Table.
---
Jackson Hole Art Auction | September 17, 2011
In its fifth year, the Jackson Hole Art Auction has clearly distinguished itself as a destination event, with consignors and collectors from all across the country and abroad, including Russia, Ireland, England and Switzerland. Organized by Trailside Galleries and Gerald Peters Gallery, this year's auction posted $9 million in sales, with an 88 percent sell-through on 250 lots, a record for this venue.
Arguably the highlight of the auction was the top-selling lot, Frederic Remington's He Lay Where He Had Been Jerked, Still as a Log, which sold just over its top estimate, for $1,583,000, to the sound of enthusiastic applause from the live audience of 300 in attendance.
Other records were set for individual artists: Clark Hulings' painting, Grand Canyon, a 31- x 47-inch oil-on-canvas which sold for $345,000, and Richard Schmid's painting, The Last Lilies, a 14- x 19-inch oil-on-board, sold for $69,000, well above the $15,000 – $25,000 estimate. An insider's eye could see that longtime Jackson residents and collectors were attracted to the auction by the Emily Oliver/4LazyF Ranch Estate, which saw active bidding for works that included drawings from Charlie Russell and watercolors from Olaf Seltzer.
---
National Museum of Wildlife Art: 24th Annual Western Visions Show & Sale | September 16, 2011
Crowning the battery of art events for Jackson, Wyoming's Fall Arts Festival, the 24th Annual Western Visions Show & Sale, drew collectors from across the country to attend the gala event.
Rolling out new technology, the museum introduced a digital bidding system that may change the course of benefit sales in the future. As a countdown ensued in the last seconds of the sale — "Three, two, one!" — collectors frantically entered final bids from every corner of the museum and watched prices register instantly on monitors positioned throughout the exhibit. The Museum of Wildlife reported $600,000 in sales for the main event, not quite as strong as the 2010 tally of $1 million, but interest remained strong in wildlife art, both traditional and contemporary.
Highlights of the event included the highest-selling piece, an oil by Tucker Smith, East Fork Rams, which sold for $40,000. An oil-on-board painting titled Band of Swans, by painter Robert Bateman, was this year's second-highest-selling piece at $25,000, and another oil on board, First Snow – Pronghorns, by Ken Carlson, was third, at $24,000.
"This year, bidders responded to the high quality of the wildlife work in particular," says museum curator of art Adam Duncan Harris. "It was great to see strong sales by established artists like Ken Carlson, Lindsay Scott and Tucker Smith, as well as a new generation of budding talent such as Amy Ringholz, Kyle Sims and Dustin Van Wechel."
---
Western Design Conference Exhibit & Sale | September 8 – 11, 2011
A record number of people attended the 20th Annual event in Jackson, Wyoming, which included a fashion and jewelry show gala and lectures, as well as a gallery-style exhibition and sale of one-of-a-kind Western design by artisans from across the country.
One hundred of the nation's finest Western-influenced designers and artists participated in the show, with cash prizes totaling more than $22,000 awarded to handcrafted works in leather, metal, accents, woodworking, jewelry and fashion. This year's award winners included $5,000 for Best of Show to Many Tears (Supaya Gray Wolfe) of Camp Verde, Ariz., among others.
---
Quest for the West | September 9, 2011
The Eiteljorg Museum of American Indians and Western Art's sixth annual Quest for the West exhibition and sale brought 50 top American artists to Indianapolis, Indiana, for their most successful event to date. With subject matter from painters and sculptors spanning landscape, wildlife, historical narrative, portraits and still life compositions, the invitation-only event evoked thoughtful contributions from this select group of artists. Opening night sales registered $1.5 million, surpassing 2010 results.
"The sixth Quest proved to be one of the most exciting and successful yet," said John Vanausdall, Eiteljorg Museum president and CEO. "The incredible crowd brought an energy that was truly electric. Quest has grown to be one of the most popular Western art sales in the country."
The coveted Artist of Distinction Award honored the work of sculptor Doug Hyde, who will receive a prestigious one-person exhibit in the Paul Gallery at the 2012 Quest show. Other award winners included Josh Elliot, Scott Rogers, Scott Tallman Powers, Robert Peters and Greg Kelsey. Kelsey's work, Hawk of the Mountains, won the Harrison Eiteljorg Purchase Award and will be added to the museum's permanent collection.
---
Auction in Santa Fe | August 13 – 14, 2011
Manitou Galleries presented the 7th annual Auction in Santa Fe and recorded the most successful sales to date for this event, totaling an impressive $2.8 million.
Setting a new world record for deceased artist Birger Sandzen [1871-1954], Summer in the Mountains, a 60- x 80-inch oil-on-canvas, sold for $632,500 and earned a standing ovation from the audience. Manitou has positioned itself strongly for future events. The sell-through rate of 87 percent of the 574 lots offered at this two-day sale (featuring an excellent range of Native American collectibles alongside highly sought American artists such as Joseph Henry Sharp, Ansel Adams and Edgar Payne, among others) is another healthy indicator in the Western art market.
---
Western Rendezvous of Art | August 19 – 20, 2011
Rounding up art patrons to experience some of the country's best artists for the benefit of the Montana Historical Society contributed to what is known as one of the most fun art events in the West.
Awards were granted to artists Blair Buswell, Paul Mullally, Jim Wilcox, Bye Bitney, Josh Elliot and Greg Beecham. Beecham's painting, Osprey Squared, garnered the Legacy Award, which will be added to the Montana Historical Society's permanent collection.
The 44 members of the Northwest Rendezvous Group (NWR) of artists — along with five guest artists — provided more than 200 original works for the Rendezvous' fixed-price art show. Total sales for the show were down this year, according to Joann Christnacht, co-chair for the event. "It seemed folks were holding back on their discretionary income … following three disastrous weeks on the stock market." Chrisnacht added that the event was a success, regardless of the funds earned.
---
Altermann Galleries | August 11, 2011
Santa Fe, New Mexico's Altermann Galleries broke records of their own with a strong auction that realized $756,000 in sales.
Richard Altermann noted "the roller coaster ride" on Wall Street leading up to the sale in August, but was satisfied with results for works from contemporary artists such as G. Harvey, Glenna Goodacre, Jason Rich and Ray Swanson. The top-selling numbers came from a group of six small works by Harvey that realized a total of $139,200. Attributing interest to the prevalence of first-time buyers at the sale, Altermann said the event was well timed.
---
Coeur d'Alene Art Auction | July 23, 2011
The annual Coeur d'Alene Art Auction has long been the benchmark for the tempo of the Western art market. This year's vigorous $16.8 million sales figure bolstered the confidence of artists, collectors and dealers.
"Bidding was particularly active at the upper end of the market, an indication of a renewed confidence in important works, fresh to the market, by major Western artists," wrote CDAA partner Mike Overby in a press release following the auction.
Works by Charles M. Russell have always been the specialty of the Coeur d'Alene Art Auction and this year was no exception. Two major paintings, A Dangerous Sport (est. $1,000,000 – $2,000,000), and Water for Camp (est. $800,000 – $1,200,000), each sold strongly at $1,471,000. Additional works by the artist were soon to follow with Indian Signaling, a 10- x 14-inch watercolor selling for $263,250 (est. $150,000 – $250,000), and Poems to Wallace, a wonderful 7- x 4-inch illustrated letter at $117,000 (est. $40,000 – $60,000), among others.
The highlights of the sale, however, were the four major works by Albert Bierstadt. Mount Rainier, a magnificent 54- x 83-inch oil, drew multiple bidders into competition until a winning bidder in the room took it home for $2,143,000. Possibly the surprise of the sale was Lander's Peak, Wyoming, a 36- x 26-inch oil of the Rocky Mountains. Expected to sell for $600,000 – $900,000, bidders completely disregarded the pre-sale estimate and drove the price to an astonishing $1,863,000. Two others by the artist also posted strong sales with Among the Bernese Alps selling for $321,750 (est. $100,000 – $200,000), and Mount Baker, Washington, a gem of a painting, selling for $280,800 (est. $200,000 – $300,000). Additional strong results were posted for Henry Farny's Evening Camp, a pristine 8- x 16-inch gouache, at $468,000 (est. $200,000 – $300,000); Maynard Dixon's Sculptured Sandstone hammered down at $351,000 (est. $150,000 – $250,000); and John Clymer's dramatic Buffalo Crossing brought $304,200 (est. $150,000 – $250,000).
Overall, with 92 percent of the lots sold, it was clear that this sale marked renewed interest in important works fresh to the market by major Western artists.
---
29th Annual Calgary Stampede Western Art Auction | July 14, 2011
A crowd of 400-plus collectors gathered at this traditional Western art event, a quick draw and live auction that featured 85 original works and garnered $463,000. The highest seller at the auction was an oil-on-canvas by deceased artist Jack King [1920-1998], whose work, Watching the Herd, sold for $75,000. The highlight was when Alberta artist Vilem Zach's oil on canvas, Together We Dance, which was commissioned for the 2011 poster, sold to a patron for $100,000.