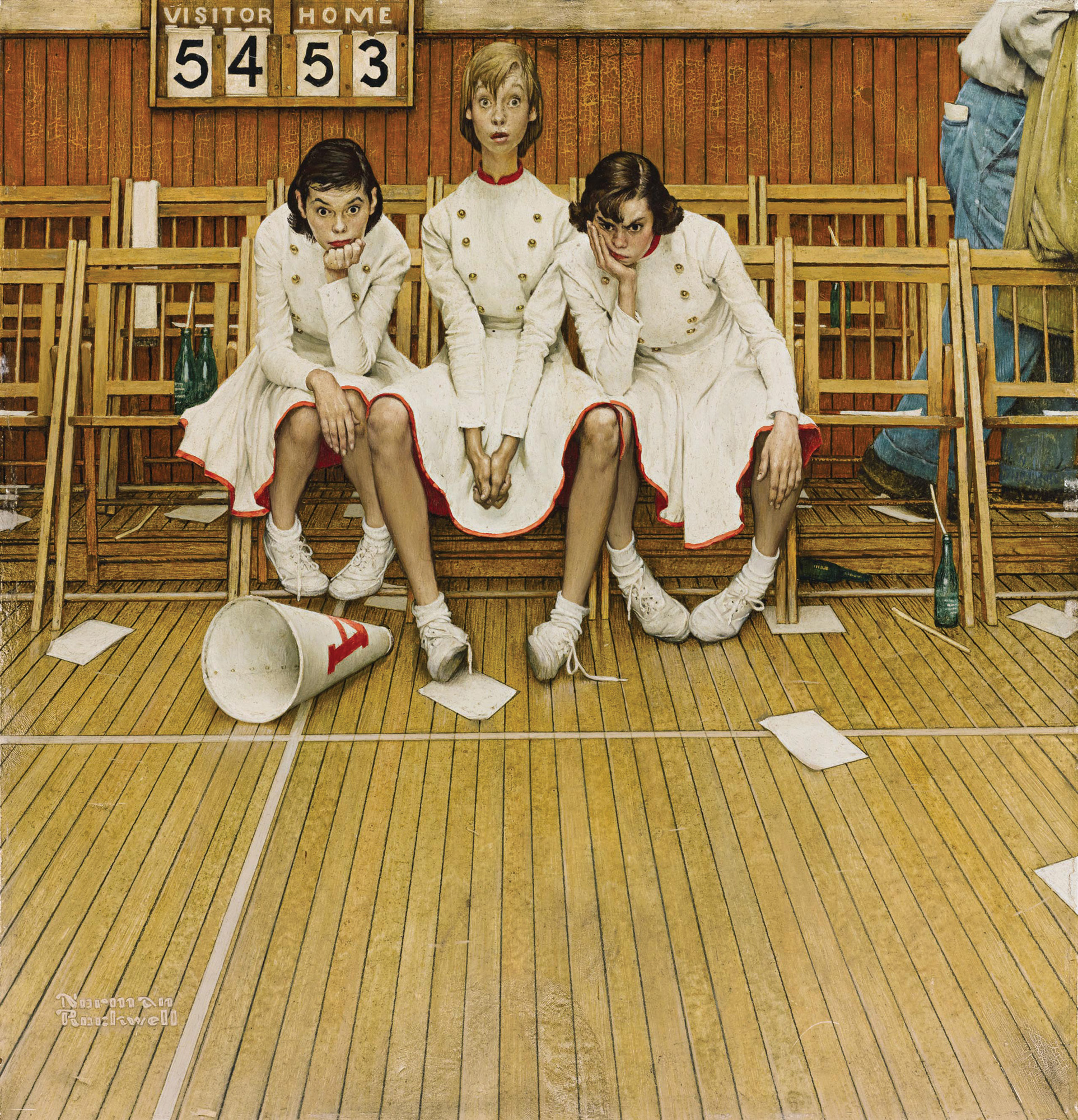 Norman Rockwell, "Cheerleaders (Losing The Game)" | Oil on Masonite | 17.24 x 16.375 inches | 1952 | Est. $2,500,000 - $3,500,000 Sold: $4,506,000
08 Jan

Auction Block: Drawing on Nostalgia
---
Auction houses in the waning weeks of 2015 reported a mix of highs and a few lows, the latter tied to such factors as the decline in oil prices and on-again, off-again signals from the Federal Reserve about interest rates.
Amid an assortment of economic cues and a host of social and political shifts, collectors showed a nostalgic bent that prompted prices to spiral upward for depictions by artists studied in illustration — including Maxfield Parrish, Thomas Hart Benton and Norman Rockwell — of simpler times in the United States, with an emphasis on the appeal of American places and traditions.
The end of 2015 saw a number of stellar pieces long held in private collections go to the auction block, where they were greeted with enthusiasm by buyers.
---
Christie's American Art, November 19
Christie's American Art auction on November 19 in New York brought more than $46.5 million, including buyer's premium, reflecting strong interest and hefty sums for signature paintings by top U.S. artists such as Georgia O'Keeffe, Maxfield Parrish and Thomas Hart Benton.
O'Keeffe, arguably the most famous female Modernist painter, certainly of the American Southwest, is at her design best with the oil offered by Christie's, Calla Lilies. The iconic painting, created in 1924, realized $3,301,000, in the upper end of estimates that ranged from $2,500,000 to $3,500,000.
Parrish's Land of Make-Believe sold for $3,525,000, solidly above its low estimate of $3,000,000, demonstrating the ability of the artist who began as an illustrator "to create a portal into an imaginary world, imbue his subjects with mystery and delight, and create compositions of tremendous visual impact and power," according to Christie's.
The painting depicts a woman in flowing Grecian dress in a flower-strewn setting where just the bases of towering columns are visible. It is the first painting in which Parrish used as his model the teenage Sue Lewin, who helped the artist's wife care for their first child and who would become the artist's muse, Christie's notes.
Thomas Hart Benton's modest-size tempera on board, The Plains, is a rendering at once so ordinary and inspired that it commands attention. It also commanded a price of $725,000 with buyer's premium at the November 19 sale, a sum pleasingly above its low estimate of $700,000.
The figure of a cowboy on horseback urging on a few straggling cattle anchors a piece that perfectly captures the openness of the American Midwest's Great Plains, where grasslands meet sky in an unending arc of horizon. The plains "were the perfect subject to further his [Benton's] mission of creating a uniquely American art," according to Christie's.
---
Sotheby's American Art, November 18, 2015
Thomas Hart Benton's painting of a boy and a dog was a sentimental journey for the artist that became a big win for a charitable foundation that benefited from the $3.1 million paid for the work during Sotheby's auction of American art in New York on November 18.
T.P. and Jake, an outsize tempera on canvas mounted on board, fetched a sum that represented more than twice its estimated low of $1.5 million. The work is from the collection of the late Sam Simon, the Emmy-winning co-creator of "The Simpsons," television's celebrated and sardonic animated series. Benton's painting was sold to benefit Simon's namesake Charitable Giving Foundation, according to Sotheby's.
The "T.P." of the work's title was Thomas P. Benton, the artist's son, and the dog, Jake, was found on a farm outside Kansas City, Missouri, by T.P.'s mother and taken home to become the family pet and T.P.'s constant companion.
The artistic rendering of the boy and the dog captures for eternity a bond formed by longing and cemented by loyalty. The painting shows T.P. at 11, a baseball bat in one hand and bone in the other. The child looks down at Jake, whose ears are cocked in anticipation of the treat and whose quizzical expression all but asks aloud if the coveted object is for him.
The portrait evokes an image of a simpler time in American life, when baseball and pet dogs were the chief concerns of adolescents. For an artist born in 1889, whose years spanned nearly a century and whose oeuvre encompassed the U.S. West, the moment and the image are tinged with a sentimentality that is sincere, providing proof that in Benton's hands, nostalgia is an art.
The same quality pushed up the price of Norman Rockwell's Cheerleaders at Sotheby's sale of American works in the final quarter of 2015. The depiction of a trio of deflated cheerleaders after a game in which the home team lost by a single point appeared on the cover of The Saturday Evening Post on February 16, 1952, one of 41 such covers in the 1950s, Sotheby's art experts said.
As with the Benton, Cheerleaders draws on the traditions of an emerging American middle class and elevates the ordinary. "In Cheerleaders, Rockwell captures a scene that could have occurred in any town in the country," according to Sotheby's catalogue notes. Those also credit Rockwell with covers for the then-popular magazine that "thematically sought to portray imagery that was more explicitly American in character." What could be more appealing at a time of social, economic and political change than a trip down memory lane?
The autumn auctions included, Sotheby's reported a season total for American art of $52.2 million, above the overall low estimate of $41.3 million. The robust sales were tied to works that drew from private collections such as Simon's and that of A. Alfred Taubman, noted businessman and philanthropist.
A Martin Johnson Heade painting from that collection brought $5.9 million at the November sale, setting a record for the artist but falling slightly below the low estimate of $7 million. Yet the price paid for The Great Florida Sunset, painted in 1887, showed the continuing stability of the market for masterworks, with this considered by Sotheby's one of the greatest examples of the American Luminist movement centered on depictions of light. In this expansive piece, a grove of palm trees is used to demonstrate the dramatic effects of waning daylight in a Florida marsh, according to Sotheby's.
---
Heritage Auctions' American Fine Art Auction, November 16
Heritage Auctions reported a record-setting $4.2 million sale on November 16 in New York at an event that brought $1 million for an oil by Maxfield Parrish, the most paid at auction for a nocturne by Taos Society of Artists giant Eanger Irving Couse, and a new high for a painting by Stevan Dohanos.
The Parrish, Jason and His Teacher, was painted in 1909 and published the same year as the illustration for its title page by Collier's Magazine. The composition of golden figures from Greek mythology would be an exercise in classicism if it did not incorporate elements evoking fantasy.
The master U.S. illustrator achieved phenomenal success in his lifetime and prices for his original works have soared over the decades. Jason is no exception. The figure of the Golden Fleece seeker and ultimately doomed husband of the vengeful sorceress, Medea, is heroic in its aspect, as is the depiction of his tutor in archery and other skills, the centaur, Chiron.
The piece is "a tour de force of technique and design" for an artist whose fairy-tale publications and magazine work placed him at the apex of American illustrators, according to Heritage Auctions.
The work by Couse, The Call of the Flute, brought $341,000, the highest at auction for a nocturne by the Taos school artist and an oil that had been part of the same private collection for 92 years, Heritage said. The painting of a Native American man playing flute by still waters pierced by moonlight is as lyrical as the viewer imagines the notes of the instrument to be.
Heritage underscores that Couse painted the piece in 1922, when he was at the height of a career shaped by training at such august institutions as the National Academy of Design in New York and Academie Julian in Paris. The Call was in the same Houston, Texas, family from the time of its purchase a year after it was painted, according to the auction house.
The painting by Dohanos that sold for a record $167,000 — which compares to its $40,000 estimate — was a Saturday Evening Post cover in 1950 depicting a seaside post office in New England. The price for Menemsha, Massachusetts, Post Office again speaks to the ascendancy of illustrators and the appeal of subject matter tied to relatively peaceful periods of American history.
Heritage executives hailed the November sale as yet another success.
"Our last three American Fine Art auctions have been powerhouses — a trifecta of stellar results," Aviva Lehmann, director of American art, said in a statement. "Our team works diligently all year long to curate an irresistible selection of art and our latest world records show clients like what they see at Heritage."
---
Santa Fe Art Auction, November 14
The heralded annual auction in Santa Fe, New Mexico, of classical and contemporary Western art marked its 22nd year November 14 at the Peters Projects gallery in a sale that totaled $5.7 million, not including buyer's premium of 17 percent.
The star of the show was Po Tse, whose portrait by Robert Henri saw a hammer price of $2.2 million, nearing the artist's record. The work, Portrait of Po Tse (Water Eagle), is a paean to a Tewa Indian that Henri is said to have painted in Southern California in 1914 during his maiden trip to the American West, according to auction officials.
The figure of the ceremonially dressed Native American is striking, as is Henri's use of color, with the maroon of the subject's shirt and white of his vest set against a background of blue threaded with green. It was from this stage that Henri would become known for his color work, according to the auction's catalogue notes. The oil on canvas spans 41.5 inches by 32.75 inches, yet, at any size, the work is sure to arrest viewers and appeal to collectors.
The November 14 sale saw 17 colorful woodblock prints by Gustave Baumann bring a total of $133,250. Coast Range, in which mountains take on a neon cast through the use of dark yellow and vibrant red, exemplifies the German-born artist's keen appreciation of the vastness of the landscapes found in the western United States as well as their multitudes of moods, signified by color.
A reflective Albert Bierstadt — Mountain Scene — went for a hammer price of $450,000 at the Santa Fe-based sale, which recorded 83 percent of 277 lots sold.
Auction Director Adam H. Veil celebrated record attendance and strong sales. "This year's installment was, quite ostensibly, SFAA's strongest — and, indeed, its highest-grossing — auction in recent memory," he said.
Robert Henri [1865-1929], "Portrait of Po Tse" (Water Eagle) | Oil on Canvas | 41.25 x 32.75 inches | Est. $2,300,000 – $3,000,000 Sold: $2.2 million
Thomas Hart Benton [1889–1975], "T.P. and Jake" | Tempera on Canvas Mounted on Board | 48 x 31 inches | 1938 Est. $1,500,000 – $2,500,000 Sold: $3,130,000