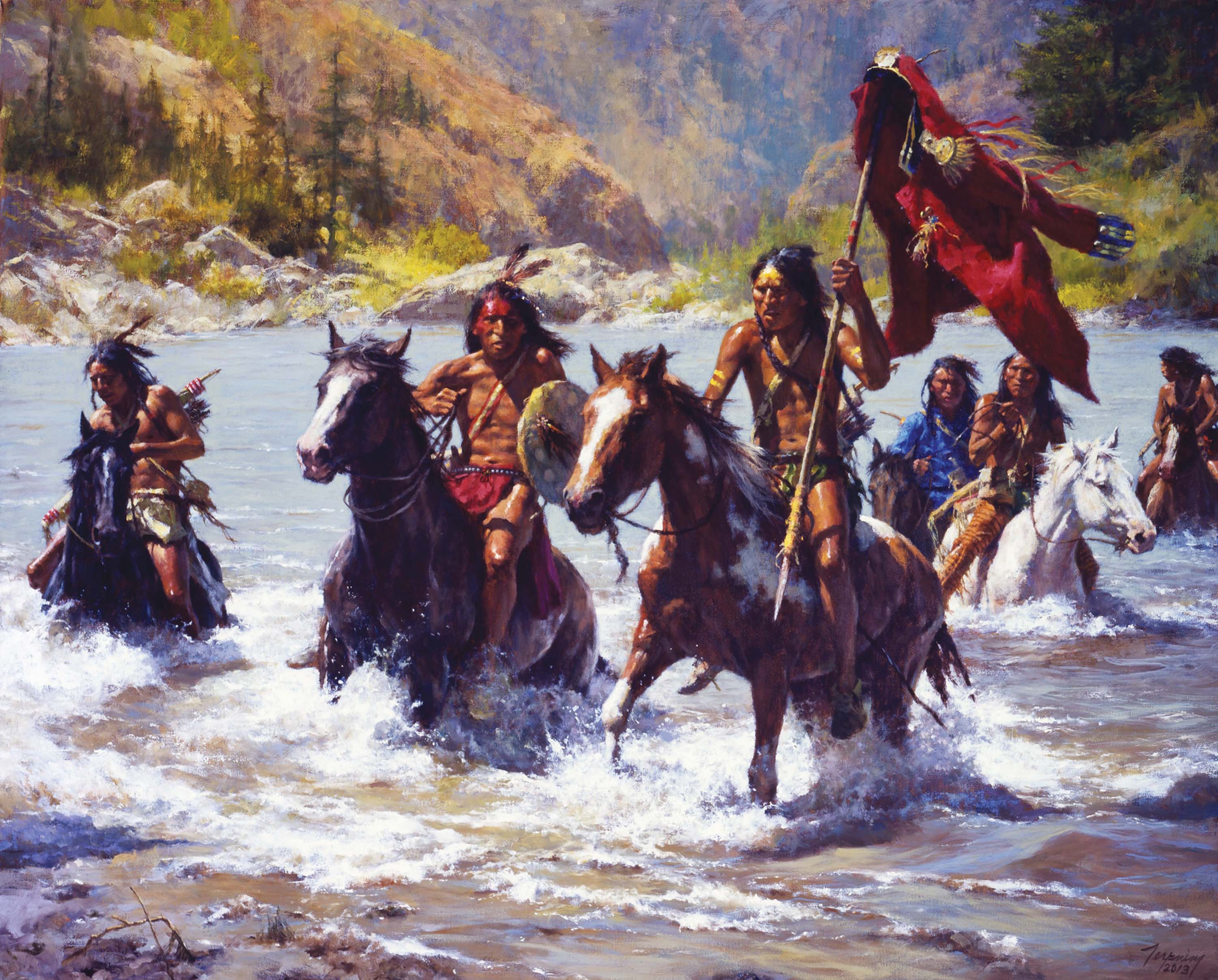 Howard Terpning, "Capturing the Chief's Coat" | Oil | 40 x 50 inches | Sold: $1.9 million
06 Mar

Auction Block: Dynamic Development

Hoping to keep the soaring results of 2013 rolling into this year, art dealers and collectors showed en force at early-season events throughout the West.

The Coors Western Art Show and Sale in Denver was the early bird show of the year over the first weekend of January. Offering an ever-evolving vision of Western art, curator Rose Fredrick successfully gathered artists who are both modern and classic. The massive Los Angeles Art Show reported a record number of attendees. Then, showing that the love for the Old West lives on, the High Noon Western Americana

Auction & Antiques Show made its mark with substantial sales for functional art. In a delightful contrast, the edgy Abstract and Pop Art icons of the 20th century also dazzled at the Los Angeles Modern Art Auction offering in February.

All in all, the first quarter signaled a healthy start for art sales in the coming year. Hopefully there will be more positive reports to come.
---
Los Angeles Modern Art Auction
February 23, 2014
The LAMA spring auction featured a rare and important painting by Vija Celmins from 1964, a complex hanging sculpture by Ruth Asawa, a collection of 60 designs by George Nakashima from the Edmund J. Bennett Collection, and a grouping of Hard Edge paintings from all four Abstract Classicists. The top-selling lot, a hanging sculpture by Ruth Asawa, soared to $1.3 million.
Fine art highlights include a remarkable selection of Hard Edge paintings by John McLaughlin, Karl Benjamin, Lorser Feitelson and Frederick Hammersley, in addition to works on paper by Richard Diebenkorn, Robert Motherwell and Nancy Rubins; multiples by Andy Warhol, Pablo Picasso, Ed Ruscha, Joe Goode and Frank Stella; and sculptures by De Wain Valentine and Charles Arnoldi.
Design highlights include a dining suite and rosewood rocking chair by Sam Maloof, furniture by Gio Ponti, a dining suite by Afra and Tobia Scarpa and a selection of designs by Hans J. Wegner. In addition, there was an assortment of Walter Lamb furniture, Charles and Ray Eames panels custom designed for the 1964 New York World's Fair and a large selection of Scandinavian designs and ceramics.
One of the top-priced offerings was John McLaughlin's abstract oil painting titled #11-1962, which sold for $212,500. The notable offerings of 20th-century classic Modern artists contributed to the total sales for the day's auction of $5.1 million.
---
Masters of the American West Exhibition and Sale
January 31 and February 1, 2014
Shaking it up at the Autry's traditional event, the Masters of the American West committee wisely chose to launch this year's sale with a live auction. The prestigious, yet normally calm, artist's dinner was transformed into a room full of lively (and competitive) bidders led by auctioneer Troy Black.
Held as a preview of the show, the exclusive artist's dinner is offered to Masters artists and sponsors at the patron level or above. Only four paintings from the exhibition were placed on the private auction block: Howard Terpning's Capturing the Chief's Coat; Mian Situ's The Newcomers, Deadwood, South Dakota, 1878; Kyle Polzin's Longing for Home; and Z. S. Liang's Joe Kipp, Trader, Missouri River, 1879. Together, the four pieces brought $2.2 million in sales, including a record-setting $1.9-million hammer price for artist Howard Terpning.
The 2014 Masters award winners were also recognized at the event. Morgan Weistling was honored with the Masters of the American West Purchase Award for Family Traditions, which will become part of the Autry National Center's permanent collection, thanks to gifts from Jackie Autry, Don B. Huntley and donations made in honor of Saralynn Geraghty. The James R. Parks Trustees' Purchase Award was given to Jim Morgan's Exit Left — Tundra Swans; InSight Gallery Thomas Moran Memorial Award for Painting recognized Howard Terpning; the Kenneth T. and Eileen L. Norris Foundation Award for sculpture went to Walter T. Matia; the Autry National Center Award for watercolor honored John Fawcett; the Don B. Huntley Spirit of the West Award for outstanding cowboy subject matter recognized Kyle Polzin. Bonnie Marris' oil on linen, Ice Princess, was the most-recognized work of the evening, winning three awards: the Bob Kuhn Wildlife Award, sponsored by Carl and Rosella Thorne; the Ross and Billie McKnight Artists' Choice, in honor of John J. Geraghty; and the Marjorie and Frank Sands Patrons' Choice. The Gene Autry Memorial Award, sponsored by Jay Grodin, for the most outstanding presentation of three or more works, went to Logan Maxwell Hagege. Finally, the John J. Geraghty Award recognized James R. Parks for his advancement of contemporary Western art.
The following night, the Autry hosted an evening with a cocktail reception and the prestigious fine art sale. Approximately 625 people attended. All of the paintings and sculptures in the show will continue to be on view through March 16 and remaining artworks will continue to be available for purchase. Masters is a popular fundraiser and attraction for the Autry; each year, an estimated 20,000 people visit the Autry to see the Masters artworks on display.
At press time, some featured artworks in the exhibition were still available for purchase. The prestigious exhibition features 79 nationally recognized artists whose works were commissioned specifically for this show and sale. A portion of the sales proceeds from Masters supports the Autry's dynamic educational programs, ongoing collections conservation and much more. Art sales had exceeded $4 million, according to Maren Dougherty, communications director at The Autry.
---
High Noon Western Americana Auction & Antiques Show
January 25, 2014
For two days, thousands of collectors and lovers of the American West gathered from across the country at the Mesa Convention Center for the spectacular 24th annual High Noon Western Americana Show and Auction, held January 25 and 26. The event was filled to capacity from start to finish, with robust buying reported from more than 200 exhibiting dealers.
The centerpiece of the weekend was the High Noon Western Americana Auction. With barely an empty seat in the house, more than 1,000 floor bidders waited to raise their bid cards for the chance to win one of the 329 exceptional lots of Western Americana art, artifacts and cowboy memorabilia from the silver screen.
The key lot of the sale was The Lady Yule Visalia saddle from Gleannloch Farms.
Touted as an absolute triumph in functional art, this 1930s masterpiece in tooled leather from the Visalia Stock Saddle Company also featured exquisitely engraved sterling silver by Schaezlein of San Francisco. The saddle ensemble included a fully matching bridle and dazzling breast collar. The provenance was equally rich as this saddle was made for Lady Ann Yule, considered to be the wealthiest woman in the world at the time. Estimated at $60,000 to $90,000, bidding on this lot opened at $30,000 but furious bidding from the floor, phones and Internet quickly escalated the final sale price to $141,600 — a full $50,000 above its high estimate.
The entire evening seemed to be full of surprises. A very exciting sale was had on a pair of Jesus Tapia spurs. Considered to be the Holy Grail of California spurs, this circa-1920 pair came to auction with an estimate of $30,000 to $40,000. Bidding opened at $25,000, but the phones, floor and Internet went wild and drove the final sale price to almost four times the high estimate for an astounding $153,400.
Proving once again that cowboys of the big and little screens of years past are still worth their weight in gold, the Colt .45 used by James Arness in his iconic role as Marshal Matt Dillon on TV's "Gunsmoke," sold for $59,000, more than five times its high estimate. Larry Hagman's legacy to the sale was his personal custom-made Edward H. Bohlin hand-tooled briefcase that toppled its high estimate of $11,000, selling for $20,060. An important pair of Tom Mix's personal California batwing chaps, estimated to sell for $16,000 on the high side, sold for almost double at $29,500.
In fine art, it was Cowboy Artists of America Frank McCarthy's oil on board, titled Where the Rocks Meet, which drew a bidding frenzy, achieving a well-over-estimate price of $29,500.
Additionally, Native American artifacts commanded significant results, with a Northern Plains pipe toma- hawk achieving $26,050 against its $12,000 high estimate, and a stunning Navajo sand painting rug, which sold for $22,420, well over its $15,000 high estimate.
---
LA Art Show
January 16 – 19, 2014
The 19th annual LA Art Show closed with consistently strong attendance, topping 50,000 enthusiastic collectors, and participating galleries reported significant sales. More than 140 galleries from across the U.S. and around the globe participated in the annual art fair, which welcomed the debut of the Los Angeles Jewelry, Antique & Design Show, co-located and taking place in tandem at the Los Angeles Convention Center.
Numerous galleries reported selling out during the course of the five-day show, with healthy sales coming from both loyal customers and new clients. Galleries that reported sales ranged from London-based Waterhouse & Dodd and Chris Beetles Gallery to local Los Angeles galleries Jack Rutberg Fine Arts, Timothy Yarger Fine Arts and Bruce Lurie Gallery, to name a few. The new Littletopia section, curated by Red Truck Gallery, brought a unique viewpoint to the roster and was met with critical acclaim, garnering high sales for many of the 11 participating galleries.
Consistently delivering the broadest spectrum of art to a diverse and engaged international and domestic collector base, the LA Art Show is the longest running venue for con- temporary, modern, historic and traditional art in the country.
---
Coors Western Art Exhibit & Sale
January 7, 2014
Duded up in festive Western attire, attendees of the 21st annual Coors Western Art Exhibit & Sale were treated to a red carpet event for the opening night at the National Western Complex Expo Hall in Denver.
Award winners for the exhibit included Best of Show, which was granted to Scott Fraser for his quirky oil on board painting, Animal Farm. Sponsored by Kathy and Brad Coors,
the artist received a $2,500 cash award. Fraser also won the Artist's Choice Award, a vote from all other participating artists. Henry and Lorie Gordon received the Mary Belle Grant Award. The event patrons voted to give Teresa Elliot the People's Choice Award and the Southwest Art Award went to Don Coen. Featured artist Quang Ho's Impressionist paintings were well received as well.
The total amount for the sale and silent auction was $1,050,000. Since 1993 the Coors Brewing Company and the National Western Stock Show have hosted an art exhibit to celebrate Western heritage. Proceeds from this event help support the National Western Scholarship Trust, which has a longstanding mission to provide college financial support to the next generation of agribusiness and rural medical leaders.