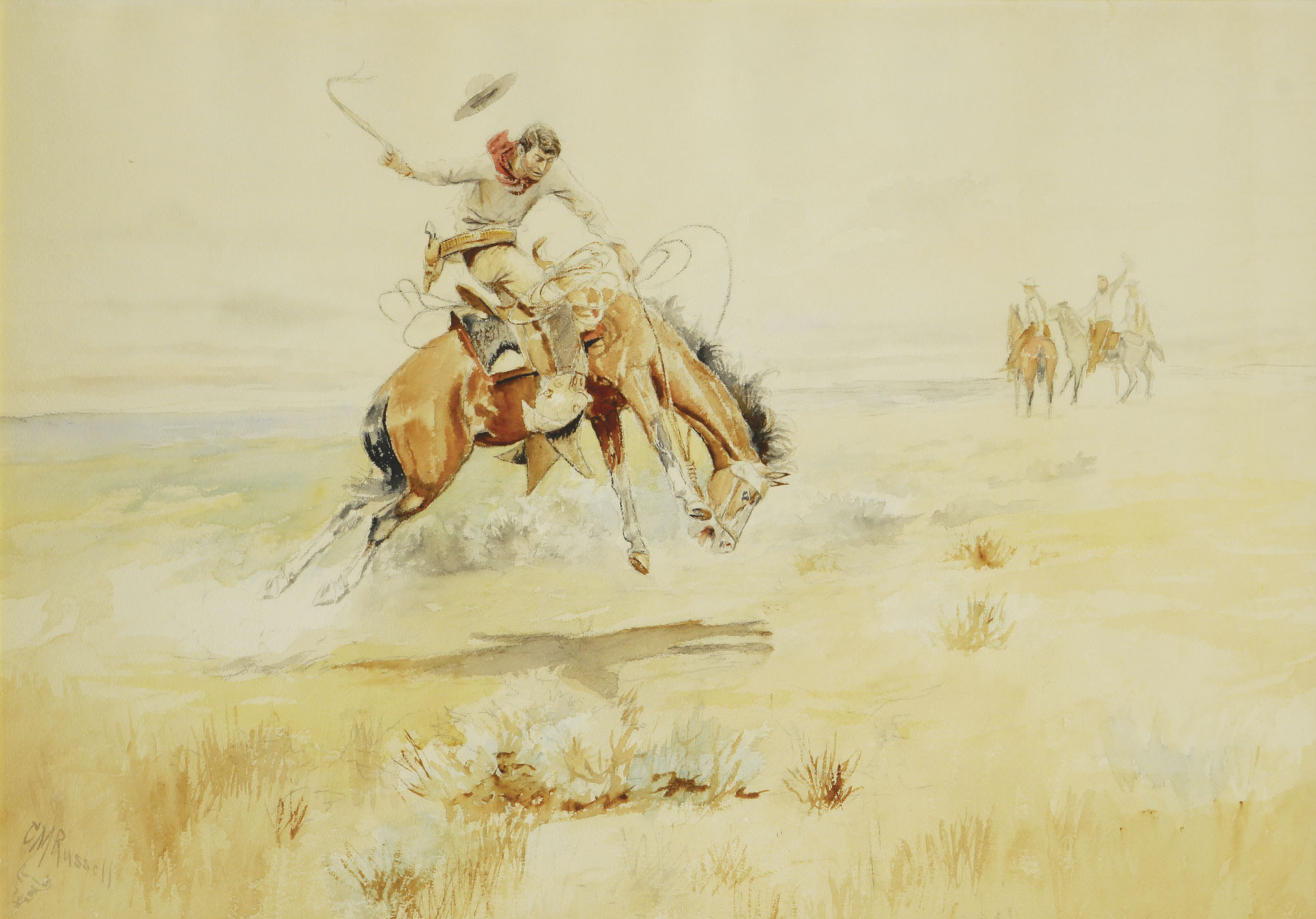 Bronco Buster, C.M. Russell Watercolor, 19.25 x 27.5 inches | Est. $240,000 - $280,000 | Sold: $200,000
30 May

Auction Block: Enthusiastic Market
---
If Western Art Week in Great Falls, Montana, is any indicator of the tempo in the current art market, then it's going to be a good year. From a sales perspective, no records were broken, but attendance was in full swing and sold out. Spirits are high among collectors, but spending is still on the low side, resulting in an unpredictable art climate.
Yet enthusiasm and loyalty in the industry is a solid meter that art lovers are still committed to buying art, perhaps just less of it and more selectively. New events have cropped up this year, including the Dallas Fine Art Auction and the Western Masters Art Show and Sale in Great Falls. Both artists and dealers have expressed genuine optimism that the economy is on the upswing in the art world.
---
March in Montana | March 18 – 19, 2011
Prevailing as one of the best sources to acquire Western collectibles and fine art, March in Montana emerged with final auction sales totaling $1.3 million at press time. The event offered lots that varied from rare Cheyenne beaded moccasins and Navajo rugs to an assortment of Western landscapes along with cowboy and Native American art from some of the region's best-known deceased and living artists.
The quality and diversity at this two-day auction showcased the best of the weekend's events in Great Falls. Meeting expectations of a show in Russell Country were the right cast of Montana characters, including a handwritten postcard from Charlie Russell; paintings by Ace Powell; photogravure from Edward Curtis; and works by Edgar Paxson. Standouts included a C.M. Russell watercolor, Buffalo, estimated at $5,000-$7,000 which brought $22,420; and then top-seller, In Pursuit of the Buffalo, a dramatic oil by contemporary artist Andy Thomas, which sold for $59,000.
Some interesting lots were noted bargains, as they sold for well-below the minimum estimate, including a series of four Karl Bodmer aquatint etchings for $400; a Charles H. Pabst oil on canvas entitled Morning Canyon (est. $5,000-$8,000) sold for $1,800 including buyer's premium; two Birger Sandzen pieces, a 10-by-14-inch lithograph (est. $900-$1,200) and a 9-by-12-inch linoleum cut (est. $900-$1,200), both hammered at $550 each.
Organized by Manitou Galleries and Coeur D'Alene Art Auctions, partner Bob Nelson said sales were softer this year, but that he was encouraged by the results of the event.
---
The Russell: The Event to Benefit the C.M. Russell Museum | March 17 – 19, 2011
The pinnacle event of the Great Falls, Montana Art Week yielded sales that matched last year's totals and may have even surpassed that total in the second year of the event. Days after the event, organizers at the Russell continued to close sales on items that did not move at the opening night, but at press time total sales for the three-day occasion summed up to $1.5 million according to Theresa Stephens, communication and public relations coordinator at the C.M. Russell Museum.
Sold-out for Saturday's auction, The Russell's highlight was the sale of historic local hero, Charlie Russell, whose painting Bronco Buster sold for $200,000. The same painting was previously offered at auction through Christie's in 2003, where it sold for 80 percent less. Saturday's sales were reported to be $950,000.
Andy Thomas was the star of the show for contemporary art sales; his original work The Burro and the Bad Men was purchased in the wall sale for $55,000, while another painting went for $10,000 in the quick finish.
Toward the end of the live auction some lots sold below the estimated range and other lots went unsold for both the live and wall sales; museum staff were still negotiating sales at press time. Overall, however, executive director Daryl Beauchamp expressed optimism for the final results.
"We feel really excited about the sales and this year we were pleased to know that people attended the event to support the museum," said Stephens.
---
Western Masters Art Show and Sale | March 16 – 19, 2011
A showcase for the region's most talented and prolific Western artists, this was an event for both collectors and art world insiders, featuring exhibit rooms for more than 200 artists, a quick-finish paint-off and live auction at the Heritage Inn in Great Falls, Montana. Organized by artists Nancy Dunlop Cawdrey and Carol Hagan, the event started a new tradition that promises to be a success. Launching an unprecedented trend, the Off-The-Wall proceeds went directly to the artists, a point, which Hagan noted, has not been done in the art world.
---
Art Auction 43, Yellowstone Art Museum | March 7, 2011
Celebrating 43 years of this event, the Yellowstone Art Museum in Billings, Montana, showcased 218 works of art from 172 artists at the annual gala. Compared with last year, attendance was up and bidding was lively for a variety of work from noted regional artists including Theodore Waddell and sculptor Gary Bates; the top-selling lot was from Montana artist Bill Stockton for a cattle marker on canvas work entitled Maggie's Nest, which sold for $7,000.
Despite the positive tenor from the crowd, numerous lots remained unsold at press time. According to Drew Bennett, marketing and public relations manager for the museum, the evening's gross sales were $250,000. Approximately $110,000 of that will go to support the diverse contemporary art collection and programming at YAM.
---
Christie's: Fine American Drawings, Paintings and Sculpture | March 3, 2011
Mixed in with American Masters such as Jamie Wyeth, George Inness and Milton Avery, the Western genre was well represented by Olaf Weighorst, Frank B. Hoffman, Harry Jackson and Oleg Stavrowsky. The highest selling lot was a painting from Jamie Wyeth (b. 1946) entitled Study of Kleberg which was estimated between $40,000 – $60,000, yet sold for a surprising $218,500 during a lively bidding war. The New York auction drew $3,323,125 in total sales.
---
Los Angeles Modern Auction | March 6, 2011
A bright point on the art auction circuit was the record-breaking day of sales at the spring LAMA event. Specializing in selling 20th century Modern art, design and furniture, LAMA has carved a niche that registered a sell-through of 85 percent on 524 lots for a total of $2,256,323 in sales.
"Once again, our results prove that you do not have to send Modern art to New York or London to get the top price," noted LAMA director Peter Loughrey.
High profile works of fine art from the collection of James Byrne, the first curator of Modern art at LACMA dating back to the mid-1940s, created a strong pre-sale buzz. In particular, an original Alexander Calder work on paper (estimated between $15,000 – $20,000) sold slightly higher at $25,000. Following an intense round of bidding over a work by British sculptor Reg Butler (estimated at $20,000 – $30,000), Lot 92 sold for $125,000. Sales records were also set for custom furnishings by Ettore Sottass.
---
27th Annual Marin Show: Art of the Americas | February 26 – 27, 2011
Attendance was up at the Marin Show: Art of the Americas, compared to recent years. Exhibitors noted increased sales and a younger demographic who came to enjoy antique and contemporary American Indian, Pre-Columbian and Spanish Colonial art on the opening night preview. Exhibiting pottery, textiles, sculpture, jewelry, beadwork, baskets, paintings and photography ranging in price from the low hundreds into the thousands, there was something for first time-buyers and seasoned collectors.
---
Masters of the American West Exhibition and Sale | February 4 – 6, 2011
Offering an array of styles and subject matter, from figurative with a historic emphasis to landscape tilted toward the Abstract Expressionist school, the 14th annual event at L.A.'s Autry Center proved to be a study in diversity and the West at its best.
"I am just so proud of each of these artists; every year they set out to bring their very best work to this show," said John Geraghty, special advisor to the Autry Center for the Masters of the American West Exhibition and Sale.
While the opening night's preliminary sales total was $3.2 million, more than 650 people attended the opening evening, drawing collectors, dealers and artists from around the country. The opening weekend showcased 276 works by 75 artists.
The show's sealed bid results showed historic master artist Howard Terpning with the top-selling painting, Among the Spirits of the Long-Ago People for $900,100; Morgan Weistling's Where Stories Were Told sold at $171,300; and Point Alones Fishing Village, Monterey, California, 1875 by Mian Situ sold for $171,000.
Purchase awards were bestowed upon Z.S. Liang's Rejecting the Metal Shield, Fort Mackenzie, 1835 and Len Chmiel's Gold Rush, Yuba River. The John J. Geraghty Award was presented to the Booth Western Art Museum in Cartersville, Georgia, for their dedication to the advancement of contemporary Western art, and the evening's David P. Usher Patrons' Choice Award was presented to Morgan Weistling for his work, Where Stories Were Told. In recognition of the most outstanding work in cowboy subject matter, Bill Anton, Under a Cowboy Moon, was given the Spirit of the West Award as well as the Gene Autry Memorial Award for the most outstanding presentation of three or more works. Additionally, Morgan Weistling received the Patron's Choice Award; the Bob Kuhn Wildlife Award was given to Daniel Smith; and Autry National Center Award for watercolor was given to Dean L. Mitchell for Yellowstone Cliff.
---
Dallas Fine Art Auction | January 29, 2011
Dallas Fine Art Auction presented their first Western and Texas fine art sale, and proved to be a major player in the market. With more than 500 people in attendance, clients seemed to enjoy this new venture between Dallas Auction Gallery, David Dike Fine Art, and Debbie Leeuw Fine Art. The DFAA partnership began in 2010 with a goal to provide both collectors and artists excellent service, personal attention, and scholarly knowledge about Texas and Western art.
Scott Shuford, president of DAG, states that "Dallas Fine Art Auction is the perfect way to showcase Texas and Western art through various fields of expertise and offer valuable service to artists and collectors. Dallas Fine Art Auction is proud of the results in both the Texas and Western Art categories. We would also like to thank all the contemporary artists that came to Dallas for the auction, it was a pleasure to have each one of you in our inaugural sale."
Contemporary artists such as Bill Anton, Ken Carlson, Martin Grelle and G. Harvey peppered the line-up, while works by notable deceased artists anchored the show, among them Charlie Dye, Bob Scriver and Maynard Dixon.
A final sales total was not available, but highlights included a painting from Gordon Snidow entitled Heading for the Barn, which was estimated at $35,000-$45,000, but sold for $53,775; Charlie Dye's (1906-1972) Calf Branding Time sold at $47,800, above the high estimate of $40,000; and an classic cowboy scene by Jason Rich, A Good Place to Cross that went for $21,510. The high-selling lot at the event was an impressionistic piece by Paul Schumann (1876-1946), Harvesting Oysters, Galveston oil on canvas laid on board that was estimated between $20,000-$30,000, but sold well over that price at $44,812.
---
Los Angeles Art Show | January 19 – 23, 2011
The 2011 Los Angeles Art Show attracted more than 45,000 excited collectors and art enthusiasts to admire an array of paintings, sculpture, and prints from 114 participating international galleries. With more than 15,000 items on display, the largest art event on the West Coast featured everything from Old Masters to cutting edge contemporary artwork. Sales and interest were very strong throughout the show and up more than 15 percent from last year, according to producer Kim Martindale.
---
Coors Western Art Exhibit and Sale | January 5, 2011
Rolling out the red carpet to kick off the 19th annual National Western Stock Show, the Coors Western Art Exhibit and Sale in Denver, Colorado, continues to be one of the most unique art events in the country.
Featuring a line-up of diverse artists, ranging from the graphic cowboy images of Duke Beardsley to the classic landscapes of G. Russell Case, curator Rose Frederick assembled a lively contemporary representation of Western artists. Steve Kestrel was the featured artist with his wildlife sculpture; painter Don Stinson won the Best of Show award for Awakening at Buena Vista: A New Significance ; the Artist's Choice award went to M.W. Skip Whitcomb; the Mary Belle Grant award went to Karriet Kelly; finally, the 2011 People's Choice award honored Jill Soukup for Two Bull Stride.