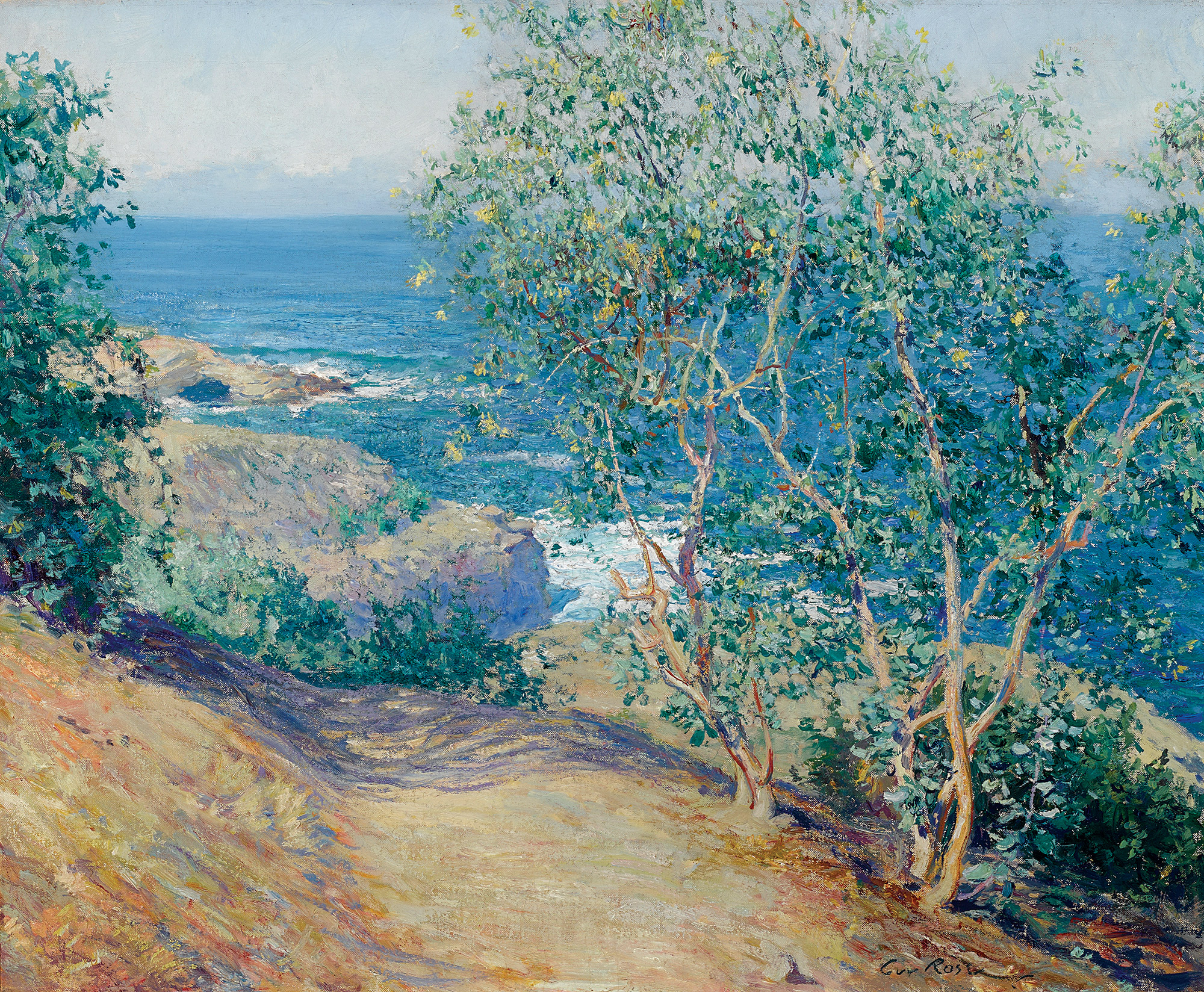 Guy Rose [1867–1925], "Indian Tobacco Trees, La Jolla" | Oil | 24 x 29 inches | Sold: $773,000
18 May

Auction Block: Investing in the West
---
A range of prices helped steady sales for Western art works at several auctions this spring. It comes at a time when oil prices continue to fluctuate, causing the base of the genre's buyers to show more caution in consigning and purchasing than for the same period last year.
Auction houses and sale partners have sought to cultivate ranks of first-time buyers seeking to build collections. Sellers said education is crucial in this process, leading to sound purchases and a sense of investment in the scenes, figures and craftsmanship that shaped the American West.
---
Bonhams California & Western Paintings & Sculpture Auction | April 12, 2016
Early California impressionist painters led Bonhams' first of three sales in 2016 of California and Western art. The auction, based in Los Angeles, found buyers for 145 paintings in an event that saw a celebratory sell-through rate of 92 percent.
In the days leading to the sale, Bonhams hailed the consignment of a master work by Guy Rose, whose impressionist paintings rose to prominence in the late 19th and early 20th centuries. The painting, Indian Tobacco Trees, La Jolla, pairs soothing shades of blue, purple and green with the dynamism of the wind-whipped ocean where it sweeps in an unending arc against the rocks framing La Jolla Cove in Southern California.
The oil led the sale in pricing, fetching $773,000, far above its low estimate of $600,000, followed by a distant — but impressive — second with Alfred Jacob Miller's Hell-Gate, Sweet Water River (Porte d'Enfer), Wyoming, purchased for $377,000.
Miller's depiction of a river sided by towering cliffs topped by a moody sky of muted gray, gold and pink found its first home with a Scottish lord in 1839 and changed hands just six times since then, according to Bonhams. Scot Levitt, Bonhams' director of fine arts, said Miller was a seminal figure historically in Western art, one of the few painters to travel to the U.S. region in the early 19th century to document American Indians, bison herds and explorers. Levitt said the rare work that sold at auction in April was part of a series painted by Miller while in the company of one such explorer.
"Paintings of this quality and size by Miller seldom come to market, with the majority of this caliber in museums and private collections from which they don't surface often," he said.
---
Scottsdale Art Auction | April 2, 2016
New world auction records were set at the signature spring sale at Legacy Gallery in Scottsdale, Arizona, for select artists, including the late painter and sculptor Joe Beeler, a Cowboy Artists of America founder, and contemporary Western painter Logan Maxwell Hagege.
Beeler's Meeting of the Mountain Chiefs, thought to depict the convening of Indian leaders as the U.S. sought to set aside land for the Blackfeet, sold for $87,750. And Hagege's The Sun Must Set to Rise Again, a spare composition showing an Indian man and woman walking beside a white horse in an arc of light that fades with each step, hit a new high for the artist at $46,800.
The offering of 386 lots, with sales through the third week of April at roughly $8.8 million, brought several surprises as a capacity crowd gathered for the auction of everything from deceased masters such as wildlife artist Carl Rungius to celebrated current painters such as Martin Grelle.
Rungius' set of eight small animal portraits, including a bull moose and a mountain goat, fetched $315,000, more than twice the low estimate. Other wildlife works that showed strong appeal included Robert Bateman's painting of iconic, hump-shoulder bruins, Alaskan Autumn Grizzlies, which brought $76,000, compared with presale estimates ranging from $40,000 to $60,000.
Led by Walter Ufer, Taos school progenitors fared well in the sale, with Ufer's modestly sized but evocative oil, Trailing Homewards, going for $613,000. And The Red Door, a village-scape by painter Victor Higgins, a work that rightly insists that a scene of the Southwest is in the eye of the beholder, brought $304,000, far above a low estimate of $200,000.
Martin Grelle's all-but-panoramic depiction of three Native American men crossing a river on horseback, Offering to the River Spirit, garnered $298,350, adding to a total of more than $1 million for a selection of his paintings.
---
Night of Artists Art Sale & Exhibition | April 1 – 2, 2016
The opening weekend of the Briscoe Western Art Museum's Night of Artists set a new record for sales that benefit the museum, with the early tally of $764,000 at press time. The event ran through May 15 at the institution's Jack Guenther Pavilion in San Antonio, Texas.
More than 800 artists, sponsors and guests attended the weekend events, which included an artist reception and preview on April 1 and the art sale, dinner and artist award ceremonies the following night.
Honors bestowed on artists were: Briscoe Museum Purchase Award to Ragan Gennusa for Out of the Brush; David Crockett Award for Artists' Choice to John Moyers for Call of the Canyon; Sam Houston Award for Painting to Xiang Zhang for Palo Duro Breeze; James Bowie Award for Sculpture to Bill Nebeker for Double Trouble; and the William B. Travis Award for Patrons' Choice to Mark Maggiori for The Monsoon Sun.
---
Altermann Galleries Spring Auction | March 31 – April 1, 2016
Altermann Galleries saw first-time buyers enter the arena in higher-than-usual numbers during its spring auction at the Gainey Ranch Golf Club in Scottsdale, Arizona. Sales rose to $1.6 million at a standing-room-only event that also saw a strong contingent of absentee bidders, according to owner Richard Altermann.
Charlie Russell and other fathers of Western art led the sculpture component of the sale, with Russell's action-oriented, tabletop bronze, Where the Best Riders Quit, which depicts a wrangler in chaps half-mounted on a spirited horse, soaring to $200,000. And a thoughtful bronze bust of an American military man, The Sergeant, by Frederic Remington fetched $65,000, just $1,000 shy of its record price.
The traditions and triumphs of the historic American West showed appeal for buyers, who paid top prices for works by founders of the Cowboy Artists of America. That trend led with an oil by Joe Beeler, Colonel Goodnight Entering the Palo Duro, which brought $79,200 and was underscored by Hang and Rattle, a colorful bronco buster painting by George Phippen, and Ute Trouble, an oil by Charlie Dye, each of which hammered at $22,800.
In the Midst of the Herd, among the rare major works to go to auction by the late Melvin Warren, commercial artist-turned-CAA giant, rose above its high estimate to garner $28,800.
Works by Texas painter G. Harvey brought strong responses, with The Old Warrior bringing $52,800. The painting is an homage to a Native American figure riding on a rain-slick trail as mist cloaks high mountain forests and all but obscures the comfort of a campfire lit between two teepees that the mounted warrior has left behind.
---
California and American Fine Art Auction | March 22, 2016
John Moran Auctioneers marked the entry of a younger generation of buyers at its biannual California and American Art Auction in Monrovia, California. The advice offered to those collectors by Morgana Blackwelder, the auction house's fine art specialist, is to purchase what appeals.
"The art market can be fickle, so we encourage people to buy what they love," she says.
Perhaps that maxim helped power an auction that registered a sell-through rate of 86 percent for 182 lots of traditional and contemporary Western works whose sales topped $1.5 million.
An outsized and restful painting by California artist Franz Bischoff, Sand Dunes and Pines, Monterey Coast, Calif., skyrocketed to $180,000. That compares to presale estimates ranging from $80,000 to $120,000 for an oil from the estate of actor Carroll O'Connor and his wife.
And a selection of contemporary Western pieces from the estate of Phoebe Hearst Cooke, granddaughter to California publishing powerhouse William Randolph Hearst, saw a Bill Anton painting, Rhythm of the West, featuring a cowboy and horses framed by a cloud-studded sky, realize $30,000, more than twice its low estimate.
---
March in Montana | March 18 – 19, 2016
At a time when even the U.S. Postal Service cannot resist the lure of storied Western landscapes produced by such legendary artists as Thomas Moran, it should come as no surprise to find that awe-inspiring scenes drawn from national parks in the American West and painted by other notable artists prompted buyers to bid and bid high during the two-day March in Montana sale in Great Falls.
Exemplifying the trend (literally given the stamp of approval this year by the U.S. Postal Service with a reproduction of a Moran image of the Grand Canyon) was an oil by Adolph Heinze, Going to the Sun Mountain, with the rendition of a rocky cliff dusted by snow at Glacier National Park selling for nearly $8,500, more than double its top estimate of $3,000.
At the higher end of pricing, a Nick Eggenhofer oil, The Santa Fe Trail, commanded $30,250, matching the sum paid for an oil-on-linen by Andy Thomas, Battle of Wolf Creek, which captures an early 19th-century skirmish in which a Cheyenne leader faces off with enemy warriors.
Saddles by legendary craftsmen such as Edward H. Bohlin drew sharp interest, with bidding for a fully tooled Bohlin saddle and matching bridle — both fashioned in the 1960s and ornamented with silverwork — rising to $33,275.
Mike Overby, auction partner, said the sale of 700 lots over two days at the Townhouse Inn amounted to roughly $1.4 million, demonstrating continuing demand for Western art and collectibles. "We saw good bidding and a lot of excitement," he said.
---
The Russell Exhibition and Sale | March 17 – 19, 2016
The trio of auctions that make up The Russell, an exhibition and sale benefitting the C.M. Russell Museum, in Great Falls, Montana, brought gross sales of $9.4 million, setting a new record for the third time in as many years.
Thomas Moran stole the show at The Russell's live auction and premiere Saturday evening at the Mansfield Convention Center in downtown Great Falls, with a dreamy oil, Castle Rock, Green River, Wyoming, selling for $3.6 million, a new high for a work of art at the museum event and confirmation that masterworks by Western art giants are likely to fetch handsome sums.
The 20-inch-by-30-inch oil depicts the eponymous rock formation that towers above the Green River in an iconic Northern Rockies setting that Moran painted more than once and which arguably finds its most powerful expression in the 1907 piece, said Michael Duchemin, the museum's executive director.
Strengthening the allure of the painting is that its counterparts are mostly in museums and not available for purchase by private collectors, said Duchemin.
"It's an extraordinary painting and it represented the rare opportunity for someone to acquire a major work by Moran," he said.
And the museum's namesake artist was not to be denied energetic bidding by the sold-out crowd at the live auction, with two compelling paintings, Indian with Bow (1900), and Grizzly at Close Quarters (1901), bringing $800,000 each, at and above presale estimates respectively.
At a live auction the evening before, known as First Strike Fright Night, buyers hardly waited for the hammer to fall before sweeping up 80 works by contemporary artists led by Colt Idol with the oil, Ridgewalkers, which garnered $12,000. The gross total was $339,000, a record for an event that this year drew 800 guests.
Distinctive to a sale of The Russell's depth and sales is that the buyer's premium is funneled directly to the museum to support everything from its operating budget to exhibits. Duchemin said the high-profile pieces brought to the centerpiece auction this year speak to the dedication of consigners to the museum's mission.
"The sales here benefit the museum; these folks want to see that benefit go to the museum," he said.