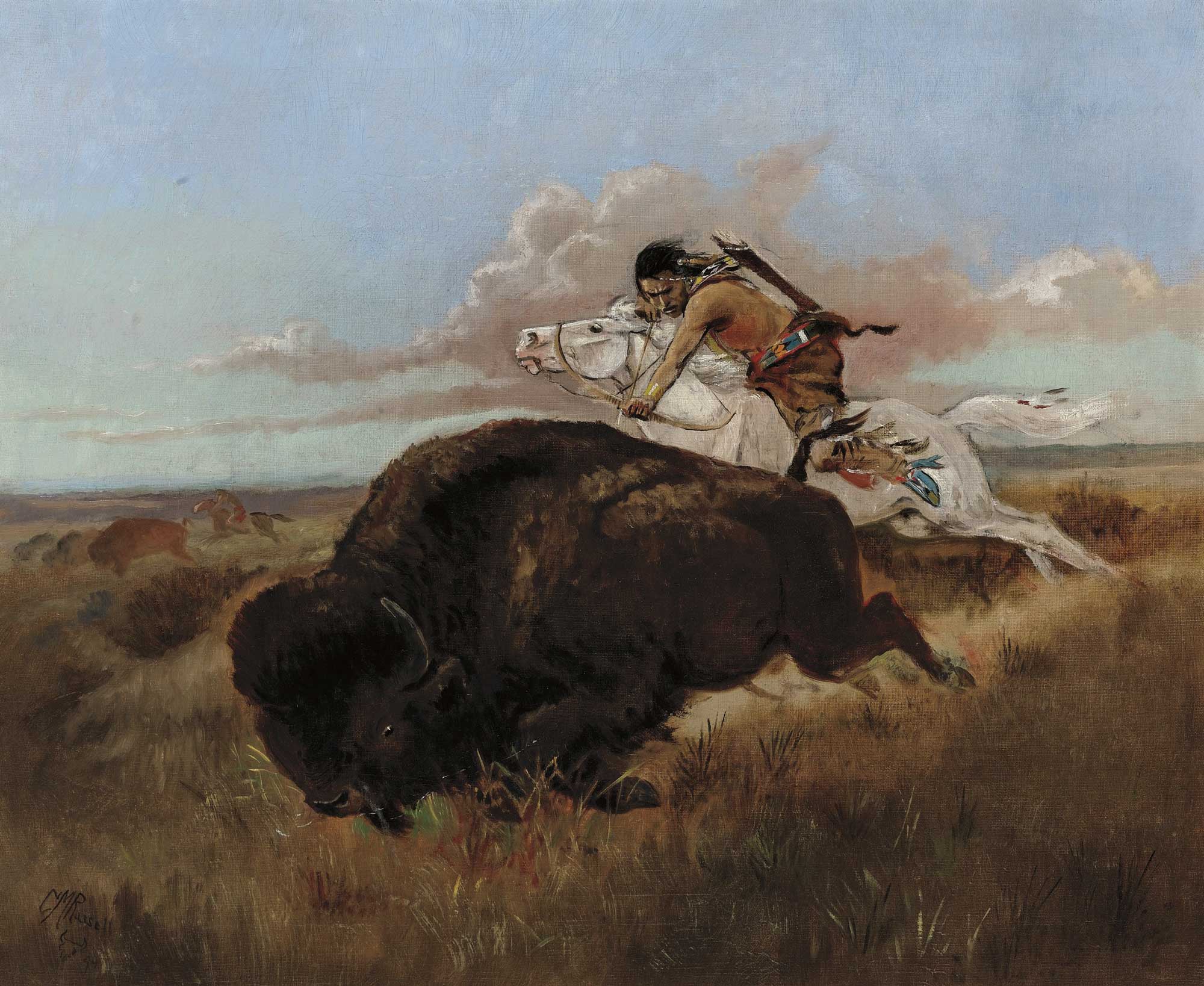 Charles Marion Russell | "Buffalo Hunting" | Oil | 1894 | Est. $400,000-600,000 | Sold for $458,500
24 Jul

Auction Block: Keeping the Faith
---
While the tenor of art sales worldwide has shifted from explosive to steady over the course of the year, significant works continue to boost the scene and selective collectors continue to buy with interest. From New York City to Los Angeles, contemporary Western artists and prominent artists of the past were available at auction and museum events. Organizers echo a sentiment of relief and gratitude that art sales have not dropped to rock bottom. It seems true patrons of the art world remain loyal to fine art institutions.
---
Prix de West Invitational Art Exhibition and Sale | June 12 and 13, 2009
A record number of artists participated in the National Cowboy & Western Heritage Museum's 36th annual Prix de West Invitational Art Exhibition and Sale in Oklahoma City, Oklahoma. Total sales were up to $3.1 million as of press time in June, with more in the works, according to museum spokesperson Shayla Simpson.
"With everything that we were up against, from the economy, from what we heard from other museums and sales across the country, we thought it was a phenomenal turnout and we were impressed with the sales; and continuing sales look very promising," Simpson said.
The event hosted 1,100 guests and 108 artists who exhibited 343 contemporary Western paintings and sculptures. Starting off with action, Saturday's minimum-bid sale featured the works of 15 premiere artists, including William Acheff, Paul Calle, Tim Cox, Dennis Doheny, Craig Tennant, Curt Walters, Jim Wilcox and others. This portion of the sale drew $352,000. The highest bids went to Morgan Weistling's painting, A Helping Hand, at $108,000, and Martin Grelle's Late Arrivals, Bordeaux's Trading Post, 1850 for $85,000.
Each year at Prix de West, top artists are awarded distinguished honors selected by the Prix de West committee, the artists and the buyers. The top honor is the Prix de West Purchase Award. This year Tom Browning's painting entitled The Dawn of a New Day was selected and purchased for $18,500. Browning, of Bend, Oregon, received a $5,000 cash award with the honor, as well.
Arizona artist Bill Anton received the prestigious Robert Lougheed Award, chosen by the Prix de West artists for their favorite display of three or more works in the show, and is sponsored by the Robert S. and Grayce B. Kerr Foundation. He was also presented with the Express Ranches Great AMerican Cowboy Award. The latter is given to the artist who exhibits the best cowboy subject matter, and this year Anton's award-winning work was Easy Does It.
The James Earle Fraser Sculpture Award and the Nona Jean Hulsey Rumsey Buyers' Choice Award were granted to John Coleman for 1876, Gall-Sitting Bull-Crazy Horse. Craig Tennant of Golden, Colorado, won the Frederic Remington Painting Award. And finally, first-time Prix de West artist Kyle Sims was given the Major General and Mrs. Don D. Pittman Wildlife Art Award.
"We couldn't be more encouraged by the results of opening weekend," said museum president Chuck Schroeder. "We have genuine Optimism about the exhibitions' summer season and continuing sales. There is still great priced artwork from some of the world's top Western artists."
The sale is ongoing and the works will be on exhibit at the National Cowboy & Western Heritage Museum until September 7, 2009
---
Sotheby's American Paintings, Drawings and Sculpture Sale | May 21, 2009
As evidence that top names in the Western art genre are still pulling in reasonable market prices, a C.M. Russell painting sold amid other classic American artists, such as Norman Rockwell, Winslow Homer, Andrew Wyeth and others. The excellent showing of AMerican masters revealed a conscientious and selective audience who bid on 108 lots.
Russell's iconic painting Buffalo Hunting, sold within the suggested estimate at $458,500. Another painting by William R. Leigh (1866-1955), Grand Canyon- an excellent example of the artist's work- sold well above the estimated $150,000 to $250,000 at a weighty $386,500. Additionally, Walter Ufer's depiction of a Southwestern Indian in the painting The Red Moccasins sold for $752,500, well above the estimated price. Total sales for the New York event were tallied at $15.3 million.
---
Sotheby's American Indian Art Sale | May 20, 2009
An impressive array of American Indian objects d'art came on the auction block in New York at this sale. When the hammer came down, final sales totaled just over $2.5 million for 138 lots. While 83 of the 221 lots went unsold, many of the works that were snached up by collectors went for well above the estimated price.
In particular, a rare compilation of Pacific Northwest tribal artifacts from the Frieda and Milton Rosenthal collection became available. The highest seller was a Tlingit Polychromed Wood Comb that sold for $146,500 (realized); the estimated price was between $60,000 to $80,000.
Of the sale results, David Roche, senior consultant of American Indian Art, said: "Today we saw that exceptional pieces attract active bidding and achieve strong prices. Though bidders were selective, rare works continue to be sought after by collectors. …"
---
California Gold at Bonhams & Butterfields | April 7, 2009
Bonhams & Butterfields auction offered a wide array of important Western scenes, plein air, Society of Six and land- and cityscapes by noted California and American artists. The Los Angeles-based sale totaled more than $4,178,000 and established four new world auction records for artists Bernard von Eichman, Carl Von Perbandt, Arthur Grover Rider and Granville Redmond.
"The market for California and American painting and sculpture continues to be strong. Solid prices and vibrant bidder participation were seen in a number of collecting areas. Interest in April's sale reflected an ongoing constancy in the marketplace for fresh and unique works," said Scot Levitt, Vice President and Fine Arts Department Head.
The top painting of the 179-lot sale was an Impressionist work entitled Poppies and Lupine by a Lake with Mountains in the Distance, by Granville Redmond, that sold for the artist at $542,000. Other artists featured included Richard Diebenkorn, Peter Volkos, Ruth Asawa and many more.
---
Scottsdale Art Auction | April 5, 2009
A healthy total of $6,151,430 from an assortment of 247 contemporary and historic Western art marked the fifth year of the Scottsdale Art Auction. While last year's sales marked $9.2 million, the quality of works presented at this event were commendable and varied.
High points of the sale included Charles Schreyvogel's Saving Their Lieutenant, at $1,639,000; Norman Rockwell's Fishing Party, at $218,500. Additionally, works by top contemporary artists Martin Grelle, James Bama, Andy Thomas, William Acheff, Mian Situ and others sold well. Despite these bright spots, there were an unprecedented number of passes on lots that seemed desirable in any market.