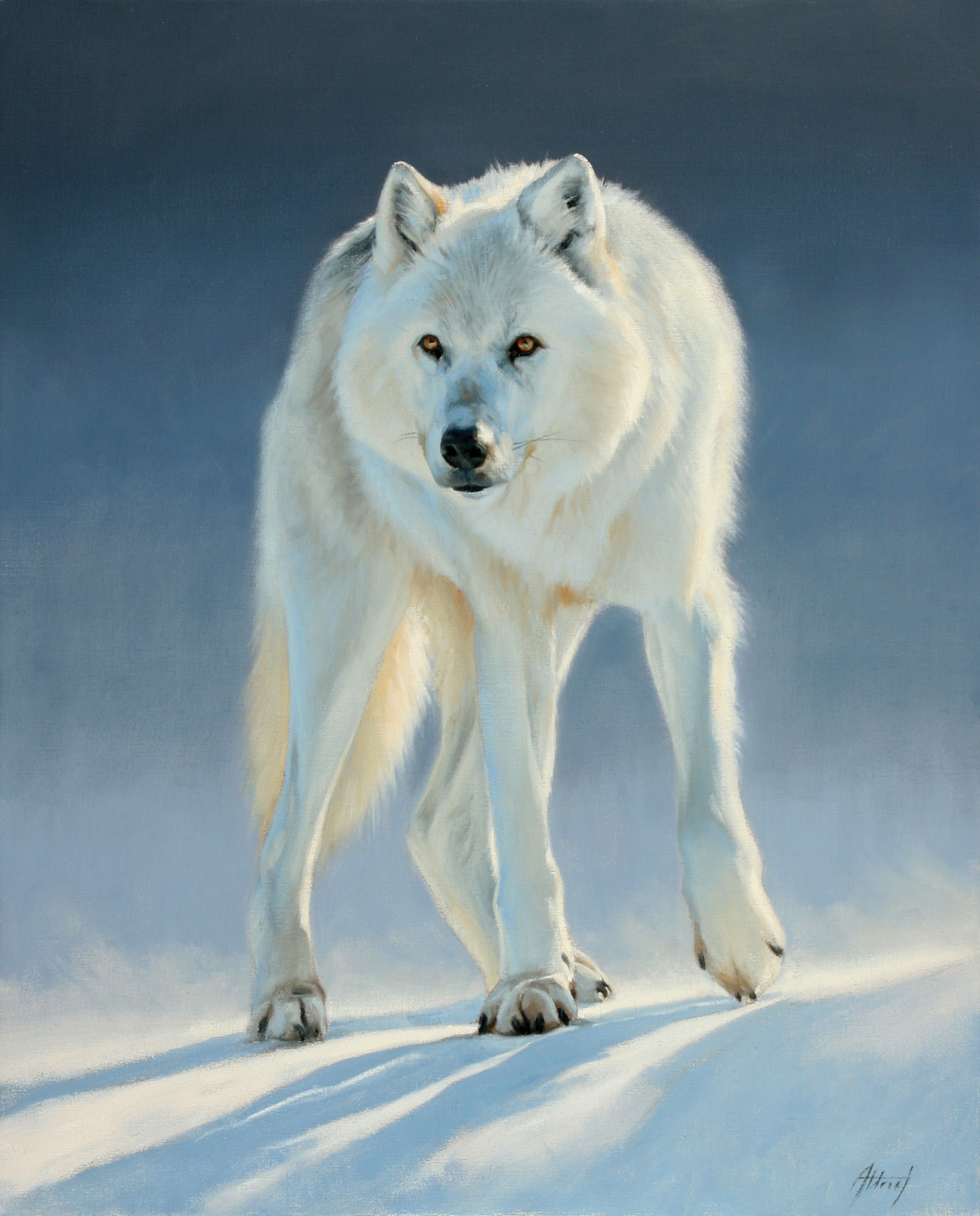 Edward Aldrich, "On the Prowl" | Oil on Canvas | 32 x 26 inches Opening bid $8,900 Sold: $16,300
17 Nov

Auction Block: Of Collections and Collectors
---
Auctions and shows featuring Western and American paintings from the collections of well-known art aficionados saw strong sales for pieces that best characterized the work of a particular artist.
For example, a Thomas Hart Benton painting sold for more than twice its high estimate during the Dallas Auction Gallery's Fine Art Auction in October. The piece, Roasting Ears, was strongly representative of the 20th-century artist's so-called regionalism or penchant for portraying people or events that were veritable slices of American life. Ironically, Benton is claimed by nearly every region of the nation because of that penchant, with the Missouri-born artist known for scenes depicting the life and times of everywhere from New England to the western U.S.
The overall sense of the market for Western works in the waning months of 2016 was one of reliability even though there were a few dips and false starts, including slightly lower totals for some sales.
Sotheby's American Paintings, Drawings & Sculpture | October 20, 2016
At a time when U.S. presidential politics has brought cultural, economic and other differences into focus, nostalgia for another time, another America, is in the air.
A sign of that desire to return to a time that seemed free of bitter divides was the response by collectors to Norman Rockwell oils during Sotheby's sale of American art on October 20 in New York. The stellar surprise was Young Girl Holding a Coke, which realized $262,000, more than 25 times its high, pre-sale estimate, amid an auction that totaled nearly $4.2 million.
Cowboy Crossings | October 13 – 15, 2016
Sales exceeded $1 million during the opening weekend of Cowboy Crossings, a sale and exhibition that partly benefits the National Cowboy and Western Heritage Museum in Oklahoma City.
Works highlighting the talents of Cowboy Artists of America members and the Traditional Cowboy Arts Association (TCAA) brought solid prices, including the bestseller Apsaalooke Signal Maker, a painting by Martin Grelle that realized $120,350. A saddle by artist Rick Bean of Idaho went for $39,500, making it the top-priced item among pieces by TCAA members.
Los Angeles Modern Auctions | October 9, 2016
Los Angeles Modern Auctions (LAMA) posted strong sales at its Modern Art and Design Auction on October 9 in Los Angeles, California, selling 94 percent of the 431 lots by value and realizing $3.8 million.
The event showed that certain art enthusiasts just can't get enough of Ed Ruscha. A painting by the creative genius, best known for his association with the Pop Art movement, garnered $468,750. That compares with its pre-sale estimate of $150,000 to $200,000 for Crescent Heights Becomes Laurel Canyon, a monochromatic acrylic on linen produced just 16 years ago. A transplant to Los Angeles, Ruscha moved to the city in 1956 to attend the Chouinard Art Institute and soon became one of the city's most adept chroniclers.
Director Peter Loughrey said LAMA has been championing Ruscha for 24 years, marketing his prints, books and drawings in sales that proved the auction house's readiness to represent an original work on canvas.
The early October sale "proved the L.A. market is where this material is most valued," Loughrey said in a statement, noting that a larger example from the same series went for less in New York just a week before.
LAMA set a new world record for Jay DeFeo, the late San Francisco Bay Area artist, by selling her abstract piece in oil and tape, Apex, for $281,250, more than twice the high, pre-sale estimate. This is yet another indication that works by DeFeo, known for her ties to the Beat Generation, are spurring competition among collectors.
Dallas Auction Gallery's Fine Art Auction | October 5, 2016
The work Roasting Ears, by Thomas Hart Benton, was the top seller in the October 5 sale at the Dallas Auction Gallery. The event brought in $5.9 million and saw a soaring sell-through rate of 96 percent.
The Benton piece, estimated between $700,000 and $900,000, realized $1,877,000 during brisk bidding that saw a collector by phone ultimately gain the painting. The work by Benton was predicted to generate strong interest because it represents the artist's position at the vanguard of the American Realist Modern art movement, said Scott Shuford, the gallery's president.
The sale, which featured 97 lots from the collection of Sam Wyly, the Dallas-based entrepreneur and businessman, achieved a stellar $665,000 for the 1825 painting of a Native American, Timpooche Barnard, a Yuchi Warrior, by American portraitist Charles Bird King.
Buffalo Bill Art Show and Sale | September 23 – 24, 2016
The Buffalo Bill Art Show and Sale in Cody, Wyoming, saw an uptick this year in sales during both a dinner and live auction on September 23 and the quick draw the following day, organizers said. The 35th annual event generated more than $930,000 tied to artworks, compared to about $880,000 last year.
More than 800 people attended the show and sale produced by the Cody Country Chamber of Commerce and the Buffalo Bill Center of the West. Kathy Thompson, art show director, said she was pleased with the outcome of the event, which generated more than $1 million in revenue, including ticket sales and sponsorships, especially given uncertainties in the economy and those created by the fact it is an election year.
Cody Country Chamber of Commerce Executive Director Tina Hoebelheinrich hosted her first show and sale this year and expressed gratitude to volunteers and patrons alike, noting that the "show takes a tremendous amount of manpower."
Josh Elliott's White as Snow, a sweeping horizontal painting of a fresh snowfall in the Crazy Mountains in Montana, fetched the top price at the live auction, selling for $19,000. Deer Creek Pass, an acrylic by Max Werner, who, like Elliott, was a new artist to the show, garnered $17,000. A backlit scene of a legendary waterfall in the nation's first national park — Lower Falls of the Yellowstone, by Dennis Ziemienski — fetched $15,000.
Ziemienski said of the 40-by-40-inch oil on linen, "I feel that the establishment of the national parks was one of the wisest and most enduring acts of our country. … I wanted to honor the 100-year anniversary of the National Park Service with this painting."
Also realizing $15,000 for their works were Doug Hall for Unaware, in which frontiersmen-hunters are shown beneath a rock shelter, unaware they have been spied by Shawnee warriors, and The Horn Blower, a tableau of a frontier town, by Gary Lynn Roberts.
High bids for quick draw fare included a work by John Potter that sold for $8,000, a piece by Nancy Dunlop Cawdrey that went for $7,500 and a piece by Laurie Lee that garnered $7,000.
Michael Dudash was awarded $20,000 for the Spirit of the Buffalo Bill Show and Sale Award for Turkey Hunter, depicting a young Native American woman toting a gun in one arm and a dead turkey in the other. New to the event is the 3D Award, which provides $10,000 to the chosen artist working in three dimensions. It went to T.D. Kelsey for his sculpture The Lick. A similar honor bestowing $10,000, called the 2D Award, was given to Josh Elliott for the top-selling painting. Barron Collier II donated the 3D monies and Wells Fargo sponsored the cash prize for the 2D Award.
The art show and sale, considered vital for tourism and economic activity during the so-called shoulder season in the Northern Rockies, earmarks 60 percent of net proceeds for the Center of the West while the chamber retains 40 percent. Artist compensation ranges from 50 percent to 70 percent of the sale price depending on the event, organizers said.
Jackson Hole Art Auction | September 16 – 17, 2016
Twenty artists set new world records during the Jackson Hole Art Auction, hosted by Trailside Galleries and the Gerald Peters Gallery for two sessions over two days.
One of the premier events that takes place during the northwest Wyoming town's celebrated Fall Arts Festival, the September 16 and 17 auction realized $8.3 million in sales, nearly $2 million more than last year.
The 10th annual sale took place at the Center for the Arts in downtown Jackson, and saw an outsized oil, Moving Camp, by illustrator-cum-artist John Clymer fetch $380,250, far above its ceiling estimate of $250,000.
Clymer, celebrated for his illustrations of the American West, which were printed on dozens of covers of the Saturday Evening Post, had achieved success and a hefty measure of fame in his lifetime, so it's perhaps no great surprise to learn that certain works are now surpassing expected highs for pricing. A separate and smaller piece by Clymer, September, likewise exceeded its pre-sale estimate range of $100,000 to $150,000 to garner $187,200, yet another sign that the painter, a decades-long member of the Cowboy Artists of America, can command top sums. Both paintings demonstrated Clymer's skill in depicting Native Americans in seasonal Western landscapes, with Moving Camp, a masterful rendering of winter's stark light, and September, a veritable portrait of autumnal splendor.
Bonnie Marris gained a world-record price for her entry in the auction's signature Top Tier competition. The contest among select artists invited to participate offers a $10,000 cash prize for a work of significant merit as determined by a panel of judges. Family Ties, an examination of the strength of relationships among members of a wolf pack, brought Marris a new high of $140,400. Marris wrote in the auction catalogue that that the 36-by-38-inch oil was "my celebration of the wonderful, complex social structure of a wolf pack."
The auction is the only one to receive a new work by Martin Grelle each year, and this year's princely sum of $198,900 was tied to the Cowboy Artist of America's Last Trail to Medicine Wheel.
Every art sale contains a secret which even organizers cannot fully disclose because its shape and magnitude has not yet been revealed. These are the so-called gems, works of a certain caliber by key artists that are expected to generate enthusiastic bidding but whose ultimate price can prove surprisingly hefty.
Portrait, the eponymous title of a 1929 painting by Dean Cornwell, had carried a pre-sale estimate ranging from $40,000 to $60,000. The compelling, yet quiet, portrait of a dark-haired woman holding a wide and squat vessel and sitting on a blanket was painted with color that evokes the hallmarks of Southwestern design and sold for $71,000 during an Altermann Galleries' auction in July 2006. It is an unintentional irony that the woman in the painting is slightly smiling since there was much to smile about after the work achieved $245,700 at the Jackson Auction, a world-record price for Cornwell.
Masters of wildlife art, then and now, fared well at the sale. A vast and stirring oil depicting African lions, by Friedrich Wilhelm Kuhnert, working in the late 19th and early 20th centuries, brought $280,000. The painting, Brullende Lowen, had pre-sale estimates between $200,000 and $300,000 and the auction's catalogue notes that even though the German-born Kuhnert produced thousands of works in his lifetime, fewer than 1,000 are said to be in existence, with much of his art lost during World War II.
A dreamy vision of North America's hump-shouldered bear by contemporary wildlife artist Robert Bateman garnered $81,900, with Above the Rapids — Gulls and Grizzly fetching more than $30,000 above its low estimate.
Western Visions Show and Sale | September 15 – 16, 2016
May it always be said that the nation's repository for the best of wildlife art as it's been fashioned through the ages knows how to host painters, patrons, sculptors and visitors with equal elan.
This year's Western Visions, the annual show and sale that raises funds for the National Wildlife Museum in Jackson Hole, Wyoming, was no exception to that felicitous rule. The 180 flat and sculptural works, some of which remained available for purchase through October 9, represented the creations of artists who are veterans and others who were new to the signal event, a highlight of the Jackson Hole Fall Arts Festival.
The goal behind the combination of established and rising artists was at once laudable and achievable. "We sought a great variety of strong wildlife art that represents the best of what there is right now," said Amy Goicoechea, the museum's director of programs and events.
A jewelry and artisan luncheon opened festivities designed to benefit the museum. Additional events culminated the evening of September 15 with an artist party and, the following night, the 29th annual show and sale featured a silent auction and mobile bidding.
Roughly 1,000 flocked to the centerpiece sale, representing an increase in attendance of about 20 percent, and sales totaled more than $650,000.
Edward Aldrich's On the Prowl, a stunning portrait of an arctic wolf, was selected for the cover of the Western Visions catalogue, so it was fitting that the 32-by-26-inch oil on canvas won the People's Choice Award. The work sold for $16,300. Aldrich, a graduate of the Rhode Island School of Design, could mark a high point this year in a career that has spanned decades. He was the featured artist for the Jackson Hole Fall Arts Festival and his stirring painting of a bison, Greeting the Dawn, graced the cover of the schedule of events for festivities that stretched from September 7 through September 18. Aldrich, one of several wildlife artists represented by Mountain Trails Gallery, has said portraying the intrinsic qualities of an animal is integral to his work.
For the first time in the history of Western Visions, a sculpture was chosen for the Trustee Purchase Award. Brad Rude — a newcomer to the show and sale — gained the aforementioned honor for Collective Journey, a whimsical, tabletop bronze featuring a grizzly and a wolf. Museum trustees vote for that award and the selected work of art is added to the institution's permanent collection.
The Red Smith Award, with the best of show honor stemming from the vote of artists, went to George Carlson for his bronze hippo, Arun. Kyle Sims' Simba Sketch was honored with the Bob Kuhn Award, so named for the acclaimed wildlife artist for a sketch.
A conspiracy of ravens was in evidence among works produced for this year's show with artist Michael Swearngin producing a triptych in two- and three-dimensions led by the stylized acrylic Riders and the Raven. It is just the second year that Swearngin's work has been included in Western Visions and he is among contemporary artists gaining standing in the event.
Karen Bondarchuk fits that mold as well, with the visual artist's trio of works eliciting both interest and laughter among viewers. Her charcoal painting of bison — Home on the Range #2 — shows the shaggy, outsized animals scattered among stovetop burners. And the artist's humor does not stop there. Bondarchuk's ink sketch of ravens is entitled The Recombinant, which seems to suggest a genetic mixing in which the uniform of the American cowboy — boots and hat — are modeled by a pair of ravens.
Goicoechea said the mix of realistic, traditional wildlife fare and the fanciful — with examples including Chris Maynard's hand cuts of actual bird feathers — spurred interest among observers.
Those elements, paired with the museum setting, created "a very strong aesthetic experience" that honored both artists and art lovers, she said.
Quest for the West | September 10, 2016
Quest for the West, the show and sale benefitting the Eiteljorg Museum of American Indians and Western Art in Indianapolis, Indiana, generated nearly $1 million during its opening weekend September 9 and 10.
Some 250 collectors and art enthusiasts attended the September 10 gala tied to the sale that is the only Western art event of its kind hosted by a major museum east of the Mississippi. Attendees submitted their names for a luck-of-the draw lottery tied to purchasing works by such artists as Michael Dudash and Josh Elliott, organizers said.
Those painters were among seven artists who received honors this year during the 11th annual show and sale.
Elliot gained the 2016 Harrison Elteljorg Purchase Award for Calving Season, a large oil on canvas depicting a scene the title perfectly describes — a rancher trudging across frozen, snow-drifted ground to reach a calving barn. Dudash, a northern Idaho artist, gained the Artists' Choice Award for A Fight for Life, a Fight for a Way of Life, portraying a conflict between frontiersmen and Native Americans.
Adam Smith was given the Henry Farny Award for Best Painting for The Gathering Place; Greg Kelsey the Cyrus Dallin Award for Best Sculpture for Momma's Not Bluffin'; Krystii Melaine's Haa'havehane — Wind Spirit, Cheyenne gained the Patrons' Choice Award; Peter Nisbet was honored with the Artist of Distinction Award for a body of work considered highest in quality and regard by patrons and artists; and the Victor Higgins Award of Distinction went to Glenn Dean for the best group of works presented in this year's show.
John Vanausdall, president and CEO of the Eiteljorg Museum, credited artists and collectors for a show and sale that brought $948,970 by the end of September.
"The creativity of the Western artists who present their works at the museum and the passion and enthusiasm of the collectors who seek out their art are key to the success of Quest for the West," he said.
Western Design Conference | September 8 – 11, 2016
Hundreds flocked to the Snow King Events Center in Jackson Hole, Wyoming, to celebrate the top designs in Western furniture, fashion and accessories during the four-day extravaganza that began September 8 and is known as the Western Design Conference.
Featuring everything from sleekly leathered chairs to hand-stitched custom boots, the event this year — numbering 24 and counting — boasted a lineup of more than 130 juried artisans displaying one-of-a-kind creations, according to organizers.
Best of Show went to Jenny Booth for her Carved Antler Candelabra, a set of naturally shed elk antlers that were intricately carved in the classic Sheridan style as seen in leather art. Additional award winners were: Woodensound Fine Woodworking for Best Artist in Woodworking; J.L. Blair Saddlery for Historical Craftsmanship; River Crossing Inc. for Best Artist in Leather; and Gilmore Architectural Blacksmith Studios for Best Artist in Metal, among others.
Yet another highlight of the Jackson Hole Fall Arts Festival, the Western Design Conference kicked off with an opening preview party on September 8 in which artists are available to engage with guests about their work and the techniques involved in it. Guests at the gala may also bid on unique auction items as models present couture at the live runway fashion show.