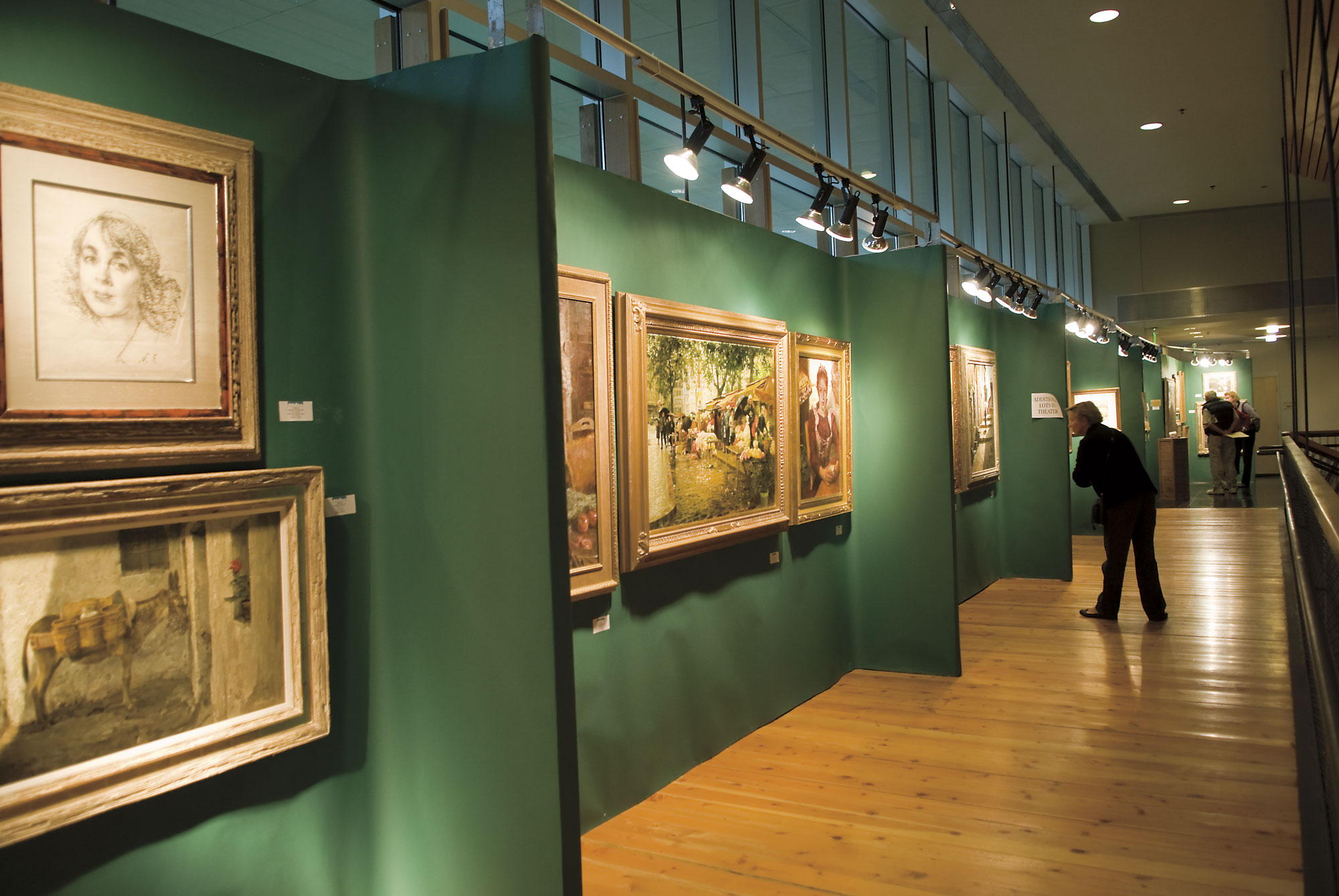 01 Sep

Auction Block: Steady Market
---
Despite speculation that the extreme economic downturn would hurt art sales in general, so far, interest in Western art, both historic and contemporary, is holding strong. As an industry frontrunner the Coeur d'Alene Art Auction posted record sales, while newer venues such as the Jackson Hole Art Auction also maintained healthy numbers.
---
Buffalo Bill Art Show and Sale | September 26, 2008
The sold-out fundraiser began with an announcement by chairman Matthew Hall to let the lively bidding begin. Each September, some of the country's finest contemporary artists gather at the Buffalo Bill Art Show & Sale to benefit the Buffalo Bill Historical Center In Cody, Wyoming. This event drew 800 collectors and museum patrons to view some of the finest Western art, to meet and observe painters, potters and sculptors at work during a quick draw, and to experience the excitement of the show and art auction.
Honored artist M.C. Poulsen's painting, Joy and Posterity, sold for $30,000 in a silent bid process. Of the 130 lots, which ranged spectacularly in media from oil, acrylic, pastel and watercolor to sculpture in bronze, stainless steel and clay, reached $750,102 in total sales, slightly below last year's mark.
Acclaimed painter Robert Seabeck was the recipient of the William Weiss Purchase Award, for his oil painting Corriente Gathering, which will be added to the museum's permanent collection. This year's People's Choice Award was given to George D. Smith for Dynasty; Ty Barhaug was chosen for the esteemed Artist's Choice Award, for his painting The Bone Picker; while Linda Lillegraven and J. Burnham Rudolph were given the Painting Award and Sculpture Award, respectively.
Proceeds from the Buffalo Bill Art Show & Sale have benefitted the Buffalo Bill Historical Center, the Cody Country Chamber of Commerce, the Cody Country Art League and the Park County Arts Council for the last 27 years. Next year's show and sale will be held September 25 – 26, 2009; www.buffalobillartshow.com.
---
Jackson Hole Art Auction | September 20, 2008
The second year of this well-positioned auction in tony Jackson, Wyoming, brought significant total sales around $7.7 million for 276 lots. Although the number was down from last year's $8.4 million mark, curator Heidi Theios revealed after the auction that partners Gerald Peters and Trailside Galleries were very pleased with the results, given the financial meltdown on Wall Street the week of the auction.
A standing-room-only crowd competed with online and phone bidders for historic and contemporary artists. A significant selection of wildlife art was represented appealing to a collector base that supports the Jackson-based National Museum of Wildlife Art.
The auction's prized lot from Howard Terpning, New Doll for my Granddaughter, sold for a realized price of $799,000, after a $600,000 to $800,000 estimate. The crowd's favored artist was arguably Martin Grelle, whose four of five paintings were sold at or above the high estimate, with lively bidding around the room, with Camp Meat and Mules, 2008, a 40- by 54-inch oil on linen, wowing the auctioneers with a final price of $316,250, and an estimated range of only $80,000 to $100,000.
On the other hand, given the current financial market, some may speculate that this auction was a place for relative bargains. If there is a trend to report, Theios said, it would be that top contemporary artists sold better than works by deceased masters.
The auction culminated the annual Jackson Hole Arts Festival, which includes the Western Design Conference and numerous events celebrating this strong arts community. For more information on the festival and auction, visit www.jacksonholechamber.com/fall_arts_festival and www.jacksonholeartauction.com.
---
Western Visions: 21st Annual Miniatures and More Show & Sale at the National Museum of Wildlife Art of the United States | September 19, 2008
An overflow crowd gathered at the National Museum of Wildlife Art in Jackson Hole, Wyoming, for the "Miniatures and More Show & Sale," the culminating event of "Western Visions," the five-day annual fundraiser for the museum that acts as the nexus between art and entertainment.
Despite falling at the end of a week of staggeringly bad financial news for the nation, the signature show went on to gross $565,169 for 177 lots of small-scale paintings and tabletop sculptures that ranged from the sublime to the more sublime.
That may be one reason two artists tied for the prized Red Smith Award for the first time in the event's history, with an expressive pair of pikas in black granite, Pika Pika, by sculptor Steve Kestrel, matching up with Spring's Renewal, Greg McHuron's masterful watercolor depicting a box canyon. The People's Choice Award went to Daniel Smith for an evocative acrylic of a water-soaked grizzly, Saturation Point, while Chris Bacon garnered the newly created Trustee's Purchase Award for his restful scene of bison amid sage, Last Stand. An untitled sketch of bears by John Potter won the all-new Robert Kuhn Award, established to honor the late, great wildlife artist. Next year the Miniatures and More Show and Sale will be held September 18, 2009. Visit www.wildlifeart.org for further information.
---
Bozeman Western Art Auction | September 13, 2008
In its third year, the fledgling Montana auction — featuring mostly deceased artists of the West — reported significant growth. Nearly doubling the number of lots offered last year, the offerings drew local and regional collectors. Though the BWA Auction does not disclose hammer prices of individual lots or a final total of overall sales, organizer John Geiger reported that the auction was a success.
Working to cultivate a niche in lower-tier works, Geiger has vowed to keep the prices of artwork offered within $500 to $20,000. Of the 300 lots at the auction, works by classic cowboy artists Charles M. Russell, Olaf Wieghorst and Edward Borein drew serious attention.
"At other auctions the prices are just getting astronomical based on the quality of the art and on the notoriety of the artist," said Geiger, a fine-art dealer and proprietor of Hy-trading Western Art, who established the Bozeman venue in collaboration with Allard Auctions. "I can't compete with the bigger auctions because those people are going to get the very high-priced art. I'm trying to play in a lower tier of artwork to make it accessible to regular people."
For more information about the event, visit www.bwa-auction.com.
---
Coeur d'Alene Art Auction | July 25, 2008
Collectors from both coasts and abroad attended the largest Western art auction in the U.S. in Reno, Nevada, at the Silver Legacy Resort. Continuing a tremendous volley at the forefront of the art market, the Coeur d'Alene Art Auction reported record sales at $37 million.
Principal Mike Overby commented on this year's offerings prior to the event, "From top to bottom we've got the strongest sale ever. The Western art market is really strong now."
Two important Charles M. Russell paintings drew several esteemed collectors from the C.M. Russell Museum, including expert biographer Ginger Renner and board member Bob Rasmussen. Russell's The Hold Up was estimated at $4,000,000 – $6,000,000 and sold for a realized price of $5,167,000, while Return of the Warriors sold for $1,359,000.
In one of many lively rounds of bidding, a world record was set for Gerard Curtis Delano's Navajo, when it quickly soared past its $300,000 – $500,000 estimate and sold at a final price of $1,250,000. Other record sale prices were noted for Streamside, by E. Martin Hennings, which sold for $1,380,000 (est. $800,000 – $1,200,000); and a dramatic scene of Indians gathered in front of a Taos landscape, by Oscar E. Berninghaus, entitled The Pueblos Await the Dancers, sold to a telephone bidder for a record $1,495,000. Even late in the sale the strength of the market was underscored, when Walter Ufer's oil, In the Garden, sold for $1,495,000.
The biggest surprise of the event came when international bidders weighed in via phone for a unique Nicolai Fechin painting entitled Still Life — Kettle #2. Bidding started at $50,000 and immediately jumped to $200,000 by one of several Russian bidders, before eventually going for $431,250, over the estimated $80,000 – $120,000.
Amidst the iconic historic Western masters there was also a significant number of contemporary artists represented this year. As always, these are by invitation from the CDA Auction partners. New to the venue was cowboy artist Andy Thomas, whose work sold alongside Charles Fritz, Martin Grelle and Howard Terpning, among others. The wildlife art of John Banovich is a steady seller, but Luke Frazier's oil painting, Call to the Sea, of a polar bear, drew a final $47,500 price, a record for the young artist. For more information, visit www.cdaartauction.com.
---
Cody Old West Show & Auction | June 26 – 28, 2008
The 19th Annual Cody Old West Auction was held at the Riley Events Center in Cody, Wyoming. More than 400 items were offered in the auction, including Western fine art, Native American antiques and collectibles, cowboy and cowgirl regalia and graphic memorabilia. A crowd of more than 400 people attended the event, and total sales tallied $1.3 million.
"The auction was very strong, especially considering the current economic conditions," said principal Brian Lebel. "Those items that were expected to do well did do well, showing that the top-end items in each market are still in demand by collectors."
An 1870s Mexican saddle in high relief and repoussé sterling silver sold for $103,500, while a beaded and fringed man's shirt in the traditional Northern Plains style brought $48,875. A number of important historical items were auctioned, including several rare early Wild West lithographs from William F. "Buffalo Bill" Cody and the 101 Ranch.
Traditional Western art fared well, including a finely executed pen-and-ink by Will James that sold for $25,875. A Victor C. Anderson oil stirred excitement and sold beyond its estimate, ultimately bringing $11,500. An early bronze work by Harry Jackson brought $9,200, and a unique graphite illustration by Olaf Wieghorst sold for almost $5,500. Contemporary artists sold very well across the board, including such well-known names as John Moyers, Donna Howell-Sickles and Bob Coronato.
Next year's Cody Old West Show & Auction will be held June 25 – 27, 2009; the auction is scheduled for June 25. Visit www.codyoldwest.com for more information.