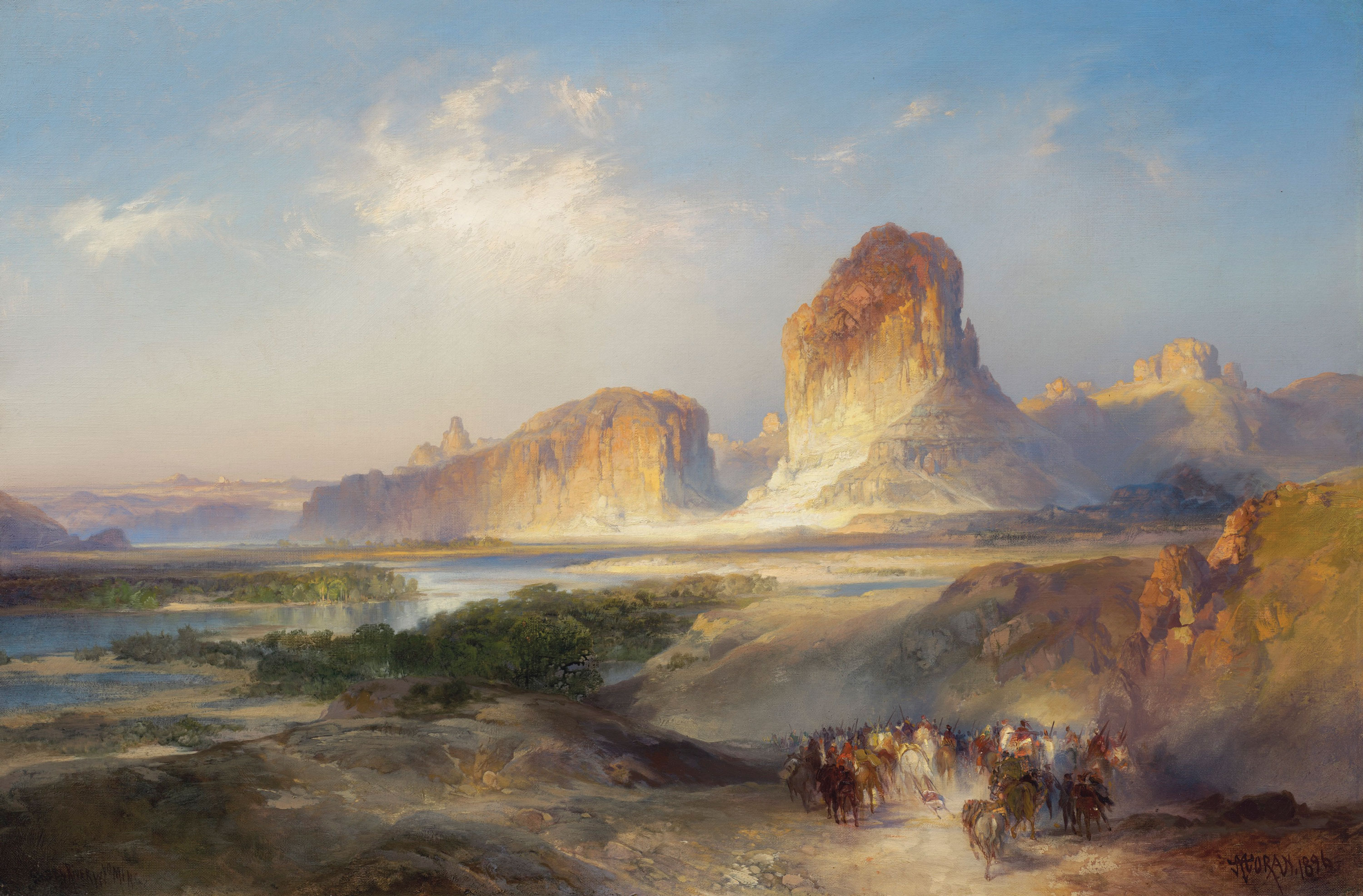 Thomas Moran [1837-1926], "Green River, Wyoming" | Oil on Canvas | 20 x 30 inches | 1896 Estimate: $6,000,000 – $8,000,000 | Sold: $8,565,000
04 Aug

Auction Block: Taking Flight
---
A simple way to capture the trend in the Western art market is to say the best just keeps getting better. Auction houses and events in May and June reported high sell-through rates and large percentages of lots sold that surpassed their top estimates.
Several of the works that anchored the upward trend were produced by such artistic giants as Georgia O'Keeffe and Thomas Moran, with the latter dominating sales of the Western genre at Sotheby's American Art Sale in May.
The same month, one of Moran's depictions of the Green River Valley in Wyoming easily surpassed its ceiling estimate of $8 million during Christie's sale in New York of American works. The same auction saw the price for a rare — and hauntingly beautiful — nocturne by Frederic Remington climb above $2.3 million from an estimate that ranged from $1.2 to $1.8 million.
A strengthening U.S. economy is among factors influencing the uptick in prices for Western works which, more than other segments of the art market, draws on a collector base that is predominantly American.
---
42nd Annual Prix de West Invitational Art Exhibit and Sale, June 12 – 13
More than 800 attended the opening weekend of the National Cowboy & Western Heritage Museum's 42nd annual Prix de West Invitational Art Exhibition and Sale in Oklahoma City, where two-day sales reached nearly $3 million, a portion of which is to fund the museum's programs and operations.
The event showcased 310 sculptures and paintings by 99 contemporary Western artists and works were on display through August 2. Highlights included Iowa painter Andrew Peters' oil, The Lake of Glass, a rendering of an alpine lake in Rocky Mountain National Park, which garnered the Prix de West Purchase Award.
Organizers reported a first-time tie between two artists for the Robert Lougheed Memorial Award, with Idaho painter George Carlson and Dean Mitchell of Florida sharing an honor marking artists' favorite display of three or more works in the show.
---
Brian Lebel's Old West Auction, June 6
It's been said that Texas is a state of mind, but it was a state of excitement for Brian Lebel's Old West Auction the evening of June 6 at the Will Rogers Memorial Center in Fort Worth. The 26th annual sale, which took place for the first time in the Lone Star State, saw 375 lots cross the auction block and hundreds of live, telephone and virtual bidders.
A custom saddle outfit built by Loomis Saddlery from the turn of the last century, ornamented with silver by a Tiffany-trained artist and carved in the Mexican tradition, led an auction with total sales of $1.5 million.
The saddle, crafted and hand-decorated by Al Loomis in California, was paired with bit, headstall, reins, breast collar, martingale, cinch, skirt and lariat, all owned and used at one time by Dixie W. Thompson, a colorful character who made his fortune in land and farming in the Golden State and whose outfit for his riding horses was the stuff of late 19th-century news stories.
The saddle was tagged at a low of $60,000 but multiple offers in the first few seconds of bidding quickly exceeded the high estimate of $80,000. The one-of-a-kind, functional artwork ultimately fetched $195,500 after bids in-person, on the phone and over the Internet generated what auction co-owner Melissa McCracken described as intense demand.
"Brian [Lebel, McCracken's husband] said it was the most beautiful saddle he had ever seen — and a number of collectors apparently felt the same," she says.
The new home for the antique saddle is in Texas.
The auction saw a walking stick used by Old West legend Wyatt Earp achieve a hammer price of $74,750, more than twice its top estimate of $35,000.
The sale coincided with Brian Lebel's Old West Show, a weekendlong event that brought nearly 250 national dealers in authentic cowboy, American Indian and Western art, collectibles and merchandise to market their wares to thousands of shoppers and enthusiasts, the largest crowds to gather at the show in its history, organizers said.
---
Bonhams Native American Art Auction, June 1
An elaborately beaded and fringed hide shirt from the Nez Perce tribe of Idaho shared the bestseller slot with a gold bracelet bearing the images of animals significant to the indigenous people of the Northwest Pacific Coast at Bonhams' June 1 sale of Native American works in San Francisco.
The geometrically beaded shirt and the bracelet, fashioned by the late Canadian artist Bill Reid, who was known for exploring the traditions and symbols of his mother's ancestors, the Haida Indians, sold for $62,500 each at an auction with sales tallying $1.2 million.
Other highlights included a decades-old decorative garment Bonhams described as an Upper Missouri River man's coat. The auction house said the piece of apparel was an example of cross-cultural influence, with the tailoring of red and blue fabric modeled after European garb, yet pony-beaded strips adorning the shoulders and arms demonstrate Native American styles of dress.
Bonhams noted the coat was sold by Christie's in New York in 2006 with its provenance listed as, "Reportedly worn by Old Joseph, father of the renown (sic) Nez Perce Chief Joseph, at the 1855 signing of a treaty with the U.S. that allowed his people to retain much of their traditional land. Sold by his direct descendants before or during the 1930s." The coat was in the top tier for sales at the June 1 auction in San Francisco, going for $50,000, two times its low estimate.
---
41st Annual Western Art Show & Sale, May 23 – 25
Roughly 100 attended the May 23 Phippen Art Museum's Denim to Diamond Gala, a dinner and live art auction, where six original works donated by artists were sold for $10,000 to benefit the museum based in Prescott, Arizona, said executive director Kim Villalpando.
The museum's 41st show and sale of Western art over Memorial Day weekend drew dozens of artists and the institution's Miniature Masterpiece Show & Sale saw a 50 percent increase in prices paid for smaller sized paintings and sculpture, she said.
---
Christie's American Art sales, May 21
A light-drenched landscape painted in the late 19th century by Thomas Moran, part of his celebrated series of scenes depicting northwest Wyoming's Green River, was among the top 10 sellers at Christie's American Art sale in New York on May 21.
The 74 lots comprising key American artists from the last two centuries were followed by an auction entitled "Visions of the West: American Paintings from the William I. Koch Collection." The high-selling Moran, The Cliffs of Green River, Wyoming, was among the 68 lots from the collection, which contained works from deceased masters, including Philip R. Goodwin and Frederic Remington, to leading contemporary artists such as Howard Terpning and Martin Grelle. The Cliffs of Green River, Wyoming climbed above its top estimate of $8 million to fetch more than $8.5 million. "Visions of the West" capped auctions that brought in excess of $47 million, including buyer's premium, and drew new collectors to Christie's, underscoring the appeal of Western artists and their works, says Elizabeth Beaman, head of the American Art Department and senior vice president of the auction house.
"We were thrilled with the results of the Koch Collection sale, which really confirms the strength of the Western art market. We saw a number of new buyers to Christie's and tremendous depth of bidding," she says.
"Visions" saw a sweeping and rare nocturne by Remington achieve a hammer price of more than $2.3 million, well above its estimate of $1.2 to $1.8 million. The oil produced in 1900, Pretty Mother of the Night – White Otter is No Longer a Boy, depicts two Native Americans on horseback and stretches across a canvas measuring 27 by 40 inches.
Factors that contributed to demand for the Remington work include the large scale of the oil and the fact that it is considered a seminal exhibition in nocturne, says Beaman.
A brightly colored painting by Philip R. Goodwin, who, like Remington, had his beginnings as an illustrator, A Call to Action, brought $137,000, more than twice its low estimate of $60,000. The painting drew what Beaman termed crossover participation by traditional buyers in illustration and collectors of Western art.
And a restful depiction of a Native American engaged in a religious ritual — Offering the Pipe to Thunder — painted in 1910 by Amedee Joullin, a California-born artist of French descent who studied at the San Francisco School of Design and the acclaimed Academie Julian in Paris, fetched more than $106,000, soaring far above its high estimate of $30,000 and setting a world record for the artist.
The showing of the Western art sector, which Beaman described as one of the most robust in the American category, will likely be bolstered by the 100th anniversary of the Taos Society of Artists, a milestone to be marked at the Denver Art Museum with an exhibit opening in December featuring Walter Ufer and E. Martin Hennings.
Education is a key component for collectors of Western art, who, with a few exceptions, form an American buying base, says Beaman. New scholarship that sheds light on artists, periods of painting, and the historical themes from which they draw add to the growing interest and understanding of Western art enthusiasts.
"It's a very strong sector of the market," she says.
---
Sotheby's American Art Sale, May 20, 2015
Georgia O'Keeffe's White Calla Lily blossomed as the best seller at Sotheby's sale in New York of American works on May 20. The 32-by-17-inch oil-on-canvas is as likely to be emblazoned in the minds of Modernist collectors as it is casual art enthusiasts for the image has come to represent a token of American culture as much as the flower. The painting brought nearly $9 million, the second-highest auction result for any piece by the artist, Sotheby's said.
The O'Keeffe was one in an array of delights. Thomas Moran's lyrical images in oil of nature's masterpieces in the American West dominated Western art offerings at a sale that achieved a total of $38.3 million.
The winning bid for Moran's Clouds in the Canyon (the Grand Canyon) was extended by an American collector at $910,000, above estimates that ranged from $600,000 to $800,000. And The Falling Flakes (Mountain Scene, Yosemite; a Mountain Snowfall) easily surpassed its high estimate of $120,000, with the watercolor-and-gouache-on-board fetching $200,000.
The auction, which featured a sell-through rate of 85.4 percent by lot, and which saw nearly 60 percent of lots sold exceeding their presale high estimates, "confirmed the vigor and interest in the American art field that we have been experiencing in recent years," said Elizabeth Goldberg, head of Sotheby's American Art Department, in a statement.
---
Los Angeles Modern Auctions Modern Art & Design Auction, May 17, 2015
Los Angeles Modern Auctions has stubbornly refused to rest on its laurels and its May 17 sale provided yet more proof of the auction house's penchant for bringing prized works to market and fetching top-tier sums.
The Modern Art & Design auction realized $3 million and set new world records for three California artists. Works by Andy Warhol and Pablo Picasso, as well as a whimsical standing mobile constructed by Alexander Calder, achieved "New York prices," said Peter Loughrey, LAMA director of modern design and fine art. The artwork, Quatre Blancs, constructed by Calder in 1976, sold for $826,250 compared to a pre-sale estimate of $500,000 to $700,000.
An outsized acrylic on canvas by the late California Hard Edge painter June Harwood realized $33,750, more than four times its high estimate. The untitled study in angles and color was produced by Harwood in 1964 at the height of a movement in abstraction among West Coast artists for which a critic — whom Harwood later married — had coined the term "hard-edge."
"With the rapid increase in value of works by the California Hard Edge painters like Frederick Hammersly, Karl Benjamin and John McLaughlin, it is only natural to see June Harwood's work go up commensurately. She was not as well known but was equally regarded," Loughrey said.