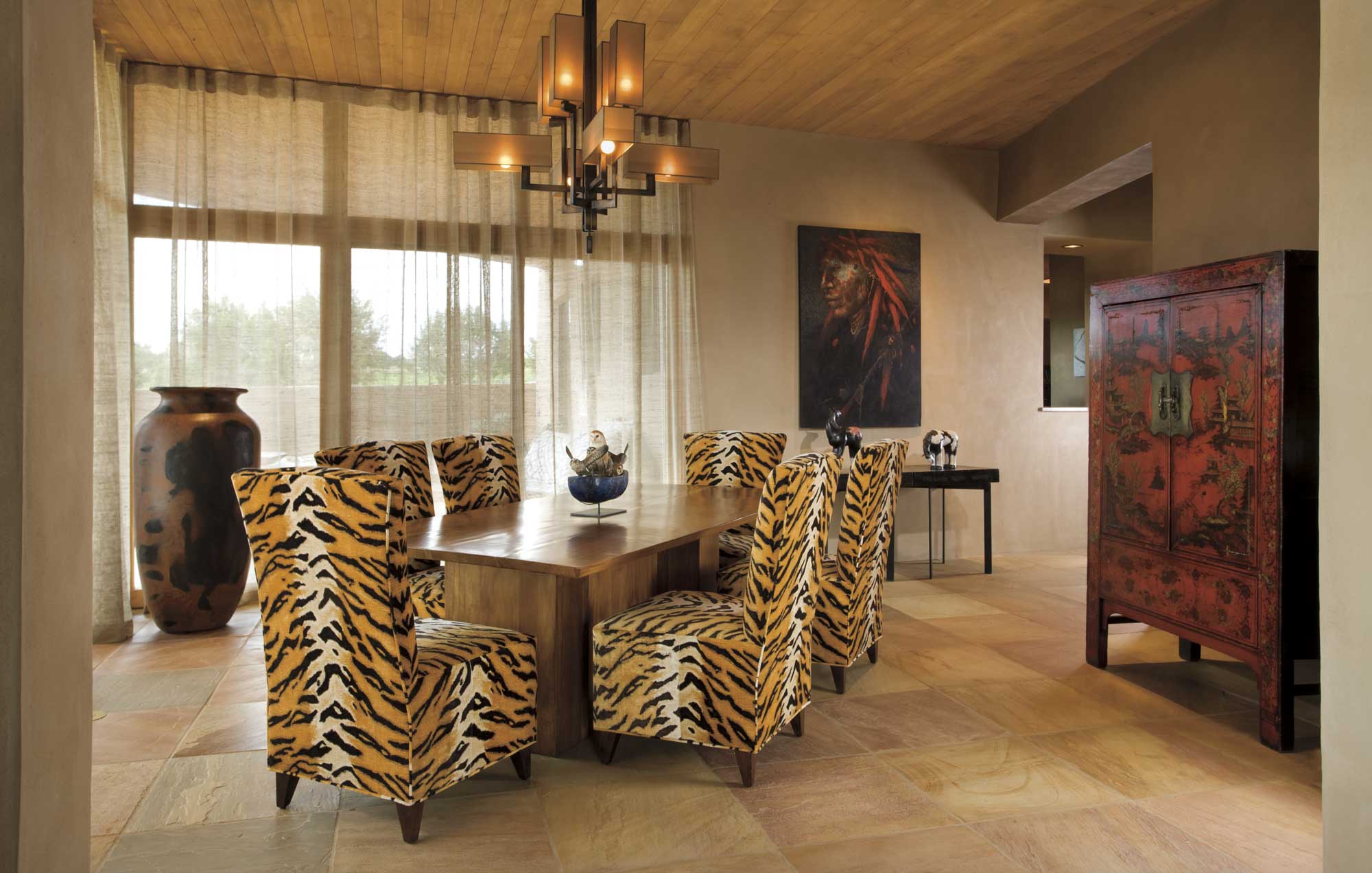 Incorporating great modern profile dining chairs, covered in Ralph Lauren Velvet tiger print, into a formal space brings this room to life. An antique Chinese chest co-exists with the contemporary dining table made from reclaimed wood. The contemporary light fixture is from Fine Arts Lighting.
30 May

Designing the West: Infusion Design
---
"Authentic doesn't have to mean antique," says Santa Fe designer David Naylor. "Authenticity is at the hand of the craftsman, his devotion and skill."
Naylor has a passion for unique pieces that evoke the worlds of long ago: stately, elegant, rich in craftsman's touch, deeply rooted in tradition and culture. He is immediately drawn to craft that is beautifully executed, but he doesn't believe it has to be old. Many of the pieces that he seeks for projects are in fact created by his workshop. That doesn't mean he excludes the use of fine antiques when he finds them; but rather he doesn't feel the pressure to hold out for an historic piece when he can create one with as much integrity.
Wood is predominately his medium of choice. "I like finding old rare, reclaimed wood. It has an innate integrity. Our workshop is rather magical with wood," he says. Naylor searches far and wide to find rare wood from the most unexpected places. In his workshop, pieces are created that become part of his "Infusion Design" process, something that allows him to compose spaces that are a composite of cultures and time periods. Infusing regional cultural elements — such as rugs from Turkey, mosaic patterns from Morocco and Southwestern Kivas — allows him to create spaces where opposites can coexist in a beautiful symmetry of time and space.
Richness of regional patterns, handwork and materials are at the epicenter of Naylor's trademark style, but don't classify him in the classical category just yet. That is the beauty of his Infusion Design. He likes to encourage clients to look and think outside the box. If they have a home full of antiques, he tries to get them excited about something contemporary. He sees weight in divergent values, a sort of mirror-of-life approach. "Not everything should be matching, there needs to be an element of surprise, of intrigue," he notes.
Naylor's rich theory in design is a derivative of his life experiences, including his own upbringing in Philadelphia. Art was an integral part of his life starting at a young age and something he fostered by attending Philadelphia College of Art and the Pennsylvania Academy of Fine Arts. He lived an artist's life, roughing it, determined to be a painter. Early on his art pieces incorporated rugs, stained glass and furniture. The groundwork for his future was being laid before his very eyes and he continued on with his quest to learn. Naylor's passion for art eventually propelled him west.
In order to make a living in Santa Fe, Naylor renovated homes from the ground up, a process that taught him how to be the client. In 1987, he truly found the magic of Santa Fe and the finery of imported rugs, furniture and architectural elements of exotic cultures or centuries past when his desire to move into interior design surfaced.
Naylor worked with architects, designers, upholsterers and builders, determined to learn from them all. He eventually hired on as an apprentice for Carolyn Riechow, a well-respected Santa Fe designer, known for her ability to combine the talents of many artisans. Working side by side with Riechow, Naylor learned about new construction and state-of-the-art fixtures. He also learned the importance of establishing enduring relationships with people. Under her tutelage and with his innate drive, Naylor became a partner and ultimately purchased the firm from her in 1995 and assembled his own future for Visions Design Group.
Naylor created a stunning showroom in an old bank building that is the center of his Infusion Design style. The workshop he imagined became reality and today bustles with activity as a place where if he can draw it, it can be built. His first book, Old World Interiors, A Modern Interpretation, released in 2008 by Gibbs Smith Publisher, is full of beautiful photographs and thoughtful ideas. David Naylor has made a statement in the world of design with his unique vision, a vision blended with Old World styles and modern interpretations, subtlety and detail.
---
Integrate Family Pieces Into Your Current Design
Change the finish. You could put shiny latex paint on a French or Italian piece, making it very modern.
Upholster pieces with updated fabrics: "One of my favorite examples is putting tiger print seats on beautiful old Chippendale furniture," says Naylor.
Move the pieces to an unexpected place in your home.
"Change your environment modestly," says Naylor. "Don't be afraid to do it slowly and with a comfort level that makes you feel good."
Repurpose pieces. Use pottery as candlesticks, integrate deteriorating rugs into pieces of furniture, use the frayed remnants of a special rug for the top of a coffee table, hammer metal accents over the edges to hold the piece in place. The result is a new look for the coffee table and the preservation of the rug.

---
Thea Marx is fifth-generation born and ranch-raised from Kinnear, Wyoming. Much of her career, including her book and Website, www.ContemporaryWesternDesign.com, has been dedicated to Western style. In September 2010, her show, Style West will open for its third year in Cody, Wyoming.