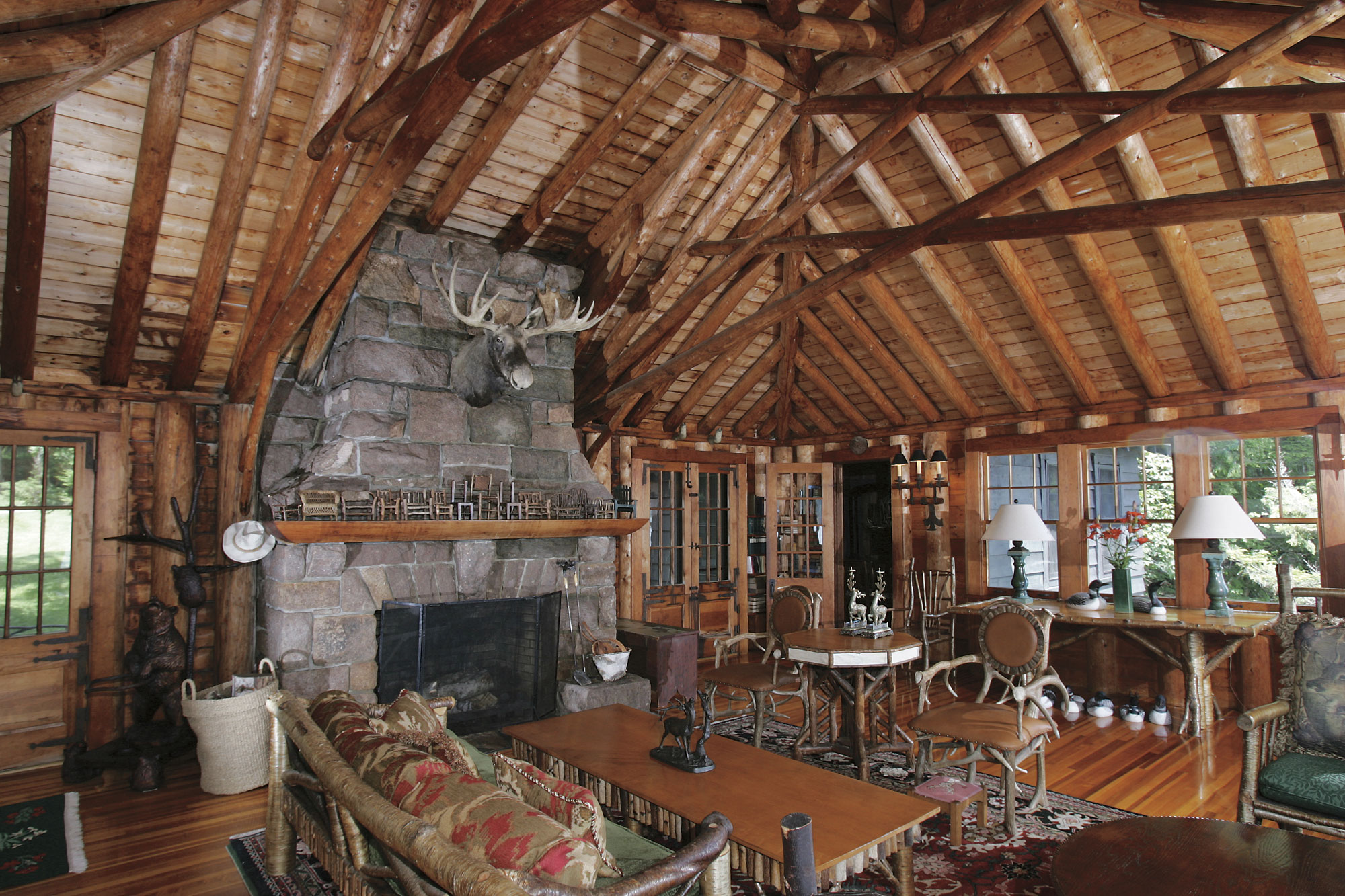 On Little Moose Lake in the Adirondacks, it seems only fitting to have a mascot that is not so little over the fireplace. Designer Barbara Collum explains that mounts are subject to fading, especially when there is a lot of ambient light in a room and it reflects off the water. This particular moose mount came with the boat house in the camp that was built in 1919. With its 26 foot ceilings, the room is very conducive to having a large moose take its rightful regal place.
29 Dec

Designing the West: Mounts as Art?
---
Like a painting over the mantel in formal homes, mounts are a staple art piece for mountain and country abodes. The type of mount displayed often serves as a way to revere nature and to express a connection to place in the same way that a landscape speaks to a viewer. A tradition for centuries, the use of mounts as art — whether they are trophy, Black Forest, European or faux — has become standard fare for designers throughout the United States.
When asked about trophy mounts, Harker Design's Kath Costanti in Big Sky, Montana, says, "I wouldn't do a mountain home without one!" During the last 200 years, trophy mount techniques have been perfected. In the 1800s hunters started bringing their trophy animals to upholstery shops where the tanned hides would be sewn up and stuffed with rags (taxidermy is Greek for "arrangement of skin"). Thus began the tradition of trophy mounts.
Over the last few centuries the process has improved so that the hides are placed over anatomically correct forms that can be posed to create an artistic display. New York City designer Diana Beattie, who also lives in Montana and specializes in historic rustic homes, considers the use of mounts a priority, as long as everyone involved likes the idea. "It's not another flat painting on the wall; it is three-dimensional and sculptural. Mounts add depth and interest," she says. Beattie has used mounts throughout homes but her favorite location is above fireplaces.
The West is not the only place where mounts are popular. Upstate New York, where designer Barbara Collum calls home, is the perfect place for mounts. "Trophy mounts in Adirondack Lodges are a natural," she says. Across the continent, Mammoth Lakes, California designer Robin Stater, who is herself a hunter, reflects on the meaning in placing a mount: "I honor the animal and spirit that has given its life so that you could enjoy it for however long you have it."
In addition to trophy mounts, some designers use Black Forest mounts, comprised of the animal's original antlers but with heads that are elaborately carved or sculpted. Most Black Forest pieces are stunning lifelike carvings most often done in wood, though others have been found in bronze, gold and silver. While the name implies a region in Germany, Black Forest mounts are actually Swiss in origin, according to experts Jay Arenski, Simon and Michael Daniels in their book, Swiss Carvings: The Art of the Black Forest 1820-1940. These exquisite mounts are favorites among designers. They vary in size, come in an array of different finishes and are often prized antiques. "There is no downside to Black Forest mounts," says Collum. "They are fun to use decoratively, but I never mix the species in a room."
When Beattie's family mandated no "dead animals" in their Montana home, she agreed, but warned "it would cost them." She used nine extraordinary Black Forest mounts in the master bedroom alone. "The European influence is something I feel strongly about even in the West. When the homesteaders came west, they brought pieces honoring their origins with them. It is fitting to have these artifacts in lodges and homes in the Rocky Mountains," she says.
Cabins belonging to trappers and mountain men across the country were easily recognizable for the mounts that hung majestically over front doors. Those mounts that kept the horns and skulls intact but were cleaned of any flesh and hair are called European mounts. Stater, of Sierra Design Studio, has a massive European elk mount that hangs over the entrance to her store. European mounts work well for both interior and exterior displays. They are stark in contrast to their trophy mount counterparts and easier to clean, but no less stately. Though not for sale, Stater has a collection of pieces in her store that enables people to get a feel for how they can be used; and she always encourages clients to have mounts made of their trophy animals.
Most people don't realize that antlers are shed each year by the animal and no harvesting must be done to acquire a beautiful pair of antlers. But if there is any uneasiness about having real antlers, there are always faux mounts. Faux mounts are made of resin and give the appearance of real antlers.
Whatever the form, these designers agree that no home in the mountains or country is complete without a mount, especially over the fireplace.
---
Dos and Don'ts from the Expert
Jack Wight is a 45-year veteran of professional taxidermy from Phoenix, Arizona. He has created mounts of everything from javelina to walruses, polar bears to elephants. As a young man Wight took his art seriously, becoming a student of anatomy and learning how to create animal forms that evoked their naturalness in the wild. He sculpted their forms so every minute detail was in place. The late Ben Johnson, Hollywood actor and client of Wight's, told him simply, "You do mighty fine work, Jack." For Wight, that was the best return: knowing he had done his job to the very best of his ability.
Wight shared his experience in offering this advice for commissioning, buying and caring for mounts.
Mounting your own trophy
Does the taxidermist have the hides tanned at a commercial tannery? If not, don't use them. Hides cured by the taxidermist will not last more than two years and the entire mount will begin to disintegrate. Chances are that if the taxidermist is going to a tannery, he is doing the rest of it right, too.
Are the mannequins made in the shop or purchased? If they are standard shoulder mounts, most are purchased and perfectly acceptable. If you are looking at doing full-body mounts you will want to look for a taxidermist who is a student of anatomy and can sculpt a mannequin to capture the correct physical attributes of the animal in motion or still.
Discuss in advance with your taxidermist pricing, labor and various obstacles you might encounter.
Smart Shopping
Make sure to handle the mount with your own hands. Take it off the wall, look on the back side of it and look behind the ears, part the hair and make sure the stitches are still together. If they are, chances are they will be there forever.
Next make sure that the mount looks right, that there is nothing funny or off balance about the mount's look. If all checks out, Wight says there should be no problems. He has seen mounts last for more than 70 years. With a little clean-up they look as good as they did the day they were mounted.
Handle with Care
Try to keep your mounts out of direct sunlight. The sun will cause them to fade and can literally burn the hair off them.
Don't subject a mount to high temperatures. Like sunlight, the heat will cause them to break down.
---
Thea Marx is fifth-generation born-and-ranch-raised from Kinnear, Wyoming. Much of her career, including her book and Web site, Contemporary Western Design, has been dedicated to Western style. Her work also appears in Western Horseman, Living Cowboy Ethics, Mountain Living and Western Lifestyle Retailer.
New York City designer and Montana resident, Diana Beattie enjoys adding "whimsy" to homes and in this guest bedroom with its "hills and dales" carved bed, she used a pair of mounts painted in India. The mounts are all wood, even the antlers.
In an exquisite mix of European antiques and art, contemporary mounts and custom touches, John and Red Merlette created a great room that captures the feeling of a European hunting lodge in Montana. "At first the ceiling height of nearly 30 feet left the upper region of the room feeling empty," says John. Adding the mounts changed the entire room making it not seem so gaping, but filled and uniform. The turkey "rug" on the custom carved mantel was shot by Red off their back porch.