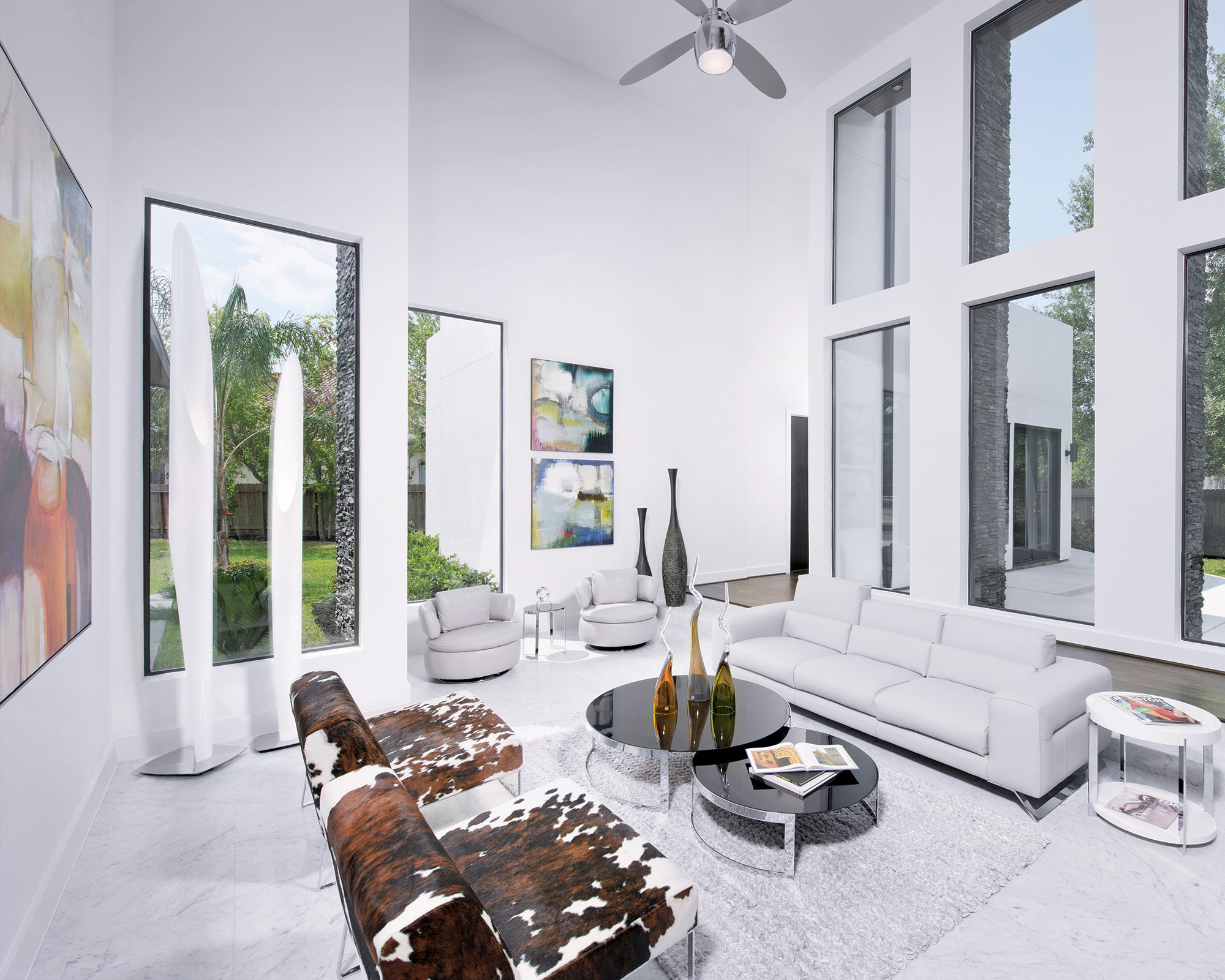 Simple and spare, Magon kept the emphasis on the outdoors in a contemporary, light-filled living space with soaring ceilings, pristine white walls and stone floors. The cowhide chairs and streamlined sofa are from Cantoni, and the paintings are from Phoenix Art Group. Photo: Bruce Glass
17 Nov

Designing the West: Personality and Panache
---
Celebrity interior designer Nate Berkus called her "a design force to be reckoned with." NBC named her one of the top designers in the country, and she was a top three finalist in the network's reality show "American Dream Builders." Her firm has won numerous accolades, including awards from the American Society of Interior Designers, Houzz and Hospitality Design magazine. She's smart, gorgeous and a "fresh face of fashion," according to Houston's Modern Luxury magazine. And on top of all of that, her clients say she's down to earth… and nice.
Who is this paradoxical paragon of style? Nina Magon, the founder and creative director of Contour Interior Design, a full-service design firm based in Houston, Texas.
"When I was young I loved to constantly rearrange the furniture, but I didn't really think of that as a career possibility," Magon says. Instead, she pursued a degree in economics and finance from Southern Methodist University in Dallas, Texas. At age 22, Magon opened her own store, selling high-end European lingerie in Houston's Galleria shopping center. The proverbial light bulb went off while she was conceiving plans for the retail space. "I worked with an interior designer for the first time and was exposed to all the steps that go into creating a beautiful space," she says. "I discovered that I loved the design part of my business more than any other aspect."
When the long hours of retail wore thin two years later, Magon closed the store and joined her parents in their commercial real estate business. "I wanted to learn about construction from the ground up, so I hired a contractor and said, 'I want you to teach me how to build a house,'" says Magon, who created the design and interiors for a spec home. When it sold for a handsome profit, she was hooked.
Magon returned to school, this time studying architecture and design at The Art Institute of Houston. "I was still doing real estate on the side, and pretty soon I was hiring my teachers to work for me and help me with CAD drawings and building plans," she says.
In 2007, she opened Contour Interior Design — just before the recession hit. "From 2007 to 2009, I took on friends' jobs, rentals and remodels, and did whatever I had to do to keep my business running," the designer says. "It was both challenging and exhilarating, and I learned so much during that time."
In 2013, she decided to try out for NBC's "American Dream Builders," a show Magon describes as "The Apprentice" meets "Extreme Makeover." After progressing through numerous auditions in Los Angeles, California, Magon made the cut and was chosen as one of 12 contestants on the show, which aired in 2014. "I was competing against 11 other very seasoned designers, and I definitely felt like the underdog," Magon says. But she tied for third place overall.
The experience opened up new opportunities. Her staff grew from three people to eight, and the firm tackled commercial projects around Houston, such as Saks Fifth Avenue's 51fifteen Restaurant at the Galleria, Mint Baby Boutique and new shops for Macaron by Patisse. Contour Interior Design also opened a branch office in Miami to serve a growing clientele in Florida.
Dr. Japera Levine hired the firm to design her surgery practice's new building in Beaumont, Texas. "When I first met Nina, she had such vision and energy and I could tell she was very passionate about her craft," Levine says. "At the same time, she's a good listener and very open to input. Her work is meticulous, and anything she touches is unlike anybody else's."
When the project dictated a reduced budget, she says Magon was nonplussed. "Nina and her team went back to the drawing board and reworked the plan," she says. "Every piece in our office is unique and perfect, and everyone is blown away by the beautiful design. My favorite room is a space we call the 'huddle room,' where we talk to patients who need surgery. The palette features soft grays, dark oranges and blues, and our patients often comment about how soothing the space is."
About 60 percent of Contour Interior Design's projects are residential spaces. "I'm not a typical designer, and I don't like to copy anybody," Magon says. "I like to take risks, and I like to produce things that you've never seen before. School can't teach you how to put things together; you just get it. That's part of how a design mind works."
"For me, there always has to be a strong focal point in a space," Magon continues. "I lean toward clean lines and luxurious fabrics and furnishings, and I love extraordinary light fixtures. I also help my clients choose very personal art pieces that speak to them. At the end of the day, your home should feel like a place of refuge."
Magon plans to continue growing her company and is currently designing her own furniture line. "Sometimes you have to dream big dreams," she says. "I always believed that big things would happen, and I never gave up. By the grace of God, I feel so fortunate to love what I do."
---
WA&A Wants to Know —
Contour Interior Design's founder Nina Magon shares some of her favorite sources, design tips and travel destinations.
Q: What are some of your favorite design accents right now?
A: I'm obsessed with Wall & Decò wallpaper; I used one of their prints in the lounge at Saks 51fifteen restaurant. Fornasetti makes a wonderful collection of decorative black-and-white plates, many featuring the face of Italian opera singer Lina Cavalieri. They look beautiful grouped on a wall.
Q: Do you have a favorite interior paint color?
A: Pure White by Sherwin-Williams is my go-to neutral. It's a clean, warm white that's just right.
Q: When you want to unwind, where do you like to travel?
A: My husband and I love Miami, Florida, and spend a lot of time there. We also love to travel outside the United States. We went to Budapest last summer, and we've gone to India — where my parents were both born — several times. Whenever and wherever we travel, I always learn so much. The more you know about the world, the more you appreciate different cultures and design styles.
Q: How does your hospitality design experience inform your residential design process?
A: I firmly believe that your house should have a sense of luxury and comfort. Your home should feel like the hotels you yearn to visit.
Q: Describe your personal entertaining style.
A: I love to cook, and we have friends over for drinks or casual meals three to four days a week. If we're having a big dinner party, though, I'll bring in our caterer. She's great at making cocktails and preparing wonderful food so that my husband and I can relax and have fun at our own party.
Q: What do you always stock in your refrigerator?
A: Milk, Mexican cheese and ice cream.