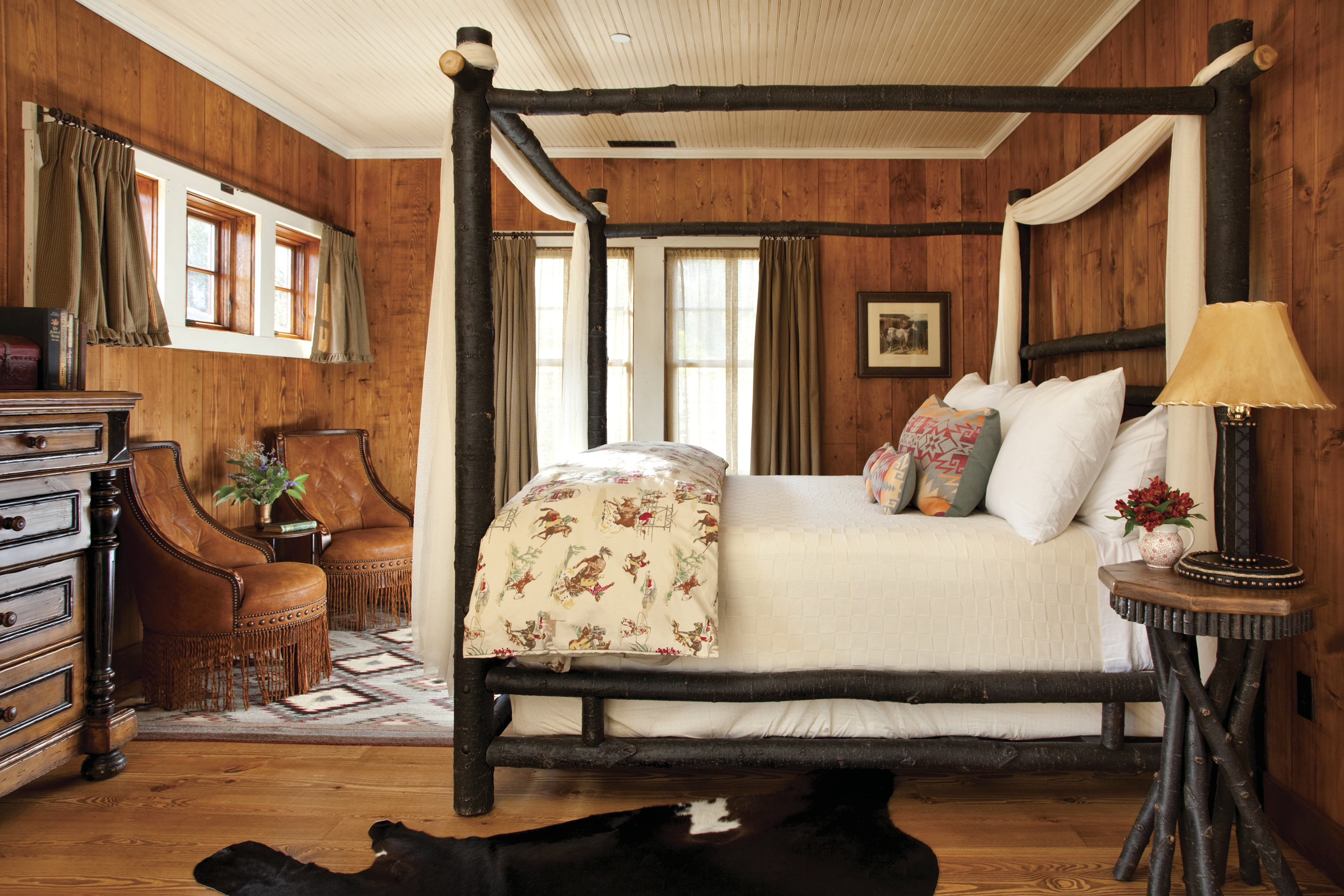 A handcrafted log canopy bed faces stunning views in the Appaloosa Room at The Ranch at Rock Creek in Philipsburg, Montana. Photo: Andrew Geiger
01 Dec

Designing the West: Rustic Meets Modern
---
The Japanese call the art of embracing imperfection wabi-sabi. Derived from Buddhist teachings about the impermanence of existence, the concept defines beauty to include such qualities as asymmetry, simplicity and intimacy. Designers around the world and across the West have espoused the aesthetic by blending contrasting elements. Like a pair of faded blue jeans worn with a strand of fine pearls, vintage, recycled and handcrafted pieces can add depth, character and personality to modern interiors.
We've found four top design experts willing to share their own approaches to wabi-sabi, and how they create spaces where old and new elements coexist in harmony.
---
Authentic and Storied
"I do a lot of research to find things that relate to the region in which I'm working," says Jet Zarkadas, owner of Los Griegos Studio in Santa Fe, New Mexico. Her richly layered interiors are often accentuated with artifacts such as cowboy chaps, Native American dresses, wool blankets, books and art.
"I enjoy finding contemporary elements in old pieces and putting everything together," she says. "I believe an item has to have real value, but that ideal can be achieved on any budget. For instance, we might find out who the photographers were that worked in the area. I love historic photographs of things like old hotels, architecture, rodeos, railroad people, fishing and landscapes."
She often repurposes elements from vintage pieces to make new furniture, like a buffet she created from a salvaged store counter. She has used mounted leather saddles for seating, and once found a collection of iron stagecoach benches that were perfect for an outdoor setting.
"I work with many talented craftsmen to create custom pieces, and I like to use handmade textiles," she says. "My clients and I go shopping together and explore the local artists and artisans who are doing great work."
---
Balanced and Earthy
"We believe you need some grit in a space, where things have history and dirt," says Erika Rundiks, co-owner with Katie Schroder of Atelier Interior Design in Denver. "We always try to incorporate those components in every interior. We think a lot about the balance of texture and color, and rustic elements often make a space more earthy and livable."
"Combining layers of old and new gives a more lived-in look that's softer and uncontrived," says Schroder. "We have a client right now with a lot of antiques, and we're enjoying working with these great pieces because they add so much warmth to the space. We also enjoy bringing in things from different countries and cultures; for instance, we found an antique Asian door that we hung on the wall as art."
"We love wood floors because they're natural and livable," says Schroder. "We often refinish our clients' existing hardwood floors if they're salvageable. We also think a great rug in a bright color or bold pattern can frame what you're trying to accentuate and really make a room."
---
Warm and Livable
"Mountain modern design is about creating contrasts and balance between clean, contemporary lines and rustic elements," says designer Debbie Costa of Spirit Interior Design and Gallery in Truckee, California.
The firm is known for using unique building materials, from reclaimed wood floors to old pickle barrel slats. "We recently built a freestanding entry closet from barn wood for a contemporary home," Costa says. "It's a clean-lined piece and we fitted it with modern hardware, but it still brought that rustic aesthetic to the space. We also repurposed a wonderful old wagon wheel as a chandelier and fitted it with clear Edison lightbulbs."
Costa feels color is a key component in the company's cohesive designs. "We interview our clients to discover the hues they're attracted to," she says. "We might use warm tones to accentuate cooler elements like stone, steel and glass, but even certain shades of blue can be warm. Most of all, we want every space to be unique and livable. We use sturdy materials and quality furnishings because the rooms we design are made to be used and enjoyed."
---
Textural and Handcrafted
"Something made by hand breathes life into a space," says Dean Bubolo, owner of Escalante Rugs, with warehouses and offices in Jerome, Arizona, and Telluride, Colorado. Bubolo works with artisans from more than 50 Indian families in Oaxaca, Mexico, to create hand-woven, one-of-a-kind rugs.
The company developed a yarn blend of mohair, merino wool and Churro wool for a rug that is soft, but strong and durable. The yarns are colored with high-end Swiss dyes known for their vibrancy and fade resistance.
Designers often specify custom colors from among the 500 hues the company offers, in patterns ranging from traditional Navajo or Zapotec motifs to contemporary zigzags, simple stripes and everything in between. To accommodate a growing demand for larger rugs, Bubolo invested in several 14-foot looms — the largest in the villages — and they are "constantly busy," he says.
Despite those modern upgrades, the weavers still meticulously handcraft the rugs using centuries-old techniques. "It's a true collaboration between the Zapotec Indian artists and us," Bubolo says. "They bring the craftsmanship, and we bring the high-quality yarns, dyes and looms. Together, we make amazing rugs — art pieces that add richness and depth, and greatly enhance the experience of walking into a home."