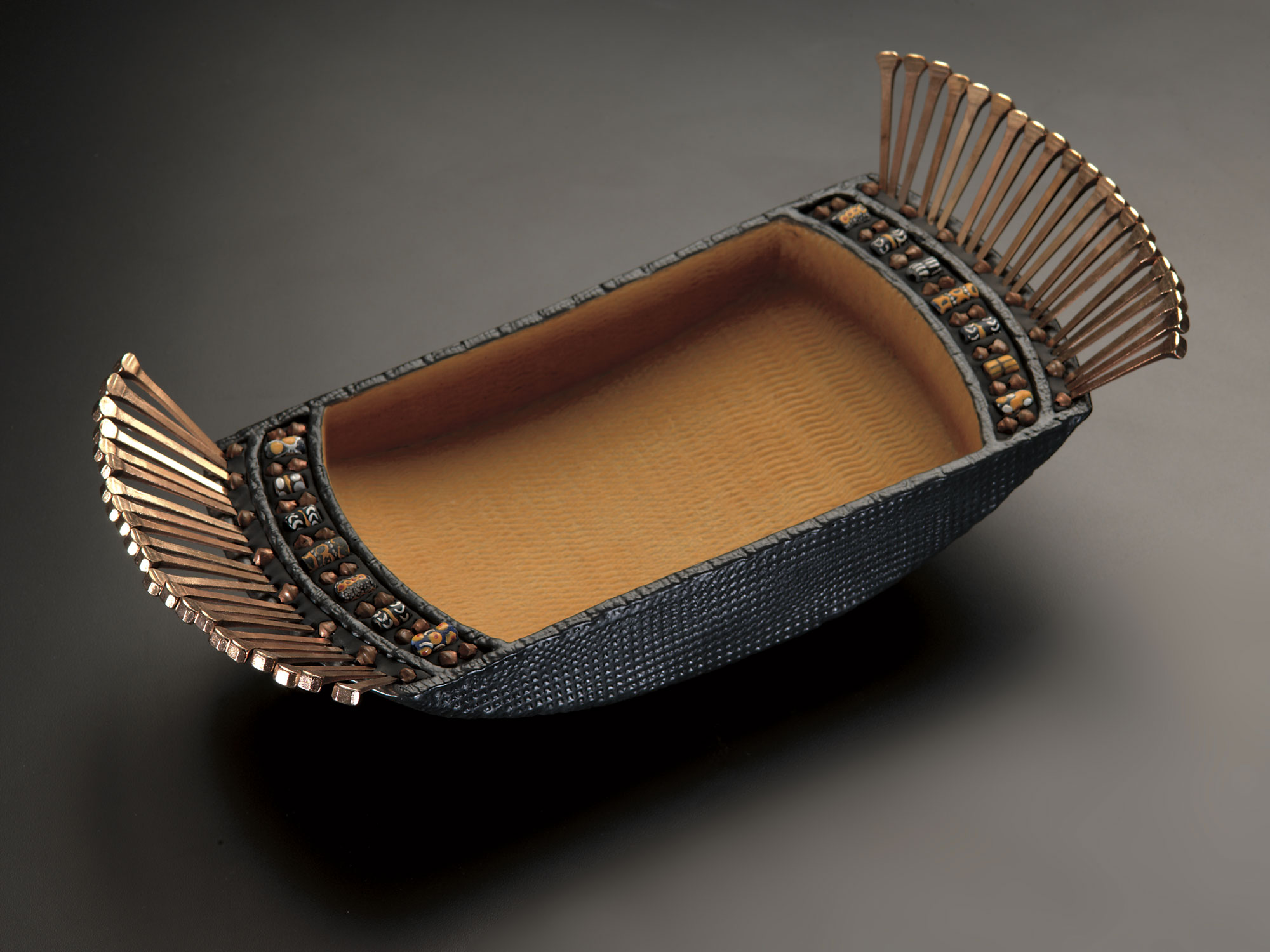 29 Dec

Details: Things We Love
---
Safari by Trudy Evard Chiddix
"My travels inspire me," says Trudy Evard Chiddix; the artist often incorporates the images and artifacts she discovers on her journeys into her glass and ceramic vessels, figures and wall pieces, from henna tattoo patterns in India to baroque tableware at Vienna's Imperial Palace to the African beads she found during a trip to Kenya. The brass trade beads inspired our favorite of her ceramic bowls, Safari, which is also embellished with copper-plated horseshoe nails. Chiddix studied art and ceramics at the University of California Santa Barbara and began experimenting with fused glass 10 years ago. "I was amazed to learn that I could fire glass in my kiln; it was like opening Pandora's box!" she says. With studios in Evergreen, Colorado, and the SOMA Artists' Studios in San Francisco, Chiddix says, "I enjoy the quiet, natural surroundings when I'm in Colorado, and the energizing community of artists at SOMA. While the two environments couldn't be more different, both spaces are uniquely stimulating." Like the artist herself, Chiddix's work is a brilliant blend of forces.
$500 | 20 x 10 x 5.5 inches | www.TrudyEvardChiddix.com | 415.674.8786
---
Luna by Native Trails
Born of recycled copper — made from electrical wire, pipes and construction copper — each Native Trails sink and bathtub is handforged and crafted into a timeless work of art by a venerable team of skilled artisans. Though the pieces are shaped by fire, water and tens of thousands of individual hammer strikes in a tradition with Aztec origins, the results are broadly divergent and often strikingly contemporary. From rustic and antiqued copper — like our favorite, Luna, with its sleek curvature — to glittering brushed nickel, Native Trails' innovative and bold designs bring texture and elegance to even the most functional work spaces. Since its humble beginning in 1996 with a single copper sink, Native Trails has added more than 200 products to the line under the indomitable and creative leadership of founder Naomi Neilson Howard. The handcrafted vanities and mirrors, utilizing both recycled metals and reclaimed wood, are notable additions. We are inspired by their daring design conceptions, the drama of hand-hammered metal and the company's ongoing commitment to sustainable design.
$2,045 | www.nativetrails.net | 800.786.0862
---
December by Jeni Fleming
Jeni Fleming logs hundreds of miles every year touring the country and bringing breathtaking originality to some of the best music of the American songbook. Inspiring audiences with her jaw-dropping vocal performances at major festivals, clubs and concert series across the U.S. and into Canada, Fleming most recently opened for jazz legend Dave Brubeck at JazzFest International in Victoria, B.C. Parisian magazine Jazz Hot describes her as a rare elegance, and we find her to be an authentic singing jewel. December, Fleming's holiday-inspired collection of winter music, continues her tradition of musical excellence. From jazz standards to rearranged pop hits, she defies easy classification, saying simply, "a good song is a good song." We love that Fleming masters an emotional scale that is at once traditional and unexpected. Encore!
$15 | Available at Borders Books and Music | www.JeniFleming.com
---
Long Neck Bottles by Ali Shahvali
Ali Shahvali first encountered the art of glassblowing during a family trip to Italy; as his parents shopped in Venice, Shahvali sat in a local glass factory captivated by the great masters at work. "I was like a moth to a light bulb," the artist says. "I knew from the first time I gathered glass that this was what I was meant to do." During college at San Jose State University, Shahvali studied art with an emphasis in glass and later helped teach the school's beginning glassblowers. The colors and shapes of nature and the ocean are common themes in his designs; his Long Neck Bottles were inspired by tall grasses. We are undone by the way Shahvali uses color to illuminate form. Dale Chihuly's work has also been an influence, most notably with Shahvali's elaborate chandeliers. "I work with a great team of people; that's how we do larger, complex pieces," Shahvali says. "I really enjoy communicating and collaborating with other artists."
$90 to $340 | 15 – 40 inches | www.alishahvali.com | 818.787.7230
---
Firefly Cuff by Keri Ataumbi – Wearable Metals
Keri Ataumbi is an artist in more ways than we can fathom. She travels the world seeking inspiration for her contemporary paintings, dynamic sculpture and — of special note to us — wearable art in the form of jewelry. While we could be content just to look at her Firefly Cuff, among several other favorites, the opportunity to wear it is unspeakably cool. She fabricates her pieces from "harmony metals," all of which are recycled and include sterling silver, 18-karat gold and 24-karat gold. In addition, Ataumbi uses rough-cut emeralds and certified conflict-free diamonds in this cuff (and in all of her jewelry). Her insect line is stunning and pieces range in price from $2,400 to $8,000. We love that all of her work stands alone as art, but that in her jewelry, Ataumbi relates each object to the body. Her work is not designed in the traditional sense but crafted, forged, created as art.
$7,500 | www.ataumbi.com | 505.424.3207
---
Ma(i)sonry Napa Valley
The brainchild of recovering banker, aspiring vintner, art and design aficionado Michael Polenske, Ma(i)sonry Napa Valley is an exquisite celebration of "a life aesthetic." Housed in an imposing 1904 stone residence in Yountville, California, Ma(i)sonry Napa Valley is a living gallery that combines art, architecture, furnishings and artisan wines. Open to the public since October 2008 for wine tastings, special events and plain old browsing, Ma(i)sonry Napa Valley is to the soul what The French Laundry — just a couple of yards away — is to the palate. The grounds are meticulously landscaped and dotted with olive trees as old as the structure itself; a 36-foot Ron Mann redwood table creates a festive outdoor setting, and the nearby stone firepit is put to good use on chilly evenings. Inside, two great rooms and three private rooms house extraordinary collections of everything from 16th-century art to contemporary furnishings to limited production wines. Art, architecture, furnishings, wine … what's not to love?
www.maisonry.com | 707.944.0889
---
Tiburon Table by Chajo
In pursuit of its mission — to unite simple forms and striking materials in pieces that enhance an environment with character and grace — Chajo has created an exquisite new piece, the Tiburon Table. The tables come in a variety of sizes, from kitchen and coffee tables to dining and conference tables. Each unique table is impeccably hand-constructed in-house by partners Chanin Cook and Jonathan Edie with Claro Walnut slabs on top and German Fumed Oak as the base. We are head-over-heels for the way the organically shaped top provides a stunning contrast to the geometric base, and the way the tenons unite the rich tones of wood which balance one another beautifully. Chajo has long been known for its inspired designs in wood, metal and stone. We love that all of their designs are functional, contemporary and … lovely.
Starting at $10,500 | www.chajo.com | 707.257.3676
---
Napkin Rings by Beehive Kitchenware Co.
Artists Sandra Bonazoli and Jim Dowd were trained as jewelers and metalsmiths, even showing their collaborative work at the Museum of Arts & Design in New York City. Ten years ago, they founded Beehive Kitchenware and began creating functional and decorative metal pieces for the kitchen and home. From heart-shaped coffee spoons to bird-shaped wall hooks, their wares are a delicate blend of scales and sensibilities. We love that their work is inspired by folk art, but designed to be contemporary. Each piece is beautifully ornamented to honor the humbleness in everyday objects. We are mad for their handsome lead-free pewter napkin rings that come in four designs and were created in the tradition of keeping each guest's napkin separate and easy to identify. The finish is antiqued and their weight substantial; but these napkin rings are sleek and simple and the perfect accompaniment to any table.
$62 | www.beehivekitchenware.com | 508.678.4335
---
The King Throw by Eco-Luxury Fur
In the 19th century, Paihamu — a type of possum native to Australia — was introduced to New Zealand for the quality of its fur, which is indisputably fine, with great strength, rich colors and exceptional warmth. But in New Zealand, the non-native species proved to be an ecological nightmare: Its population today numbers 70 million, and with no natural predators, Paihamu threaten a multitude of flora and fauna in New Zealand, including the national bird, kiwi. Enter Chrys Hutchings, who came up with a brilliant market solution to the crisis: Eco-Luxury Fur. She has crafted a luxurious line of Paihamu fur ranging from throws — our favorite — to pillows, shawls and wool/fur fashions. As impressed as we are that she employs New Zealanders to both humanely trap and kill the animals and to produce all of the sumptuous designs, we must confess that it is the opulence of the fur itself, its deep tones and silky texture, that leaves us weak in the knees!
$2,200 | www.Eco-LuxuryFur.com | 503.635.0002