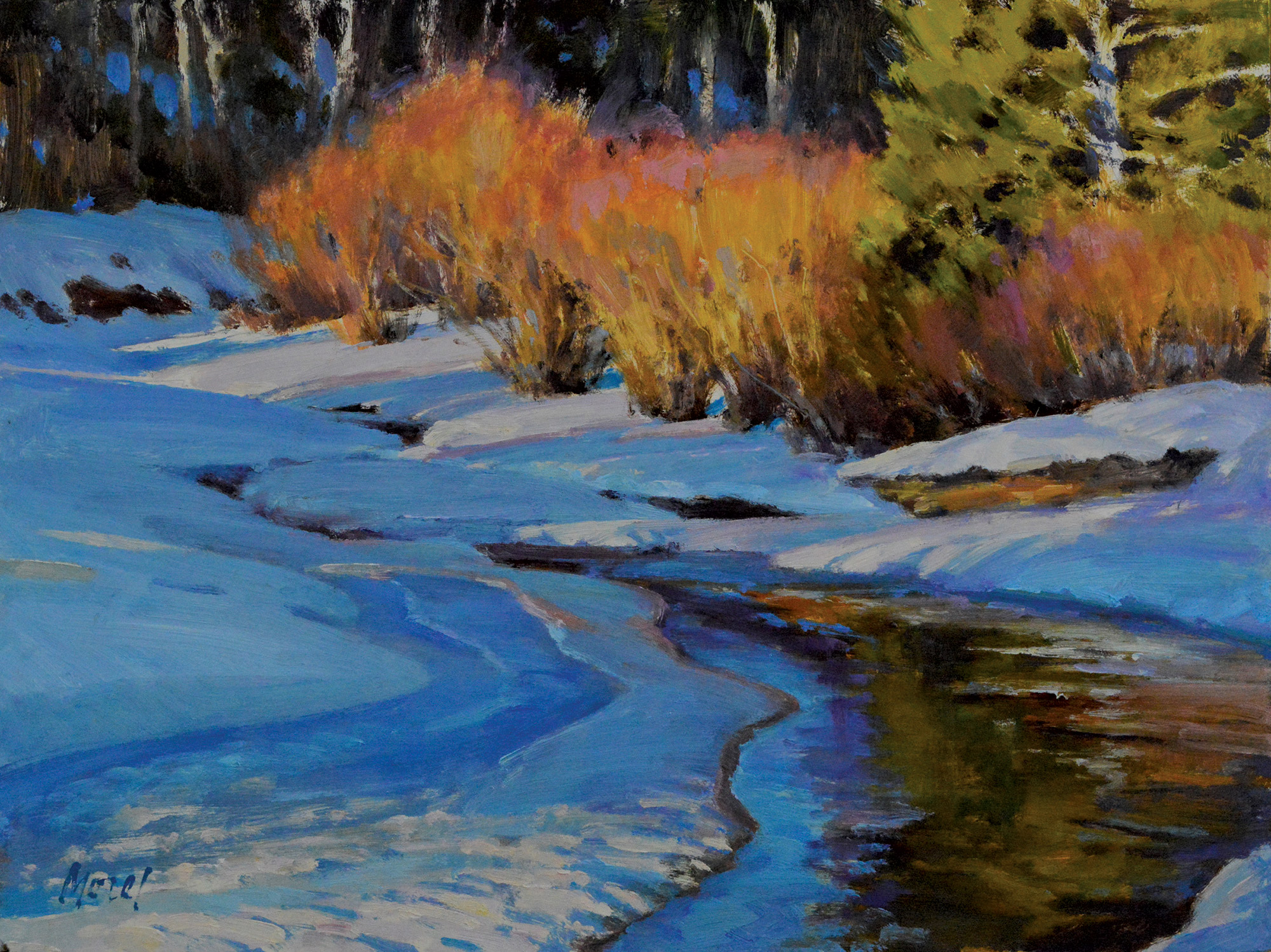 "Riverbend Willows" | Oil on Linen | 12 x 16 inches
18 May

Ones to Watch: Chris Morel
---
Landscape painter Chris Morel paints what he loves: willows in winter with snow-patched pines, the slow detritus of pueblos returning to the land and a mist of light netted on a predawn stream.
"This is what inspires me," Morel says, having moved from Texas to the mountains outside of Taos, New Mexico, 21 years ago. "I'm here primarily for the landscape, and there's a legacy of landscape painters in New Mexico. My biggest challenge is if I want to go out on location somewhere, do I take a left or right out of my driveway?"
Morel, after more than two decades of landscape painting, still finds places that are fresh and new to him. Places where the light plays just right, and the patterns feel unique. "What I'm looking for … that's the hard part," he says. "It has to do with the time of day and the direction of the sun. It's really about what strikes me as I ride around."
He often finds himself returning to familiar places again and again, challenging himself to find new compositions within the same setting and grow as an artist from the experience. "Little things change, birds build nests, snow falls on them, parts fall down, everything changes and I just want to see it and check it out, like an old friend," he says. "I go back to the same places because it's comfortable for me. With nature and old structures — nobody wants to paint a brand new house, but we love the broken down adobes."
Morel paints on site, "chasing the light," but he also brings field studies and photographs to his studio where a study might turn into a bigger piece. "A typical scenario is to get out early, early … before the light and do some camera work, because that absolute first light is going to change dramatically in no time." He spends about an hour taking pictures and then will "throw the canvas up" and start drawing with his brush — shape, line, design — catching whatever it was that made him want to paint that place.
"Sometimes I'll work for an hour and wipe the whole thing off and go to breakfast," Morel said. "That's the exciting part of the process. You can turn out a beautiful piece on location, but you can also do some real dogs out there."
This June, Nedra Matteucci Gallery in Santa Fe, New Mexico, will present Natural Wonders, a two-person show exhibiting plein air and studio works by Morel and sculptures by Dan Ostermiller. "Chris will be showing vistas of Northern New Mexico with his unique ability to capture the softness and subtle light of his surroundings," says Dustin Belyeu, gallery director. "Dan will be featuring a larger-than-life chicken as well as African animals and his ever popular bears. It is exciting to have these artists highlight their different views of the natural world."
Owner of the gallery, Nedra Matteucci, says Morel brings maturity to his impressions of Northern New Mexico, but she also appreciates how eager he is to grow as an artist. "For Chris, a backroad in the familiar foothills near Taos becomes a unique vista; he dynamically captures our brilliant New Mexico light with a palette that sets a mood with each painting," she says. "His enthusiasm is contagious and his natural landscape paintings are a strong but perfect balance to the spirited animals in bronze by Dan Ostermiller. We anticipate a wonderful chemistry between the paintings and sculpture in our July show."
Morel's work is collected publicly and privately, including by New Mexico Governor Susana Martinez, who has two of his paintings in her office at the state capital. His work has appeared in the National Cowboy Hall of Fame in Oklahoma City, Oklahoma; at the Albuquerque Museum of Art in New Mexico; the Gilcrease Museum in Tulsa, Oklahoma; and the Thunderbird Foundation for the Arts' Maynard Dixon Show in Mount Carmel, Utah. Morel's work is represented by the Nedra Matteucci Gallery in Santa Fe, New Mexico; and Mission Gallery of Fine Art in St. George, Utah.