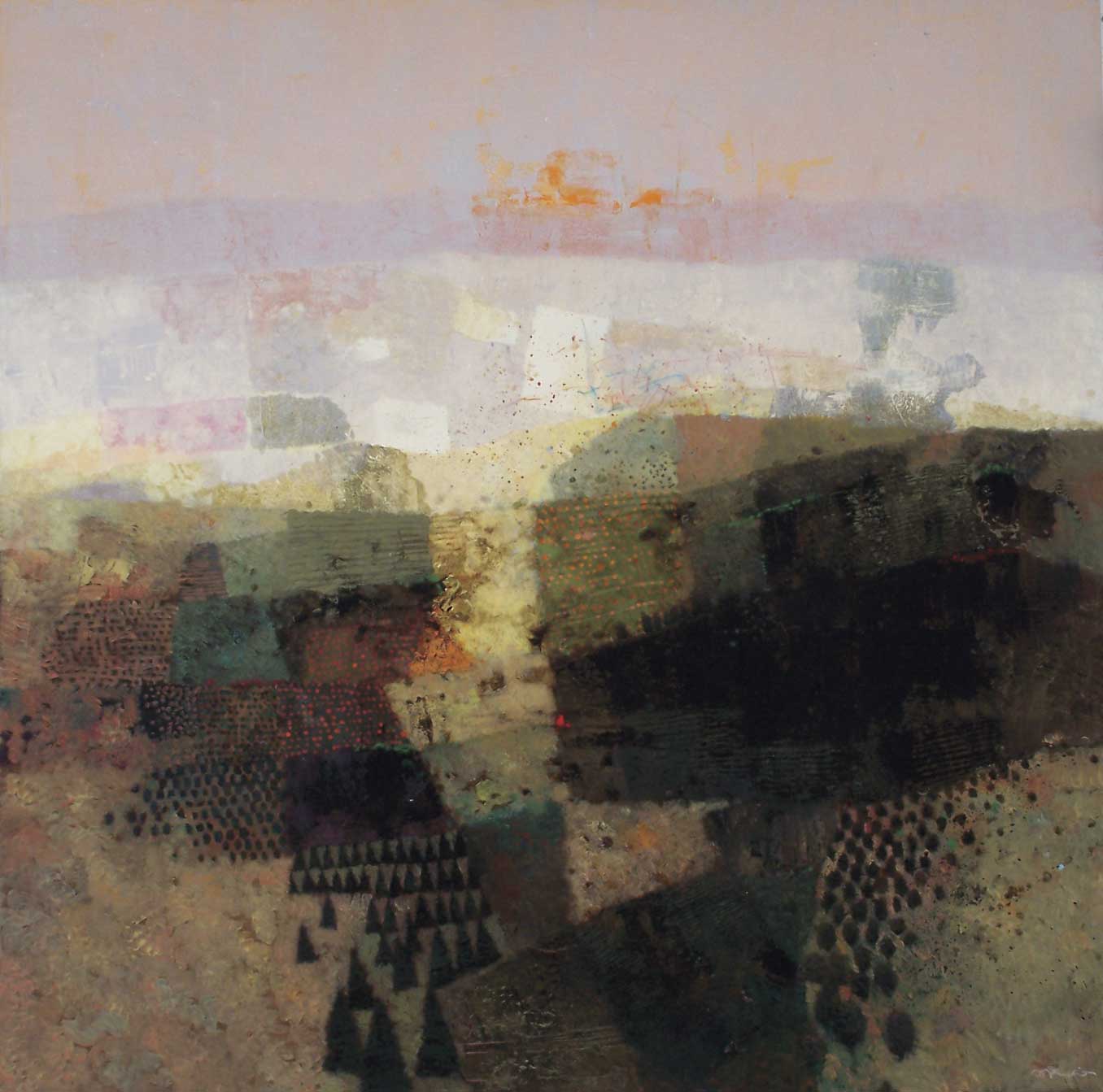 "Untitled Landscape" | oil on board | 48 x 48 inches
24 Jul

Illuminations: Ones to Watch
---
From quiet patterns of geometric forms and shapes Mark English hushes in a reflective portrait of his surroundings. His is an intimate perspective, a private invitation to his worldview, to be a part of the landscape, to taste the earth as he does and sip the nectar of his palette. Parts come across as somewhat obscured, as if seen through the gauzy film of a soft-focus lens, English marks the passage of time against the timelessness of a single moment.
Teasing out abstract ideas English grounds them in specifics. By beckoning with color, layering in transparencies, the roads he travels, snapshots of an interior sense of place, relay the crossroads we all must face.
English was conferred the 'most awarded illustrator' in the history of the Society of Illustrators in 2005 and was given an Honorary Doctorate Degree from the Academy of Art College, San Francisco, California. Mark English has been one of the leading illustrators in the United States and abroad for the last three decades. His unique style is easily recognizable in such publications as McCall's, Time, Sports Illustrated, Redbook, Atlantic Monthly, and others. His client list includes such notables as IBM, U.S. Park Service, RCA, GE, Ford, GM and Honeywell.
His work appears in many private collections and has been exhibited in solo and group shows throughout the United States, Canada and Japan, including the Smithsonian Institution in Washington, D.C. In 1983, English was elected to The Illustrators Hall of Fame in New York, joining such notables as N.C. Wyeth, Maxfield Parrish and Frederick Remington. He has executed portraits of famous personalities for the National Park Service, as well as having designed 13 stamps for the United States Postal Service.
English is represented by the American Legacy Gallery, Kansas City, Missouri; the Eleanor Ettinger Gallery, New York City, New York; Thomas Deans Fine Art, Atlanta, Georgia; the Lanning Gallery, Sedona, Arizona; Galleries Maurice Sternberg, Chicago, Illinois; and the Telluride Gallery, Telluride, Colorado, where his work will be on display all summer.