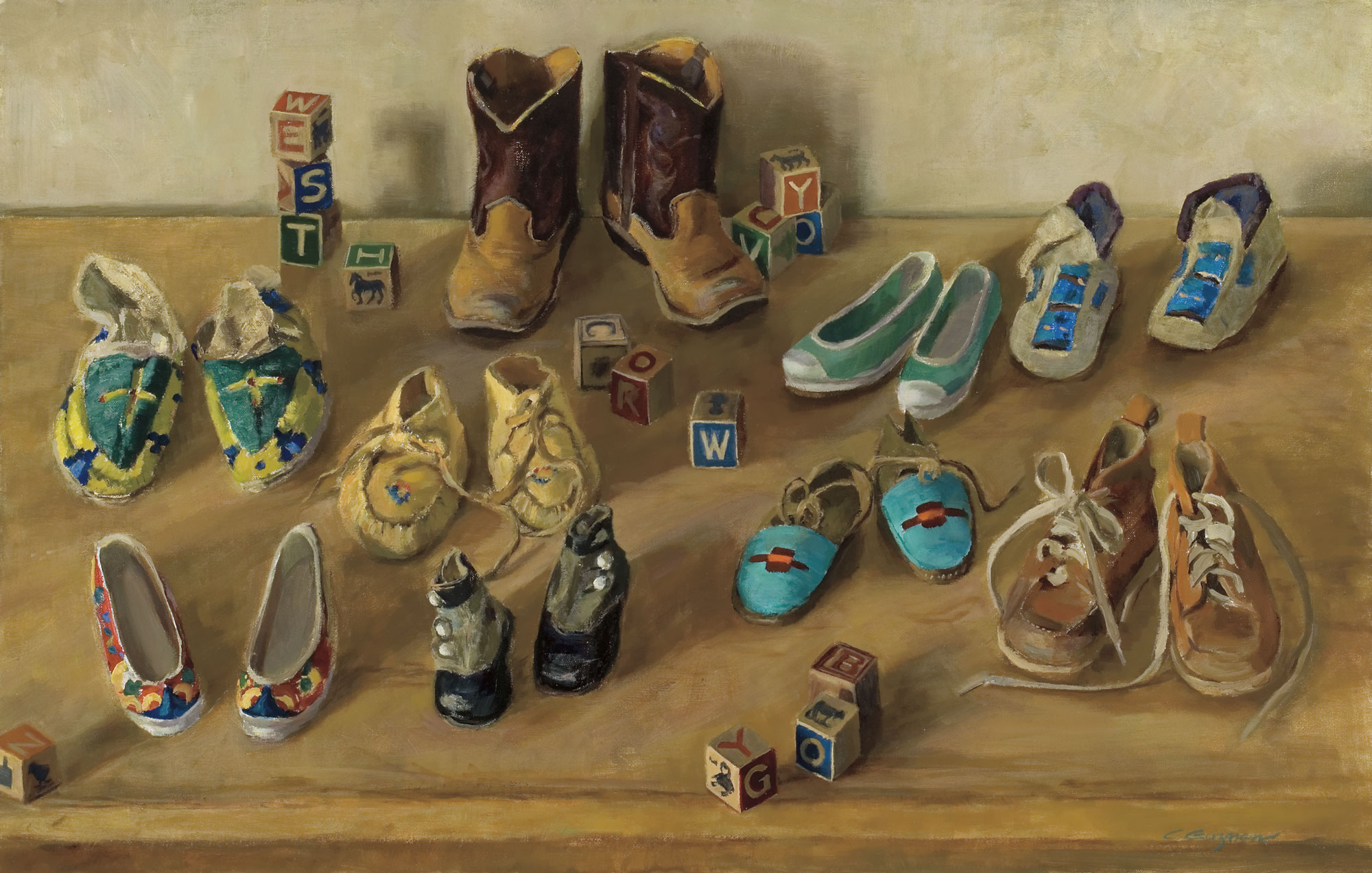 "Boots and Blocks" Oil on Linen | 2007
30 May

Illuminations: Ones to Watch
---
Carol Guzman's work celebrates the world, from glorious landscapes to daily chores, with fine strokes and broad approaches. Small subjects attract her attention, turn in her hands and underscore a self-awareness of her own surroundings. Guzman's paintings live between the lines. Her work encapsulates the faintest whisper of shadow and the loudest spillover of light. She draws obvious inspiration from her environment and by doing so, inspires the appreciation of all places, wild and tamed.
On her canvas objects reveal their histories, animals bear the scars of their evolution. Guzman's paintings bring with them the past of all things, clearly visible beneath the layers of forward motion.
Her work can be found in the collections of Maryvonne and Chuck Leshe; John and Sue Simpson-Gallagher; Hilary Heminway; Ben and Jane Stapleton; Karen and Jeff Miller; Ian and Floppy White; Dale and Margaret Vermillion; as well as Judith King. Her work is part of the permanent collection at the Booth Western Art Museum in Cartersville, Georgia.
Guzman lives with her husband, landscape artist Clyde Aspevig, in central Montana. Her work has shown at the Masters of the American West Show at the Autry National Center, Burbank, California; the American Masters at The Salmagundi Club, New York, New York; the Bradford Brinton Memorial Museum, Big Horn, Wyoming; the University of Wyoming Art Museum; the Scottsdale Artists School; the Sangre de Cristo Art Center; the Forbes Museum Gallery in New York City; the Coors Western Art Exhibit in Denver, Colorado; the Montana Masterpieces Show through The Nature Conservancy; the National Museum of Wildlife Art in Jackson, Wyoming; the Loveland Museum in Colorado; the Haggin Museum, Stockton, California as part of the Sea to Shining Sea Show; the Museum of Texas Tech University in Lubbock, Texas; the Owensboro Museum of Fine Art, Owensboro, Kentucky; the Museum of the Southwest, Midland, Texas; the Huntsville Museum of Art, Huntsville, Alabama; the Portsmouth Museum, Portsmouth, Virginia; and the Leigh Yawkey Woodson Art Museum, Wausau, Wisconsin.
She is represented by Trailside Galleries, Jackson Hole, Wyoming; Simpson-Gallagher Gallery, Cody, Wyoming; and Two Medicine Gallery, Whitefish, Montana. Her work can be further viewed at her Web site www.carolguzman.com.