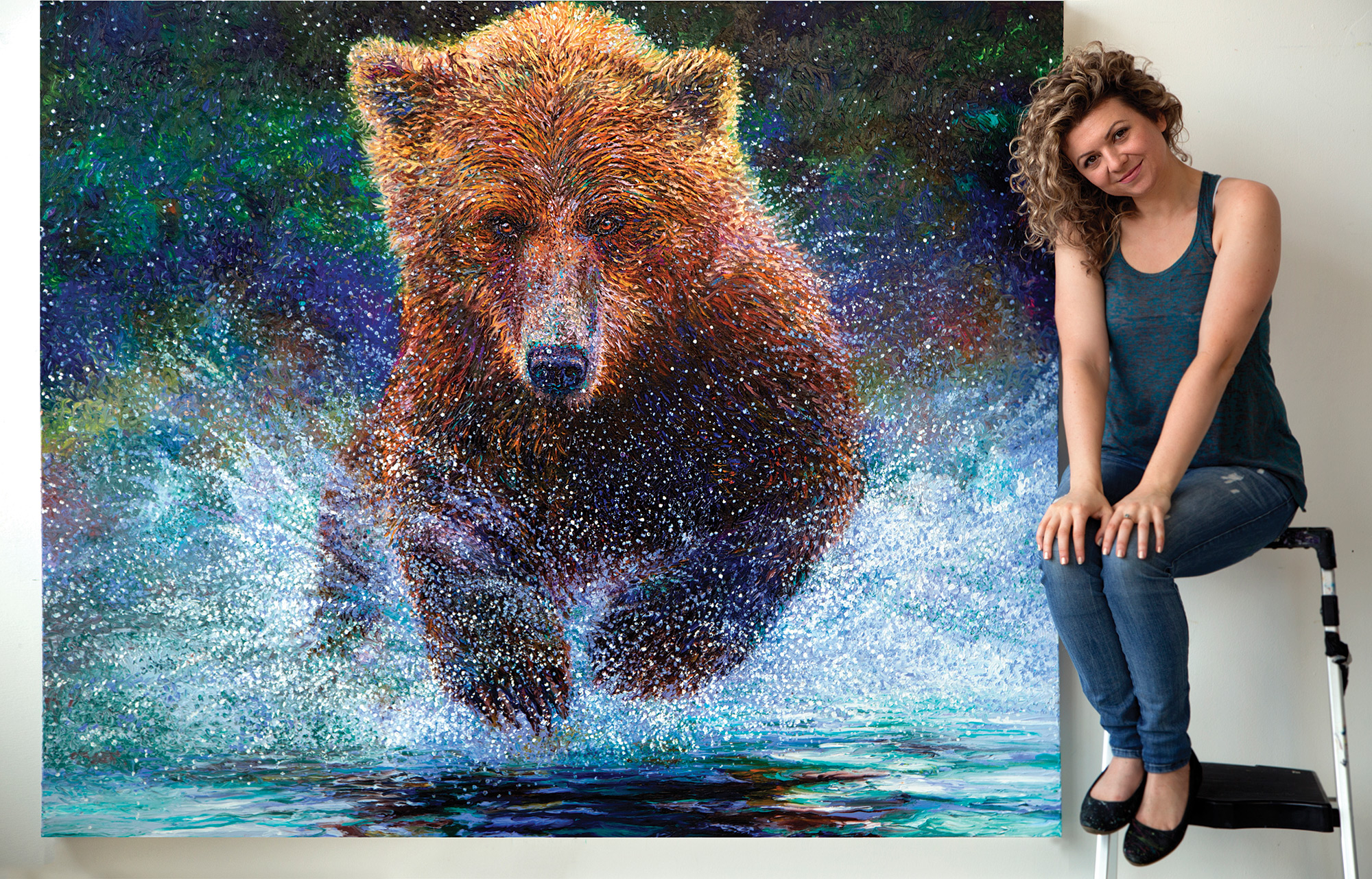 "Grizzly" | Oil | 60 x 72 inches | 2017
19 Jul

Illuminations: Ones to watch
---
Iris Scott finds freedom in adhering to limits. She uses only her hands to create works with movement that reflect her freewheeling nature.
"I work strictly in oils, and I strictly finger paint," Scott says. "I've been handed a style because I've limited my art. I've given myself rules to live by. While it feels like a problem, it's really an opportunity. No brushes, I haven't painted with brushes since 2010. That obstacle has been my advantage."
She now finds the hardest part is deciding what to paint. Since rendering figures and objects isn't the challenge, she incorporates chance into her work.
"I'm at a point in my life where I've figured out how to execute any image," she says. "The problem is that I have so many images in my mind, it's hard to decide which one to choose."
Taking tiny pieces of paper only as big as her thumb, she writes down an idea and drops it into a jar. From the jar she pulls out four ideas per painting. "They can be really random. For example, I just pulled out: wolf, blue, chair and hyper-textual. These are four ideas I'm dying to do, that's why I put them there. The jar has spoken."
Scott considers herself a representational, modern-day impressionist — with a surrealist twist. "They kind of turn out looking dreamy," she says. "I'm not the kind of artist that sits around thinking my dreams are the key. … I know I have skills to render, and I know I like making imagery, but I feel like I know so little. It feels like the more I learn, the less I know. So when I paint, I use the internet to get feedback from my audience. If a bunch of people click in and say the bottom corner isn't working, I'll be darned if I don't change that."
She also likes to play with reality, what's real and what's programmed. So she takes the virtual feedback and creates different versions of her themes. Once the idea is down, she uses Photoshop to make a digital sketch, tweaking it and adding layers. "I keep working it until I say, 'hubba hubba, that's a sexy painting,'" she says. "But until that happens, until I fall in love with it, I won't start a painting."
Once she is satisfied with the digital drawing, it's a "mad dash" because Scott works in a wet-on-wet style. "Accidental collisions of wet paint is what I'm after. My digital rendering is a backup. The best paintings are the ones that diverge from the digital version," she says.
Next painting: Coyote, arched doorway, shadows and feathers.
Scott will have a show at Horizon Fine Art in Jackson Hole, Wyoming, from September 8 through October 15, 2017. She is also represented by the Vickers Collection in Aspen, Colorado, and Adelman Fine Art gallery in San Diego, California.