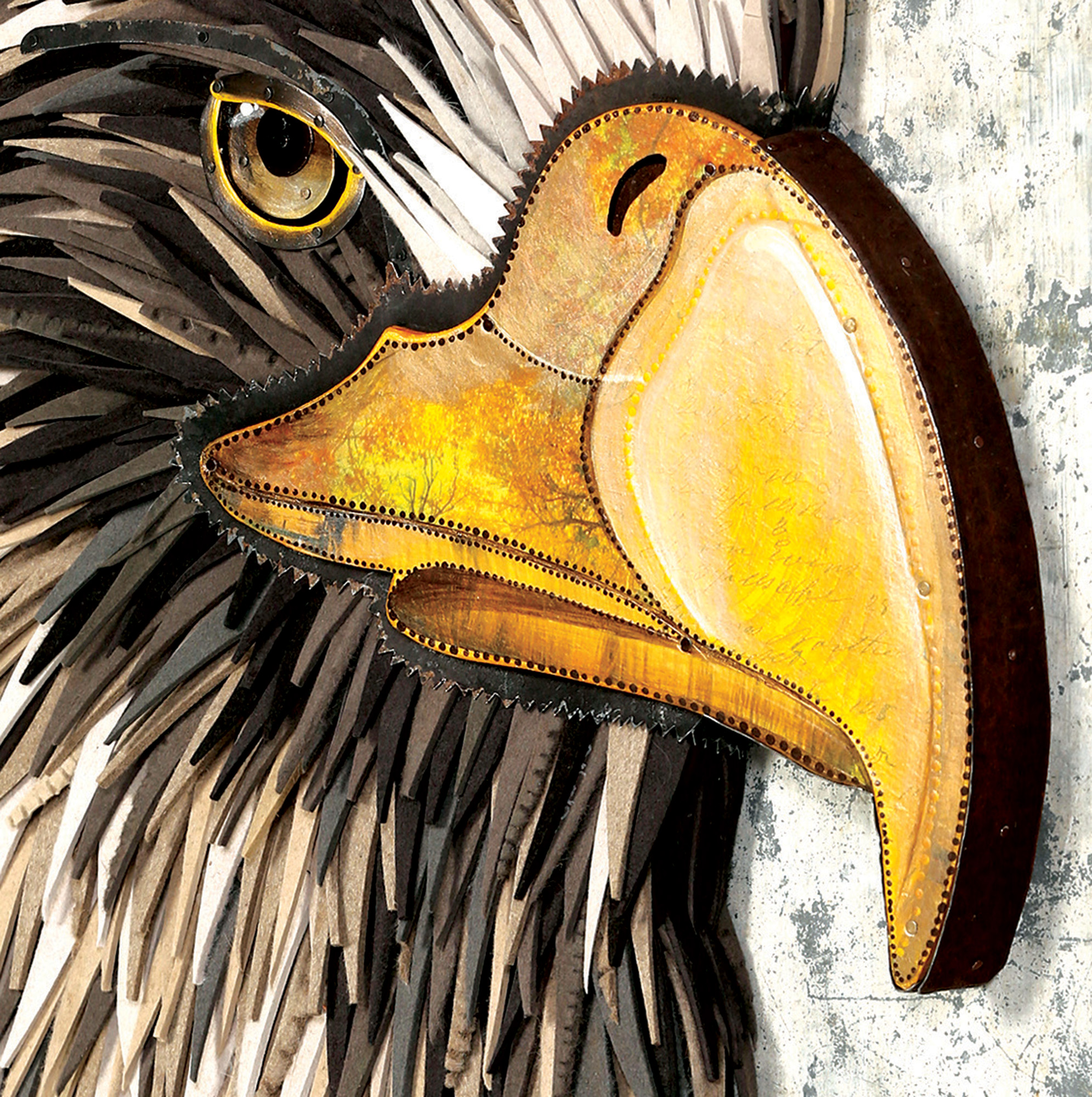 "Eagle" (detail) Hatmaker's felt "feathers," wood substrate, tin, acrylic and vintage general store ledger papers ca. 1865
19 Jul

Illuminations: Ones to watch
---
Sundie and Brad Ruppert began their careers as graphic designers, but their son's second-grade project changed all that.
"He had to make a turkey, and we'd been playing around with these pressed-tin ceiling panels, creating functional boxes with them," Sundie says. "When our son said he wanted to make his turkey out of the tin, we had to think about that. But when he turned the turkey in at school he got five orders from teachers and parents."
The Rupperts had always dabbled, doing things on the side, from hand-painting apparel to these tin boxes. But that second-grade assignment turned the creative dabbling into a career.
Then, in 2013, they met Trent Johnson, of Greeley Hat Works. They were delivering a handmade sign to his Colorado showroom, when they noticed all the felt trim left over from Johnson's cowboy hats.
"All these circles were everywhere," Sundie says. "So we asked him, 'What do you do with these?' And he said, 'Nothing. Can you do something with them?'"
At the time, they'd been working in tin, wood and other found objects for about 15 years and were looking for a change. "We took a bag of the felt home and Brad started cutting on it. First he did a crow, then a feather and finally a rooster. When we saw that rooster, we knew we were onto something," Sundie says.
The Rupperts, and their company, Vintage Sculpture, feel honored to salvage the fabric of cowboy hats — symbols of Western history — and create artwork from them.
"We're able to take what's trimmed off in the process of making a cowboy hat and turn Greeley Hat Works into a zero-waste company," Sundie says. "We turn it into other American icons: eagles, longhorns, bison, rams. We primarily work with wildlife and animal images — that's where our heart lies."
Traveling more than 40,000 miles a year, the Rupperts make the rounds of art fairs and shows from Florida to California. They also work directly with customers to fulfill custom orders for indoor and outdoor signage as well as partnering with interior designers.
"The great thing about the commissions is that we can incorporate something from the client, like boards from grandpa's barn that was torn down," Sundie says. "We can integrate something that's memorable and turn it into a wonderful piece of art."
During their travels, they collect vintage picnic tables and old mirror frames at antique shows and flea markets; these become the backgrounds for their designs.
"I just love that there's so much history in everything we do," Sundie says. "We take scraps and recycle them and make them into these incredibly textural and soulful pieces of art."
Vintage Sculpture is represented by the Yard Dog Gallery in Austin, Texas. Fall 2017 shows include: Sun Valley Arts and Crafts Fair in Idaho, August 11 to 13; The Golden Fine Arts Festival in Golden, Colorado, August 19 to 20; Art in the High Desert in Golden, Colorado, August 25 to 27; and the Yard Dog Gallery Show in Austin, Texas, October 7