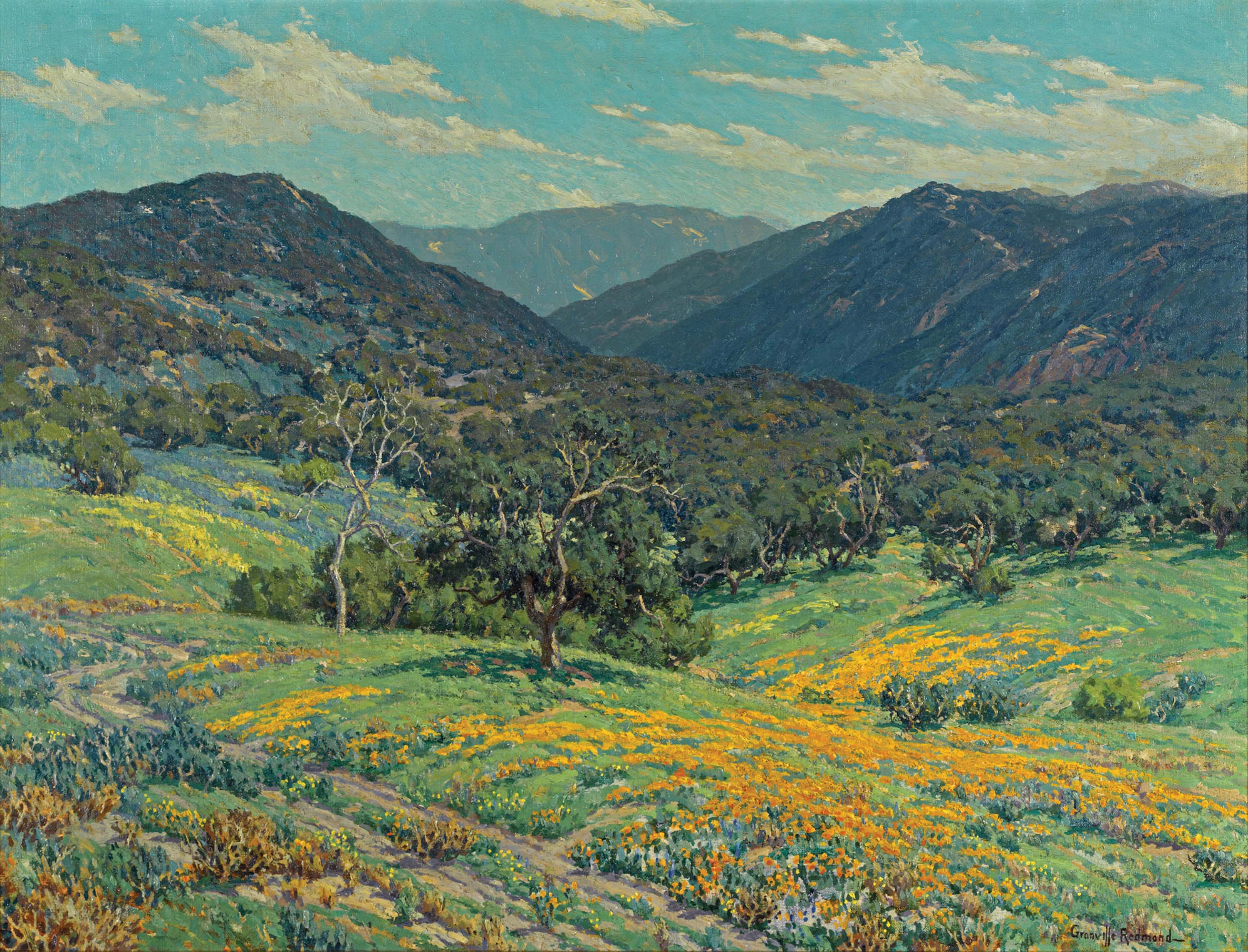 Granville Redmond [1871–1935], "Spring in Southern California" oil on canvas | 30 x 40 inches | 1931 est. $400,000–$600,000 | Sold: $446,499
09 Jun

Auction Block: In Like a Lion
---
The spring auction and art sale season launched with some record numbers and eclectic offerings on both coasts. The big auction houses held steady, while smaller venues, such as the Scottsdale Art Auction and March in Montana came on strong.
Bonhams' most recent California and Western Paintings and Sculpture auction in Los Angeles was a significant sale that totaled nearly $5 million, and was led by a showcase of landscapes that encapsulated the season. At the April Sotheby's sale of American Paintings, Drawings & Sculpture in New York, both nostalgia for the age of illustration and love of the Old West rang true with a visceral barroom brawl painting by N.C. Wyeth which sold for $137,000.
Both successes in sales are testaments to the strength of a market that reveres the broad subject matter of the West.
---
Bonhams california and western Paintings and Sculpture | April 30–May 1, 2013
Punctuated by Granville Redmond's Spring in Southern California (estimated at $400,000 to $600,000) which sold for $446,499, including the buyer's premium, the spring auction was a showcase of iconic California plein air painting depicting flowers, oaks and mountains in Redmond's signature Impressionist style. Adding to the theme were works by E. Charlton Fortune, Guy Rose, Charles Reiffel, Maurice Braun, Edgar Payne and William Wendt, among others.
On the Western art front, lots from deceased masters Oscar Edmund Berninghaus, Joseph Henry Sharp, cowboy artist C.M. Russell, Maynard Dixon and Charles Schreyvogel represented traditional cowboy and Native American subject manner well, while a handful of contemporary Western painters, including Robert Lougheed and Michael Coleman, added to the selection.
Specifically, Joseph Henry Sharp's oil on canvas, The Old Chief's Query, sold for $242,500. An Oscar Edmund Berninghaus oil on canvas, Tracks on the Trail, hammered at $284,500. Both were top-selling lots in a sale of over 150 works offered on the auction block. The sale totaled $4,954,575.
---
37th annual western Fine art exhibition & Sale | April 26–28, 2013
The San Dimas Arts Festival crescendoed with the annual Western Fine Art Exhibition and Sale. Over 50 artists displayed and sold original works, with a portion of each sale going to benefit the arts festival. The two-day auction, quick draw and trading post drew more than 3,000 attendees throughout the weekend.
Western painter Steven Lang was the 2013 featured artist. Being of Pawnee and Cherokee descent, the Native American will always be Steven's favorite subject. However, to fully depict the legacy of America's Western heritage, he finds it necessary to focus his creative energies on cowboys, cattle, ranch life, wildlife and landscapes — all done with a historical emphasis. Awards were granted to many other participating artists.
---
Sotheby's american Paintings, Drawings & Sculpture | April 11, 2013
Topping out at just over $4 million in total sales, this small auction for America's largest auction house offered an eclectic assortment of lots.
The top-selling lot was Robert Henri's Little Irish Girl which achieved $197,000, nearly doubling the high estimate of $100,000. Additionally, N.C. Wyeth's painting, Waite Seized Him and Swung Him On High Amid a Volley Of Terrified Oaths and Then Dashed Him Down and Away (Bar-Room Brawl), produced a high yield, selling for $137,000, well within its estimate of $120,000 to $180,000. Painted in 1915, it depicts a barroom brawl in a Rocky Mountain saloon that was published in "Punderson Waite," Collier's Weekly, January 1916, page 22, according to the catalog. Works by Nikolai Fechin, Walter Kuhn, Fredric Remington and Harry Jackson, among others, were also featured.
---
Scottsdale art auction | April 6, 2013
Shattering Western art records, this year's ninth annual Scottsdale Art Auction reported a notable $11 million in total sales.
Historically, the auction holds over 137 contemporary and deceased Western masters' auction records, and this year proved to be no different with new records set as a packed sale room provided enthusiastic bids. The top-selling lot for the day was Frederic Remington's black-and-white oil, Pack Horse Men Repelling an Attack by Indians (estimated at $500,000 to $700,000), that sold for $1,035,000.
In addition, contemporary lots that set new records included Martin Grelle's Prayers of the Pipe Carrier (estimated at $200,000 to $300,000) that sold for a record $488,750; John Coleman's monumental bronze, Rainmaker, set a new record for a single work by the artist at $97,750; Michael Dudash's The Last Hand (estimated at $15,000 to $20,000) sold for $40,250 and G. Harvey's New York, New York (estimated at $120,000 to $180,000) fetched a new record at $281,750.
Works by wildlife artists included Bob Kuhn's High Stakes Race, a 26- by 40-inch acrylic (estimated at $100,000 to $150,000), which brought $218,500. Philip Goodwin's oil, The Big Thrill (estimated at $80,000 to $120,000), sold for $138,000 and his It's a Bear oil (estimated at $80,000 to $120,000) fetched $126,500.
Auctioneer, Troy Black, held the crowd of more than 500 collectors, 12 telephone bid operators and iCollector Internet bidders on the edge of their seats with 89 percent of the lots sold. Other lots of special note included paintings by Cowboy Artists of America masters Roy Andersen, Howard Terpning, Kenneth Riley, Tom Lovell, Charlie Dye, Ray Swanson, Melvin Warren, Frank McCarthy, Robert Lougheed, Joe Beeler, Jim Norton, Tom Ryan, John Moyers and James Reynolds.
---
Night of the artists Sale and exhibition at the Briscoe Museum | March 22–23, 2013
Along the historic River Walk in San Antonio, Texas, The Briscoe Museum is an anchor of the community and on the Night of the Artists this institution shines especially bright. The 12th annual Art Sale and Exhibition took place in the Briscoe's new three-story Jack Guenther Pavilion adjacent to the historic museum building. Revenue generated from the art sale helps support the grand opening of the museum in the fall.
Featuring 65 of the country's top Western artists showcasing more than 200 works of art, this year's event was groundbreaking. Artists including Doug Hyde, John Coleman, Kim Wiggins, Bill Owen, Sonya Terpening, Sandy Scott, T.D. Kelsey and 30 others, attended the Friday night artist dinner where the art was viewed for the first time and awards were presented. The artist dinner featured the presentation of the Artists Choice Award to John Coleman for his bronze Honeymoon at Crow Fair; Committee's Choice Award for two-dimensional work to Jerry Jordan for his painting Listen for the Drums; and Kim Wiggins' work Cardenas at the Grand Canyon — 1540 AD was the top-selling piece. Additionally, the Committee's Choice Award for three-dimensional work went to T.D. Kelsey for his bronze Belly Up. The night's highlight was the presentation of the Briscoe Legacy Award to Cowboy Artist of America painter and sculptor Bill Owen. Saturday featured an evening art sale and lively atmosphere with 500 patrons and artists in attendance.
---
National art exhibition and Sale at Desert caballeros western Museum | March 22–24, 2013
The wildly colorful art show and sale in Wickenburg, Arizona, drew huge crowds during its opening weekend with more than 200 pieces of original artwork by 59 artists.
Nine different awards were presented at opening night, with the prestigious Best of Show award going to Cheyenne, Wyoming, artist Gail Jones Sundell for her Gift of the Pumeli, a Utah alabaster sculpture. In addition to a cash prize of $2,000, Sundell's name will appear on the Cowgirl Up! boot trophy especially designed for the show.
The 2013 Museum Purchase Award was granted to Star Liana York of Abiquiu, New Mexico, for her bronze sculpture, Range Duty. First Place Two-Dimensional on Canvas went to Sedona, Arizona, artist Lisa Danielle for her acrylic on board painting, A Century of Copper State Cowboys. Sculptor Rebecca Tobey of Santa Fe, New Mexico, received First Place for Three-Dimensional work for her bronze sculpture, Prairie Star. Both of these first-place award winners received cash prizes of $1,000. First Place Two-Dimensional on Paper was awarded to Karen Cooper of Kerrville, Texas, for her Ready Set Go, a pastel on black sanded paper.
Winning the People's Choice Award, along with a cash prize of $1,000, for body of work was Tucson, Arizona, artist Sheila Cottrell. The recipient of media sponsor Western Art Collector Magazine's Award of Excellence for body of work was Harriet "Rox" Corbett. Taking the respected Artists' Choice Award for body of work selected by fellow Cowgirl Up! artists was Denver, Colorado, artist Maura Allen.
Finally, the prestigious Governor's Choice Award, went to Phoenix, Arizona, artist Joni Falk for her oil painting, Wilderness Shelter. Falk also received a $1,000 cash award.
---
The C.M. Russell Museum | March 16, 2013
Western art patrons flocked to Great Falls, Montana, from across the country to support the annual C.M. Russell Art Auction, held at the cowboy artist's namesake museum. This year the event raised a record amount at $3.6 million.
Shots from Above, fetching $69,000; Gustave Baumann's [1881–1971] woodblock of Grand Canyon selling for $16,100; a Bob Kuhn [1920-2007] watercolor selling for nearly $15,000; and an Ace Powell [1912-1978] 24- by 40-inch oil chasing a new world record at $16,100.
Additionally, the sale also boasted the largest selection of E.E. Heikka [1910- 1941] and Bob Scriver [1914-1999] bronzes ever offered in one place at one time, which did not go unnoticed by collectors. Heikka's Trophy Hunters totaled well over $13,000. Scriver's Real Meat brought nearly $20,000, as well as Pay Window fetching a final price of $14,950.
Also known for featuring high-quality Indian material, other highlights included a 19th-century Northern Plains Indian beaded bridle fetching over $11,000, a Plateau dress selling for $12,750 and one of the center pieces of the sale — the (Sioux) bowcase and quiver belong to Sitting Bull's half-brother (Paints Brown) — from the Bokelman collection crossing the block for over $40,000. The fine offering of weavings on display also brought strong prices with a Third Phase Chief's blanket (circa 1875) fetching $28,875.
"We are encouraged by the strength of this sale," offered Nelson, who has been in the art, collectibles and auction business for over 50 years. "Quality offerings bring top prices, even in the toughest economic environment. We are feeling an encouraging upturn in the market for Western art and Native American items, which indicates that our patrons are seeking investment alternatives that we are pleased to offer."
---
Western Masters art Show and Sale | March 13 –16, 2013
Bringing many of the country's premiere Western artists to Montana for the Western Art Week, this four-day fine art exhibition was held at the Best Western Heritage Inn in Great Falls. Since the opening of the Heritage Inn 40 years ago, artists have annually exhibited their work in hotel rooms that have been emptied of furniture, creating a studio setting. With over 140 juried artists and galleries exhibiting paintings and sculptures in 109 rooms, there was a vast range of media, subject matter and style that attracted a record-number of attendees this year.
In addition to exhibitors, the Off the Wall Auction and a Quick Draw garnered money to benefit the Michael J. Fox Foundation for Parkinson's Research. According to organizer, Morgan Cawdry, the event was an overwhelming success.