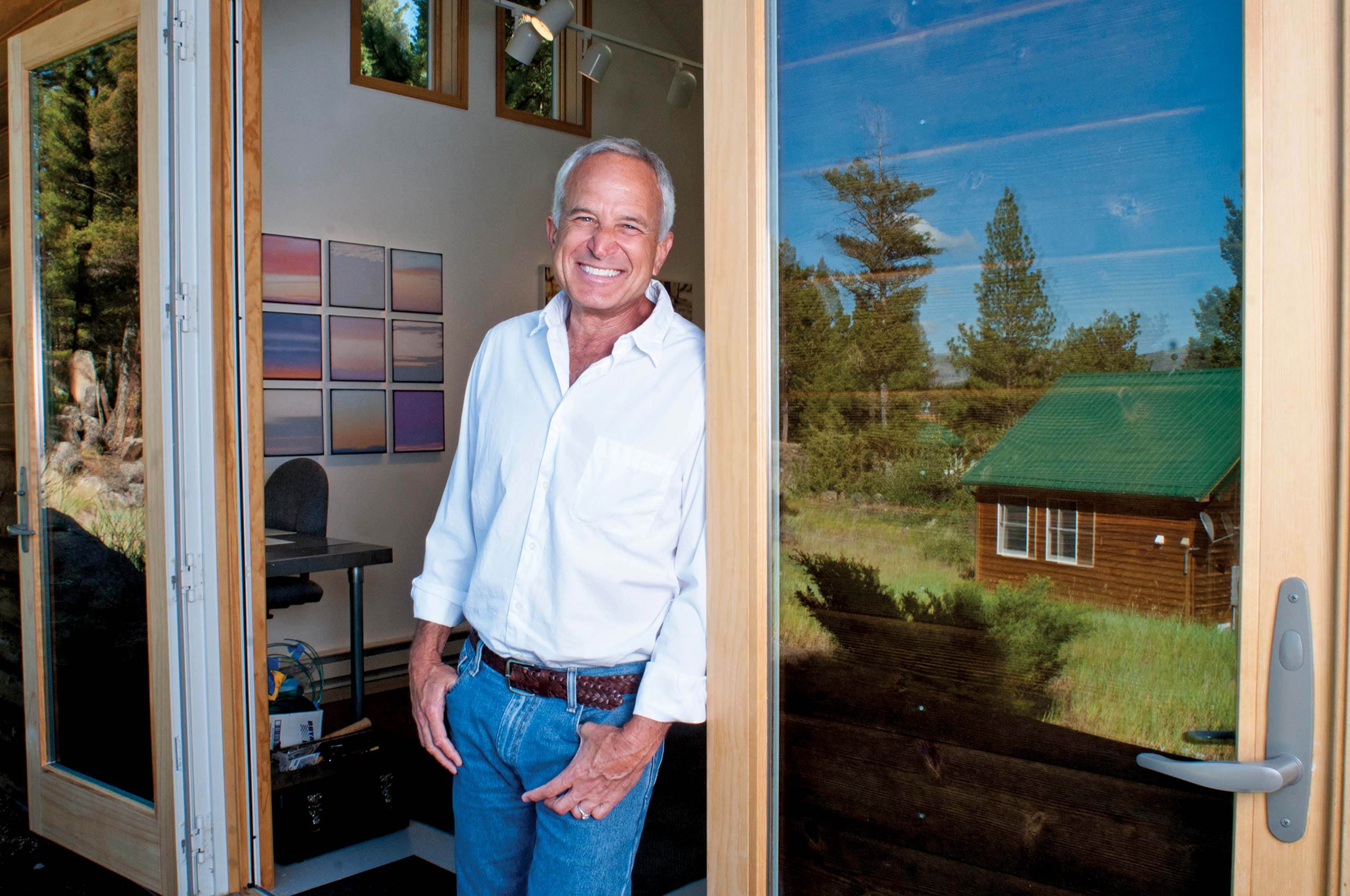 From the outside, Haykin's studio blends perfectly with the metal-roofed log cabins on the property, but inside, the space is clean, white and spare.
02 Mar

In the Studio: Inside Out
---
Michael Haykin's studio, much like his artwork, provides an intimate view of nature. Nestled among tall evergreen trees in a lush meadow, his 500-square-foot workspace is just steps away from hiking, wildlife and unending views of mountains and sky.
"It's always a big surprise to look up from painting and see an elk blocking the light in the door," says Haykin, whose oil paintings hang in galleries and museums across the country.
Those kinds of surprises are exactly what drew Haykin to Montana. Today his studio in Rawhide Canyon, outside the small town of Boulder, has turned his dream of painting in a clean, white space on the edge of a forest into a reality. It's a dream that started on an island.
In 1995, after working for years as an artist in Key West, Florida, Haykin traveled to Big Sky Country as a participant at the Montana Artists Refuge. "To me, Montana sounded exotic after having lived all this time in the tropics," he says.
He then spent the next three years participating in the program and driving all over the state as he painted on location. His travels eventually led him to the one-stoplight town of Boulder. With a population of 1,183, it's a minute dot in a long valley surrounded by rolling hills and mountains. A quintessential small Western town, Boulder boasts a historic hot springs hotel and quick access to bucolic beauty.
Rawhide Canyon instantly felt like the right building site for the artist.
"It didn't have the grand spectacle of Montana," he says. "It had more of that intimate view."
That intimate view that Haykin desired in his workspace is reflected in much of his work. His paintings include up-close explorations of water, leaves or insects; Haykin is known for painting small, overlooked moments with vibrant, dreamlike colors.
Once he chose the location for his studio, Haykin enlisted friend Steve Olseon to help build his dream workspace. Olseon and Haykin had worked together to remodel a motel unit of the now defunct El Palomino Motel as a cabin where Haykin stayed during summers in Rawhide Canyon. The studio project brought the friends back together for a summer, working alongside friend and engineer Bill Crenshaw. Haykin found fixtures in nearby Helena and hired local electrician Ron Zendron to keep the project solidly grounded in Montana.
"We had lunch together every day," Haykin recalls with obvious fondness. "I fed them tofu and sticky rice. They even liked it," he laughs. "It was one of the best summers of my life."
Born of that summer is the space where Haykin spends half the year (he is in Arizona when the snow flies in Montana) painting canvases for his upcoming exhibitions. While the outside of the studio conjures up an old cabin in the woods, complete with a green metal roof and wood siding, the inside of his space is pristine and white — a blank canvas where he can create the bright, prismatic paintings that hang on the walls like jewels. A seating area with a white couch and wood coffee table anchor the room and provide a place for Haykin to take a break from work. A small desk with a gray office chair sits to the side of French doors that open to stunning, boreal scenery outside.
The artist begins each day with a short walk from his home to his studio. Morning is his most productive time, Haykin says, and the short 100-yard commute is something he looks forward to each day.
"To be there at first light walking through the meadow with a cup of coffee is part of the ritual of beginning to paint for the day," says Haykin. "That little walk is really spectacular for me."
His morning ritual mirrors a daily habit that inspires his work: hiking. Since his studio sits adjacent to forest service land, a walk just outside the doors offers the perfect jumping-off point for the outdoor adventures that Haykin loves. The stillness, both at work and at play, speaks to the artist.
"It's so quiet," says Haykin. "To me it is heaven. That kind of profound silence is a beautiful thing to work in."
After spending more than 15 years working in this pastoral location, the only thing Haykin wants to change is its size.
"I love my studio. It needs to grow," says Haykin. "I want to rehire those two guys to enlarge the studio, double, triple, quadruple the size… whatever will keep them around the longest."
Enlarging his studio would also make it easier for Haykin to work on the large – scale paintings he's drawn to. He's accepted an invitation from the University of Arizona Museum of Art to produce a solo exhibition that will fill a 2,850-square-foot gallery. His hope is to create a monumental series of paintings, perhaps 10 by 10 feet, he says, something a larger space would help accommodate. Until then, Haykin is at work on his next show of paintings for Lucky Street Gallery in Key West, Florida. The show will hang from April 2 through April 16.
For now, though, what Haykin's studio lacks in square footage, he makes up for with art… and a little bit of magic. As in his paintings, Haykin finds ways to elevate the everyday. A tree stump is turned into a table. Antlers, bleached white by the sun, sit atop a small pedestal, made art by their placement. White canvases become dragonflies and water droplets. It is more than enough for this artist.
"I love the location and I am so grateful to have it," he says.