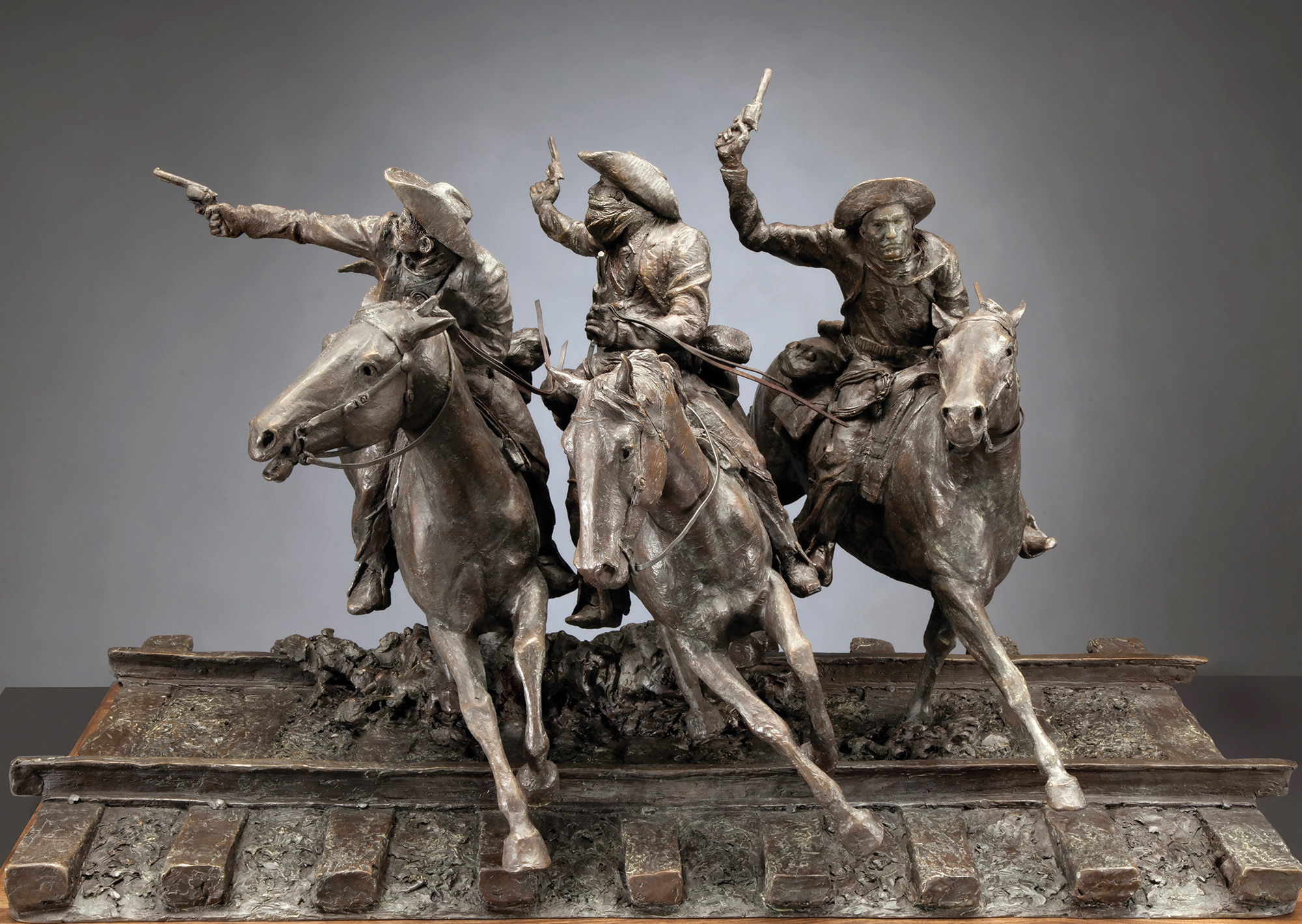 "Sundance & The Wild Bunch Hit the Union Pacific" | Bronze | 22 x 35 x 25 inches
11 Nov

Ones to Watch: Greg Kelsey
---
Sculptor Greg Kelsey's work emulates life. His life and the life imagined. Living on a working ranch, he can look out his window for inspiration. But sometimes his pieces reach into the past, where he can speculate on what might've happened.
In his piece Sundance & The Wild Bunch Hit the Union Pacific, it is as if he'd watched the whole thing from behind a rock. You can feel the explosions and smell the dynamite in the air. Horses' nostrils flare and outlaws' half-hidden faces scan the area for signs of trouble.
"I'm trying to get the perspective that you receive from living the life," he says. "My models are my animals, my friends' animals and my friends. I'm trying to bring a classical artistic approach to this lifestyle portrayed as honestly as I can. When you have that kind of insight to your models, you can bring across something you don't get to see from the road."
Kelsey feels the way he lives his life, on the ranch and at the rodeos, enables him to bring an intimate perspective to the people and animals he sculpts.
"If I could say I have an edge, that would be it: living the lifestyle," Kelsey says. "I work from life and imagination. There's a lot to see when you're just observing. But when you're participating as well, there's a lot more to it. There's the connection, that soulful feeling you have with the animals. It's in every breath I take, everywhere I go."
Sculpting from life with his own animals is more than just seeing what is in front of him, it's sculpting from life with the animals he lives with and knows on a personal level. When starting a piece, he doesn't sketch it. He sets up the clay and begins.
"The piece is finished in my mind before I start it," he says. "It's done in my head and I can see it all the way around. When I do a painting, it lives on the canvas and has more of a life of its own. With sculpture, I'm stacked full of ideas in my head I just have to get it into the clay. So when I start one, blocking it in is a fast process because I know where I'm going with it."
By working with people he knows, whether from the work on his ranch or from the rodeo circuit, he feels he can do the most service to the people he respects.
"I want to be able to portray a cowboy in the best light," he says. "They're salt-of-the-earth folks, and that's what I want to bring across."
His work appears in several private and public collections, including the permanent collection of the Eiteljorg Museum of American Indians and Western Art in Indianapolis, Indiana; the permanent collection in the C.M. Russell Museum in Great Falls, Montana; the Briscoe Western Art Museum in San Antonio, Texas; and the Bosque Arts Center in Clifton, Texas.
He is represented by the Legacy Gallery in Jackson, Wyoming, Scottsdale, Arizona, and Bozeman, Montana; Settlers West Gallery in Tucson, Arizona; Sorrel Sky Gallery in Durango, Colorado, and Santa Fe, New Mexico; Broadmoor Gallery in Colorado Springs, Colorado; and Coeur D'Alene Gallery in Coeur D'Alene, Idaho.