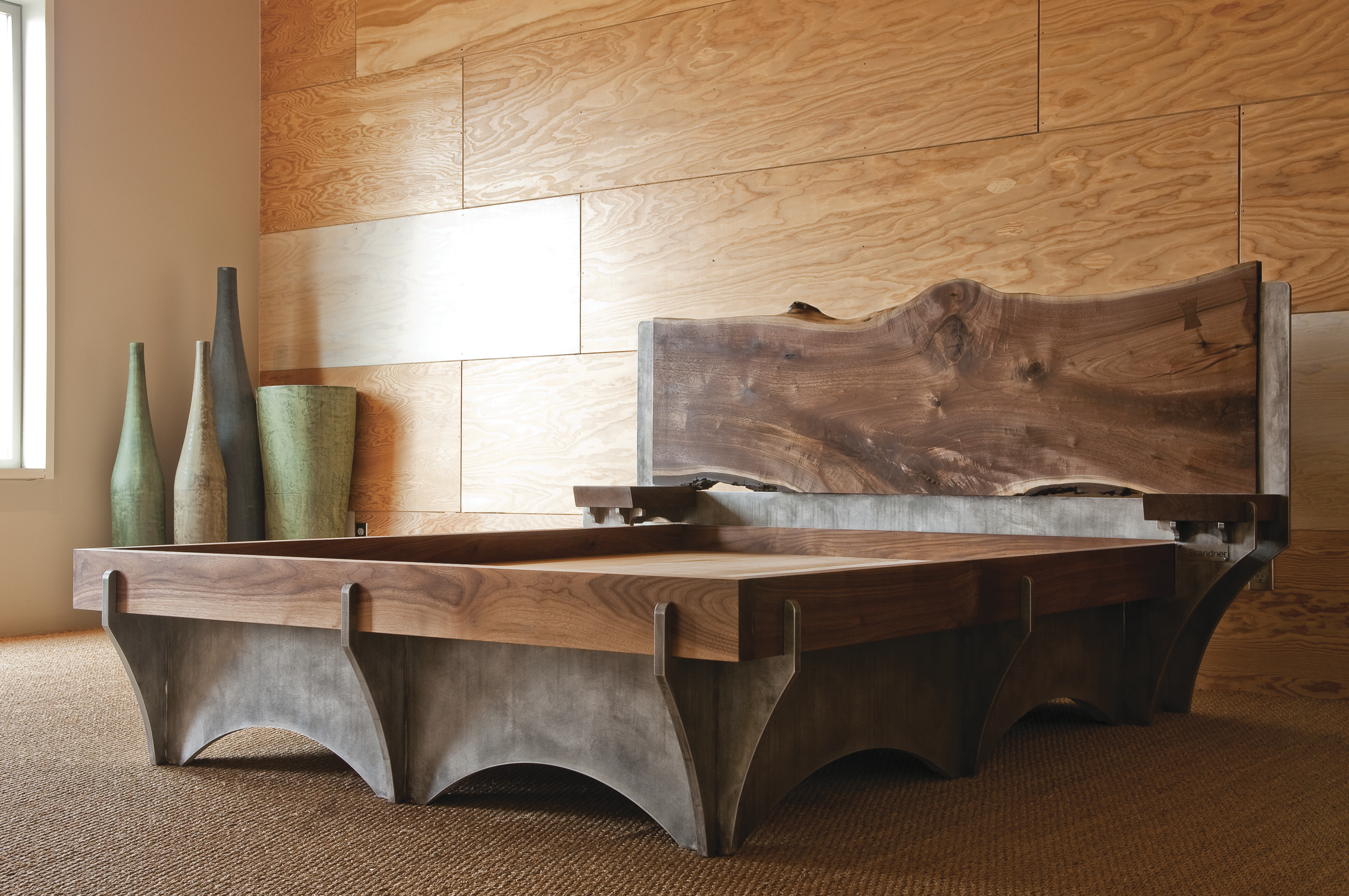 The Tribeca Bed—recycled aluminum and black walnut. Photo: Audrey Hall
30 May

Ones to Watch: Jeff Brandner

Inspired by designs that are both elegant and functional, Jeff Brandner creates contemporary organic furnishings with distinct originality. Fascinated by the bridges, factories and mills constructed during the Industrial Age — an era when engineering feats could also project a satisfying beauty — Brandner cultivates intricate detailing and applies architectural craftsmanship to his sculptural furniture.

After studying painting and sculpture at the School of Visual Arts in New York City, Brandner finished at Rutgers University with a degree in Landscape Architecture. He operated a successful landscape design firm for 15 years in New Jersey before selling his business to focus on sculpture and furniture design.

His formal art training influences the craftsmanship and graphic balance in his contemporary furnishings. Incorporating simple mechanisms such as the turnbuckle in a line of tables and stools, Brandner shows ingenuity and style. Combining aluminum or steel with reclaimed hardwoods into his furnishings, he successfully blends into a soft-Modern design. Each piece is constructed by hand, from the metalsmithing to the wood finish. As much art as they are household fixtures — whether a bed, a turnbuckle stool or table — Brandner's sculptural furnishings become the focal point of any room.

In 2002–2003, Brandner was commissioned to design and build two September 11th memorial sculptures for parks outside of New York City using steel salvaged from the World Trade Center. The larger of the two sits on a hillside in Morris County overlooking the Manhattan skyline.

Brandner works from studios both in New York and Montana. He has exhibited works at the annual Western Design Conference in Jackson, Wyoming; with Shack Up Design in Bozeman, Montana; and at the High Point Market's juried show in North Carolina, April 2 – 7, 2011. Custom furniture lines and commissioned work are available directly from www.BrandnerDesign.com.
The Renaissance X Table made with recycled steel and black walnut, 40 x 96 x 30 inches. This table splits in half to make two console tables and is held together with magnets when used as a dining table. Photo: Peter Owings