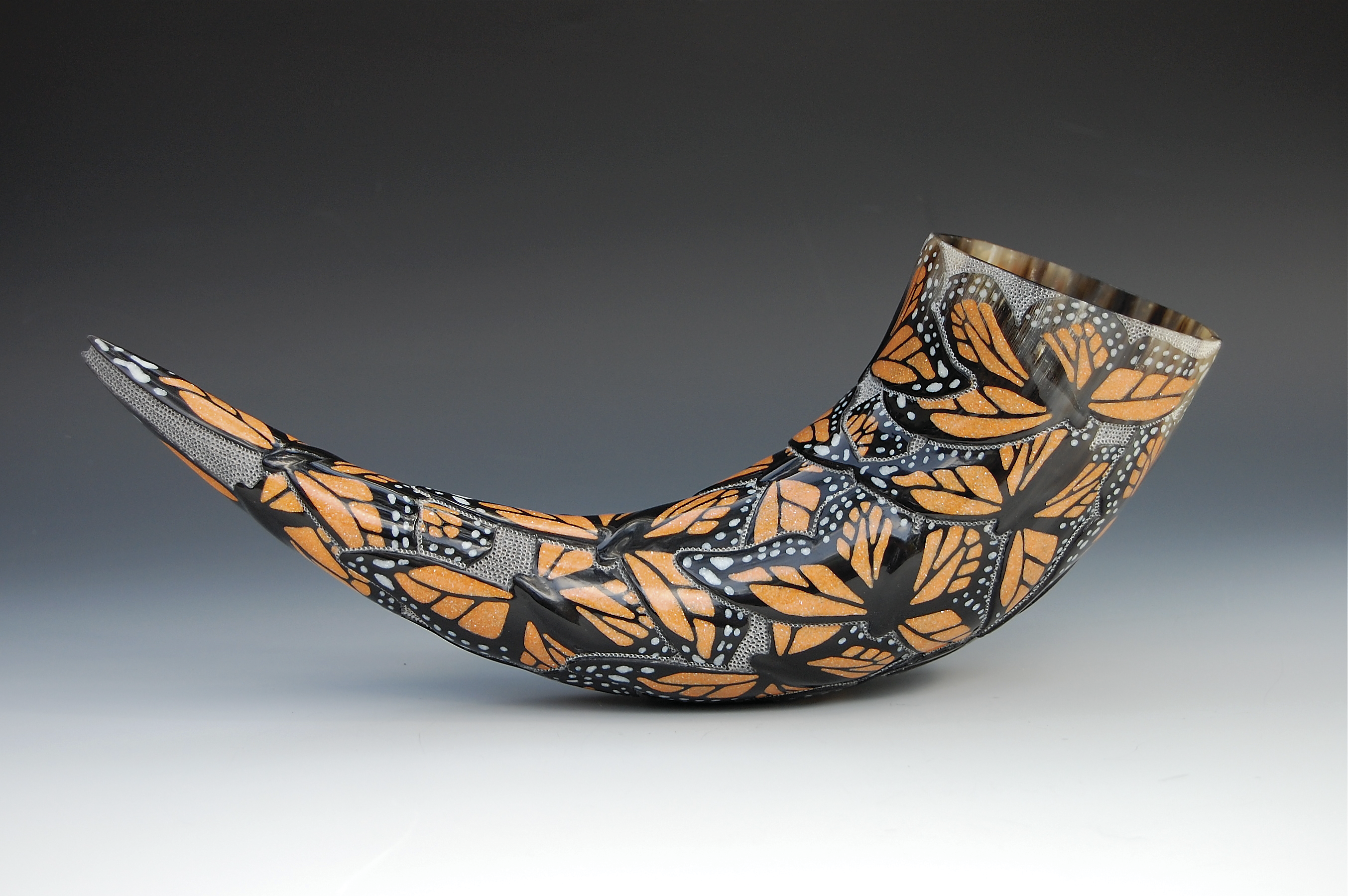 "Contemporary Buffalo Horn Monarch Cup," carved buffalo horn inlaid with white mother of pearl and orange Black Hills sandstone*, featuring Monarch butterflies — *The Black Hills sandstone varieties (cream and orange) come from the sacred Black Hills on the Pine Ridge Reservation in South Dakota — the artists are especially proud of using all natural and mostly traditional materials in their work.
29 Dec

Ones to Watch: Kevin and Val Pourier

Contemporary self-taught Oglala Lakota artists, Kevin and Val Pourier, a husband-and-wife team, explore their connection to their cultural heritage through the revival of working in traditional carved buffalo horn, inlaid with semi-precious minerals. Including modern buffalo horn spoons and ladles, along with bracelets, earrings, necklaces and eyewear, the Pouriers rely not only on their own personal inspiration, but have done extensive research into the historical significance of the buffalo horn.

Their work can be seen in many museum collections, including the National Museum of the American Indian, Smithsonian Institute, Washington, D.C.; Heritage Center Collections, Red Cloud Indian School, Pine Ridge, South Dakota; the Royal Museum of Scotland, Edinburgh, Scotland; the Denver Museum of Natural History, Denver, Colorado; The Carnegie Museum, Pittsburgh, Pennsylvania; The Nelson-Atkins Museum, Kansas City, Missouri; Montclair Art Museum, Montclair, New Jersey; Nerman Museum of Contemporary Art, Johnson County Community College, Overland Park, Kansas; Hood Museum of Art, Dartmouth College, Hanover, New Hampshire; Charles M. Russell Museum, Great Falls, Montana.

The Pouriers have also garnered a number of prestigious awards at shows including the Heard Museum Show; Santa Fe Indian Market; and the Cherokee Heritage Museum, Trail of Tears Art Show.

Fellowships include the Archibald Bush Foundation Artist Fellowship; the Smithsonian's National Museum of the American Indian Visiting Artist Fellowship; and the Southwest Association for Indian Arts Fellowship Award.

Their work is represented by Morning Star Gallery, Santa Fe, New Mexico.
"Contemporary Buffalo Horn Cuff Bracelet," carved buffalo horn cuff inlaid with gold and white mother of pearl and orange Black Hills sandstone*, geometric designs including squares and circles
"Contemporary Buffalo Horn Reading Glasses," carved buffalo horn rims and arms inlaid with cream Black Hills sandstone* and red pipestone (catlinite) — geometric designs reminiscent of classic beadwork and parfleche motifs