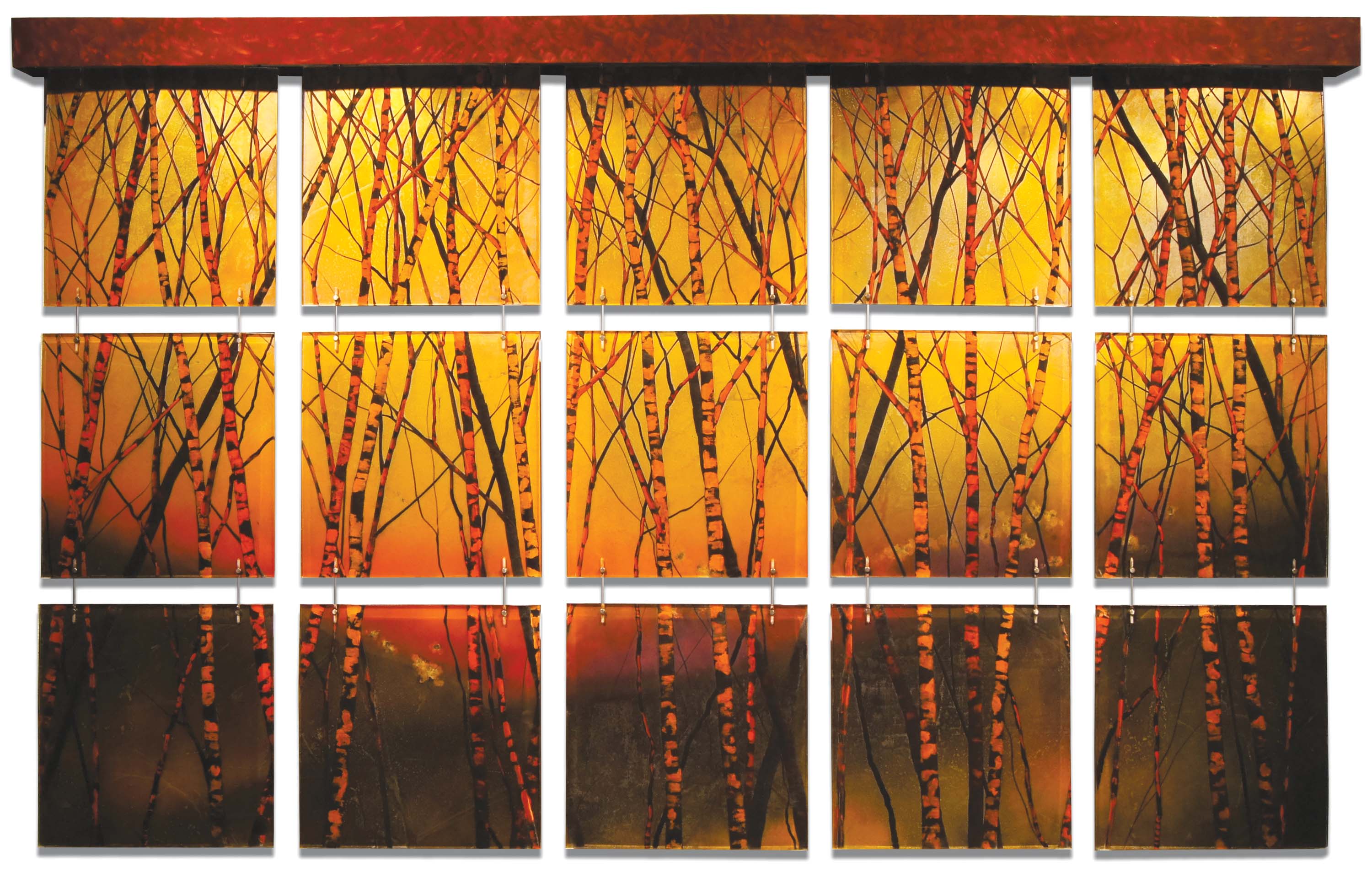 "Flourissant" | Carved, Painted and Fired Plexiglas | 66 x 108 inches | 2013
19 Oct

Ones to Watch: Mixed-media Artist Christopher Owen Nelson
---
Christopher Owen Nelson's work is a sort of alchemy, part painting and part sculpture, transmuting color and light into a vessel of unlimited space. At times his colors seem otherworldly, capturing dawn in a lattice of aspen groves or the flames of sunset brewing on the horizon.
Sculpting the subject into Plexiglas, Nelson then works in the colors and images, going in from the back of the piece, exposing the final painting at the end when he removes the protective paper from the front.
"It's a layering process, painting into the carved out areas," Nelson says. "For the most part I keep all the protective film on it, and at the very end I take the paper off and reveal the piece
to myself."
By using a blowtorch to burn the paint into the carved areas, he creates a bond between the paint and the Plexiglas. Enhanced by the heat itself, the colors become deeper and seem to animate the pigments.
"It's similar to firing clay, because the glaze always changes depending on where it sits in the kiln," Nelson says. "The vibrancy of color is because of the process and the material, the way it captures the light. Because the material is carved, you can see the depth. It's one of the things I love about the process, I have control over it but there are things that always surprise me."
Music plays an important role in Nelson's work, one interdependent on the other. "It keeps my brain constantly moving," he says. "It gives me a fluidity that I might not have otherwise."
Concentrating solely on trees, each piece is a portrait of that tree at that moment in time. "I love painting trees, I've always found a humanlike quality in them," Nelson says. "I feel like they're a living reminder of the past. They're symbols of strength, endurance and hope. But most important to me is the 'place' that it takes the viewer. I've learned over the years, from talking with collectors about my work, that it's not the trees that draw them into the work, but the indefinite space behind them that allows viewers to be transported to a place or a time that they can embrace."
Nelson's work is represented by the Waxlander Gallery in Santa Fe, New Mexico, and Horizon Fine Art in Jackson, Wyoming.