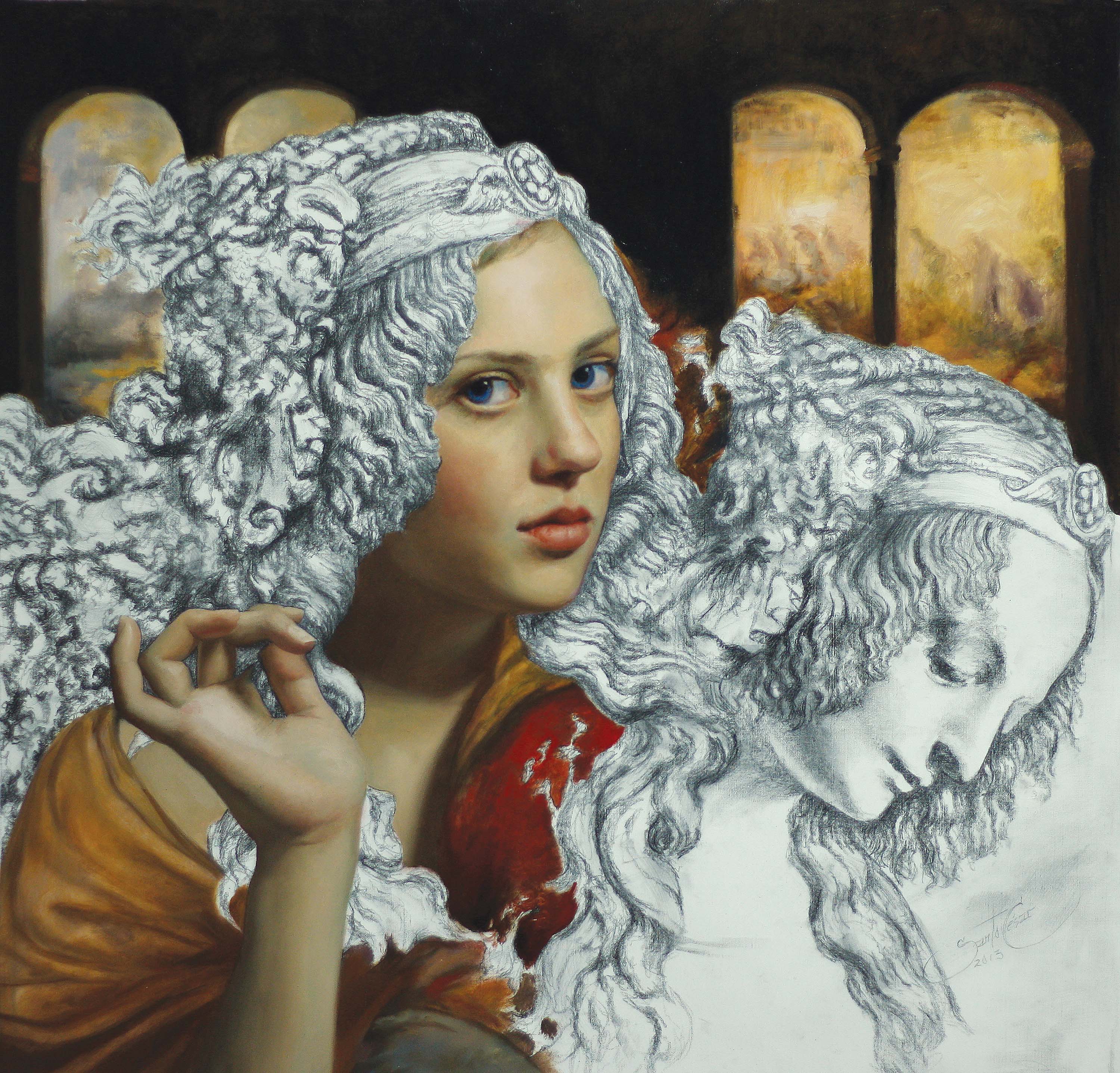 "Magdalene's Niece" | Oil on Linen | 21.5 x 22 inches
19 Oct

Ones to Watch: Painter Cesar Santos
---
Trained in both classical painting and contemporary art, painter Cesar Santos creates work with vivacity, opulent color and sensual figures to evoke both a unique perspective as well as a sense of irony.
His most recent work combines his love of the masters — such as Pollack, Calder, Picasso, Rembrandt and Manet — with his own modern-day take on current themes. The result is a term he calls "syncretism," which means the reconciliation or merging of opposing principles or religions.
"My ideas come from art itself," Santos says. "I went through contemporary training in America and then went to Italy to perfect my technique and get the classical training I felt I needed. These paintings were done in response to going to museums … every idea I think about when looking at a painting. It could be a joke. It could be anything. My uncle told me to contribute to art, to add to the art world. I'd never seen someone take two separate conditions and combine them into one painting to make something new."
Before Santos painted figures, he worked on still life pieces. But he felt something was missing from his work.
"As soon as I incorporated the figure the painting got more power," he says. "After all, we are human. Immediately, I saw you can express so much with the figure. I started exploring it and found that I love the female form with the lyrical length that flows through it."
Santos' figures convey a timelessness, a sense of history and yet the forms are as fresh as wet paint. In a way he shows us how much we've progressed while chiding us for how little we've changed.
Although his technique is always evolving, the artist remains true to his process.
"I develop a painting by first working on an idea in a sketchbook, a simple drawing," Santos says. "Then I go to Photoshop and start composing the painting. In a way it's [how] a classical artist would do it: constructing a color study. Once I have everything composed, tweaking the colors, it will look almost like the final piece. Using oils on linen, I go about painting that image. During the process things change. When I start applying the colors, I start with a raw umber underpainting, and block it in with local color. Even though I'm using modern tools, the process is very classical."
His work has exhibited throughout the United States, Europe and Latin America, including the Frost Art Museum in Miami, Florida, the Villa Bardini Museum in Florence, Italy, and the National Gallery in Costa Rica. Santos is represented by S.R. Brennen Galleries in Palm Desert, California, Santa Fe, New Mexico, and Scottsdale, Arizona; Greenhouse Gallery in San Antonio, Texas; and the Oxenberg Gallery in Miami, Florida.