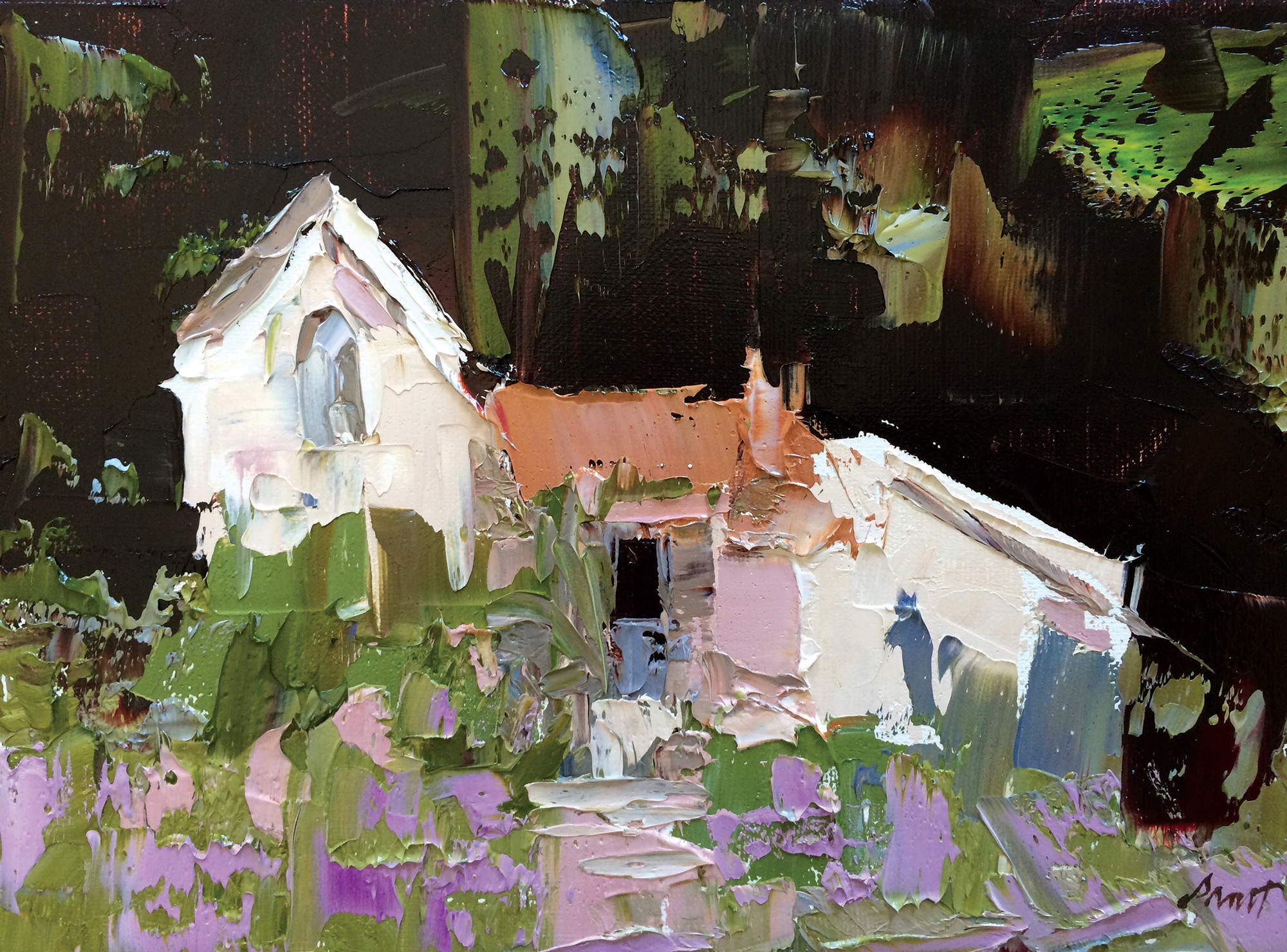 "Little Garden Cottage" | Oil on Linen | 6 x 9 inches
07 Jan

Ones to Watch: Sandra Pratt
---
Sandra Pratt's landscapes rise from the canvas, their surfaces thick enough to be sculptural. Her quick swipes stand on their own as slices of a tremulous second, living between the sky and tomorrow. Each painting is the result of a single sitting. In doing her work that way, Pratt catches the energy of the moment.
"I use oil paint, but because I put it on with a knife, and it's so thick, the outer layer of the paint dries quickly, so I can't mix the colors and things have to be done all at once in order to mold the paint into a picture," she says. "It's more interesting to do it all at once. It's not worked over too much. It keeps the freshness."
She's learned not to overwork a piece because it loses its spontaneity, which makes creating larger paintings all the more challenging. She's done plein air painting, but says, "it's more endurance than anything. I like to go into the studio and paint and paint and paint until something beautiful comes out."
Pratt begins with a sketch, "something very, very simple, where the main stuff goes. Sometimes I'll use a brush for that. Next, I like putting in the main shapes with a darker color. I like to keep it simple and direct. When I put down a mark I like to keep it, the freshness and the intention behind it. I'll know early on if it's going to work out or not. I won't go back. I'll just start a new canvas. If the beginning is strong I can take it through to the end. But if something isn't working right I'd rather start over."
After her third canvas of the day she begins to get momentum and things start to happen. "I'm in the throes of it," she says. "I have to be in the place of expectations, knowing it's going well, adding to the composition, adding the barest minimum that makes it exciting and gives it that kind of snap."
Her work doesn't fall into the category of Realism and it isn't abstract. She usually includes a single recognizable image — a tree, a house, a line of laundry hanging across an alley.
"I'm always changing it up a bit," she says. "Sometimes it's all about color, sometimes it's all about simplicity, but having a focal point to bring the viewer in so there's something they can relate to is important. I try to be in the receiving mode of what's going to happen. I never really know. If I stay in that receptivity mode, things usually happen."
She's garnered several awards for her paintings, including Winner of the 2015 Bold Brush Award. Her work is represented by Mockingbird Gallery in Bend, Oregon; Selby Fleetwood Gallery in Santa Fe, New Mexico; and Vail International Gallery in Vail, Colorado.