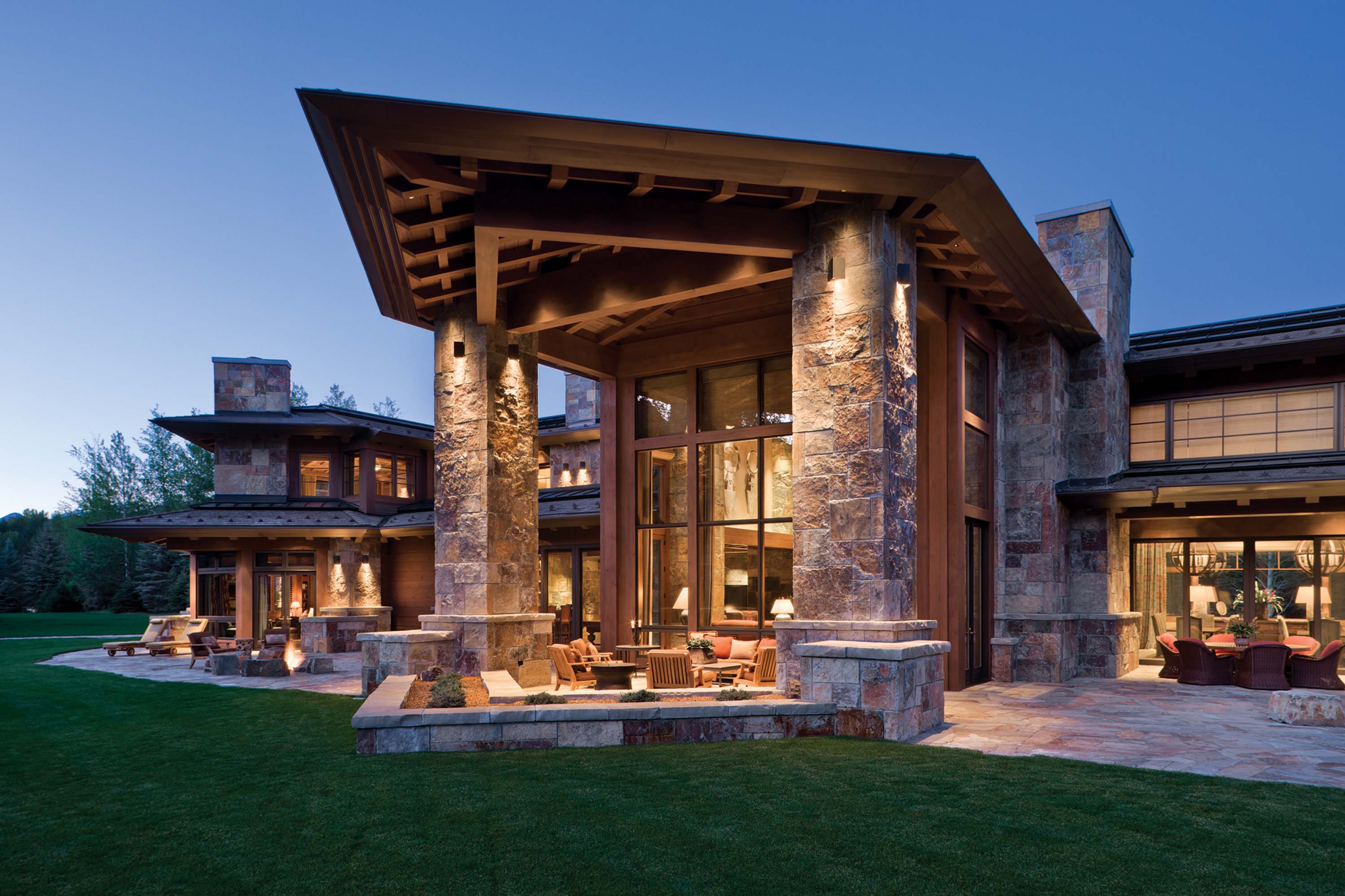 This Ketchum residence takes advantage of expansive views while maintaining a low profile to the landscape.
01 Apr

Rendering: Big Vision
---
Jim McLaughlin has a big vision — a vision that has transformed a bucolic corner of Big Sky Country into a fantasy ranch; Idaho hillside acreage into an award-winning contemporary home; and a New Zealand residence into a much lauded commercial fishing lodge.
Just ask Arnold Schwarzenegger, whose 18,000-square-foot stone-and-timber compound McLaughlin created several years ago in Sun Valley, Idaho. McLaughlin's clients include captains of industry, celebrities and professional athletes, who come to McLaughlin & Associates to build timeless dream homes heavy on natural materials and in harmony with the environment.
"Our clients have presented us with a multitude of architectural challenges, each resulting in a unique solution," he explains. "Our goal is to create a sense of place."
The breadth of McLaughlin & Associates' work exemplifies their holistic approach to home design. Their commitment to a highly collaborative process results in architecture that is not only sensitive to the functional and emotional needs of the users, but also blends with its surroundings.
"The devil is in the details," says McLaughlin, who built his reputation on an exacting attention to particulars and an eclectic worldview that allows him to see the possible in what others may deem impossible.
When McLaughlin was hired by a Wyoming couple to create a vacation home on a 6,000-acre parcel of land just outside Dillon, Montana, he began the process even before the land was acquired.
"I have done six homes for the family, all in different locations," he says. "We spent two years looking for sites until we found this spectacular hillside abutting a national forest with a lot of wildlife on the property. This is a bigger-than-life site and a bigger-than-life house."
The six-bedroom, six-bathroom home — with great room, exercise studio, game room, office, wine cellar, loaded kitchen and breakfast room — is a wonder. A striking blend of Territorial Greek Revival and contemporary resort materials results in a building that dramatically stands outside time. A porch with a two-story roof adjacent to the living and dining rooms looks south over an infinity-edge swimming pool to the majestic Grasshopper Valley.
"There was a stream that came off the mountain and wound around the property," says McLaughlin. "We re-engineered the stream so it came around both sides of the house. We also worked with a wildlife biologist to create a series of ponds that would support fish."
The home's interior offers more surprises, the first being the exclusion of typical mountain-state interior design. Instead, the great room features recycled antique barn timbers that frame the vaulted ceiling where rusted steel chandeliers hang. Two enormous stone fireplaces face each other across the 1,800-square-foot space fitted with wide-plank flooring partially covered by Oriental rugs.
The barn siding salvaged from Pennsylvania is found throughout the house as window headers, porch posts and details in many of the self-contained bedroom suites.
"If a home is going to be successful, you really need to understand the environment you are working with, whether it is in the mountains or in Hawaii or Costa Rica," says McLaughlin, who founded his firm in Sun Valley in 1975 after graduating from the University of Idaho's College of Art and Architecture. "You have to understand what the elements are and the atmosphere. It goes from simple things such as having cross-ventilation in the tropics to a roofline to mitigate snow accumulation in Wyoming or Idaho."
McLaughlin has created several homes in Hawaii, including a holiday residence with South Pacific style on the Big Island. The client, who has two college-age sons, looked to create multiple contemporary dwellings under one roof that might accommodate the sons' families sometime in the future.
The resulting 4,466-square-foot home with two 600-square-foot guest pavilions is a triumph of siting, unexpected natural materials and a Polynesian aesthetic that reaches from the curvilinear cedar shake roof with native Ohia tree trunks as structural supports to a unifying rain-forest garden that looks out onto a pool, golf course and the neighboring island of Maui.
Numerous factors influenced the nature of the home, including restrictive design guidelines in the resort community and the owner's wish for privacy not only from guests, but also from the community at large.
McLaughlin designed a 1,200-square-foot garage to act as a buffer between the entrance road and residence. Cars are left in a motor court and guests enter the compound by foot through cedar-framed doors woven with Ohia branches and set into a lava rock wall. Just inside the entrance is fantasy landscaping by David Y. Tamura, who included a fragrance plan that assured a stunning olfactory experience along all of the property's pathways.
"It is very compelling," says McLaughlin. "In the outdoor showers off each of the bathrooms, you experience this incredible aroma from the tropical plants."
To create an island environment in the home's interior, McLaughlin saw to every detail from custom mahogany doors, windows and trim to original tile designs and plaster artwork complemented with tropical island fabrics.
The open-concept kitchen, living, dining and family rooms have access to the ocean-side lanai through sliding-glass doors and an intractable wall that blur the boundaries etween the built and natural environments, making the home ideal for indoor-outdoor entertaining.
"The result of the surrounding integrating functional design elements with environment and site," says McLaughlin, "is a flowing, open home with unobstructed ocean views."
At home in Ketchum, Idaho, McLaughlin is much admired for his many award-winning residential and commercial projects found throughout the Wood River Valley. In 2012, he was honored by the American Institute of Architects for his design of a contemporary Ketchum residence that was built into a 7.5-acre hillside lot.
Surmounting height and setback restrictions and keeping in mind his client's desire for privacy and a view, McLaughlin excavated 25 feet into the hill so that the 9,000-square-foot structure seems to organically extend from the rock. Large expanses of floor-to-ceiling glass set between massive, vertical stone columns anchor the interior to the out-of-doors.
Stone with subtle striations covers the exterior of the home. "We were challenged to stay within the height restriction of the city, and yet we wanted an expansive feeling to the house," McLaughlin explains. "We designed a reverse slope roof, which allowed us more intimate ceiling heights toward the back of the house containing the bedrooms and bathrooms with higher ceilings in the living-dining area."
The great room, located on the second floor, combines the natural patina of reclaimed beams with the contemporary feel of metal railings on the staircase and along the periphery of the balcony. Unspoiled mountain views are available on three sides with motorized sunshades at the ready to protect the family from south and west sun exposure.
"The sun is very intense at the 6,000 foot elevation," notes McLaughlin. "We designed the house so it could be opened up to the views outside and we incorporated very large overhangs and integral, pocketed in-floor sun shades so that the house could be enjoyed during any season."
The interior neutral palette echoes the exterior with wenge wood cabinets and zinc countertops in the kitchen and the use of beams throughout.
"We wanted to blend the inside and outside so seamlessly that you lost track of whether you were in or outside the home," says McLaughlin.
McLaughlin is currently working on a mountaintop home in Tennessee, a residence on a private lake in Wisconsin and another home in Hawaii.
"Lots of airline miles in 2013," he says. "I just added up my miles for January — 15,000 — and I will only be traveling the last two weeks in the month."