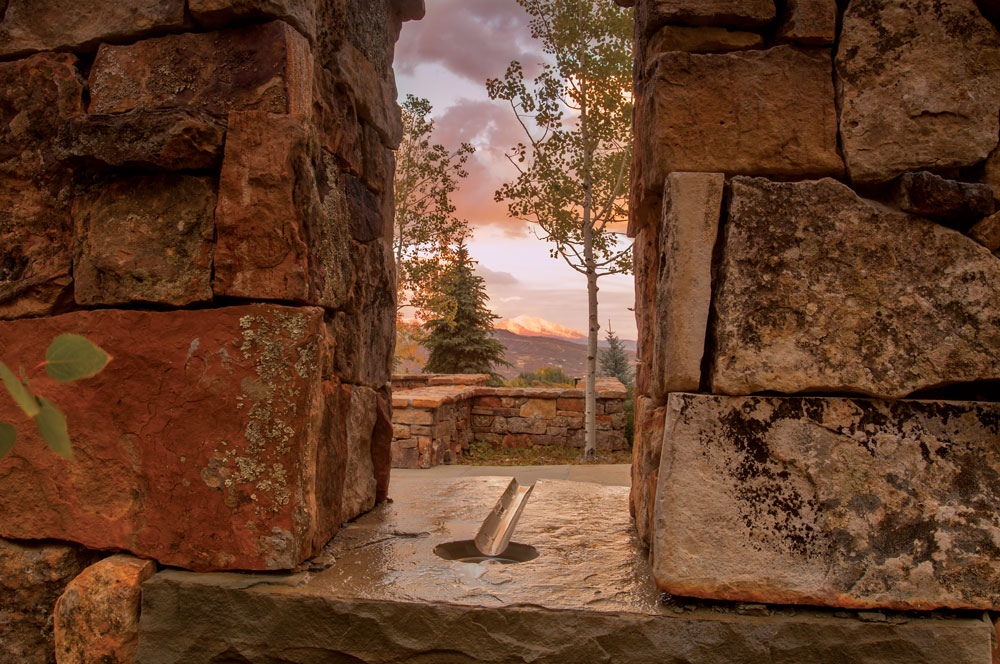 A simple water runnel, carved into sandstone, frames a long view to Colorado's Mount Sopris.
12 Nov

Rendering: Liveable Landscapes
---
Practice makes perfect when you do anything for almost four decades. In Design Workshop's case, practicing landscape architecture in the American West for so many years has yielded results never imagined by any of its founding partners. "My first residential project was a patio for a woman in Aspen," says principal Richard Shaw. "We didn't prepare any construction documents; we just did a plan with all the layout dimensions needed. I went over on the day the patio was poured, and the contractor had placed boulders throughout the space, making it so our client couldn't furnish the patio, let alone even walk through it. It was, for me, the ultimate learning experience of the care and nature necessary to build great places. The outcomes that we can create are integral."
One of the largest and most diverse landscape architecture firms in the U.S., Design Workshop's list of projects includes large urban redevelopment stadium districts, public space, major planning communities, hotels and outdoor retail centers. "There isn't a sector that we haven't participated in," says Shaw. "Residential garden design is just as strong as any other segment, and it remains that way because there is no more satisfying place to be than creating a beautifully crafted space with and for the people who are going inhabit that place."
As anyone who has attempted to garden in the Rocky Mountains knows, the environment doesn't always conspire in your favor. Water and fertile, loamy soils are a rare commodity in these parts, but Shaw suggests that having limitations often dictates a new design idea, one that is brilliant for the place and the circumstances. "Garden design in the American West is about rediscovering the native plants and landscape features that are found in the dramatic landscapes and recognizing the value of those elements in place-making. Our gardens draw from a design philosophy that combines the iconic or pictorial with a focus on a landscape character that comes from the site itself."
Shaw's partner, Mike Albert, agrees. Currently working on projects that range from a master plan for a 400-acre ranch in Montana's Yellowstone Club, to a 20-acre plan and garden design for winemaker Joel Gott in Park City, to an intimate 1,000-square-foot garden in Aspen, Albert suggests that his design ideas are dictated by the parameters established by the existing conditions in each location. For example, water restrictions in the Yellowstone Club create an opportunity for Albert to utilize materials such as native stone, in lieu of an abundance of plant material. The key to every garden's success is a successful combination of texture, color and craftsmanship, he says.
"Good gardens," says Shaw, "have the ability to invite people into the out-of-doors in all seasons. Our gardens are meant to engage people in their surroundings and to help them create memories."
For many of Design Workshop's clients, living in the West is a new experience that requires guidance and education. A typical residential design process starts with a period of discovery in which the clients are learning about, and frequently enamored with, the possibilities inherent in creating and then sharing their new living environment.
Ben and Cynthia Guill are midway through developing a family compound in Old Snowmass, Colorado, and like so many clients, questioned the need for adding another consultant to their team. "Most people probably don't include landscape architecture in their project budget, but in our case, having Design Workshop on our team has made a huge impact," says Guill, adding that the design process has educated him on the need for experts who can stay true to an overall vision for a property while simultaneously attending to details such as stone walls, driveway alignment and parking areas.
Known for an ability to understand the nuances that are critical to making iconic places of human habitation, Design Workshop gets involved in a project before any dirt has been moved because, says Shaw, good design stems from understanding the complete living environment. "We learn so much by being involved in those initial critical conversations where the architects and the clients are talking about desired functional relationships. For example, when you design a kitchen, you want a center work island, and you want it to be in proximity to the dining room. That analogy doesn't apply to landscape architecture because it's so ambiguous. You have to resolve what the house is about before you figure out what a garden can be."
Architect Greg Matthews of the Bozeman-based Pearson Design Group is collaborating with Design Workshop on several projects. He appreciates the firm's ability to capitalize on the opportunities at hand while concurrently preserving or embellishing the elements that naturally define the landscape. "The best projects are those that take their queues from the landscape and create an architecture that is in direct response to the immediate surroundings," says Matthews.
Architect Cristof Eigelberger of Sausalito-based Backen, Gillam & Kroeger Architects, agrees. "Design Workshop brings to the design table beautiful, livable landscapes that you want to spend time in. Sophisticated yet understated, their work plays off of the architecture without competing with it. We see a lot of beautiful designs on paper, but Design Workshop has a unique ability to look at the details that bring everything together."
As Design Workshop closes in on its first half-century, the possibility to create outcomes that are meaningful and lasting, says Shaw, is stronger than ever. "The narrative capacity of the landscape will never disappear. It is present in the spatial relationships between elements in each composition, the arrangement of plant materials, the varying forms that water takes, and the capacity of light and shadow to transform a space throughout the day, the season or the year. Like all art forms, garden design moves in response to the way people want to feel."