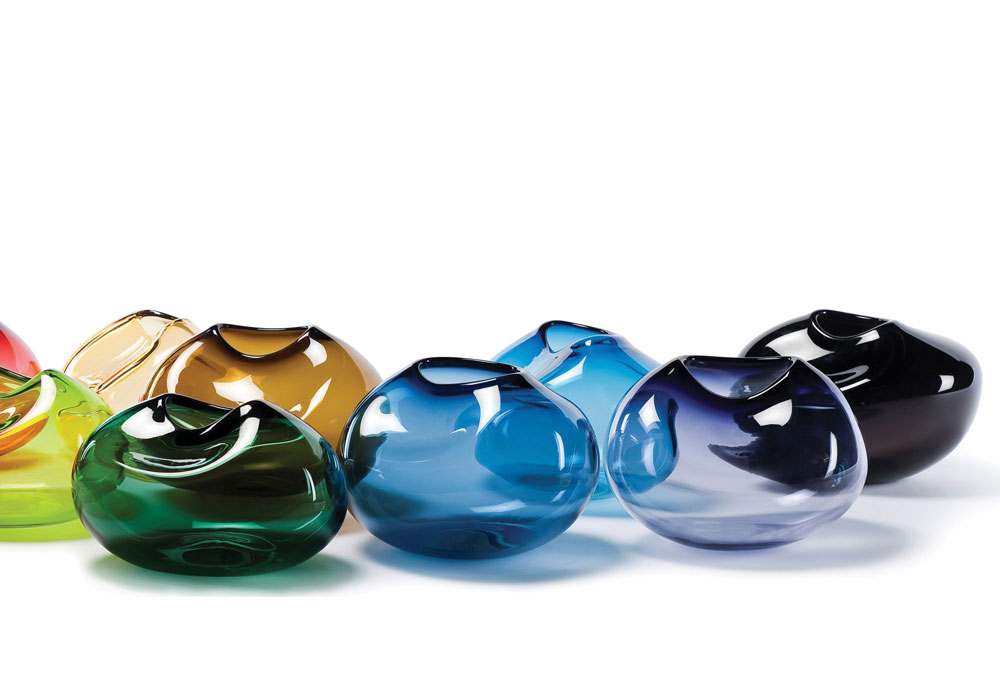 Caillou Vessels by Kate Hume
12 Nov

Details: Things We Love
---
Potbelly Cabinet by David Marsh
In addition to being fun, this Potbelly Cabinet by artist David Marsh is sustainable and rustic, charming and whimsical. Long before it was fashionable, Marsh was creating eco-friendly furniture with pride and playfulness from his studio in Houston. Each piece is distinctive with one-of-a-kind finishes including hand-painting, handmade stamps and rollers, and as many as four coats of planet-friendly water-based lacquer. For more than 30 years, Marsh has created practical and timeless furnishings that are just plain fun.
$1,235 | 42 x 32 x 19 inches | 888.955.9901 | leslieflynt.com
---
Caillou Vessels by Kate Hume
From Moscow to Dubai and Australia to the USA, Kate Hume designs interiors that exploit colors. She gravitates to the same dramatic shades — aubergine, nighttime blue and cognac — in the collection of one-of-a-kind, hand-blown Caillou Vessels that she's been crafting for more than 17 years. The bold organic shapes, best shown in groups, add jewel tones to any room for a layered look.
Set of three: $771 | 5.9 x 4.3 inches each | suiteny.com
---
Grizzlies of Pilgrim Creek: An Intimate Portrait of 399, the Most Famous Bear of Greater Yellowstone by Tom Mangelsen and Todd Wilkinson
Grizzly 399 is nothing less than North America's equivalent of Cecil the Lion. Her epic struggle for survival — told through 150 dramatic images by world-renowned photographer Tom Mangelsen and a riveting narrative by Todd Wilkinson — serves as a microcosm for the challenges facing grizzly bears today. Never before has the tale of a bear family been told like this one. Number 399 is a matriarch bruin who lives in Jackson Hole, where she has been responsible for the birth of 14 bears, three-quarters of whom have died in run-ins with people. The book has been enthusiastically praised by the likes of Jane Goodall and Tom Brokaw. When you use the code: WAA, you'll receive a double-signed book in time for the holidays.
$60 | Hardcover, 240 pages | 800.228.9686 | mangelsen.com/grizzly
---
Jewelry Cuff by Giancarlo Soliman
The art of Giancarlo Soliman is distinctive, sensuous and powerful. A former assistant designer for Geoffrey Beene, Soliman's timeless, evocative pieces bridge the world of fashion and art. This leopard jewelry cuff is made of gold over copper and the fabric is from a 1940 vintage coat belonging to his grandmother. It is but one in a series he calls Rococo Maasai. By fusing tribal elements with bold futuristic shapes, and basing designs on sacred geometry and an array of different materials, Soliman creates pieces that capture the culture and perspective of our time.
$1,050 | 505.982.3032 | karenmelficollection.com
---
Anichini Persia Linens by Samuel Scheuer
For a touch of elegance in any bedroom, look no further than Anichini's Persia bedding, woven in Italy by one of the few remaining boutique weavers. This small mill near Lake Como embodies the best of Italian textiles. The product is a woven jacquard with distinct and colorfast thread colors. But the coup de grace is the fact that the weave itself is a twill that translates into unmatched durability and longevity.
$1,200 Queen Duvet | $175 Boudoir Sham | 415.392.2813 | samuelscheuer.com
---
Cattle Baron Opulence Style Pedestal by Steve Richards
Growing up watching his father restore antiques had a profound impact on artist Steve Richards of Spicewood, Texas. Unhappy with most Western and Lodge-style furniture, which he felt was primitive and too rustic, Richards wanted to create what he couldn't find. By combining Old World European furniture designs and the fundamentals of Neo-Classical architecture with Western elements, he creates a new look that has come to be known as "Cattle Baron Opulence Style." This pedestal is the perfect accompaniment to your Remington Bronco Buster.
$2,100 | 14 x 14 x 29 inches | 830.816.5335 | texastreasuresfineart.com
---
Tahoe: A Visual History, edited by Anne M. Wolfe
Tahoe: A Visual History surveys the art of the Lake Tahoe region, the second largest freshwater alpine lake in the United States. Edited by Anne M. Wolfe, senior curator and deputy director of the Nevada Museum of Art in Reno, the book features more than 400 artworks by 175 painters, photographers, architects, basket weavers and sculptors. Artwork includes landscape paintings by Albert Bierstadt and Thomas Hill, photographs by Ansel Adams, Imogen Cunningham and Edward Weston, and Native American Washoe baskets. Historical maps and early sketches made by the area's first American explorers, John C. Fremont and John Muir, help to make Tahoe: A Visual History a true keepsake.
$85 | Hardcover | rizzoliusa.com
---
The Presidential Curved Desk by Western Heritage Furniture
With his exquisite Presidential Curved Desk, renowned designer Tim McClellan, creator of Western Heritage Furniture, challenges the fundamentals of popular design by marrying characteristically divergent styles and materials. Within this extraordinary piece of craftsmanship are three hidden bars, pistol holders and finger-activated scanners. Built in the old copper-mining town of Jerome, Arizona, this desk combines reclaimed barn woods, exotic hardwoods and unique metalwork. His work blends rustic barn wood, early American Arts and Crafts design, hand-dyed-and-stitched Western leather, and modern technology. The industrial steel infrastructure in gun-blue patina adds up to pure furniture bliss.
$35,000 to $55,000 | 80 x 40.5 x 30 inches | 928.639.1424 | westernheritagefurniture.com
---
Hand-Carved Mirror by Gregory Lomayesva
Gregory Lomayesva is an internationally recognized painter, sculptor and mixed-media artist with roots in Pop art. His work is on the cutting edge of the American contemporary fine art scene and is expressed in his bold palette and the motifs of his culture. "I'm an American artist with Hopi roots," he explains. "Wherever I go, whatever I see becomes the inspiration for new motifs to use." This contemporary mirror carved with Hopi-inspired figures and horses created by Lomayesva is a quintessential piece that collectors will recognize at first sight. From his studio in Santa Fe, New Mexico, Lomayesva draws from his heritage while taking a wry look at Pop culture.
$2,500 | 43 x 46 x 7 inches | 505.984.1688 | lamesaofsantafe.com
---
Peach Honey from Fischer & Wieser
When Fredericksburg, Texas, was founded in the 1800s, the settlers planted orchards of peaches. Lucky for us, today we can savor the tastiness of Hill Country peaches in Fischer & Wieser's Peach Honey, made from an original 1850s recipe by Mark Wieser's Aunt "Nutzie." Fischer & Wieser's Das Peach Haus Peach Honey has been a favorite for more than 30 years. Packaged in a log cabin jar that pays tribute to the 1870 log cabin where Fischer and Wieser opened their first store, this honey pairs well with a juicy steak and green chiles.
$8.95 | 12 ounces | 830.997.7194 | jelly.com
---
Desert Jade Canister Set by Michael Obranovich
What a treat it would be to have works of art on your kitchen counter. With Michael Obranovich's Desert Jade Canister Set, you can do just that. Fired in a gas kiln to 2,400 degrees Fahrenheit, Obranovich's glazes are made with ashes from burnt grapevine cuttings from Napa Valley and used in combination with other non-toxic food-safe glazes. We love the natural colorings of these canisters, part of his series of Jade stoneware. There are berry bowls, butter keepers and enchilada trays, to name a few, and all are microwave, oven and dishwasher safe. Join The Hard Rock Cafe, Macy's and Michael Chiarello's "NapaStyle" catalog in enjoying Obranovich Stoneware Pottery.
$29.54 | Four-piece canister set: 1, 2, 3 and 4 quarts | 800.497.6002 | ewayfurniture.com