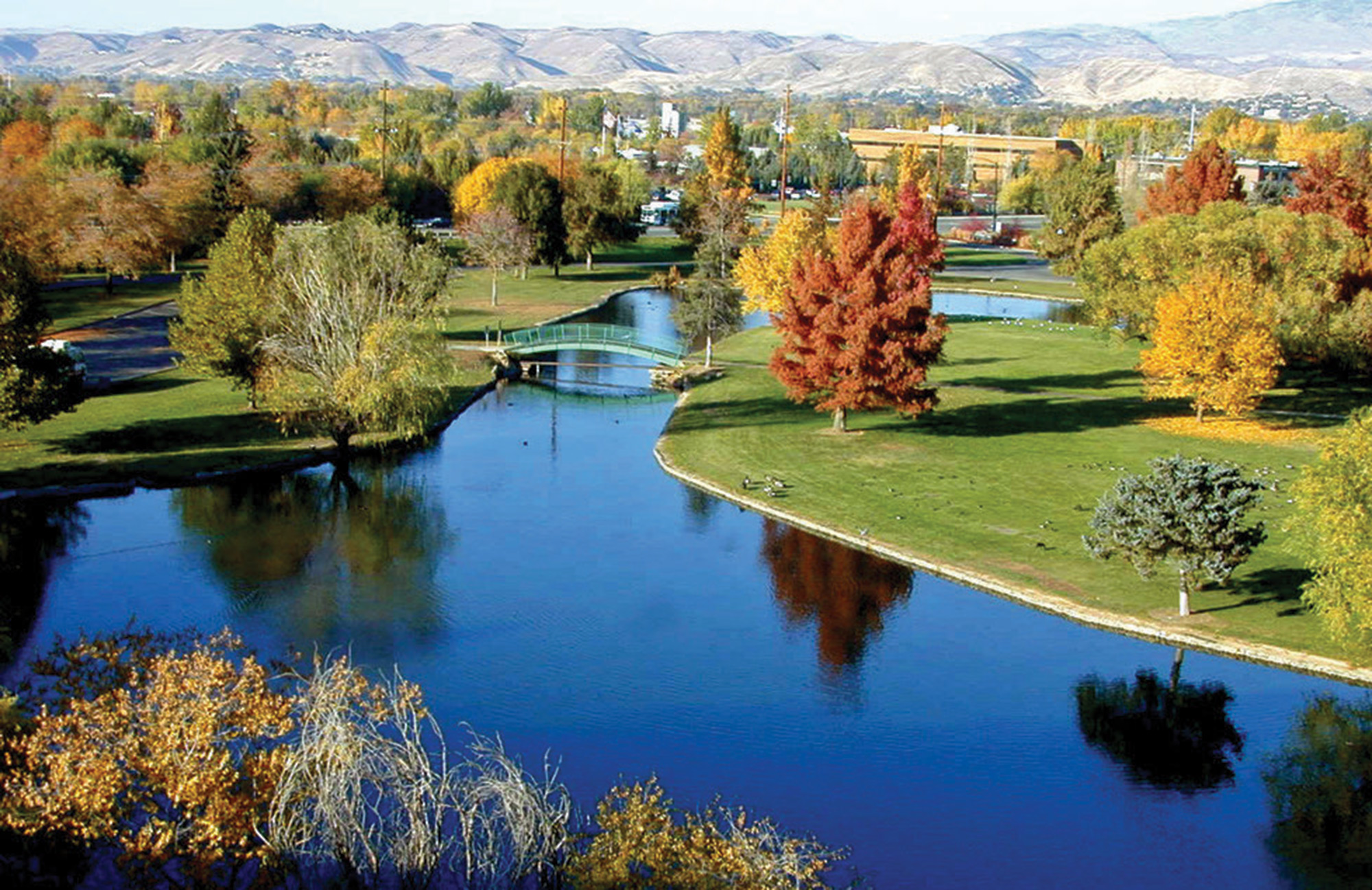 Boise, Idaho, is distinguished by more than 100 public parks, including Ann Morrison Park along the scenic Boise River. Photo: Boise CVB
12 Jan

Wanderings: Boise, Idaho
---
Boise used to be an outpost on the Oregon Trail, but today Idaho's capitol is a destination unto itself, consistently snagging headlines for economic growth, innovation, quality of life and the arts.
Named by French explorers in the early 19th century — boisé translates from French to "the woods" — Boise is sited between national forests to the north and east and the Owyhee Mountains to the south.
The history of this 150-year-old commerce hub adds to its charm. Founded by the military in 1863 to protect travelers, emigrants and gold-seeking miners, Boise became the state capitol in 1864.
The city is a panoply of architectural styles. Lining its roads are examples of Romanesque, Spanish Mission and French Chateau architecture. Many of these early buildings now serve as retail, dining and office spaces. Visit the C.W. Moore Park to see architectural elements saved from buildings demolished during urban renewal efforts in the 1970s. There you can find the remains of an 1882 waterwheel, cast-iron storefront columns and locally quarried sandstone blocks.
Although Forbes listed Boise as the 17th fastest-growing city in the U.S. in 2016, it nonetheless maintains a small-town feel. Blessedly few skyscrapers enable views of surrounding mountains, and Boise is one of four Idaho "Tree Cities," a national designation achieved by planting and caring for trees. With a high-desert climate with moderate winters and warm, dry summers, outdoor recreation is a mainstay. Visitors and residents alike enjoy floating the Boise River, skiing at Bogus Basin, hiking, biking, golfing and more.
More than 205,000 people call Boise home, as does Boise State University, a zoo, several museums and more than 100 parks, including the Greenbelt, a 25-mile trail that follows the river through the heart of the city. There are also more than 100 arts, cultural and historical organizations. Take, for example, the Basque Block, located downtown and home to the Basque Museum & Cultural Center. In addition, the Idaho Shakespeare Festival performs the Bard's works at a spectacular amphitheater each May through September.
As Boise has grown, so has its art presence. In 1937, arts supporters collaborated with the city to form the Boise Art Museum (BAM), located in Julia Davis Park within minutes of the university and downtown. A blend of Egyptian Revival, Art Deco and Neoclassical architecture, BAM is home to 2,350 permanent artworks, with more than a quarter by Northwestern artists. Its juried Triennial runs February 18 through July 16. And this summer, the exhibit When Modern was Contemporary will feature 52 works by the 20th-century's most influential artists including Mark Rothko, Jackson Pollock, Georgia O'Keeffe, Marsden Hartley and many others.
Public artworks are also seemingly everywhere in Boise: at the airport, in libraries, on buildings, even on utility boxes. At the Grove Hotel, walk through Amy Westover's Grove Street Illuminated and Boise Canal or gaze at Alison Sky's shimmering River Sculpture, which climbs the hotel's wall. Across from the 90-year-old Egyptian Theatre is City Hall, where Mark Baltes' three-dimensional Penny Postcard resides. While there, you can also arrange a tour with the Department of Arts & History, which manages the city's 573-piece collection — worth more than $4 million and the largest in Idaho.
Boise galleries run the gamut; Swell Artist Collective is a membership-based artist collective, while Stewart Gallery showcases contemporary art by appointment, including Wesley Anderegg's ceramics and Karen Woods' realist paintings. Located downtown, LaBry Fine Art is a popular destination during First Thursday, when many Boise businesses also hold wine tastings and musical events throughout the year. The collaborative Gallery 518, home to two-dozen artists, is run by artist-couple Jerri and Mark Lisk, while Ming Studios showcases mostly international artists in residence.
Visitors to Boise also have several art-centric lodging options. The Modern Hotel, formerly a Travelodge, was redesigned into an eclectic local favorite, with mid-century modern décor, artwork by local artists and independent films offered in the guest rooms. The Modern's farm-to-table restaurant is run by James Beard-nominee Nate Whitley. The recently completed Inn at 500 Capitol features the contemporary Italian cuisine of James Beard semi-finalist Richard Langston, as well as local artwork by enamelist Delia Dante and glass artist Filip Vogelpohl, who share Fire Fusion Studio and Boise Art Glass. And the Boise Guest House offers three locations that combine the charm of boutique lodging with artwork by such locals as Karen Bubb and Rachel Teannalach.
To enjoy the culinary arts, start your day exploring downtown Boise with a cuppa joe at Flying M, a hip little coffeehouse with monthly art exhibitions, or seek out Guru Donuts for scratch-made donuts using local and organic ingredients. Stop by Bar Gernika in the Basque Block for traditional tortilla de patatas. Or, located in the 8th Street dining district, Juniper offers seasonally inspired cuisine. Overlooking Parkcenter pond, dinner at Barbacoa is a feast for the senses, from artist Delia Dante's massive Medusa figures in the bar, to the whimsical décor combining jewel tones with rustic wood and iron accents, to the Latin-inspired menu ranging from Yucatan-style swordfish to Argentinian kabobs and steak with chimichurri.
Wherever your Boise travels take you, expect to experience a charming locale that blends historic tradition with contemporary amenities — all against a backdrop of natural splendor.
---
IF YOU GO… EVENTS & ATTRACTIONS
Basque Museum & Cultural Center
611 Grove St; 208.343.2671 | basquemuseum.com
Boise Art Museum
670 S. Julia Davis Dr; 208.345.8330 | boiseartmuseum.org
Boise City Department of Arts & History
150 Capitol Blvd; 208.608.7050 | boiseartsandhistory.org
C.W. Moore Park
150 S. 5th St; 208.608.7644 | parks.cityofboise.org
Egyptian Theatre
700 W. Main St; 208.387.1273 | egyptiantheatre.net
Greenbelt
150 N. Capitol Blvd; 208.384.4422 | parks.cityofboise.org
Idaho Shakespeare Festival
5657 E. Warm Springs Ave; 208.336.9221 | idahoshakespeare.org
LODGING
Boise Guest House (three locations)
614 N. 5th St; 208.761.6798 | boiseguesthouse.com
Grove Hotel
245 S. Capitol Blvd; 208.333.8000 | grovehotelboise.com
Inn at 500 Capitol
500 S. Capitol Blvd; 208.227.0500 | innat500.com
Modern Hotel
1314 W. Grove St; 208. 424.8244 | themodernhotel.com
GALLERIES
Fire Fusion Studios/Boise Art Glass
1124 W. Front St; 208.345.1825 | firefusion-studio.com; boiseartglass.com
Gallery 518
518 S. Americana Blvd; 208.342.3773 | www.galleryfive18.com
LaBry Fine Art Gallery
404 S. 8th St. Ste. 166; 208.985.6337 | labryfineart.com
Ming Studios
420 S. 6th St; 208.972.9028 | mingstudios.org
Stewart Gallery
2230 W. Main St; 208.433.0593 | stewartgallery.com
Swell Artist Collective
404 S. 8th St, L105 | swellboise.com
DINING
Bar Gernika
202 S. Capitol Blvd; 208.344.2175 | bargernika.com
Barbacoa
276 Bobwhite Ct; 208.338.5000 | barbacoa-boise.com
Flying M
500 W. Idaho St; 208.345.4320 | flyingmcoffee.com
Guru Donuts
928 W. Main St; 208.571.7792 | gurudonuts.com
Juniper
211 N. 8th St; 208.342.1142 | juniperon8th.com