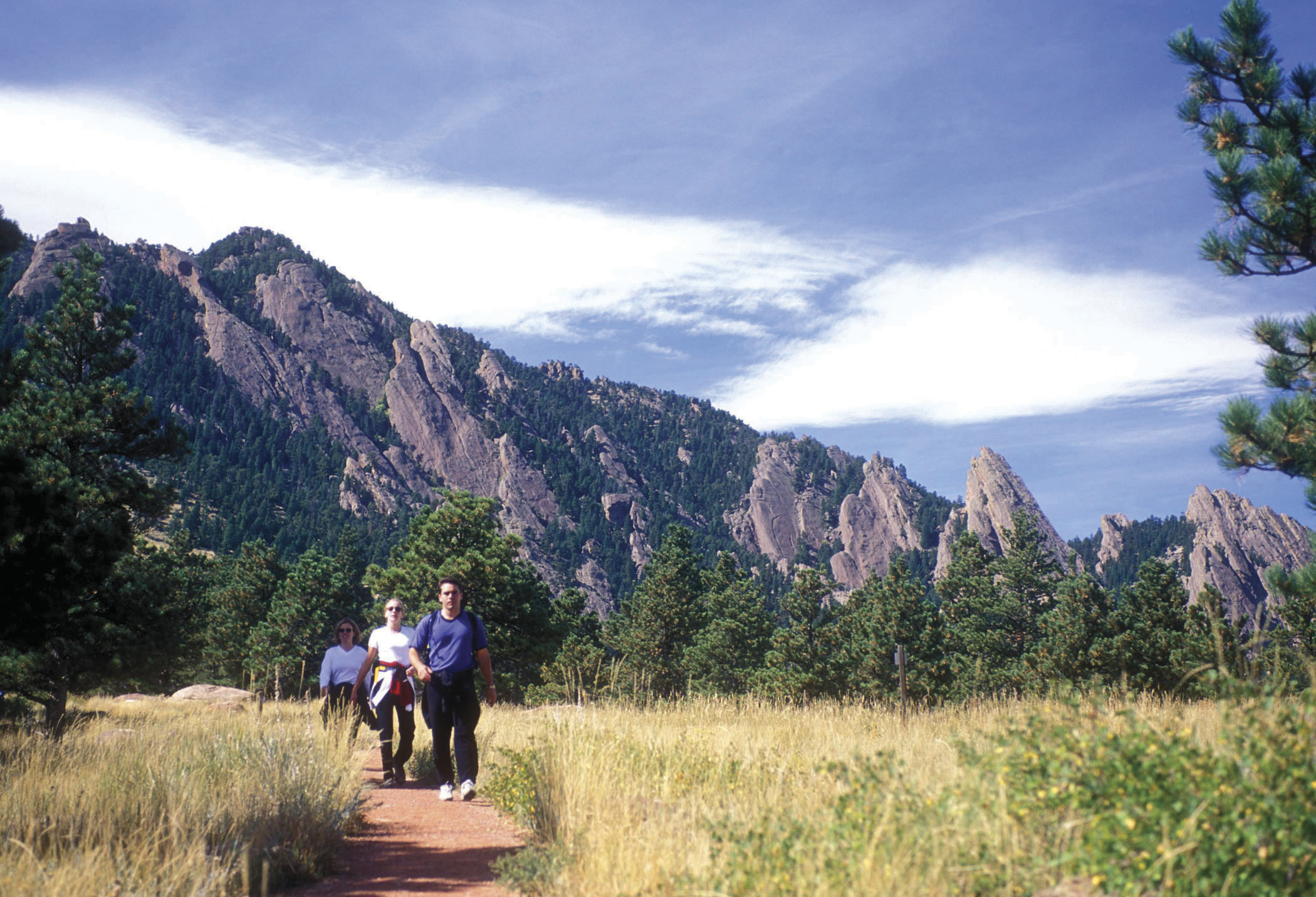 Boulder's abundant open space includes numerous hiking and biking trails at the base of the Flatirons, the city's landmark geologic formation. All photos courtesy of Boulder CVB
09 Jun

Wanderings: Boulder, Colorado

It's hard to imagine that Boulder, Colorado's vibrant, colorful downtown was ever in danger of extinction, but in the early 1970s the area had started to deteriorate. Stores closed, crime increased, and — like so many downtowns of that era — Boulder struggled to remain relevant as its retailers and citizens flocked to the brand new shopping center several miles away. Fortunately, forward-thinking local architect Carl Worthington conceived the city's now-famous pedestrian mall concept, and four blocks were permanently closed to traffic and redeveloped. In 1977 Boulder's Pearl Street Mall officially opened, and the area has been thriving ever since.

In a picturesque setting near the foothills of the Rocky Mountains, the city that is home to the University of Colorado is equally well-known for its granola-munching, Birkenstock-wearing residents' liberal politics and environmental consciousness. About an hour's drive from Denver International Airport, Boulder has managed to hold on to its small-town charm — in part by enacting strict growth-control measures and limiting building heights to preserve the mountain views.

Boulder's Pearl Street Mall is now a major tourist destination, where people of all ages find plenty to see and do without ever leaving the downtown. The area's numerous shops, restaurants and galleries are a huge part of the draw, and the mall also attracts a diverse and ever-changing array of entertainers including musicians, jugglers, balloon artists, magicians … and the occasional contortionist.

Visitors who want to be near the action while enjoying a luxurious lodging experience will appreciate the modern, upscale St. Julien Hotel & Spa. Just a block south of Pearl Street, the St. Julien is nonetheless private and quiet, and Jill's Restaurant and Bistro offers on-site dining with a contemporary menu of American and French cuisine. The back patio is a popular spot for evening cocktails and watching the sun set behind the Flatirons.

On the other side of the mall to the north, the Hotel Boulderado satisfies history lovers with its stunning stained-glass lobby ceiling and old-fashioned, Victorian-style rooms. The hotel's Q's Restaurant serves a menu of locally-sourced cuisine that garnered a three-star Mobil Travel Guide rating, while the underground Catacombs Bar attracts a young, lively crowd late at night.

Art lovers will find numerous galleries within easy walking distance of either hotel, including work from top artists at SmithKlein Art Gallery; more than 20,000 pieces — many by Colorado artists — at the Boulder Arts and Crafts Gallery; and fine art, jewelry and art glass at Earthwood Gallery. Most downtown galleries participate in the First Friday Boulder art walking tour held on the first Friday evening of every month.

Also on Pearl Street, Boulder Furniture Arts woos patrons with its beautiful window displays featuring unusual handcrafted lighting, furnishings and accessories. Just across the street, Art Source International carries 25,000 original antique maps and prints, as well as vintage posters, historic photos and globes. Next door, Peppercorn is a mecca for all things related to cooking, dining and entertaining, with 12,000 square feet of cookware, dishes, gadgets, cookbooks, table linens and gourmet foods. To the west, Boulder Book Store is a well-loved independent retailer with more than 100,000 volumes on three floors.

A few blocks south of downtown, on 13th Street, the Boulder Museum of Contemporary Art displays an eclectic collection of modern art from local, national and international artists within three galleries. Stop for a cup of tea at the nearby Boulder Dushanbe Teahouse, said to be the only authentic Persian teahouse in the Western hemisphere. The ornate building was constructed entirely by hand in Boulder's sister city of Dushanbe, Tajikistan, and presented as a gift to the town. On Saturday mornings and Wednesday evenings, from April through October, 13th Street bustles with the Boulder Farmers' Market, offering fresh produce, baked goods and artisanal foods from local growers and producers.

Food lovers will find many outstanding restaurants in and around downtown Boulder, including the highly acclaimed Frasca Food and Wine. Winner of numerous accolades including a James Beard award, Frasca's owners Bobby Stuckey and Chef Lachlan Mackinnon Patterson serve a menu inspired by the cuisine and culture of Fruili, Italy.

The family-style community tables at The Kitchen encourage conversation and new friendships, and that sense of connection extends to the menu, which credits local producers and identifies the specific farms that grew the produce. Locavores will also appreciate Bradford Heap's eatery, SALT The Bistro. With an emphasis on organic, sustainably sourced food, the restaurant serves a variety of small plates that allow diners to try several offerings — and one of the best happy hour menus in town. For a nightcap, Cuvée Wine Bar and Bistro evokes a relaxed, speakeasy atmosphere with a singer performing live at the grand piano four nights a week.