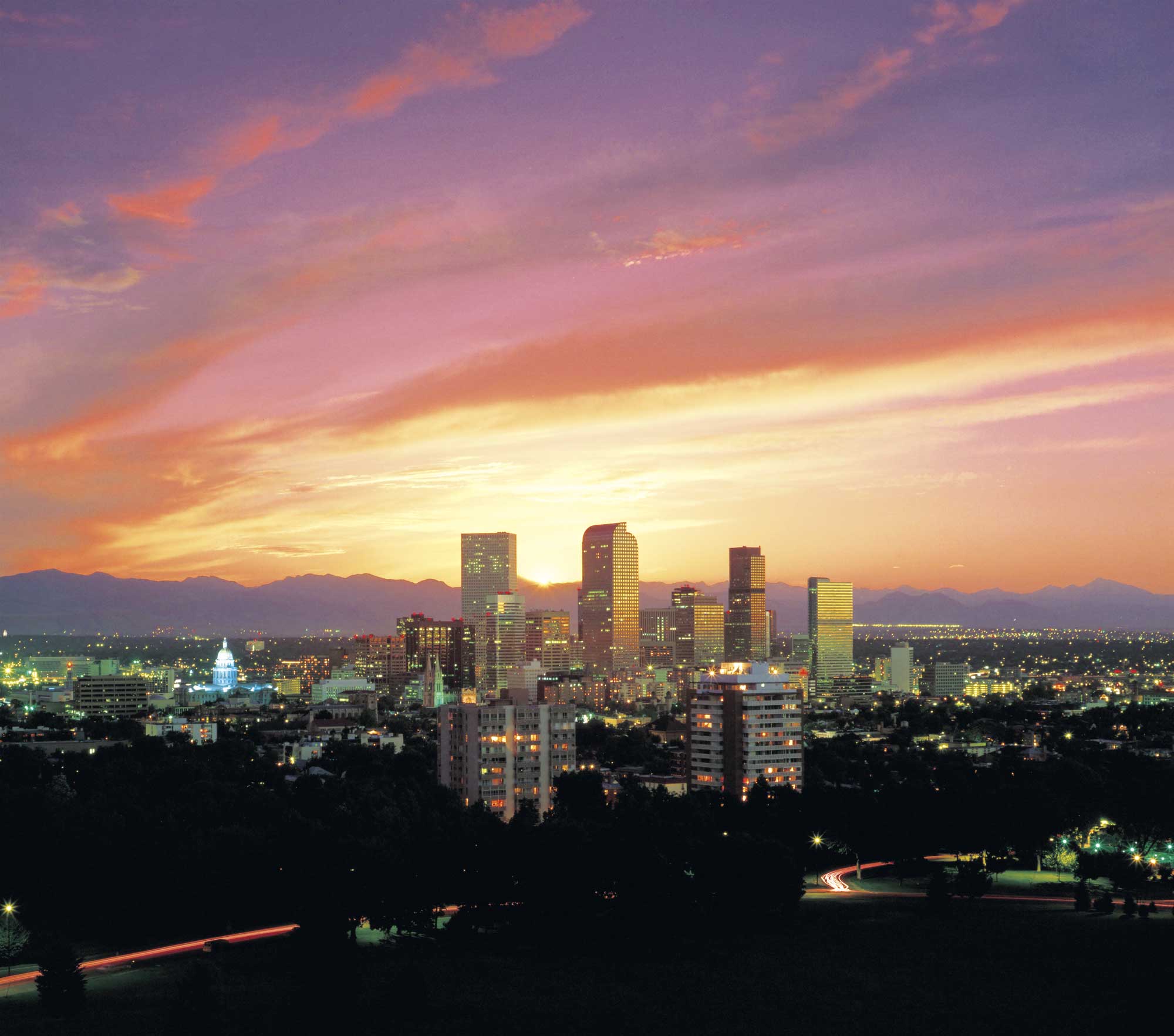 Denver's skyline shines against the beautiful sunset. Photo: Bob Ashe
01 Sep

Wanderings: Denver, Colorado
---
Travelers flying into Denver don't have to wait long to experience the city's art; the Public Art Program at Denver International Airport features rotating exhibits and dozens of permanent works in the concourses, train tunnels and main terminal building. There's even a controversial installation of vintage farm equipment — Fenceline Artifact, by Sherry Wiggins with Buster Simpson — lined up outside in the fields between the entry and exit roads. Indeed, the city's commitment to the arts is wide-ranging; a self-imposed sales tax provides funding for 300 arts organizations and facilities, with the greatest concentration of museums and galleries in and around the city's bustling downtown.
A convenient home-base for a long weekend of exploring Denver's art scene is the sparkling Hyatt Regency Denver, across from the Colorado Convention Center. The 1,000-room high-rise boasts breathtaking views of the Rocky Mountains and its own $2-million art collection. For a more intimate experience and a taste of Denver's history, the Oxford Hotel is a storied, elegant boutique hotel near Denver's Union Station. Located in the city's popular 'LoDo' or Lower Downtown neighborhood, the 80-room property boasts a collection of Western art dating from the late 19th and early 20th centuries; some pieces were given to the hotel by the artists themselves as payment for lodging.
The Oxford Hotel's bar, the Cruise Room, is famous for its potent martinis as well as its perennially cool Art Deco décor — including a series of bas-relief panels created in 1930 by Denver artist Alley Henson. It's a 10-minute walk from the hotel to historic Larimer Square, one of the city's earliest and most successful revitalization projects. Osterio Marco, owned by top restaurateur Frank Bonanno, serves an ambitious menu of fine Italian specialties: The house-made burrata cheese appetizer is a local favorite. Just down the block is Gellazi, an über-cool gelato shop with a liquor license that serves spiked frozen drinks, such as a creamy, blended-gelato White Russian.
Near the gleaming gold dome of the historic state capitol building and the contemporary Michael Graves-designed Denver Public Library, the bold addition to the Denver Art Museum juts out of the concrete landscape. Designed by architect Daniel Libeskind, the titanium-clad Frederic C. Hamilton Building houses a collection of modern, contemporary and oceanic art, plus architecture and design exhibits. The wing is connected by a glass bridge to the original museum, where one could easily spend an entire day viewing the seven-floor collection of classic and contemporary art. Just across the plaza, Mad Greens is a convenient stop for a healthy lunch; friendly servers create huge, personalized salads from a dazzling assortment of colorful fresh ingredients.
Modern art aficionados won't want to miss the new Museum of Contemporary Art, designed by British architect David Adjaye. The 27,000-square-foot LEED-certified building houses five fixed galleries, each designed for a different type of art including large works, new media, photography, paper works and projects. The up-and-coming RiNo (River North) Arts District north of downtown is home to the Dry Ice Factory, a renovated factory building with studio and gallery space for emerging and professional artists; along with ongoing exhibitions, the entire building is open on the first Friday of each month. The perfect ending to the day is an evening in Denver's vibrant theatre district; the Denver Center for the Performing Arts offers a variety of performances and venues, with several good restaurants within the complex offering pre-theatre dining.
To provide fuel for a day of exploring the city's smaller galleries, Zaidy's Deli, in Writer's Square, serves serious, stick-to-your-ribs breakfasts such as corned beef hash, potato latkes or a hearty Reuben omelet. Stop at nearby Gallery One Writer's Square to view paintings, graphics and sculpture by nationally and internationally recognized artists ranging from Salvador Dali to Dr. Seuss. David Cook Fine American Art offers impressive historic American Indian art including textiles, basketry, pottery, old pawn jewelry and beadwork dating from the 19th and early 20th centuries, as well as American Arts and Crafts furnishings. The William Matthews Gallery features a large collection of the popular watercolorist's work. From there, it's a short walk to the LoDo location of the city's beloved Tattered Cover Book Store. Denver's citizens are fiercely loyal to the independently owned retailer; this store is housed in the historic Morey Mercantile building, with two meandering floors of books, a cozy fireplace, comfortable seating and an in-house coffee shop.
When it's time to return to the airport, visitors can't miss one of DIA's most controversial art installations, a towering blue mustang statue with gleaming red eyes near the final exit ramp. Tragically, its creator, Luis Jiminez, was killed when the sculpture fell and crushed him; some now say that the piece is cursed. Love it or hate it, the 32-foot-tall structure is a reminder of the city's determination to not only support the arts, but to explore and expand its myriad forms, venues and interpretations.
---
If You Go…
LODGING
Hyatt Regency Denver
303.436.1234 | www.denverregency.hyatt.com
The Oxford Hotel
800. 228.5838 | www.theoxfordhotel.com
DINING
Gelazzi
303.534.5056 | www.gelazzi.com
Mad Greens
303.355.2499 | www.madgreens.com
Osteria Marco
303.534.5855 | www.osteriamarco.com
Zaidy's Deli
303.893.3600 | www.zaidysdeli.com
GALLERIES AND MUSEUMS
David Cook Fine American Art
303.623.8181 | www.davidcookfineamericanart.com
Denver Art Museum
720.865.5000 | www.denverartmuseum.org
Dry Ice Factory
303.377.3945 | www.dryicefactory.org
Gallery One Writer's Square
303.629.5005 | www.galleryonedenver.com
Museum of Contemporary Art Denver
303.298.7554 | www.mcadenver.org
William Matthews Gallery
303.534.1300 | www.williammatthewsgallery.com
SHOPPING
Tattered Cover Book Store
303.436.1070 | www.tatteredcover.com
THEATRE
Denver Center for the Performing Arts
303.893.4100 | www.denvercenter.org
---
Exploring Denver's Neighborhood Art Districts
There are a number of smaller arts districts tucked around the city, boasting small-town charm, galleries, shops and restaurants. Here are some of our favorite metropolitan areas; visit www.denver.org/metro/features/art-districts for more information.
Cherry Creek North (www.cherrycreeknorth.com) is an upscale neighborhood and shopping district with dozens of galleries and the home of the annual Cherry Creek Arts Festival (cherrycreekarts.org), which attracts more than 350,000 visitors during three days in July.
The Santa Fe Art District (www.artdistrictonsantafe.com) south of downtown has numerous galleries showing contemporary, traditional and emerging art including painting, sculpture, photography, mixed media, graphic art and textiles. Ongoing gallery events include the First Friday Art Walk, held the first Friday of every month, and Collectors' Night, held the third Friday of every month.
Highlands is a hip, up-and-coming neighborhood of Victorian homes and bungalows just minutes west of downtown; Tennyson Street (www.tscd.org) has a number of art galleries featuring photographs, antique prints and paintings from local artists.
Belmar (www.belmarcolorado.com) is a recently redeveloped, 22-square-city-block pedestrian district with numerous art spaces and galleries in Lakewood, a suburb west of Denver. The Lab at Belmar is a new institution dedicated to contemporary art and thought offering ongoing art exhibitions, lectures and workshops.