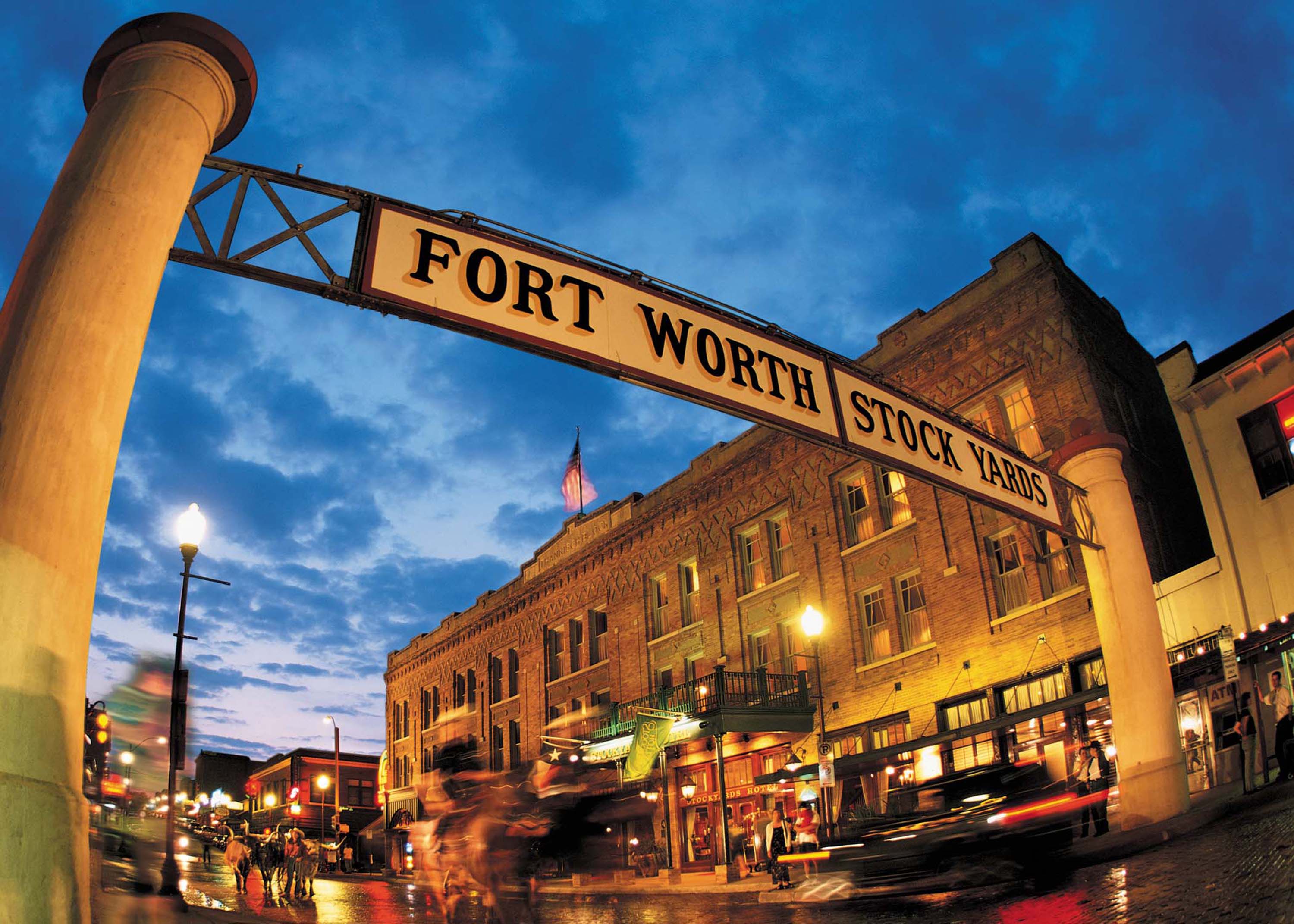 Fort Worth's Stockyard District is the gateway to where the Real West begins.
01 Feb

Wanderings: Fort Worth, Texas
---
For a taste of the West as it was, and still is, a visit to Fort Worth, Texas, is the perfect choice. Boasting a dichotomous blend of cowboys and culture, no other city in the Lone Star State can rival its unique combination of Western lore juxtaposed against a wealth of artistic and cultural offerings. Within a five-mile radius, visitors can thrill to a hoof-pounding cattle drive, dance the Texas two-step, indulge in the beauty of a Rembrandt masterpiece or a high-fashion boutique, and still have time to while away the evening at a concert or live theater production in Sundance Square, Fort Worth's lavish downtown entertainment district.
To set the mood, begin by picturing a small frontier fort built in 1849 to protect settlers from the depredations of the Comanche and Kiowa Indians. Two decades later the fledgling settlement gained fame as the last major watering hole along the legendary Chisholm Trail. Saloons proliferated, as did outlaws gangs — including Butch Cassidy's Wild Bunch and the Bass Brothers — who found sanctuary in the lawless red-light district dubbed Hell's Half Acre.
By the turn of the century, a wave of gentility softened the town's rough edges, fueled by the economic influence of meat packing giants, Swift & Co. and Armour, who helped crown it "queen city" of the beef industry. When north Texas oil fields came into production in 1912, this boomtown frenzy reached its zenith, tripling the population and quickly eclipsing cattle as the city's leading industry.
Today Fort Worth is a vibrant, urban community that attracts some 5.4 million visitors each year, thanks to an exciting revitalization program that lured theaters, restaurants, residential developments and a grand performance hall into the downtown area.
Beneath its outwardly cosmopolitan flair, the city's heritage still runs true and deep. Locals quickly assured me there is no better place to check out this premise than with a visit to the Stockyards National Historic District, a 125-acre entertainment complex whose red-brick streets are lined with establishments that celebrate Fort Worth's famous Cow Town sobriquet.
As a Western movie buff, the twice daily sight of cowhands prodding a herd of rangy longhorn steers down Exchange Avenue made my heart beat a little faster, reminding me that the sights, sounds and smells of the cattle drive era are not yet a thing of the past.
Strolling south from Exchange on Main Street, I encountered a rustic storefront emblazoned with the unique name, The Cross-Eyed Moose. This ideal shopping spot is comprised of four venues selling goods ranging from Western furnishings, antiques and collectibles to vintage books and contemporary art.
After working up an appetite, I observed the epitome of Western cuisine at the legendary 1947 Cattlemen's Steak House, where choice cuts of beef were cooked to perfection on a charcoal grill. In lieu of artwork, the walls are adorned with photographs of the prize-winning bulls purchased by the restaurant each year. Contemplating something more exotic for a future visit, I returned to Exchange Street to peruse the menu at the Lonesome Dove Bistro. Featured on the Cooking Channel, this gourmet establishment serves such tantalizing appetizers as rabbit-rattlesnake sausage, wild boar ribs and Kangaroo nachos, all of which whet the appetite for delectably prepared entrées including elk ribeye and Texas quail.
For a taste of nightlife, Billy Bob's Texas was every bit as awesome as I expected. With three acres under roof, it ranks as the world's largest honky tonk, and offers a variety of entertainment ranging from country/western dance lessons to live bull riding, and there is always the possibility of rubbing elbows with music greats like Merle Haggard and Willie Nelson. Next door, the Cowtown Coliseum, site of the first indoor rodeo (held in 1918), comes alive on Friday and Saturday evenings with professional rodeo competitions and Wild West shows.
For vintage accommodations, I checked out the Stockyards Hotel, which invites guests to treat themselves to a "Texas kind of time." There is little doubt that spending a night in one of its 52 rooms — each beautifully appointed with period furniture and objets d'art — will immerse you in the ambience of its 1907 beginnings. Another option that is celebrated for both its romantic atmosphere and paranormal activity is Miss Molly's Hotel. A former bordello that hosted a diverse clientele from gunslingers to wealthy oil barons, today it is reputed to be one of the liveliest B&Bs in the state.
While Fort Worth's love of public art is apparent in diverse installations — from seating in the form of giant belt buckles and spurs in the Stockyards District to the 20-foot-high faux bronze replica of Remington's The Bronco Buster — the city also abounds with cultural options including the new Museum of Science and Industry, a Civil War Museum and five outstanding art museums. Since Westerners are known for their individualism, it came as no surprise to learn that three of the latter started as private collections.
From 1942 to 1950, oilman and philanthropist Sid Richardson amassed a collection of paintings that captured the romance and ruggedness of the western United States. His Sid Richardson Museum is now home to one of the nation's most significant private collections of works by Frederic Remington and Charles M. Russell. Taking advantage of the free admission, I savored Remington's Among the Led Horses and The Love Call, and Russell's single mounted warrior, The Scout, in addition to paintings by Western masters Frank Tenney Johnson, William R. Leigh and Charles Schreyvogel.
Having once enjoyed the pleasure of interviewing Margaret Formby, who founded the National Cowgirl Museum and Hall of Fame in her hometown of Hereford, Texas, I was doubly pleased to learn that her extensive collection of saddles, spurs, rodeo gear and other accoutrements honoring the memory of pioneer women who exemplify the spirit of the West had found a permanent home in Fort Worth in 1994.
By contrast, Fort Worth Star Telegram publisher Amon Carter had never set foot in a Western museum before becoming enamored with that genre of art. Today, however, the collection in his namesake Amon Carter Museum is recognized as one of the finest and most comprehensive in the world. Free admission makes it possible to return again and again to enjoy paintings by Remington and Russell, in addition to masterworks by American painters Winslow Homer, John Singer Sargent and Georgia O'Keeffe.
Artworks of diverse genres are to be found at The Kimbell Art Museum and the Modern Art Museum of Fort Worth. In addition to masterworks by Caravaggio, Rembrandt and Cézanne, the Kimbell recently made headlines by purchasing The Torment of Saint Anthony, the earliest known painting by Michelangelo. Caravaggio's The Cardsharps is also a highly prized acquisition. After viewing the Museum of Modern Art's outstanding collection — which includes works by Pablo Picasso, Jackson Pollock and Andy Warhol — I enjoyed a lunch break at the museum's much-touted café.
Following more local advice, I paid a visit to Fred's Texas Café, on Currie Street, just north of the Cultural District. After sampling one of its specialties — the Diablo Burger, decked out with chipotles, grilled onions and melted Swiss — I could see why it had earned a positive spot on the Food Network's "Diners, Drive-Ins and Dives."
Just around the corner on Crockett Street, I discovered a small boutique that proved to be one of the most interesting finds in the city. FIG (Fashion is Global) designers is perhaps the only location in the United States to offer made-to-order European designer fashions at truly reasonable prices. Racks filled with sample garments make it possible to custom-design your purchase using your own choice of fabric and color. Handcrafted in Cyprus, the made-to-measure orders are available in less than two weeks. FIG also offers handmade exotic leather purses and fabulous wedding gowns.
Saving the best for last, I found downtown Fort Worth to be a class act in itself. Named in honor of the West's most romantic and elusive bandit, Sundance Square is 35 blocks of red-brick streets lined with fine dining, shopping and live entertainment.
In addition to luxury hotel accommodations and the Bass Performing Arts Center (home to the Van Cliburn piano competition), other attractions include the Fort Worth Water Gardens, sculptures and fountains built over the infamous Hell's Half Acre.
Stretching the imagination from rawhide to rubies, denim to diamonds, Fort Worth is a destination that makes you certain that something even more exciting is about to thunder over the horizon at any moment.