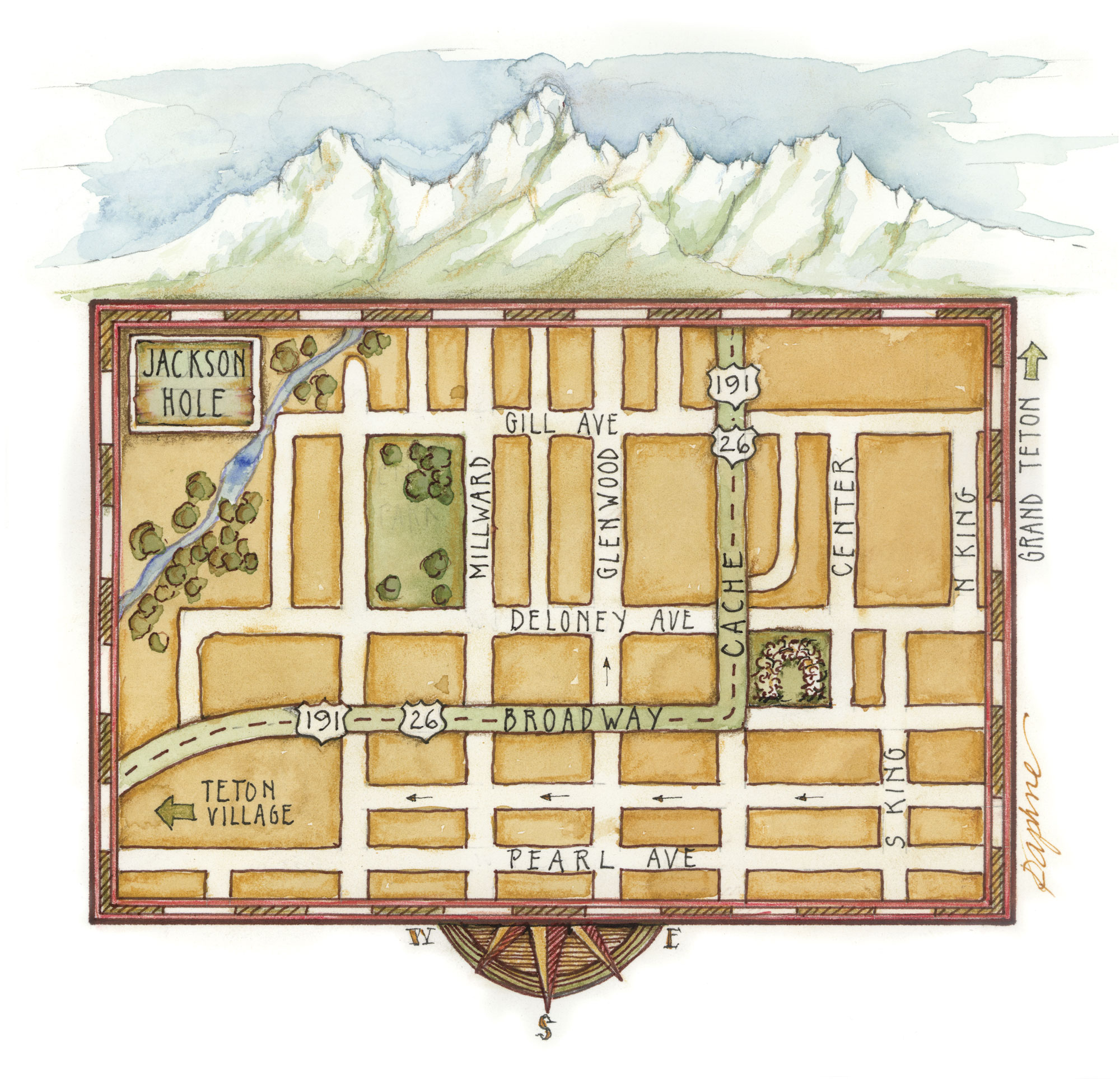 Map of downtown Jackson Hole by Daphne Gillam.
24 Jul

Wanderings: Jackson Hole, Wyoming
---
Jackson's tourist season used to be determined by a bush. Really. Standing in front of what is now Wyoming Outfitters, on the southeast corner of the elk-antler-arched Town Square, look up and to the northwest until your eyes hit a substantial but solitary shrub amidst a hillside of grass and sage. Throughout most of the summer, the bush actually blends in fairly well. But, without fail, around Labor Day it assumes a shade of red most often associated with fire engines. Thirty years ago, that was the signal for many of the art galleries and other downtown businesses to close up shop until the bush emerged green again the following May.
Nowadays, September is Jackson's second busiest month of the year for visitors (after July). Though locals have always agreed September can bring some of the valley's most beautiful weather, it was a secret they guarded fairly closely. When the Jackson Hole Fall Arts Festival was founded 27 years ago, visitors began thinking autumn wasn't a bad time to visit this high, alpine valley at the southern entrance to Grand Teton National Park. This year's Fall Arts Festival is September 8 – 18.
Attending the Fall Arts Festival today — whether all 10 days of it or just an event or two — it's difficult to believe Jackson hasn't always had the artistic assets that now define this mountain town. When Dick Flood opened Jackson's first gallery in 1963, he hid what he was doing, lest friends think him crazy and try to intervene. (Flood instructed the painter hired to do his gallery's awning to paint the business' name a la "Wheel of Fortune" to keep his secret as long as possible.)
Flood's gallery, Trailside Galleries, surprised everyone with its immediate success. A few more galleries dared to pop up in town over the next several years. Still, regardless of how popular the art galleries were in Jackson, there just weren't enough of them — people, that is — to sustain the business year-round. But then the Jackson Hole Chamber of Commerce got involved.
Collaborating with local galleries, the first Jackson Hole Fall Arts Festival included gallery walks and artist demonstrations. By today's standards, it was a modest affair; by 1985 standards, it was the biggest thing that had ever happened in September in the valley.
Twenty-seven years later, there's nothing modest about the Jackson Hole Fall Arts Festival. It's kicked off by the Western Design Conference, itself the country's premiere juried exhibition of Western-inspired functional art, including furniture, accessories, fashion and jewelry. The WDC not only includes a three-day exhibition at Snow King Pavilion, but also a live runway fashion show followed by a gala reception.
The Jackson Hole Art Auction, which focuses on historically recognized Western American art, and features work from past and present masters including the Taos Society of Artists, is held during the Fall Arts Festival (September 17 this year). So is the National Museum of Wildlife Art's Western Visions Miniatures and More Show & Sale.
And then there are all the gallery events. Jackson Hole's gallery scene has grown to include more than 30 galleries. They all take part in the Palates & Palettes Gallery Walk. Each gallery pairs with a valley eatery — from Snake River Grill, to The Kitchen and Whole Grocer — and unveils a new show. Galleries usually hang two or three different shows over the course of the FAF.
Local artists show their stuff at a juried show held on the Town Square in conjunction with the culinary art event, Taste of the Tetons. Also on the Town Square is the QuickDraw, which is exactly what it sounds like. Dozens of artists are given an hour to paint or sculpt a piece. At the end of the hour, the still-wet pieces are auctioned off. As much fun as it is to watch, Maureen Murphy, Director of Special Events at the JH Chamber of Commerce, says it is the artists' favorite event. "You'd think the pressure would be too much, but I guess the crowds being right there more than makes up for it. Artists beg to get into the event."
And then there are the festival's ranch and studio tours, receptions and signings, artists-in-residence, the Jackson Hole Cowboy Jubilee and all of the events at the National Museum of Wildlife Art, from luncheons and trunk shows to jewelry sales.
But don't think it's all art, or at least a rigid definition of art, during the festival. "A lot of things that people don't consider to be art, well, to us they are," Murphy says. "You don't need to be a collector or art historian to enjoy this festival. It's more about having fun doing a bunch of different things. This is still Jackson Hole, after all."
You can easily set yourself up for maximal or minimal art with your choice of hotel. One favorite — because it's still convenient to town and all the FAF events, but also close to hiking and wildlife — is the Four Seasons Resort Jackson Hole in nearby Teton Village. It's a short, 15-minute drive from Jackson, but it might as well be another world. Don't be surprised if you look out your window and see a moose. Or even a black bear. And as for scenery inside the hotel, a fabulous art collection more than fits the bill. Complimentary iPods (pre-loaded with podcasts, available at the concierge desk) allow you to "tour" the collection, which includes illustrations by Joan Micro (from the book L'Enfance D'ubu), watercolors by Matthew Daub, paintings by Alberto Giacometti, and contemporary pieces by Nicola Hicks.
In Teton Village, take the tram up to the top of the Jackson Hole Mountain Resort and hike into Grand Teton National Park or rent a mountain bike and try out the new — just opened this summer — Jackson Hole Bike Park, with rides and trails for every level. The gondola whisks diners up to the fine dining at Couloir Restaurant, perched mid-mountain. Six miles north, the Moose-Wilson road has entered Grand Teton National Park and passes the 1,106-acre Laurance Rockefeller Center and Preserve, which, until it was assumed into GTNP in 2007 was a private retreat of the Rockefeller family. You should stop. Today, its eight miles of trails encourage solitary meditation more than sweating. (Parking is limited to 50 cars to ensure there are never any crowds.) The preserve's interpretive center, the first building in the National Park Service system to receive LEED gold certification, is insulated with recycled denim and has a ceiling made from reclaimed hemlock.
"But there are some visitors who just want to inundate themselves with art," says Murphy. "They really could care less that Grand Teton and Yellowstone National Parks are nearby." If you count yourself among this group, go for The Wort Hotel (pronounced "Wirt" in proper Jacksonese), just a block off Jackson's Town Square. The only National Historic Hotel of America in the valley, The Wort opened in 1941 when downtown's streets were still dirt. The dirt is long gone, but little else has changed on the hotel's exterior, including the red rock trim the Wort brothers quarried themselves in the Gros Ventre (Jacksonese: "Gro Vont") Mountains on the east side of Jackson Hole. The interior is another story, though. The hotel has a permanent art collection with nearly 100 original pieces by Western and wildlife artists, with additional art on loan from West Lives On Gallery, located just across Glenwood Street. Some might argue the double pillow-top mattresses are art of another form.
A few blocks further from the Town Square, the Alpine House has a Scandinavian-inspired main lodge that serves one of the best breakfasts in town and also five colorful — pale green and yellow — creekside cottages. Each of the four two-bedroom, stacked log duplexes and the one studio has its own glass-fronted woodburning stove or fireplace, open-shelved and granite-countered full kitchen and tiled soaking tub. What better way to recover from a hard day of art appreciation?