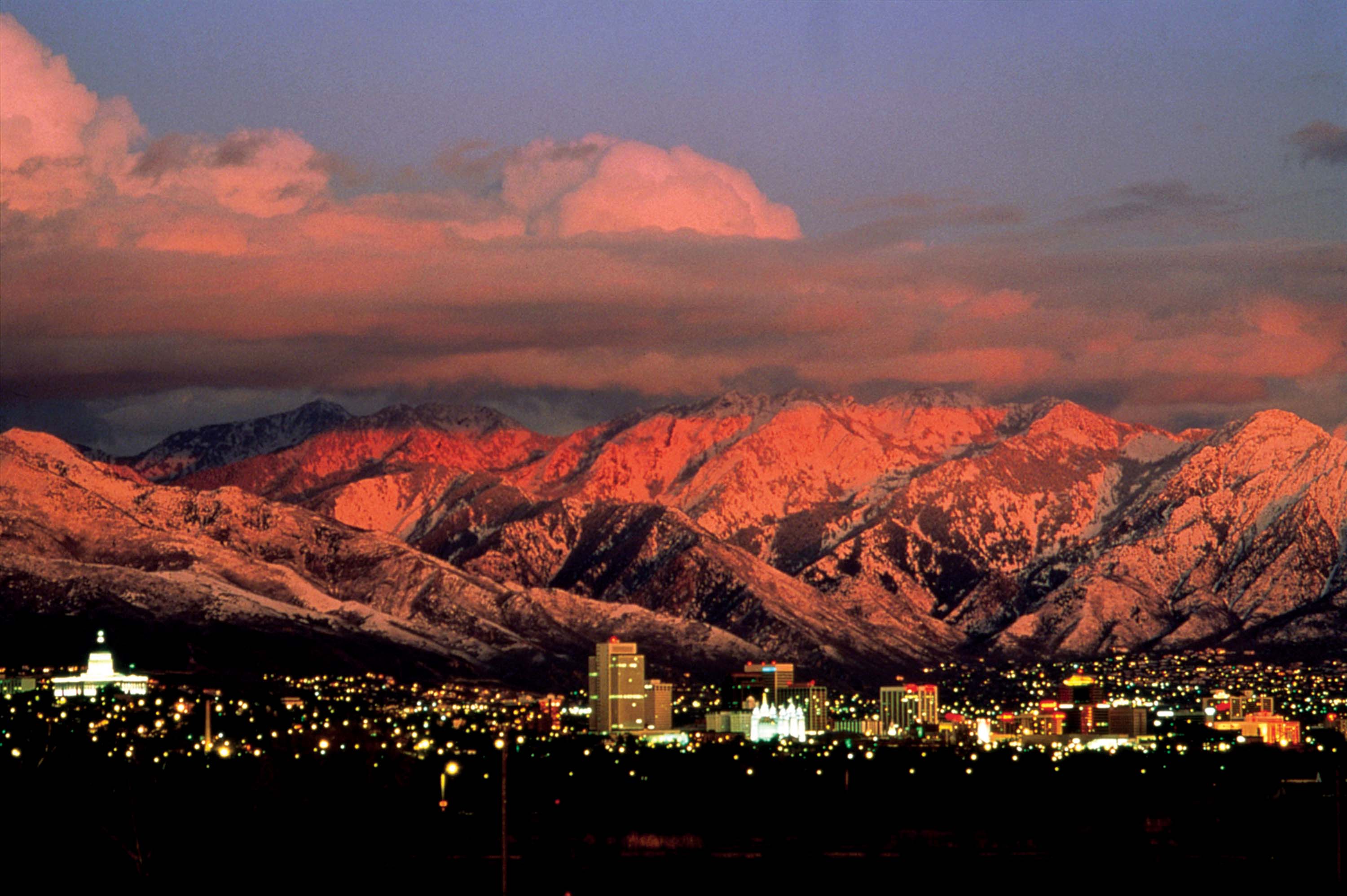 Downtown Salt Lake City's skyline impresses at sunset.
19 Oct

Wanderings: Salt Lake City, Utah
---
Salt Lake City has undergone a resurgence in its artistic and culinary sectors. The theme — whether it's on the canvas, on your plate or in your glass — is decidedly local, paying homage to rather than shying away from the high-desert landscape, a Pioneer agricultural heritage and all the quirkiness that goes along with it.
Ironically, the areas adjacent to the Mormon church's hub are where visitors can find the best drink, food and art. Some venues, though on the periphery of these neighborhoods, are still worth a visit, such as F. Weixler Co., whose quaint building is a fixture in the Avenues neighborhood art scene.
Here's a neighborly look at how to approach the artistic and culinary developments of the city: Ninth and 9th was the first pocket of SLC to offer such amenities as an art-house film center and eating venues within walking distance, such as Pago (whose sommelier started his own line of natural wines — edgier cousins of conventional wine), or its sister restaurant Finca, with a gorgeous sherry-based cocktail menu and Spanish food. Mazza boasts sumptuous fixtures, mosaics and flavors straight from Lebanon.
The closest art viewing is up in the University area, where the Utah Museum of Fine Arts features not only the West's most iconic artists, but also some of the most striking architecture in the state. Wandering through the halls seems like an exhibit, each sleek line framing the Wasatch mountain range. Stylish dwellers come down the hill to 9th for the threads at Fresh or an outfit from the Children's Hour.
No matter where you go, stay at the Hotel Monaco, the city's only boutique offering that recently has undergone an interior revamp by Intra-Spec Hospitality. Housed in a former bank building, there are architectural quirks galore, including a bar, the Vault, that features the old massive vault door. The vibe is modern, with bold splashes of color and cool light fixtures that run contrary to standard corporate hotel flair. The style is emblematic of SLC's quirky self-acceptance.
The food at Hotel Monaco's restaurant, Bambara, reflects the city's confidence, thanks to executive chef Nathan Powers. Utah agricultural goods such as honey, produce and locally farmed trout are among the highlights of the creative menu. It caters to gallery visitors and theatre-goers who jaunt across the street to the Capitol Theatre for opera, ballet and Broadway shows.
Utah Museum of Contemporary Art (UMOCA) offers a deceptively expansive downtown space (just across the street from Naked Fish) that features video installations, avant-garde photography and traditional pieces that sit side-by-side. Though much of the content and artists are local, the feel is decidedly cosmopolitan. Places such as UMOCA allow the Western landscape to be examined by artists-in-residence. And it's just a stone's throw from the famed Temple Square, where you can also find heritage works at the Hope Gallery and Cornerstone Gallery of Fine Art.
Bodega is part storefront (sour candy and house-made empanadas), part beer tavern. Reservation holders get discreet access via the cashier and a coveted key to a back door that leads to a subterranean speakeasy. It looks like a bar that Hemingway would have built, complete with dark wood, taxidermied beasts from faraway lands, old books and enough good whiskey to keep an intellectual happy.
Though a restaurant, the best seat in the house at is at the bar where mixologist Matt Pfohl helms a busy craft-cocktail program — complete with boutique bitters, hard-to-find liquors and wonderful flavor profiles — that doesn't mind poking fun at itself. Sip and admire the antiques, which include vintage books that deliver your tab.
East of state street is where you'll find another concentration of galleries and all manner of creative activity. It's also where you'll find some of the best shopping. The Green Ant is a time capsule from the 1960s and 1970s, full of restored retro furniture in demand by the city's emerging style-conscious class.
Freelance writer Vanessa Chang likes to play the tourist around her adopted home state of Utah whenever she can.
Follow the resident bulldog to the adjacent shop, Misc. Boutique, where it's all about the clothes. Proprietor Missy Baber finds flea market and estate treasures from around the country and showcases them in this tiny and charming clothing store that fashions everyone from artists to businesswomen. And Anthony's Fine Art and Antiques is a veritable treasure chest of furniture and art for any avid collector.
After all the shopping and before the gallery hopping, the Copper Onion satisfies with straightforward, elevated takes on classics such as beef stroganoff (house-made pasta, Wagyu beef and wild mushrooms) and the burger (hefty, beefy and juicy, on a house bun with house pickle), along with a fine drink menu that keeps it humming year round.
From here, it's possible to visit contemporary hubs such as Alpine Art Gallery. Proprietor Mikell Stringham represents some of the area's best emerging artists and consults for clients who are looking to build their collections based on the region's rising talent. The Phillips Gallery is a local stronghold whose three different spaces bring to life modern and more traditional pieces and is always a crowd favorite during the gallery stroll.
Bar X is where you'll find some of the artists whose work is on display in nearby galleries. The first craft cocktail bar of its kind in the city, it gained notoriety when the new owners (one of whom is Ty Burrell of Modern Family fame) refurbished a 99-cent beer dive bar for a swanky dark-wood interior that plays classic movies and serves Sazeracs the way a TGI Fridays serves blue cocktails.
Last call is at 1 a.m., but the street taco cart outside is still going, sizzling carne asadas and lengua. Buy one for $1.50 and take in some of the best after-hours people-watching in the state — the hungry and inebriated creatives of Utah's emerging city.