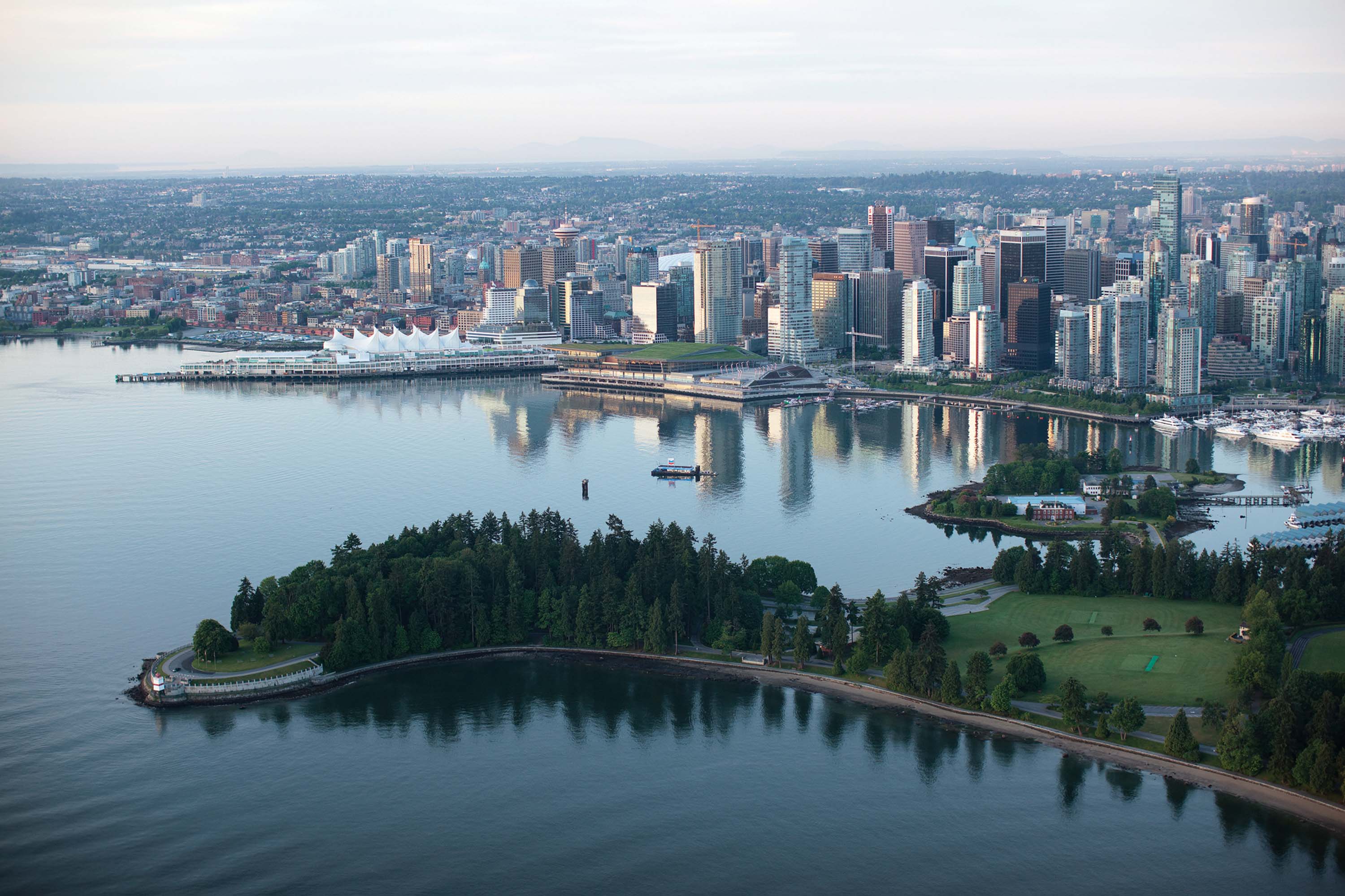 09 Jun

Wanderings: Vancouver, British Columbia
---
From the pinnacle of the Vancouver Lookout Tower, the stunning 360-degree panorama says it all. The skyline of light-laced bridges, mountain ranges and high-rise giants speaks of an ever-growing metropolis brimming with more than 20 fascinating, multiethnic neighborhoods. Much like San Francisco, Vancouver features a magnificent harbor, its own Chinatown and its own line of trolleys.
Summer is prime season to take on Vancouver, Canada, for the weather is at its peak. Known affectionately as "Van" by locals, this seaport in British Columbia with approximately 640,000 residents, lures international fans who rave about the coastal mountains surrounding urban delights. Architecturally, the city runs the gamut from historic Victorian homes to high-tech condos you can unlock remotely with the tap of a cell phone app. Artwise, it has everything from the revered totem poles at Stanley Park to the series of bronze laughing statues on the West End. Foodwise, delicious fare from food-truck cooks to five-star chefs can be found everywhere.
Looking for a place to rest your head? The downtown core boasts the most lavish lodging. New is the Shangri-La, Van's only five-star hotel, where rooms whiswith gold-hued comforters ceiling windows. Shangri-La's CHI melt your body into oblivion during the Wushu Toxin Release that incorporates Wushu martial arts stretches.
Meanwhile, European-inspired Wedgewood Hotel and Spa attracts returnees with classic elegance. White-gloved doormen introduce guests to a world of crackling fireplaces and crystal chandeliers. At the spa, aestheticians smooth wrinkles with crystal gemstones. Replete with opulent furnishings, the spacious guestrooms and suites make every stay feel entirely regal.
But no mention of Vancouver is complete without a word about the Fairmont hotel Vancouver, the "castle in the city." Rimmed with fairytale lights, the historic property is a 364-foot landmark perennially commanding attention. Within walking distance is the newest Fairmont sibling, the modern Pacific Rim, which celebrates its hipness with outdoor flatscreen TVs above whirlpools at its Willow Stream Spa.
Contemporary art geeks will get a kick out of the Listel Hotel, a boutique property that partners with museums and galleries. On each floor, a piece of original art greets visitors after elevator doors open.
Vancouver is certainly a food-lover's paradise, and you'll need to choose wisely to retain your waistline. Gourmet-centric Granville Public Market bursts with food stalls selling fish, cured meats and home-made truffles so creamy you will swoon.
Exotic eats can be found in Chinatown, particularly at the night market that runs all summer. Chinatown is also home to The Parker, a vegetarian restaurant with dishes so delectable even carnivores give it a thumbs up.
In the past, hotel restaurants were regarded as bland, add-on eateries. Today, all that has changed. Shangri-La's market puts the focus on local fare, joyfully merging Asian influences. Imagine rice cracker crusted tuna with Sriracha citrus sauce. …
At Listel's Forage restaurant, sustainability and farm ingredients rule. Eat local by ordering Rangeland elk strip loin or Okanagan goat cheese. An innovative appetizer is the popcorn fried in duck fat with crispy pork rind. The restaurant even employs its own "forager" who scouts for wild mushrooms, herbs and greens.
Not to be outdone is the Wedgewood's Bacchus Restaurant. Here, French cuisine meets West Coast ingredients. Leave room for its signature ginger and cardamom crème brûlée.
The Van dining scene consists of distinctive eateries unafraid of personality. Diners looking for pre-dinner drinks and appetizers will be charmed by the pig mascots and wall chalkboard menu in the Salt Tasting Room. Select three items from the meat-and-cheese column, and then select three condiments to go with them. Match your trio with a pairing of wines. Not far, guests can have a fine "unpretentious fling" at the romantic Chambar Restaurant. Sitting among aged brick walls, you will ingest top-shelf Canadian-French cuisine in the guise of pan seared steelhead trout and grilled Okanagan Angus beef.
And if you don't mind takeout food, the best-selling chicken schnitzel curry at Vij's Railway Express is what locals would call "off the rails." At last count, Van foodie bloggers cited more than 100 food trucks in the region with more on the horizon. The Vancouver Street Food app gives up-to- the-minute listings of open food trucks and their mobile locations.
Ask a Vancouverite where she goes for seafood, and she will point to the reigning champ, the Blue Water Cafe + Raw Bar. It has consistently won top awards for its Pacific Northwest menu with French accents. Unique is the chef's urge to craft dishes using uncommon ocean ingredients he calls "unsung heroes." Yep, sea urchin cannelloni never tasted so good.
Meanwhile, Vancouver's coffee culture is fueled by caffeine addicts as finicky as the ones in Seattle. At Milano Cafe, one of many, many coffee houses, you can order an espresso flight of three small cups. This $6 investment is pure, liquid joy.
Now that you've consumed much, you have to wave the white flag. It's time to see artwork. Start at the Vancouver Art Gallery, the largest in Western Canada. Also call upon the Museum of Anthropology, Bill Reid Gallery of Northwest Coast Art and the Rennie Collection for contemporary works.
For commercial galleries, head to South Granville to quench your thirst for Canadian and international finds. Contemporary First Nations art can be viewed at Douglas Reynolds Gallery. Close by, Gastown is brimming with native treasures such as those in Spirit Wrestler Gallery. Granville Island offers up the Eagle Spirit Gallery for more eye candy.
There is so much art in Vancouver, you cannot escape it. The Vancouver Biennale has again launched its two-year outdoor public art exhibition where famous international artists will be creating pieces in real time. Considered the largest in North America, the Vancouver Biennale is one of many biennales held worldwide, with the largest in Venice, Italy.
All this cleverness may stir up your own creative juices.
If that's the case, dabble at Raw Canvas, a bar/painting pub in Yaletown. Order appetizers and wine, then whip up your own Picasso.
And when your senses need greenery and not just green paint, visit Stanley Park. The artful display of First Nations totem poles are said to be the most-visited tourist attraction in Vancouver. Say hello to beluga whales at Vancouver Aquarium or jog the Seawall path that hugs the coastline. Outdoor lovers can earn bragging rights by crossing the Capilano Suspension Bridge, one of the world's longest at 460 feet in length, hanging 230 feet in the air. In the same rainforest is Cliffwalk, an experience comprising a series of narrow, cantilevered walkways.
Don't be surprised if you fall in love with Vancouver. For adrenaline junkies, it scores a perfect 10. For city slickers, Van lands kudos for swanky hotels. And should you behold this fair city through artistic and culinary lenses, your eyes and your appetite will never be the same.