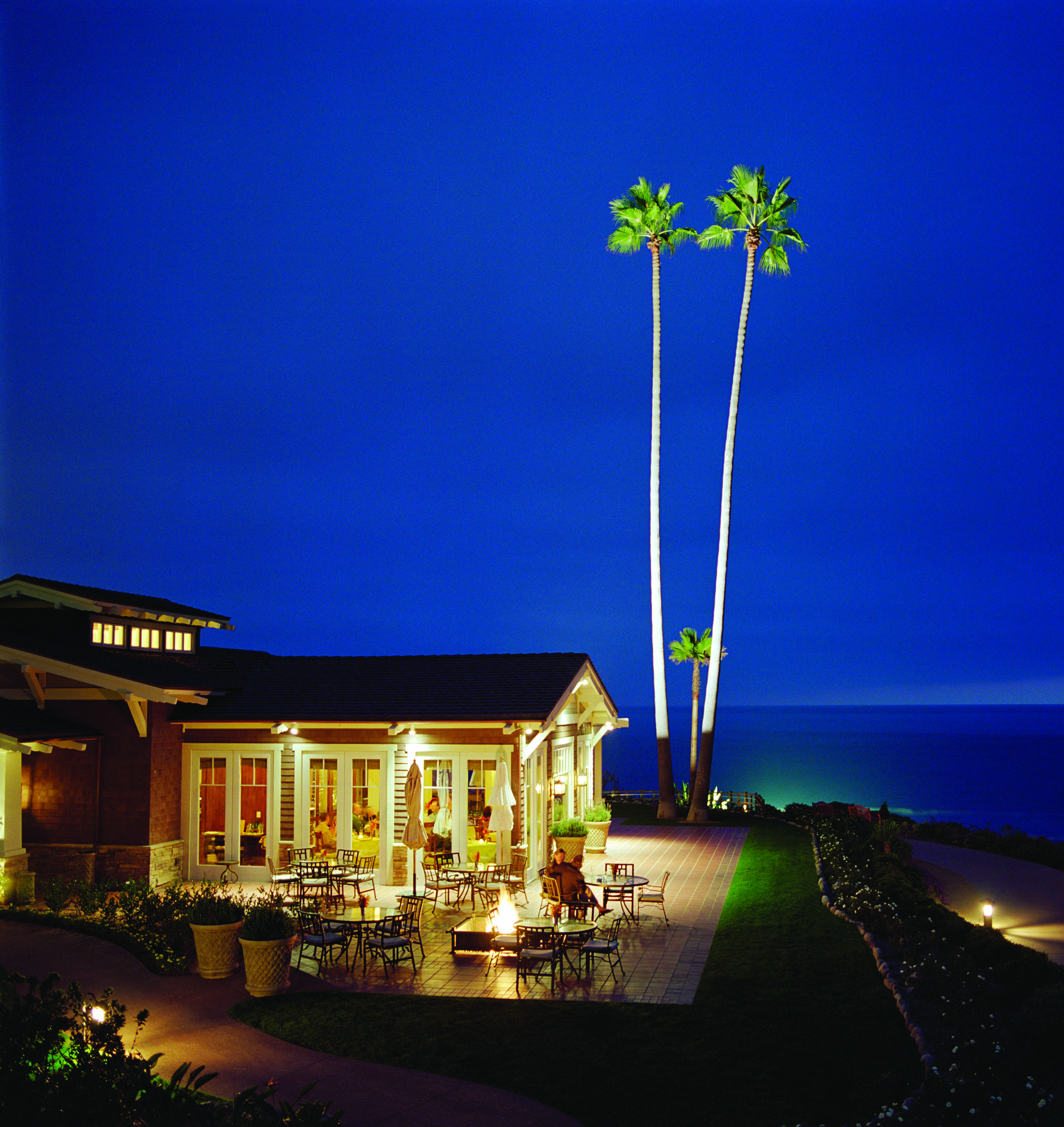 Nighttime at Montage's Studio restaurant is modern French cuisine at the Pacific's waterline with the sound of waves breaking at your back. Two towering palms dubbed "Lucy and Desi" add a hint of old Hollywood. Photo: Rachel Weill
01 Dec

Western Landmark: Montage Laguna Beach

At the foot of the steep cliffs and mountain canyons that define this upscale, laid-back artists' haven and beach town, a midsize resort is carving a hospitality niche out of its sense of place.

Unlike most Southern California resorts, you won't find any faux Spanish Colonial fountains or terracotta tiles at Montage Laguna Beach. But, like the homes on the hillsides above it, there is an authenticity to things here; you find it in the Craftsman-style exterior wood shingles and overhangs, the wood floors, built-in cabinetry and old-fashioned painted trim in every room. Paintings by landscape artists such as Edgar Payne, who discovered and populated the town at the turn of the last century, hang on the walls. The furnishings are simple and well made. It's elegant but homey.

The 30-acre parcel that became Montage Laguna Beach was purchased from Marriott International, Inc., in 2002. Before that it was the Treasure Island Mobile Home Park, which once served as a location for the 1953 Lucille Ball and Desi Arnaz movie, The Long, Long Trailer. A pair of soaring, skinny palms left over from that period, fondly dubbed "Lucy and Desi," hover together near the pool.

Resting on a 50-foot ocean bluff, the resort is one of a handful of hotels to abut the ocean on Southern California's luxurious "Golden Coastline." Guests are steps from a municipal beach and picture-perfect rocky cove where children look for sea stars and crabs at low tide. The sound of breaking waves is a coveted feature of all 250 rooms; each one overlooks the ocean.

Montage Laguna Beach opened in 2003 — the first of three Montage brand hotels. The others are in Beverly Hills and Deer Valley, Utah. Each one, says general manager Todd Orlich, reflects the design motifs and culture of its surroundings.

The three restaurants provide an array of sumptuous cuisine and service choices. And the award-winning spa and fitness center means guests can pamper their stress away.

Montage Laguna Beach has received more than its share of accolades: the Five Diamond Award from AAA in 2009, 2010 and 2012, and inclusion in Robb Report's "100 World's Top Resorts" annually since 2008. Condé Nast gave the resort a World Saver Award in 2012, honoring its cutting-edge environmental programs. According to Orlich, these initiatives set Montage Laguna Beach apart from other hotels, and distinguish it from the rest of the Montage brand, too.

While all three hotels strive to be excellent environmental citizens, at Laguna Beach, an Environmental Impact Committee has figured out how to divert 82 percent of the hotel's waste from landfills to recycling facilities. On-site composting reduces the amount of wet waste that goes to landfills daily by 400 pounds. The hotel uses no chemical fertilizers on its landscape and gardens, and buys locally sourced, and when possible, organic meat and produce. The next focus is water usage.

"The community has been a central focus of the (Montage) brand," says Orlich. The hotel's Hearts of Montage program selects various Laguna Beach causes and nonprofits to support, giving to local marine mammal rescue programs and holding a quarterly blood drive. "All of this is why "the community feels like (the resort) is theirs," says Orlich.