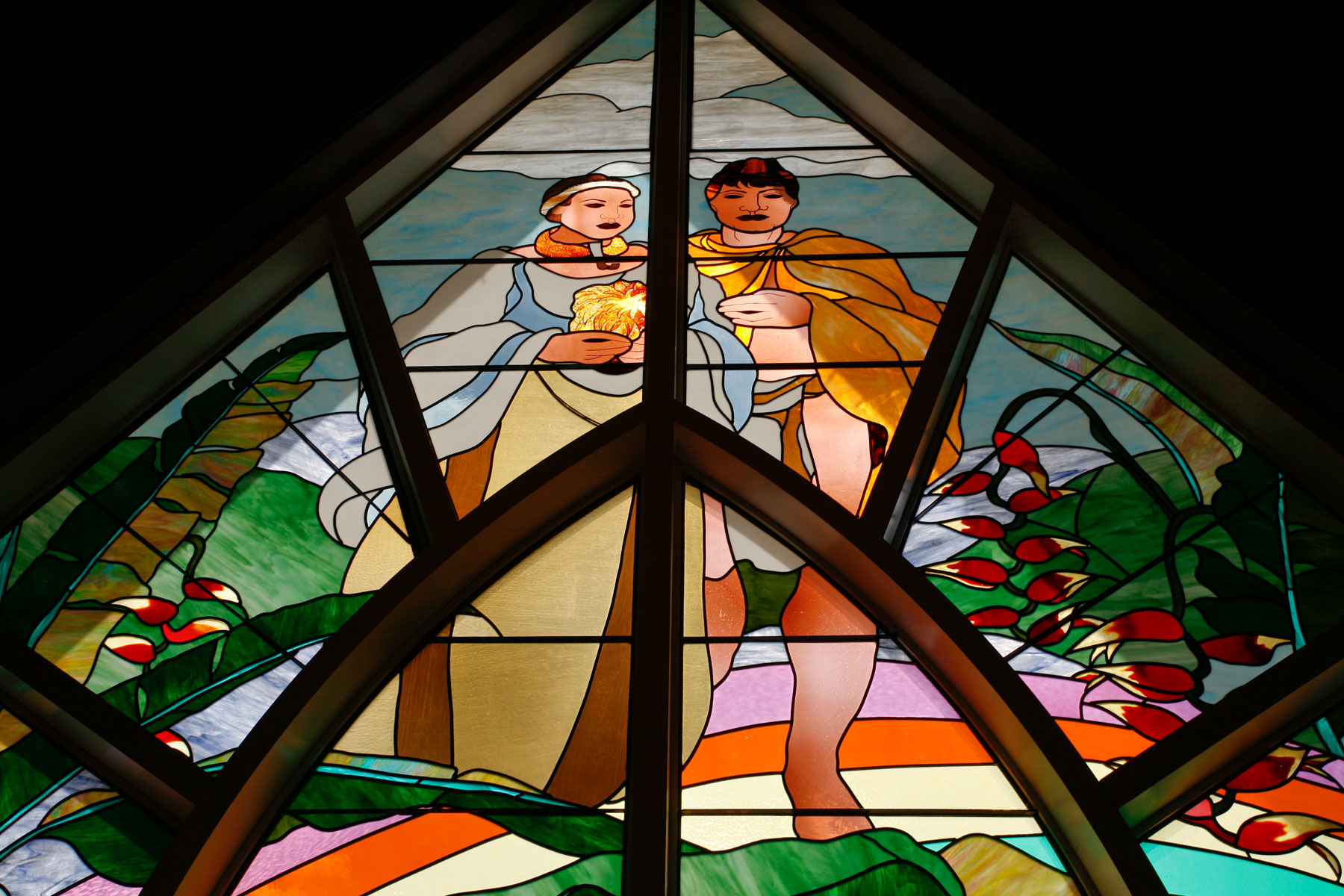 The vibrant stained glass windows in the resort's Seaside Chapel were created by artist Yvonne Chang.
04 Aug

Western Landmark: Grand Wailea Waldorf Astoria
---
If someone were to paint a canvas of heaven on earth, perhaps it would look something like the Grand Wailea Waldorf Astoria resort on the island of Maui, Hawaii.
The Pacific Ocean is the dramatic focal point from the expansive lobby and all eyes are drawn to the stunning sapphire waves elegantly framed beyond the elaborate swimming pools, spectacular fountains and tropical gardens that lead to Wailea beach.
As if the jaw-dropping vista weren't enough, this 40-acre luxury resort on Maui's southern shore happens to house the largest private art collection in the state of Hawaii: a breezy, open-air museum that seems to live and breathe fine works on stone terraces, in corridors, in the 780 suites and guestrooms, in the spa, and surrounded by glorious water features throughout the property. Crafted by design, the concept of art has been instrumental to this hotel from its inception.
In 1991, Japanese developer Takeshi Sekiguchi was true to his vision of creating the world's first authentic "art hotel." He worked with Hawaiian architectural firm Chapman Desai Sakata to build the Grand Wailea, a $700 million project, in celebration of the senses and to showcase a vast collection of original paintings, sculpture, murals and artifacts. The collection features works, ranging from playful to pensive, by many internationally recognized artists including Fernando Botero, Fernand Léger and Zhou Ling. Hawaiian art also plays an integral role with pieces by Herb Kane, Yvonne Cheng, Ken Shutt, Jan Fisher, Henry Bianchini and Esther Shimazu.
With an elegant architectural style that blends classical French, Italian and Japanese with modern sensibility, the resort's design embraces sunshine and shadows throughout the day in an intersection of textures and colors. Materials include granite, marble, stone, brass, glass tiles and ironwork. In addition, river rocks from Kyoto, Japan, and stone slabs from Mount Fuji add to the dramatic landscaping.
Over the years, refurbishments have been made and the property has changed ownership. Today, the Grand Wailea is in the midst of a $40 million renovation by Los Angeles-based Barry Design Associates that will encompass all rooms, swimming pools, lounges, restaurants and other areas.
The harmony of architecture and artwork is further emphasized by this award-winning hotel's Artists-in-Residence program, created by Michael Gilbert, the resort's curator of corporate collections and director of the onsite NaPua Gallery. His goal was to introduce visitors to the artistic process, encouraging a deeper appreciation for art while promoting local artisans. This unique program, which includes art tours and artist demonstrations, highlights local talents who specialize in an array of mediums including sculpture, oil painting, photo collage, ceramics and watercolors.
Inspiring visitors to nurture their own skills, Gilbert also introduced a "Passport to the Arts" program in 2011. Since its launch, more than 2,500 guests have participated in classes (at a minimal charge) ranging from painting to photography.
"I think it's hard for anyone to visit this paradise and not be inspired," Gilbert says. "There are probably more artists per square foot on Maui than anywhere else on the planet. I felt it was my responsibility to provide our artists with a gallery to showcase their works. And what better venue than the spectacular and iconic Grand Wailea?"
Most certainly, those passionate about art and nature would agree … where else, indeed?