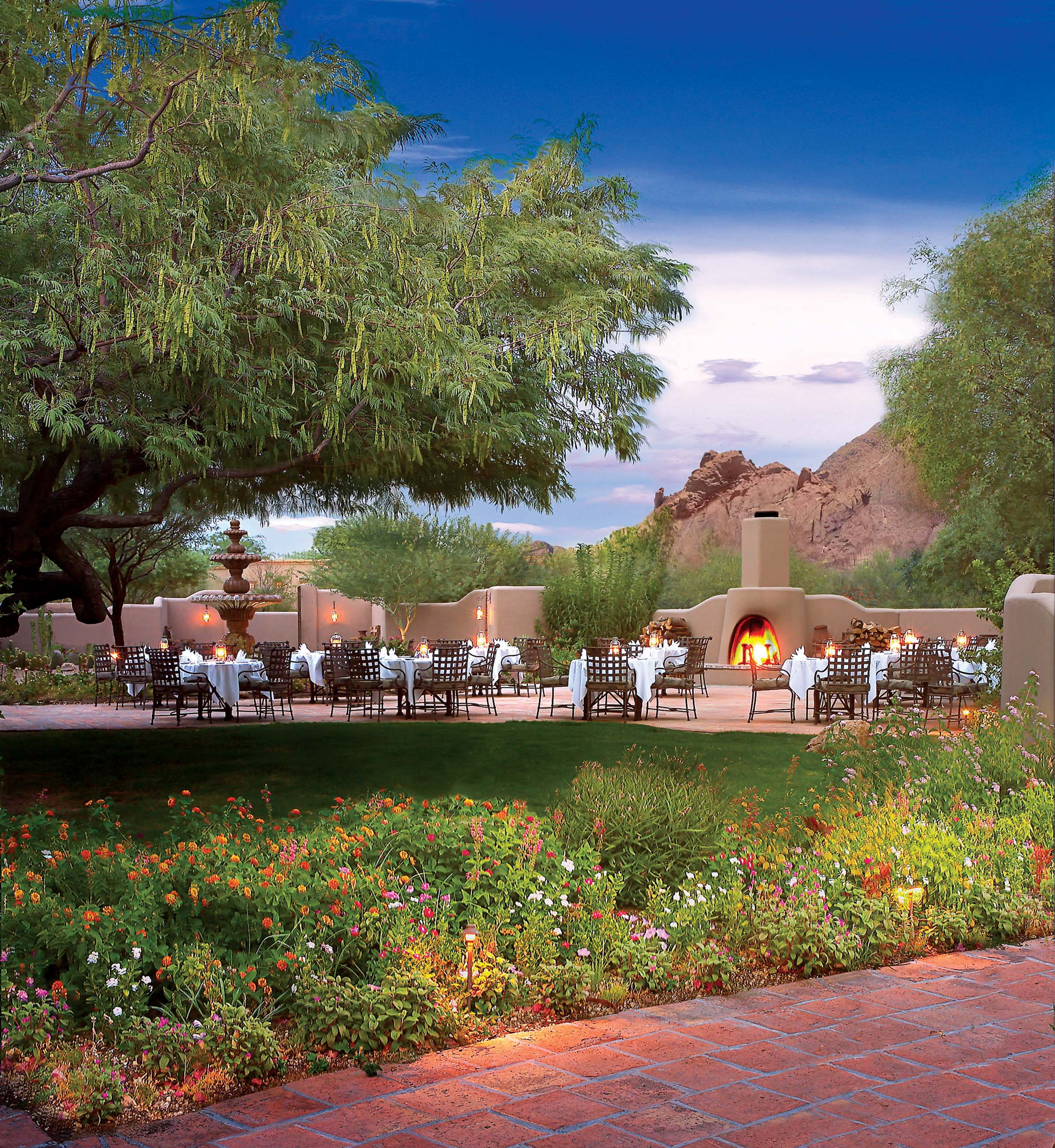 01 Feb

Western Landmark: Hermosa Inn and Hotel Valley Ho
---
Newly divorced and removed from his Arizona home, ladies' man and famed Western artist Lon Megargee did what any resilient cowboy would do: he built another one. In 1936, he built an adobe ranch house down the road, tracing lines in the dirt with a stick to show workers where he wanted rooms. When overnight guests gambled until dawn, they escaped on horseback via Lon's secret tunnels whenever the sheriff came a-callin'.
It's too bad that Robert Foehl was not his contemporary because they would have been kindred spirits. In 1956, the real estate developer would also erect an epic party pad, also in the desert of Scottsdale, a place where Hollywood icons would escape for a weekend.
Enter Megargee's hacienda-style Hermosa Inn and Foehl's Midcentury Modern Hotel Valley Ho, each within a 10-minute drive of the other, each founded by unrestrained visionaries, each stunning and adhering to a theme consistent in décor and ambiance.
According to historians, Lon was a full-fledged, steer-roping cowboy who loved dames, drink and drawing. His adobe home served as an art studio where he painted depictions of life on the plains. The playboy later sold Casa Hermosa in order to pay for yet another divorce. After the place suffered a fire, it fell into disrepair and landed in bank foreclosure. Scottsdale developer Fred Unger, however, saw potential in its history and transformed it into a stunning lodge in 1992.
Today, the Hermosa Inn retains the charm of old Arizona. The four-star resort is no longer a "yee-haw" ranch, but a hideaway, tucked in a residential zone. Spread across 6 flowering acres, the 34 adobe-style rooms and casitas are arranged along a garden pathway strewn with Southwestern bronze and stone statuary.
The fine dining at Lon's at the Hermosa is the inn's crown jewel, filled to bursting with Lon's art, Western antiques and ironwork. The Last Drop bar and casual dining area is named after his painting of a cowboy giving his horse a drink of water from his hat. And when the construction crew dug out a wine cellar under the restaurant in 2003, it discovered the secret underground tunnels Lon's friends used to get away on their horses. The inn's library is adorned with Adventure magazine covers that feature Lon's artwork. Says Fred Unger, Hermosa's owner, "I imagine that if Lon saw the musicians playing at night, the mesquite fire burning in the fireplace and Camelback Mountain in the distance, he would be happy."
Over at Hotel Valley Ho, the ambience strikes a different chord. Walking distance to gallery-centric downtown Scottsdale, this resort, listed on the National Registry of Historic Places, takes its cue from the 1950s. A Midcentury Modern gem with a seven-story tower adjacent to its block of two-story guest rooms, Hotel Valley Ho represents cinderblock chic at its finest.
Anyone can request a hotel tour given by local historian Ace Bailey, owner of Ultimate Art and Cultural Tours. She points out the Frank Lloyd Wright influences employed by architect Edward L. Varney, a Wright disciple. Poured concrete and high ceilings hearken to Wright's penchant for cement and light-filled spaces.
Many of the 191 rooms are filled with reminders of yes teryear: glass bubble chandeliers, sunburst metal mirrors, white Formica dressers, acrylic coffee tables. Pumpkin, marigold and avocado hues explode on walls, curtains, bedding and furniture.
Robert Foehl, for a time, reveled in his dream come true. He and his wife, Evelyn, lived on the property, monitoring day-to-day details, and loved catering to the likes of Natalie Wood and Robert Wagner, Jimmy Durante and Bing Crosby.
After Foehl died in 1973, however, things went quickly south. Similar to the Hermosa Inn, this resort was also neglected. If it hadn't been for the saviors at investment group MSR Properties, also in Scottsdale, the Hotel Valley Ho would have been demolished. In 2005, MSR reopened the hotel after pouring $80 million into the place, bringing the property back to its grandeur.
Bing Crosby and Jimmy Durante may be long gone, but the rich and famous are returning to the Hotel Valley Ho, just as they are to the Hermosa Inn. If both founders were alive today, they would probably clink their glasses, laugh and toast to a job well done.