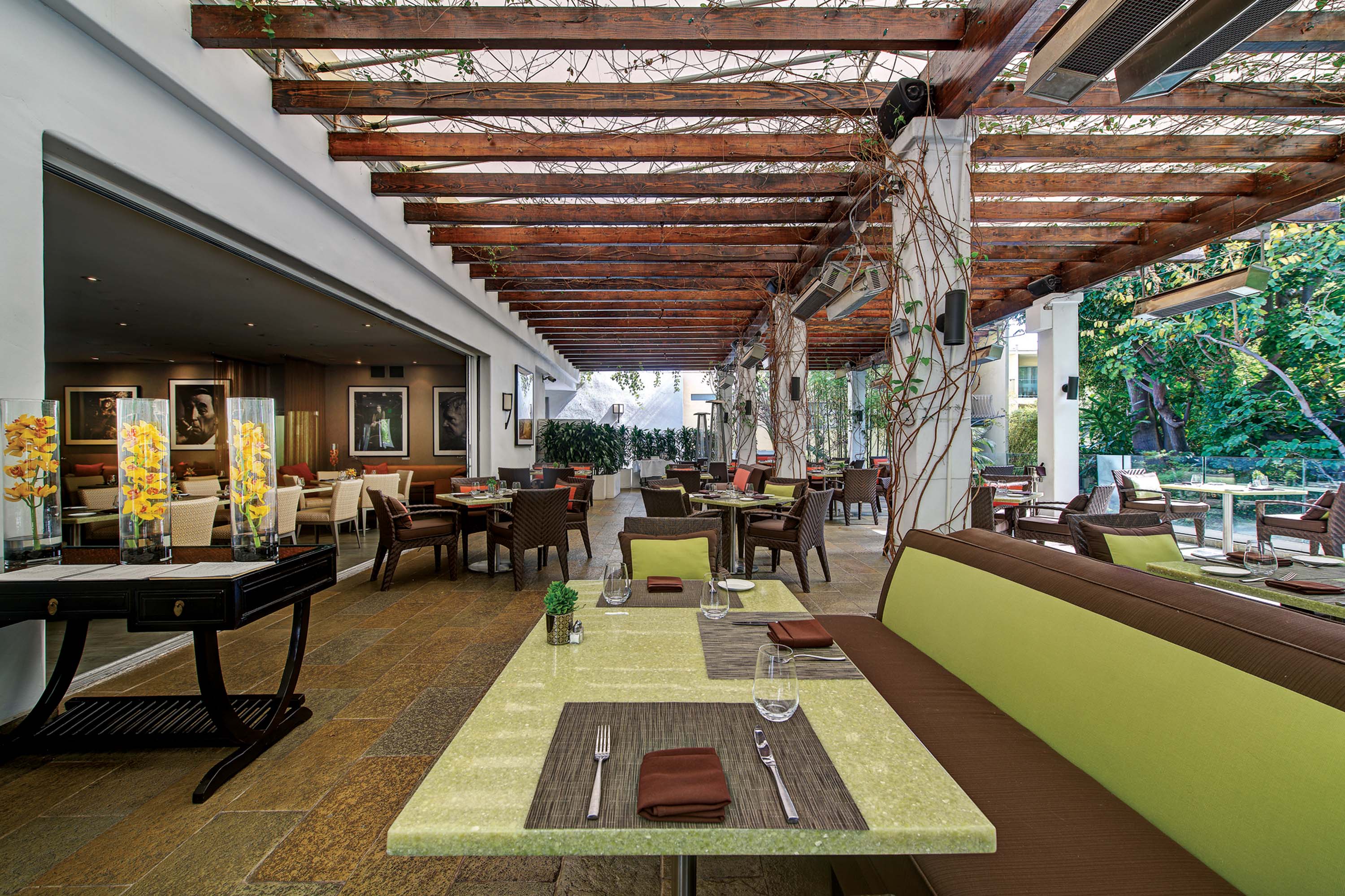 Cavatina's casual interior exudes a relaxed vibe and features celebrity photos by Timothy White.
01 Dec

Western Landmark: Sunset Marquis Hotel
---
It's easy to miss the hidden oasis that lies behind the unassuming entrance to the Sunset Marquis Hotel in West Hollywood, California. Tucked away on a narrow, hilly street, this 152 – room property is creatively described by longtime co – owner Mark Rosenthal as "Mid-century, contemporary Mediterranean eclectic." Indeed it is, as America's first all – suite hotel reveals itself to guests slowly and dreamlike, in an amalgamation of styles, with delightful and surprising bucolic layers.
Just past the minimalistic lobby adorned with artsy black – and – white, rock 'n' roll photographs, the space opens into a quintessential Mid-century motel courtyard with a square swimming pool surrounded by luxurious lounge chairs. Stroll a little further and a duality emerges: Flagstone pathways lead into a sprawling, lush 3.5 – acre parklike setting with winding brick trails that show the way to secret nooks. With water features, gardens and a multitude of tropical plantings (more than 300 trees and 1,000 plants), this hotel rivals the beauty of any rainforest. A wooden bridge crosses a tiny koi pond next to the hotel's newly refurbished restaurant, Cavatina, with al fresco dining patios.
The property's 51 white Spanish multiroom villas with orange tile roofs are situated throughout the grounds, with balconies and terraces enveloped by lush plants and brilliant flowers. Obfuscated by twisting leafy emerald vines, such as jasmine and bougainvillea, the detached villas ensure utmost privacy for A – listers, with a separate pool area as well. The modern, yet subdued interior décor encompasses muted colors mixed with fine materials such as granite countertops, marble floors and cashmere coverings. The spacious, spa-like bath- rooms feature walk-in showers and bathtubs highlighted by earth – tone mosaic glass tile.
Celebrating its 50th anniversary in 2013, the boutique hotel's main structure was completed in April 1963, with 100 suites designed by architect Abraham Shapiro. The property's 12 vintage Spanish Revival – style villas, comprising four separate buildings, were built in the 1930s. In Los Angeles, even hotels get major facelifts, so in 2008, after a $25 – million renovation project lead by interior designer Oliva Villaluz, 40 new, modern villas and a spa were opened. Her signature designs include custom – crafted furnishings, floating faceted crystal chandeliers and the spa's dramatic turquoise iridescent wall tile.
Over the years, a number of architects and designers have left their mark on the establishment. The property's unique, rustic landscaping (including the villa expansion and the main hotel) was designed by Garett Carlson of Land Arc in Los Angeles. The initial villa expansion project was designed by Lou Angelikis, and then subsequently redesigned by Nadel Architects. In addition, the restaurant update was designed by Bryan Cox, along with father – and – son co – owners, George Rosenthal and Mark Rosenthal.
Steeped in storied history, the Sunset Marquis emits an ambiance of palpable, old Hollywood glamour, but the hotel has become a dichotomy — evolving over the years into an authentic rock 'n' roll retreat. For celebrities, it's a renowned star – friendly property, steps away from the world-famous Sunset Strip.
In the 1980s this edgy Mediterranean – style property attracted famous rock bands, and many of their iconic photos are on display in the lobby's Morrison Hotel Gallery. Rockers including Kiss, Guns 'N Roses, Aerosmith, Ozzy Osbourne and others were regulars here, and the Sunset Marquis has been a favorite hangout for Bruce Springsteen and Billy Bob Thornton, both longtime guests. In the '90s, musicians were often spotted at the hotel's Whiskey Bar (now Bar 1200). A multitude of Grammy Award – winning albums have been produced at the on-site, cutting – edge, subterranean recording studio, Nightbird.
For the Hollywood elite, the coveted Presidential Villa is the pièce de résistance. This two – story, 3,200 – square – foot, two – bedroom structure boasts three bathrooms, a gourmet kitchen, fireplaces, screening room, elevator and dining room — and a full time butler. A Bentley or limo is included for transportation… it is Los Angeles, after all.
Director of Marketing, Chris Cope, puts it best: "The hotel has been described as 'a vortex of serendipity,' because wonderful moments occur out of the blue. It's really difficult to define the special magic that an experience at the and creative people."