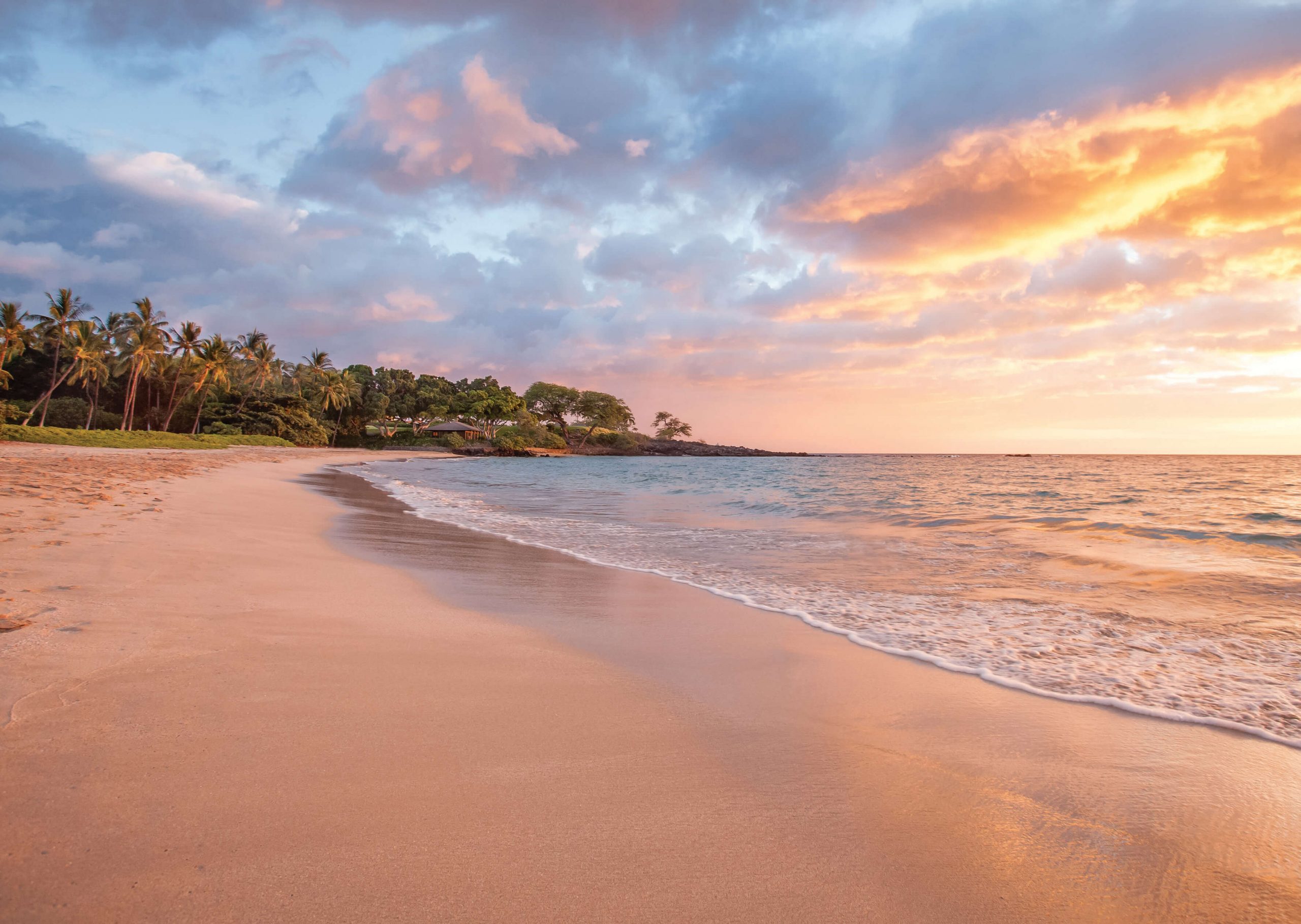 A pink sunset serves as a backdrop over Kaunaoa Beach. Photo courtesy of Hawaii Tourism Authority (HTA)/Anna Pacheco
09 Jul

Wanderings: The Island of Hawaii

On the days that artist Hugh Jenkins blows glass, visitors pass the wild chickens on the property and enter his studio to see him in action. Dipping the hot metal pipe into the powder that becomes molten glass, he chats about his 50-year career as an artist, from establishing the glass blowing curriculum at Punahou School in Honolulu to his 1999 move to Hawai'i Island to open Big Island Glass Gallery in the town of Honoka'a.

As he elongates the heated glob with steel tongs, he looks up and asks, "Now, what do you do?" He's just as curious about others as they are about him.

Artists such as Jenkins often pause to "talk story" with strangers. In fact, engaging craftspeople and intimate art galleries permeate the Island of Hawai'i, the largest in the state's chain. You'll find glass experts, koa woodworkers, and jewelry designers in Hāwī, Holualoa, Honoka'a, and other towns. The farmers who tend Kona coffee trees, cacao orchards, and vanilla crops are just as happy to banter with travelers. On this journey, you'll swing into outdoor adventures with turquoise vistas. And you'll end the day retiring in some of the world's most distinctive inns and resorts.

Hawai'i Island is unparalleled. Nicknamed "the Big Island," it's twice as big as the sum of the other islands that make up the state. It's renowned for the active Kīlauea volcano, which erupted in 2018 in an event so frightening that newscasters falsely reported that the entire state was evacuating. The terrain is comprised of hardened lava rock, a striking difference compared to the pervasive greenery of Maui and O'ahu. And where else can you discover snow, rain, and sunshine all within an hour's drive?

To cover as much territory as possible, fly into 
Hilo International Airport on the east and depart from Kona International Airport on the west. Hilo is one of the two largest communities on Hawai'i Island. With 130 inches of annual rainfall, it's among the wettest places in the U.S. and the lushest as well.

Tiers of waterfalls peek out between the foliage along the highways. For a nature-filled day, steer your car toward the wonders of Rainbow Falls, Pe'epe'e Falls, and Waiale Falls. And don't forget Hilo's gardens. The Hawaii Tropical Botanical Gardens, for instance, bloom with more than 2,000 species that are spread across 40 acres.

After working up an appetite, stop in at Big Island Candies, known for their shortbread baked right on the premises. It's a popular tourist spot where visitors stock up on gifts before flying home. Minutes away is the Hilo Farmers Market, featuring affordable produce, homemade treats, and local artwork.

A remarkable place to stay in Hilo is the Inn at Kulaniapia Falls, where a natural waterfall flows through the resort's backyard. In 1993, Lenny Stanton purchased and transformed a neglected plantation into this entirely off-the-grid, hydro-powered inn. He designed and built a series of cottages and the main lodge. A hiking path leads to the base of the falls through a forest where Stanton added rare and exotic bamboo. Today, the inn is owned by Christophe Bisciglia, who has acquired the adjacent property as well to expand the eco-centric vision. The new owner also added the hand-built, one-room huts on the property.

From Hilo, head north to Hakalau to zipline with The Umauma Experience, which claims to cover the most waterfalls at more than 14. After, if you're craving another adrenaline rush, the company can also take you rappelling down a waterfall.

Following the compass further north, schedule time for visiting farms and attractions along the drive. The Hawaiian Vanilla Company, the only vanilla farm in the state, offers afternoon tea with fresh baked goods in the town of Paauilo. And at Honoka'a Chocolate Co. in Honoka'a, you can tour the facility and taste the fruits of its labors that originated at the nearby Kahi Ola Mau Farm, home to more than 1,000 cacao trees. Historic Hawaii also shows off its charm with stories of its cowboys, known as paniolos. The small but well-appointed Paniolo Heritage Center in Kamuela tells cowboy tales with artifacts and photos of Hawaiian, Japanese, Chinese, and Filipino paniolos.

Along this journey, a completely different experience awaits on the drier, northwestern Kohala coast. Spend the night and take in oceanic panoramas from your suite at the Fairmont Orchid, which just celebrated its 30th anniversary. Be sure to book a treatment at its "Spa Without Walls," a 32-acre oasis featuring eight spa huts made of wood and natural fibers set among ponds and waterfalls. Oceanfront cabanas bring you close to the water as you enjoy a lomilomi massage. Orchid arrangements, a curvaceous swimming pool, a private bay for paddleboarding, koi ponds, and Hawaiian paintings will strip away any harsh memories of 2020. And the resort's signature restaurant, Brown's Beach House, offers outdoor dining for an opportunity to catch a memorable Hawaiian sunset.

In the morning, move southward and consider making a day of it at the Hilton Waikoloa, the Disneyland of Hilton hotels, with a monorail, a dolphin encounter, a suspension bridge, and waterslides. This family-focused beachfront property also offers an art collection with more than 1,800 artifacts from Polynesia and Asia.

Once you've explored the resort, consider a quintessential Hawaiian experience: swimming with graceful manta rays at nightfall. Anelakai Adventures' manta ray expedition offers an eco-friendly option, forgoing the gasoline-powered boats and instead relying on canoes. Clients paddle 15 minutes from shore into the feeding grounds at night. Operators then switch on lights that reveal plankton. Snorkeled guests are immersed in water to spy on the heavenly giants as they dine. This close-up experience, where mantas often swoop inches from your face, is a highlight of any Hawaii vacation.

Once you arrive on the Kona Coast, you can shop, eat, and continue to explore Hawaiian art and culture. Collect a few trinkets in the historic Kailua Village. Afterward, tour Hulihe'e Palace, a Victorian summer retreat built in 1838, and wander through Kona's art galleries for images and crafts by local artists. Huli-huli chicken from a food truck, Randy's Huli Chicken, is a must-have. And for dessert, indulge in shave ice varieties at One Aloha Shave Ice. Then learn about the Kona bean and how to brew coffee like a pro at UCC Coffee and Greenwell Farms.

A trip to a salt farm is another fascinating peek into the culinary arts. At Kona Sea Salt, located in a quiet warehouse zone near an octopus farm, the sea salt is derived from a pipe of seawater that runs 2,200 feet deep; it's then hand-harvested and dried naturally in the sun.

How long should you stay? No length of time is ever enough to cover every place and do everything you want. However, a week is a solid starting point for the curious. Just don't be surprised if you are tempted to relocate and try your hand at blowing glass and "talking story" with the locals.
Lodging
Fairmont Orchid
808.885.2000; fairmont.com/orchid-hawaii
Hilton Waikoloa Village
808.886.1234; hiltonwaikoloavillage.com
Inn at Kulaniapia Falls
Dining 
Brown's Beach House
808.885.2000; brownsbeachhouse.com
One Aloha Shave Ice
808.377.1717; onealohashaveice.com
Randy's Huli Chicken and Ribs
808.936.2789; facebook.com/randyshulichickenandribs
ATTRACTIONS & ACTIVITIES
Anelakai Adventures Manta Ray Night Snorkel
808.987.0377; anelakaiadventures.com
Hulihee Palace
808.595.6291; daughtersofhawaii.org/hulihee-palace
Paniolo Heritage Center
808.854.1541; paniolopreservation.org/heritage-center
The Umauma Experience
808.930.9477; umaumaexperience.com
Galleries & SHOPPING
Big Island Candies
808.935.8890; bigislandcandies.com
Big Island Glass Gallery
808.775.775.1167; bigislandglass.com
Glyph Art Gallery
808.769.1550; glyphartgallery.com
Historic Kailua Village
FARMS
Greenwell Farms
808.323.9616; greenwellfarms.com
Honoka'a Chocolate Company
808.494.2129; honokaachocolateco.com
Kona Sea Salt Farm
Ueshima Coffee Company