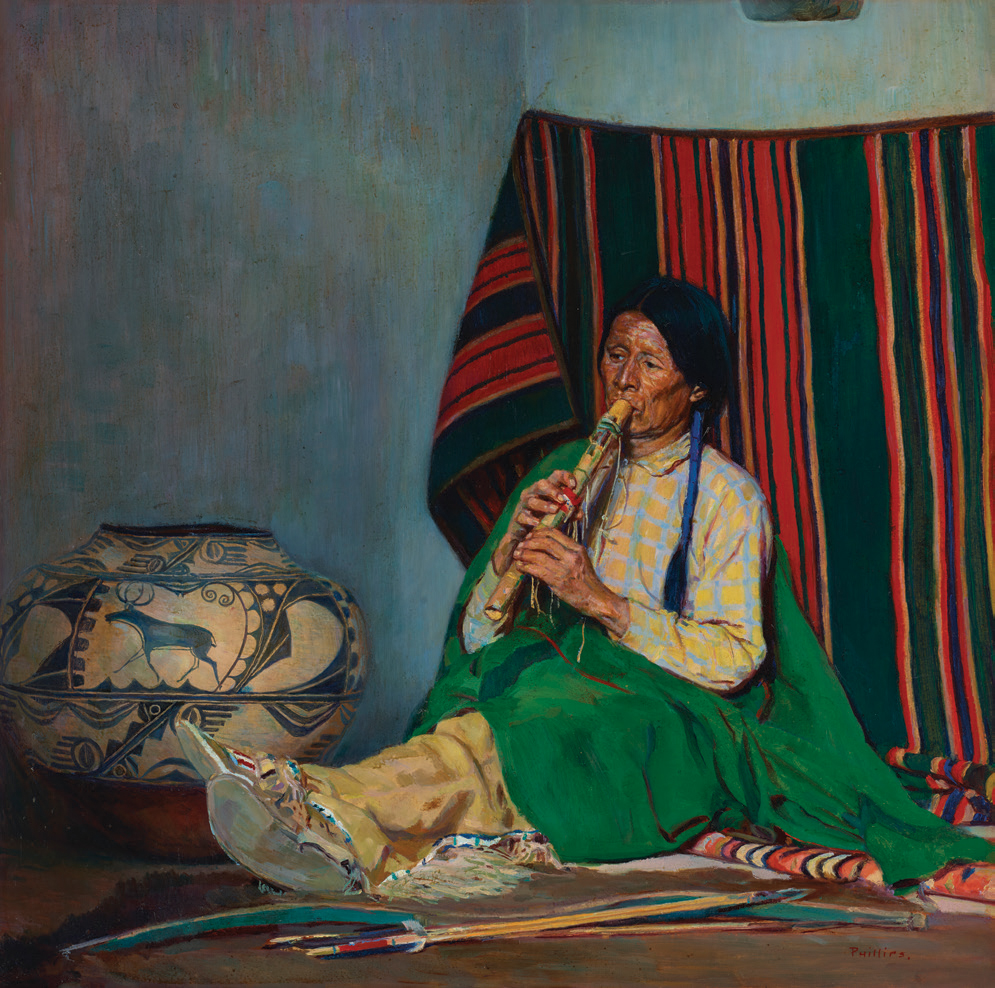 Bert Geer Phillips [1858-1956] | The Magic Deer Song Oil on Board | 20.5 x 20.5 inches Courtesy of Christie's
11 Jul

Editor's Note: Commemorating a Centennial

The Western art world has much to celebrate, and here at WA&A, we're excited to join in on the festivities.

This fall, the Santa Fe Indian Market observes its 100th anniversary. As the world's largest intertribal art market, the event brings together more than a thousand Native American artists from about 200 tribes in North America. While a lot has changed at the Santa Fe Indian Market over the years, one thing has remained the same over the last century: It's an important venue for Native American artists. According to the New Mexico History Museum, the market generates an estimated $160 million for participating artists and the local economy. It has advanced the careers of many, and some say that without the recognition Santa Fe Indian Market has provided, their art careers would not have been possible.

In recognition of this significant milestone, WA&A is publishing an extended feature highlighting some of this year's artists at Indian Market, along with related events in Santa Fe and surrounding areas. Wandering throughout Santa Fe's historic Plaza and the nearby streets, meeting the artists, and marveling at their creativity is an experience to treasure. From fashion shows that dazzle, to traditional art forms that use methods passed down for generations, to work that remembers history or explores modern life, it's a rich showcase of tremendous artistic talent. And the centennial market is an occasion worth commemorating.

In addition, this issue celebrates other voices documenting the Western experience. Cowboy Artists of America member Phil Epp focuses his artistic efforts on conveying the beauty of wide-open spaces. His paintings take a more contemporary approach than you might expect from a Cowboy Artist, and his work explores themes of Western isolation, timeless icons, and broad expanses of land and sky ("Phil Epp: Poems for the West," pg. 196).

Thomas Kegler's work, meanwhile, is a painterly tribute to the beauty of creation. Residing in western New York and inspired by the Hudson River School, he's turned his attention to painting the landscapes of Wyoming and will be participating in the Buffalo Bill Art Show & Sale this September ("Turning West," pg. 208).

The architecture profiled in this issue shares aspects of regional design specific to New Mexico, Texas, and the Mountain West. We see how each designer examined and interpreted these places, providing insight into the area's history and culture.

The coming fall months are some of the most anticipated in the Western art market, with special events planned throughout the season. I hope this issue ignites some excitement for the days ahead, and I invite you to join us in celebrating the creative talents that enrich our lives.